Dry cake is just the worst. It's an age-old problem, especially when you first start making cakes. It really is possible to make moist scratch cakes, you just need to know how dry cakes happen and how to avoid them.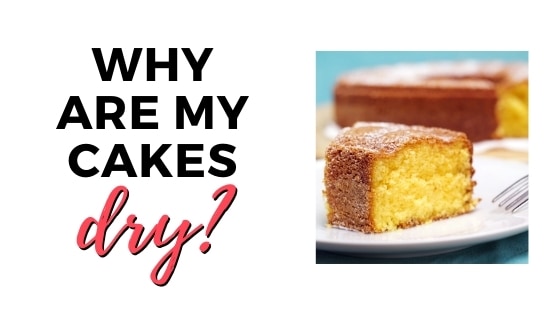 There are a number of things that can cause cakes to be dry. Those things can range from measuring improperly to over baking along with other factors. There are ways you can prevent it though.
As an Amazon Associate, I earn from qualifying purchases.
This post was updated on 8/28/21
Jump to:
In this post, we'll go through some reasons your cake is dry, how to prevent that from happening and some ways to potentially fix a dry cake.
Let's get started!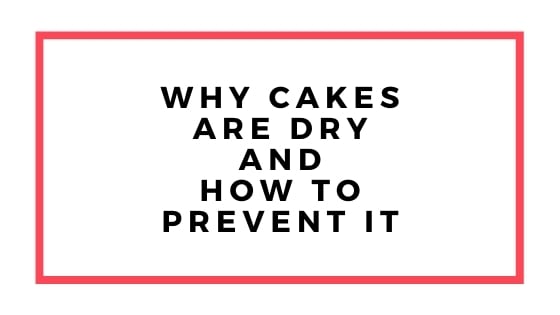 Measuring incorrectly: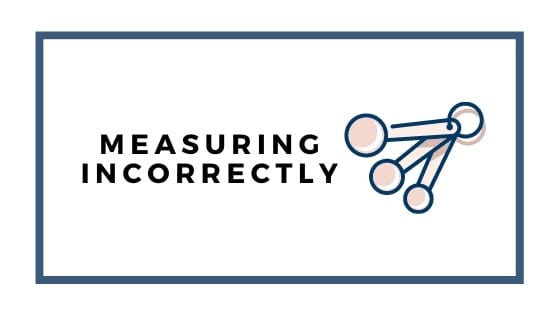 Are you packing down the flour when you measure? That can unintentionally add more flour to the recipe.
A lot of people don't even realize they're measuring wrong until they see someone explain it. It happens to all of us.
Sometimes we just accidentally forget to add an ingredient. I can't tell you how many times I've done that.
What to do: Measure properly by spooning your dry ingredients into measuring cups instead of scooping it and packing down the flour.
You can also check off the ingredients as you add them so you don't forget anything.
I've got an entire post and video all about how to measure your ingredients properly here: Measuring Ingredients For Baking Cakes
Not enough liquid ingredients:
Ok, this could be from a couple different things. Maybe the liquids were measured wrong or maybe the recipe was off.
Now, I have to say you want to be super careful though about just adding in extra liquid. If you add too many liquid ingredients, that can throw off the ratios and can make your cakes very dense and rubbery.
What to do: Try the recipe one more time and be super careful with measuring your liquids. Don't add any extra liquid than the recipe calls for thinking it will just make it moist though…remember that could cause issues.
If the recipe just doesn't turn out right, then you may just need to try a different one.
Using substitutions:
Did you substitute any of the ingredients? Be honest here. If you did, don't feel bad…we've all done it.
The thing is that many times we think making a substitution might not be a big deal, but it ends up actually having a huge effect on the final product…especially sugar, which we'll get to in a bit.
Subbing ingredients can cause all kinds of issues, especially if you're subbing a light version for a full-fat version, subbing out eggs, or leavening ingredients.
What to do: Sometimes it's okay to sub out certain ingredients (ex. sour cream, yogurt, buttermilk), but other times it just doesn't work the same way.
Be careful not to sub out baking soda for baking powder. Those are two different things. Here's a post all about that: What's the Difference Between Baking Soda and Baking Powder When Baking Cakes?
Make sure you're using the full-fat versions of ingredients when they're called for. That can make a big difference. As much as we like to be healthy…cakes just aren't healthy and they need fat to make them moist.
So, don't sub out light yogurt for full-fat yogurt, 2% milk for full-fat milk, light buttermilk for full-fat buttermilk, or light sour cream for full-fat sour cream. It may turn out okay, but it'll be much better using the full-fat versions and it'll be more moist.
Use real butter and not margarine. You just don't know what result you'll get if you use margarine.
If you want even more information about baking substitutes and a cheat sheet, you'll want to check out this post: Cake Baking Substitutions plus Free Printable Reference Guide
Batter was mixed too long or not well enough:
If the batter wasn't mixed well enough, or if it was over-mixed, that could also produce a dry or dense cake.
Most people mix their cake batter way too long. They want to get all the tiny little lumps out. Now that's okay if you're using a mix, but not for a scratch cake.
What to do: You want to mix scratch batter only until the ingredients are well combined, but that doesn't mean to mix for several minutes.
I've got an entire video on this that shows you in real-time, how long to mix cake batter (it's probably less time than you think). You can check that out here: How Long To Mix Cake Batter Video
The amount of sugar was lowered too much: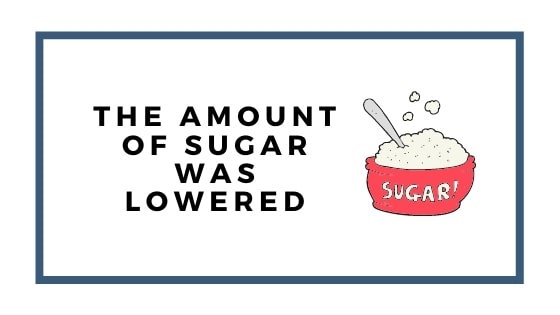 We talked about this above when I mentioned substitutions, but sugar is very important in a cake recipe. It actually helps with moisture.
If you omit half the sugar, you'll have problems with the texture and moistness of the cake.
What to do: Try not to lower the amount of sugar the recipe calls for because sugar isn't just for sweetness. If you need to lower the amount of sugar for health reasons, just know it's going to affect the texture and moisture of the cake.
Baking temperature and time issues: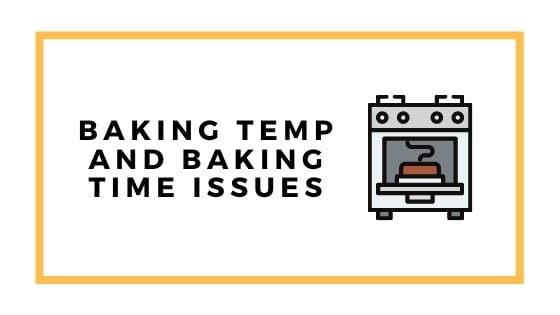 The cake could have been baked too long, or perhaps the oven was too hot.
What to do: Watch your cake and know the signs of a finished cake. Vanilla cakes are notorious for being easily overbaked. There's really a fine line with those.
I do have a post that goes into all that, which you can find here: How to Tell When a Cake is Done
You may also want to check your oven temp. Get an oven thermometer and see if it's accurate. If it's off, then at least you'll know and can adjust for that.
If you ended up having to bake your cake much longer than the recipe called for, then something might be wrong with your oven…which brings us to the next point.
If the oven temperature is set too low, then it'll take longer for the cake to bake, which is sometimes fine, but if it bakes too low and slow, then the cake will just dry out on you.
The mixing method was improper: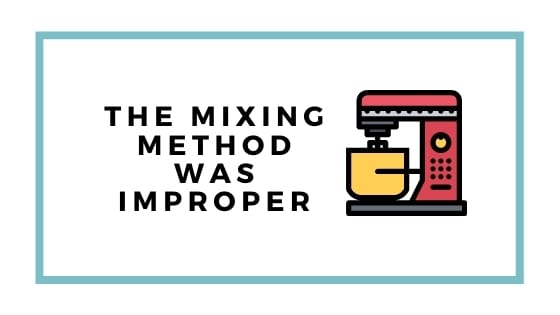 Perhaps the mixing method in the recipe was off, or maybe you didn't follow it exactly. Mixing methods really are important. They help all the ingredients mix together more fully.
If you mix by just dumping everything in and not following the recipe, then you're going to have a more dense, heavy cake that could even be rubbery in texture which can make a cake seem dry.
If you didn't follow the mixing method, don't be too hard on yourself. All of us at one time or another have ignored it.
I remember when I first started baking and I just couldn't understand what the purpose was to mix everything so specifically, but it really does make a difference.
What to do: Always follow the mixing instructions. There really is a reason behind them.
I also find that using the reverse creaming method makes for a softer cake and a softer cake usually comes across as more moist.
To use the reverse creaming method, you're just mixing the dry ingredients in one bowl and the liquid in another. Then you take the butter and cut it into the dry mixture and mix until the butter coats it all. Once coated, you'll add the liquid ingredients in two-three pourings.
Now, this method can sometimes be substituted in place of the regular creaming method (which is mixing the sugar and butter together first, then alternately adding in the dry and liquid ingredients), but it can't always be substituted.
A lot of my recipes use this reverse creaming method… for example this one: Vanilla Bean Cake Recipe
If you want to go even deeper about mixing methods, you'll want to check out this post: Types of Flour for Baking Cakes Plus Mixing Methods
The recipe might be off:
Sometimes it might be the recipe: Sometimes it just might be the recipe. If you've done everything you can, measured correctly, didn't substitute etc, and have tried the recipe a couple of times, then that's all you can do!
I would urge you to try the recipe a couple of times though as sometimes we don't realize we're doing something wrong or that we measured wrong, but if you've tried and tried, then maybe that recipe just isn't working for you.
What to do: It might be time to just try another recipe. I have a few classic cake flavor recipes on this site that I find moist and delicious and would love for you to try:
Other tips to prevent dry cakes:
Try using recipes that call for sour cream:
I love using sour cream in my cake recipes and I really think it makes a huge difference in the moistness of the cake. Alternatively, you can use recipes calling for buttermilk in them as they are generally moist as well.
Use cake recipes that call for whole eggs: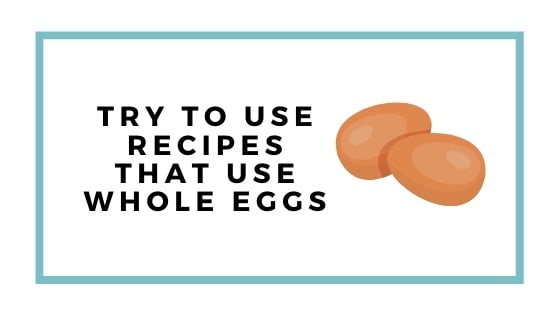 Using cake recipes that call for whole eggs just seems to make a more moist cake (although this isn't always the case.) I will also say that sometimes cake recipes using only egg whites can be a little drier than other cakes, but that's not always the case either.
Oil cakes are usually moist cakes: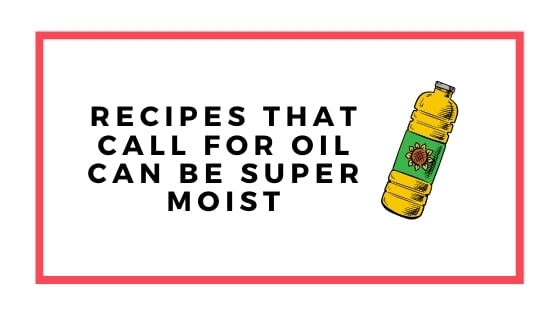 Cake recipes that call for oil are usually moist cakes. Now, saying that, I wouldn't necessarily be too keen on a vanilla cake recipe using all oil and no butter (because I think you get better flavor using butter), but I do also add a bit of oil in my vanilla cake recipe.
For chocolate cakes though, using all oil works fine (although I use both butter and oil in my recipe.)
Just make sure you're not adding in extra oil if the recipe doesn't call for it as that could mess with the texture and end up making it too dense.
There's really a fine line between adding enough moisture and then making it too dense.
Use a cake mix based recipe: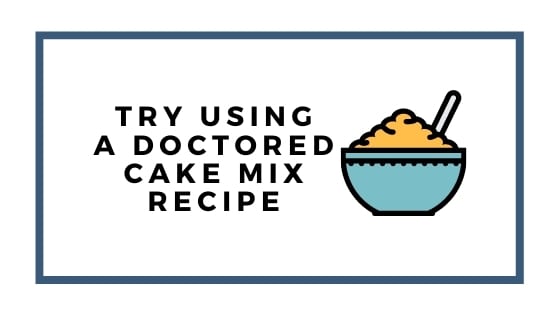 This tip is controversial, but you can get a moist cake by using a cake mix as a base. A lot of people only bake scratch cakes and some only like cake mixes.
There are lots of cake mix-based or doctored recipes online though and those usually come out pretty consistently moist. Here's one on my site: Cream Cheese Pound Cake
Don't refrigerate your cake unless it's perishable:
If your cake doesn't have a perishable filling or frosting, you don't need to store it in the fridge…that can really dry it out.
Also, it hardens up cakes made with butter and can make them seem dry even when they're not. If you're eating a cold and firm cake, it will seem dryer to you. Once it comes to room temp, you'll notice it seems much more moist.
I've got an entire post dedicated to storing cakes with all kinds of tips on how to store different types of cakes. You can find that post here: How to Store a Cake
Follow the recipe exactly: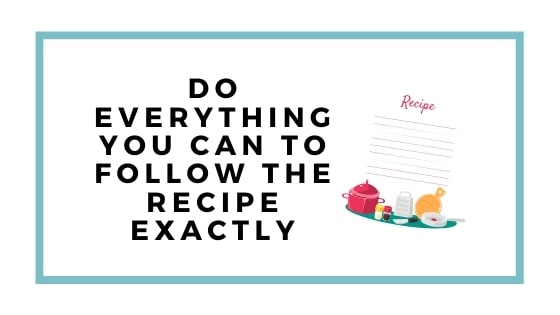 Do everything you can to follow the recipe exactly. Getting a moist cake isn't always about the ingredients that are added. How you put the ingredients together really matters.
How to fix a dry cake:
If you've already baked your cake and have figured out it's just too dry to eat normally, I've got a couple options for you to try and 'save' it.
Add a simple syrup: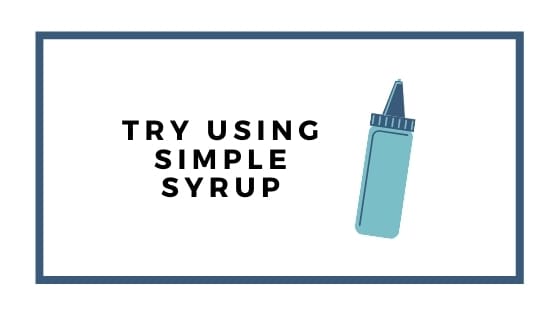 The only way I know that you could possibly fix a dry cake is to add simple syrup to each cake layer and let that soak in before you ice it. I don't normally use simple syrup, but lots of people do and they swear by them.
Yolanda Gump does this all the time and you can find her recipe here: Yo's Simple Syrup
Make your dry cake into a trifle:
You could cut the cake up into squares and make it into a trifle by adding the cake squares to a trifle dish and layering with a simple syrup, cool whip, pudding, fruit, chocolate chips, chocolate syrup, caramel, cookies and anything else you can thing of. Yum!
Make it into an ice cream cake:
Add the cake layer to a springform pan and top with softened ice cream, then pop into the freezer to firm up. You won't really notice a dry cake when it's topped with a thick layer of ice cream! Bonus points for adding chocolate syrup!
Use for cake balls or cake pops:
You can always crumble up the cake, add a couple of tablespoons of buttercream and use it to make cake balls or cake pops.
Wrapping it all up:
I hope this post was helpful in giving you some reasons for why a cake may turn out dry and a couple of ideas for what you can do with a dry cake!
Just remember to have fun with your cake baking and that we will all make mistakes at one time or another!
Video:
Don't forget to pin it below!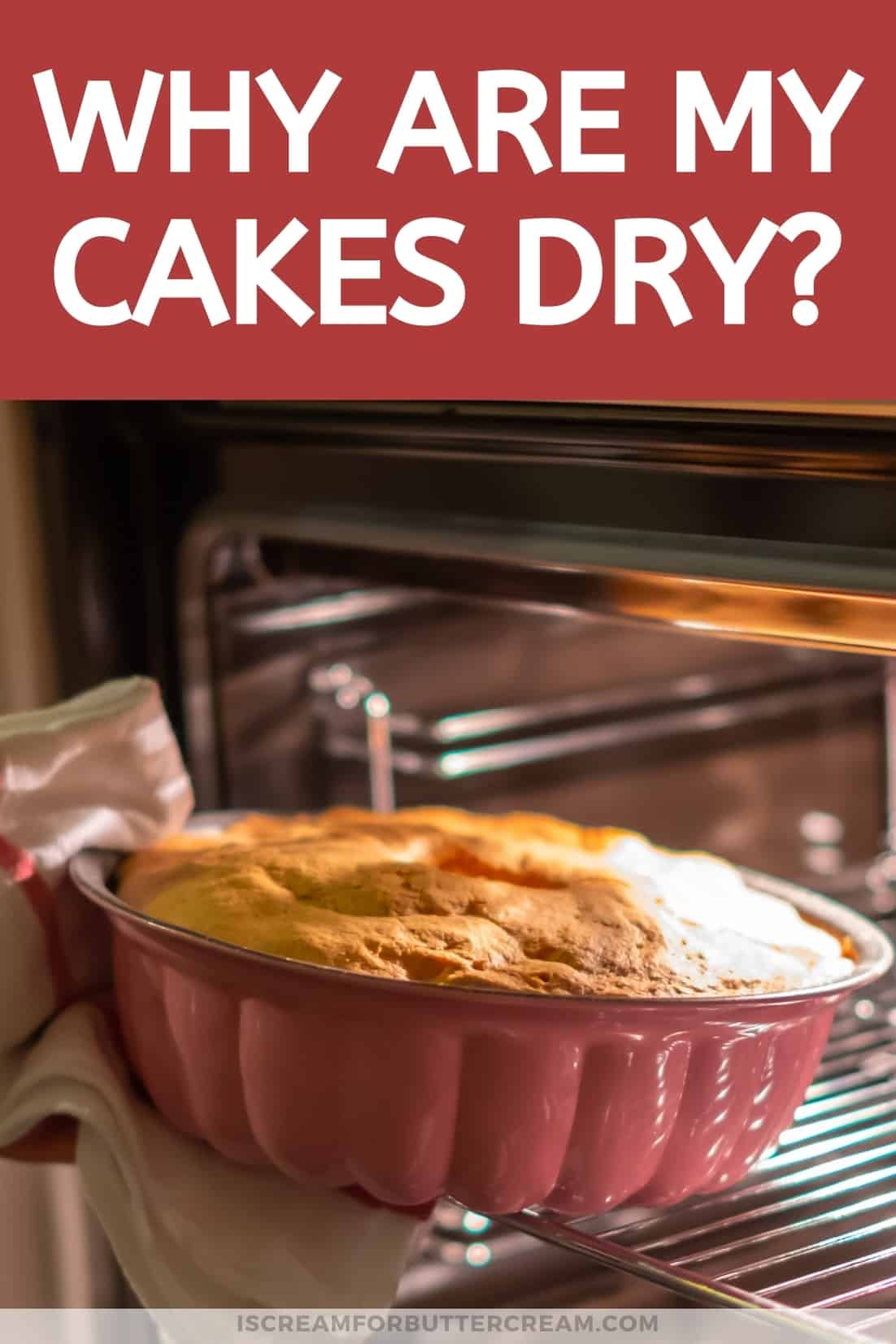 Other posts you might like: