How should I store cupcakes after I've frosted them? This is a question I get asked frequently, so today I'm sharing my best tips on storing cupcakes.
In this post I'm sharing all my ideas, some tips and tricks and lot's of options on how you can store cupcakes.
Jump to:
Storing frosted cupcakes doesn't have to be complicated or expensive. There are ways you can easily store cupcakes that have been iced, whether you're freezing them, serving them at home, or transporting them.
We'll go over where to store them, how and what to store them in and how long you can store them.
Let's get started.
As an Amazon Associate, I earn from qualifying purchases.
Where to store them:
You don't have to store frosted cupcakes in the fridge unless they have perishable filling or frosting. In fact, storing them in the fridge, may dry them out a bit faster.
You do need to make sure they are well covered but not necessarily chilled.
Now, if you'll be transporting them and you want them to be more stable then you can always chill them for about 20 minutes before you pack them in your vehicle.
It is possible to store your frosted cupcakes in the freezer if you had leftovers, or had to delay a party or something. Make sure you're using a sealed container though. We'll get to how that should be done later in this post.
How and what to store them in:
Here are some options for storing both iced and plain cupcakes:
Plastic cupcake containers:
You can usually purchase these as 6 cavity, 12 cavity and individual sized.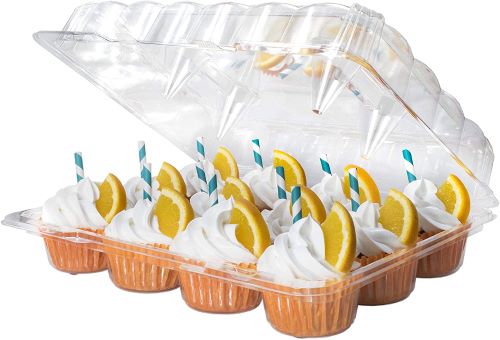 If using them to freeze cupcakes though, I'd be extra safe and wrap the container with plastic wrap or foil as well.
These are great to transport cupcakes in as they keep them from moving around.
Cupcake boxes with cupcake inserts:
You can get these in different quantities and sometimes in different colors.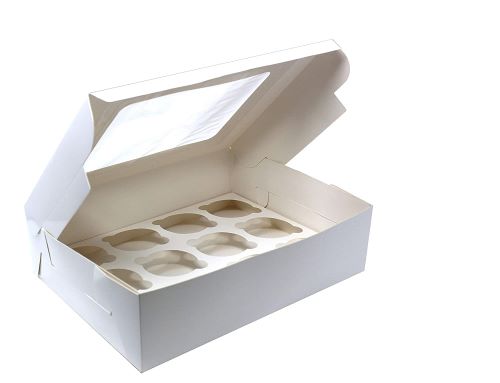 You can purchase cupcake boxes with inserts in bulk. I've found these on amazon and at my local craft stores. I've sometimes even found them at Walmart.
You can also use your own boxes and make your own cupcake inserts. These come in handy if you don't have to travel with them that often or you run out of inserts.
Here's the tutorial on how to do it: DIY Cupcake Box Inserts
Cupcake boxes are also a great way to transport cupcakes as they keep them from sliding around.
Large shallow plastic storage containers with lids:
A container that is shallow (but tall enough for your cupcakes) and comes with a lid can work for storing cupcakes.
These are really handy if you have to make A LOT of cupcakes. I like to use these to store mine in before I've even decorated them. It helps to keep them from drying out.
You can pop in your cupcakes, cover the edges with plastic wrap to make sure they're sealed and then pop on the lid…and they stack onto each other which really helps with space.
These aren't super great for transporting cupcakes though as the cupcakes can slide around on you a bit in these containers.
Cupcake carriers:
If you just want something convenient to store your frosted cupcakes in or transport them and you're not planning on making a ton, then cupcake carriers are awesome.
There are tons of options on Amazon and I've even seen some smaller ones at the dollar store.
How long to store them: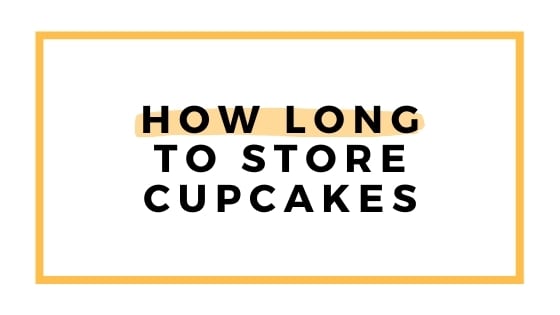 You definitely want to try and serve cupcakes either the day you made them or the next day. They will probably be good for several days after that, but at that point, they could start to dry out on you.
Like I mention above, you really don't want to chill the cupcakes unless you have to (if they contain perishable filling or frosting). Keeping them in the fridge can dry them out.
Remember if you have to transport them, you can always pop them in the fridge to chill and firm them up a bit for about 20 minutes before you leave.
It's also possible to freeze cupcakes using the right method. You can do that for both unfrosted and frosted cupcakes. I only like to freeze my cake layers and cupcakes for no more than a couple weeks.
They're still edible after that, but for best quality I like to freeze them only for a short amount of time.
To freeze frosted cupcakes, you want to use some type of airtight container that won't mess up your buttercream like the plastic container I mentioned above.
I actually prefer freezing cupcakes without frosting them and then icing them once they defrost.
If you want tips on how to do that, you'll want to check out this post: Tips for Freezing Cakes & Cupcakes
Final thoughts:
These are just some ideas to get you started. Use your imagination, but the most important thing to note is that cupcakes dry out fast and whatever method you choose, make sure you're keeping them covered and sealed up from the air as best you can.