I love freezing cakes and cupcakes. I actually think they taste better and are more moist when they're frozen first. If you freeze them the right way, there is no way anyone can tell that they've been frozen…as long as you follow these tips.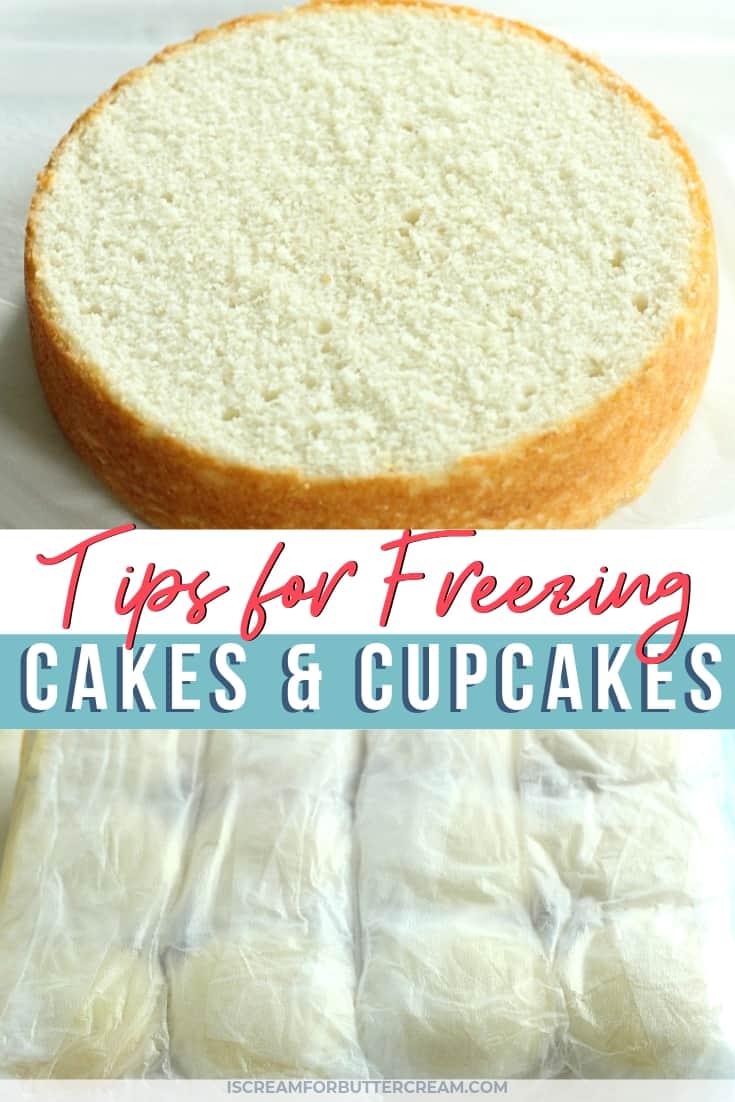 I like to do things ahead of time. I'm not really a procrastinator and I'm not one of those people who thrive on last minute stress. I like to bake my cakes in advance and I thought why not share with you how I freeze them. I think there are a lot of people who don't realize that you CAN freeze cakes and cupcakes successfully.
Freezing cakes and cupcakes is such a time saver, especially if you have a cake business as a side job, or if you just like doing things ahead of time.
How to Freeze Cakes & Cupcakes:
I never have freezer burn on my cakes, probably because I go a little overboard on wrapping them, but I thought I'd share with you my tips and tricks.
By the way, you can get to two of my favorite cake recipes by clicking these links:
This post contains affiliate links. As an Amazon Associate, I earn from qualifying purchases. You can see links to my website policies in the footer.
Freezing Cakes:
When I pull my cakes out of the oven, I set them on racks to cool for 10 minutes. I don't let them sit in their pans any longer than that.
After ten minutes, I then turn them out of their pans and onto the racks to cool completely. I've heard of people actually wrapping their warm cakes and sticking them directly into the freezer, but honestly that makes me a little nervous. Isn't it moisture that causes freezer burn? I just don't want steam in there when I wrap them up, so I let them cool almost completely.
I may have mentioned it a time or two, but I have a love-affair with Press-n-Seal Wrap. I can't seem to work regular saran wrap. Call me weird, but it always just crinkles up on me and sticks to itself. I find TOO clingy. Press-n-seal is just so much easier to use.
I take a large piece of press-n-seal and set it sticky side down on the counter, set my cake layer on it and wrap it up. (Oh, yeah, I also go ahead and cut the domes off the cakes, if there are any. You don't have to do this right now though. You can certainly do this after you've defrosted them.)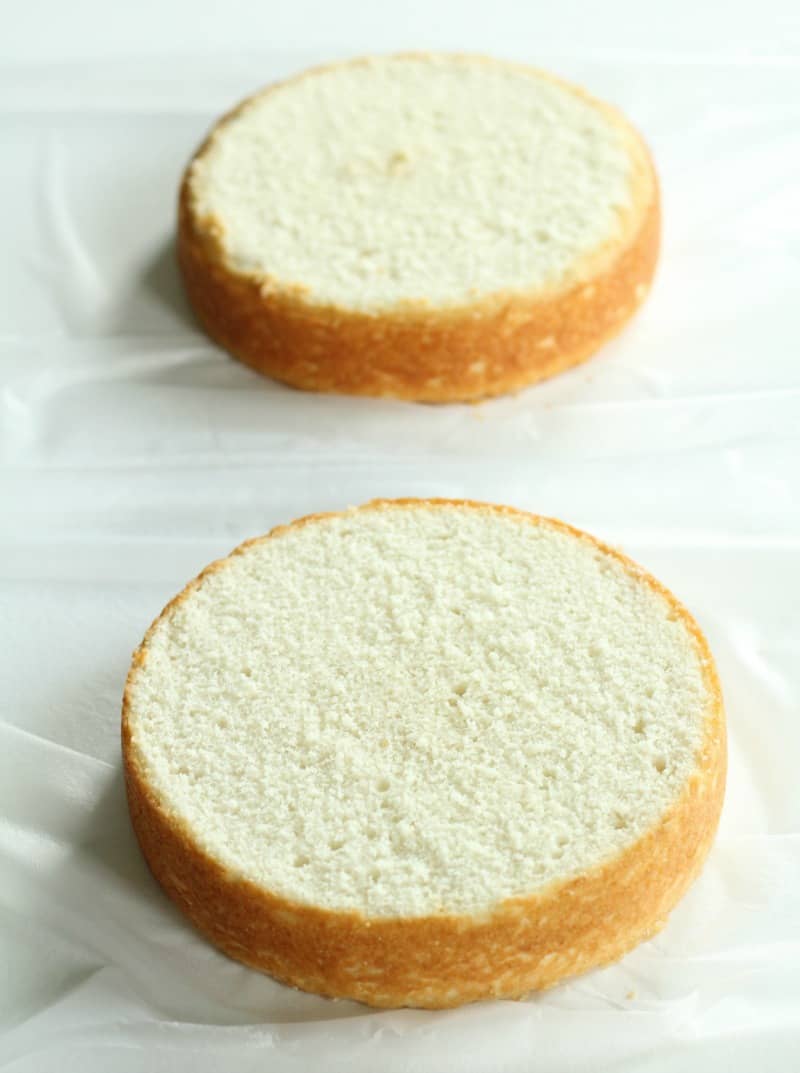 I then set a second piece of press-n-seal sticky side up on my counter, set the cake (seam side down) on it and wrap it up.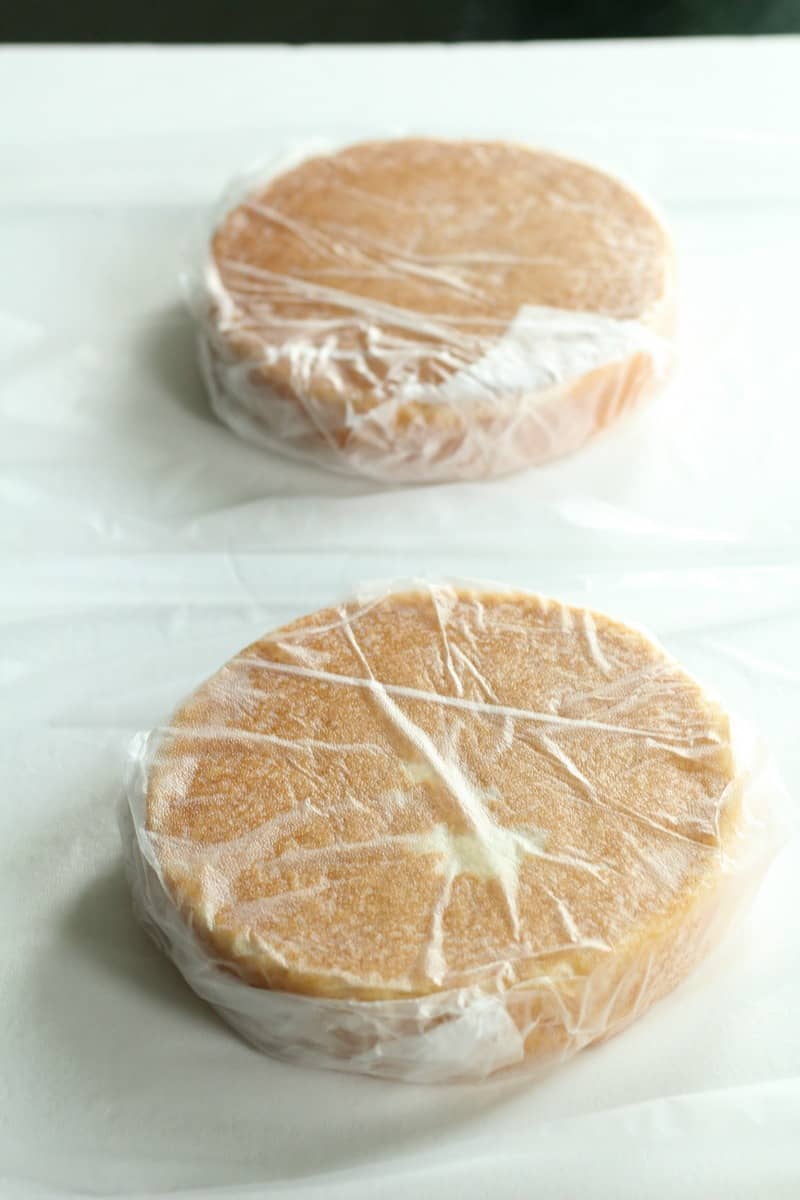 Next I take a strip of foil and wrap them up. Here's my method: I press down the ends of the foil, fold them in like a present and then roll up the ends. Wrapping it like that, keeps the foil from denting into the cake, or causing the cake to get misshapen.
After I've wrapped it once with foil, I'll place the cake layer (seam side of the foil face down) and then wrap it up all over again.
I'll then put a piece of tape on the top and write what kind of cake it is, the size and the date.
Yes I do use a lot of materials, but like I said, I never get freezer burn. It's possible you only really need one layer of foil, and that's totally okay if you're making cakes for home, but when I was selling cakes, I wanted to be dang sure, they were as fresh as I could get them and just went the extra mile.
By the way, you can find the video on the process toward the end of the post!
How to Freeze Cupcakes:
Yes, you can make cupcakes ahead of time and freeze them. Freezing cupcakes is almost the same procedure as freezing cakes. I take my cupcakes out of the oven and let them set in the pan, on the rack for ten minutes.
Then I take my cupcakes out of the pan and set them on the racks to cool almost completely.
I spread out a strip of press-n-seal (sticky side down) and set 6 to 8 cupcakes on it and then wrap it up.
I then set another strip of press-n-seal on the counter (sticky side up) and wrap them up again.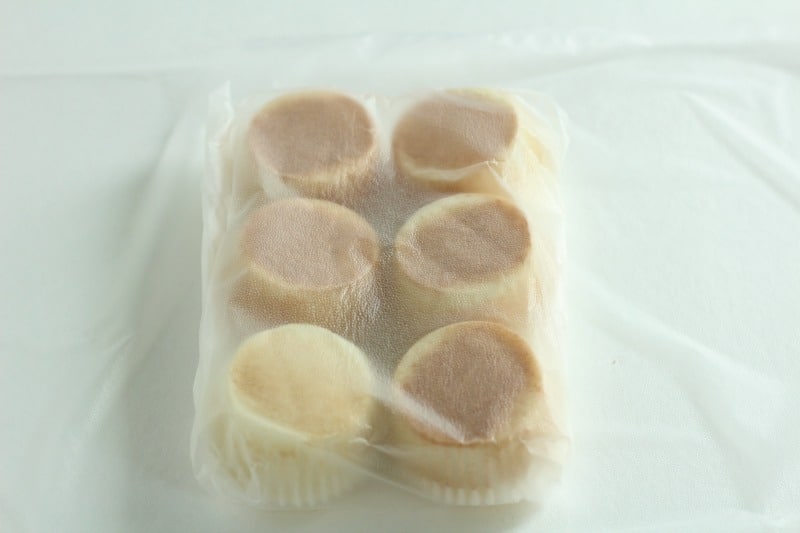 Next, I place one or two of these cupcake packets into a gallon freezer bag. I label the bag with the flavor and date.
Again, it may be a little overkill with the wrapping, but I'd rather be safe than sorry and I've never had a cake or cupcake come out of the freezer with freezer burn. Another tip is that I don't like to keep my cakes frozen over three weeks.
How to Defrost Cakes and Cupcakes:
I think most people would assume you just take the cakes or cupcakes out of the freezer and their packaging to let them defrost, but YOU DON'T WANT TO DO THAT! Ok, I'm sorry I yelled at you, but I had to get your attention.
Here's what you DO want to do: Take your cakes or cupcakes out of the freezer, but leave them in their packaging to defrost. The reason? Well, defrosting will cause some condensation and if you leave them in their packaging, then the condensation will form on the outside of the packaging and NOT on your cakes or cupcakes.
Too much moisture on your cakes can cause air bubbles when you try to ice it. The icing may go on smoothly, but a couple hours later, you'll look at the cake and there will be a blow out or icing bubble on the side of it.
As for cupcakes, if you allow condensation to build on the actual cupcake, it could cause the liners to pull away from the cupcake, or perhaps the icing won't stick to the cupcake.
Ok, now it's your turn to try freezing your cakes and cupcakes and tell me what you think! I think you'll be surprised at how fresh they taste…liked you just baked them actually.
Oh and here's a quick video I made to show you the whole process!
FIND ALL MY BAKING TIP POSTS HERE: Cake Baking Tips
Don't Forget to Pin it Below!