When baking cakes, it's important that you're measuring ingredients properly, so that your cake turns out perfectly. If you measure the wrong way, you'll get a completely different result than you intended. Here I share my tips for measuring ingredients, so you can bake your best cake yet.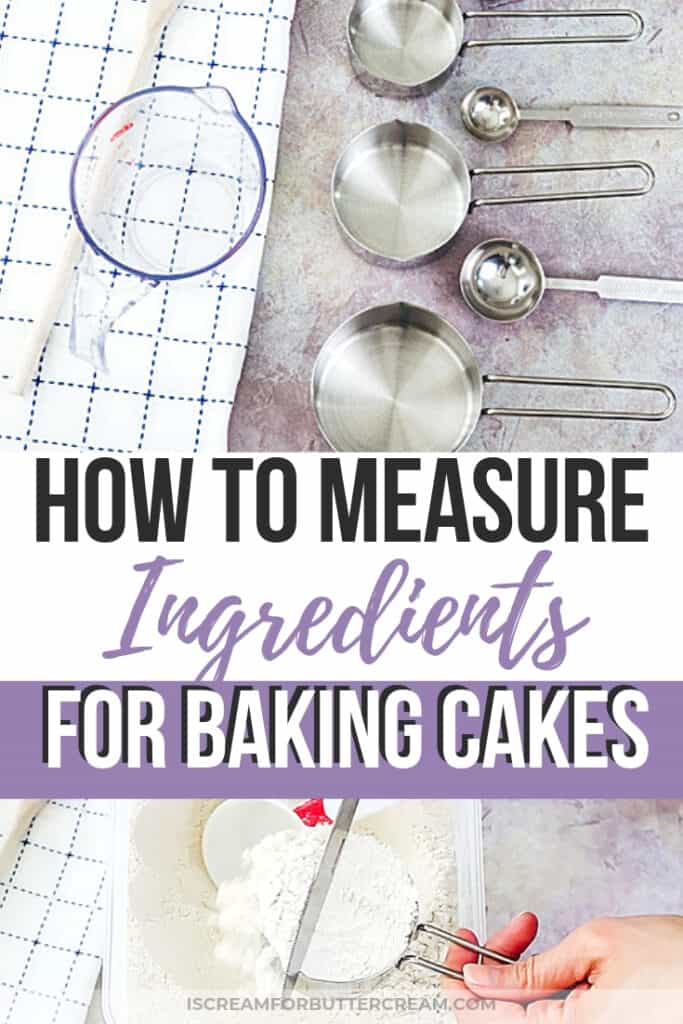 In this post I want to talk about measuring and weighing ingredients, what's best and actual tips for what to do and what not to do when measuring ingredients.
By the way, don't forget to check out the video towards the end of this post.
FIRST THINGS FIRST-MEASURING VS WEIGHING:
Let's talk about the elephant in the room. That elephant is the whole weighing verses measuring controversy.
I guess it's not really a 'controversy' per se, but people do seem to get all bent out of shape about it, especially in Facebook groups. There are some super serious (and sometimes critical) people in those groups and to them, there is only one way (the best way) to do something.
Let's just get it out in the open: Technically speaking, weighing ingredients is more accurate than measuring by volume.
Now, before you start feeling bad about yourself…don't. I'm just gonna say right now that I'm not snobby about this issue.
Yes, weighing ingredients gets you as close as you can to exact measurements and it's way more predictable and varies less than measuring by volume.
I'm completely fine if someone wants to weigh everything out… that's great, but I'm just here to tell you that it's really not the end of the world and it doesn't mean you can't bake great cakes if you measure by volume.
SO LET'S BREAK THE WEIGHING VS MEASURING ISSUE DOWN:
When I develop my cake recipes, I use volume measurements. I do that because that's what most people (at least in the US) use. I do realize that weighing ingredients is more accurate but the general population is just used to using volume measurements (cups etc) and so I want to make it easier on people and frankly people will gravitate to something that isn't complicated and sometimes weighing ingredients just seems complicated.
Now, if you are a die-hard 'weigher', don't jump on me about that. I know it's really not that complicated, but what I'm saying is that it 'looks' or 'seems' complicated to people who just aren't used to baking that way. And frankly, you don't HAVE to weigh everything. (gasp)
Let's get back on track here. My recipes are tested using volume measurements (cups etc.), because this is how most people are used to measuring and many find it easier than weighing out ingredients.
On my site, you may have noticed that I have a button set up on my recipe cards that can convert those volume measurements to metric for weight and volume (grams, ml etc). It calculates it for me, but it's really just a best guess scenario, since the recipe is actually tested and developed using volume measurements.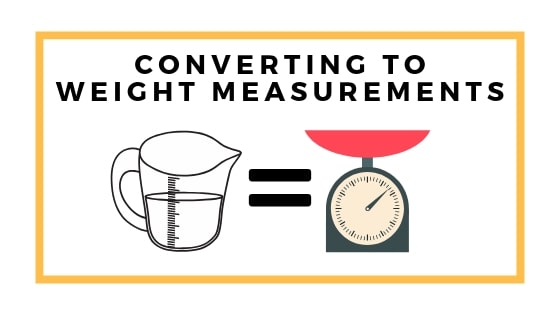 Now, if a person really wanted to weigh out their ingredients, they could use the metric converter button to see the weight (gram) measurements, but those measurements are really just general conversions made by a computer program. Since the recipe was tested and developed based on volume, the results might vary a bit from the original recipe by using the weight measurements.
So, one thing you'd have to do in order to make sure you had the correct weights is to actually follow the recipe by volume, but weigh out the dry ingredients as you go and write down those numbers. Then you'd actually have the weights to go by for next time and you'll get that exact result each time (or pretty darn close). And you won't have to use volume measurements where the factors can possibly vary a bit each time.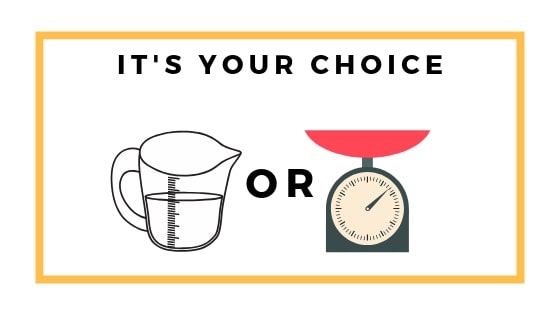 So, the decision is yours. You can either weigh out your ingredients or measure by volume. It's your choice and I won't make you feel bad about either choice, or that you 'should' choose one over the other.
I just want you to know that if a recipe is written and tested using volume measurements, switching to weighing the ingredients does not necessarily mean it's going to be better, or exactly the same. It takes some fiddling.
Ok, now that that's out of the way, I want to go into the proper way of measuring. So, if you're using volume measurements (like many of us do), you're not making any mistakes that can seriously mess up your cakes.
THE PROPER WAY TO MEASURE CAKE INGREDIENTS: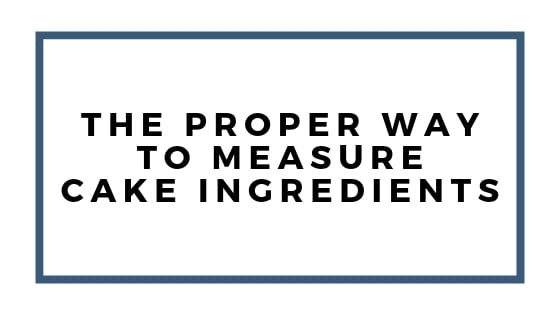 SUPPLIES NEEDED FOR MEASURING CAKE INGREDIENTS:
HOW TO MEASURE CAKE INGREDIENTS:
Essentially there are different types of measuring cups. Some for dry ingredients and some for liquid ingredients.
LIQUID INGREDIENT MEASURING CUPS: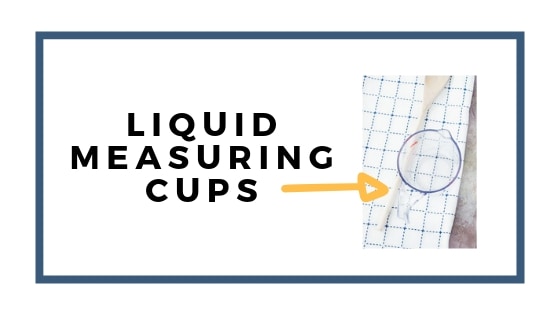 DRY INGREDIENT MEASURING CUPS:
I mean you can use both for both purposes…it's not really a vital thing, but you will get more accurate measurements if you use the dry for the dry and liquid for the liquid.
Personally, I have been known to grab whatever was closest, or clean and use it to measure with…whether it was for dry or liquid measuring. I mean, yeah, technically it's better to measure more carefully, but sometimes life happens, right?
What I will say that's really important is to not pack down your dry ingredients.
So let's get into how to measure now.
MEASURING LIQUID INGREDIENTS:
Liquid is easy. You'll just set your measuring cup on a flat surface, pour in your liquid, bend down and check that it's at the level you need it to be.
For extracts or other small liquid amounts, you'll just use your measuring spoons.
MEASURING DRY INGREDIENTS:
When measuring dry ingredients, it's really important that you don't pack in the flour. You never want to do that.
That is going to add too much flour and your cake will be dry, or dense, or just otherwise not good.
You want to scoop the flour out of the container (or bag) with another scoop and then spoon it into your measuring cup.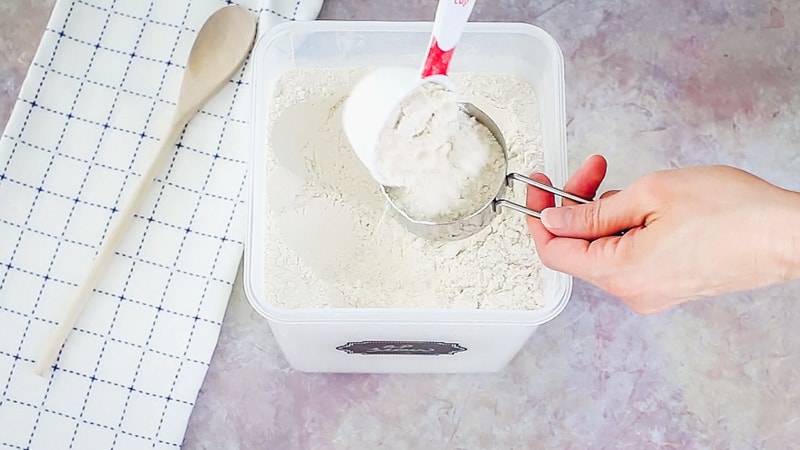 Next you want to level it off. Some people use the back of a knife and some people just use their finger (ex. Ina Garten…who seems like a lovely lady by the way).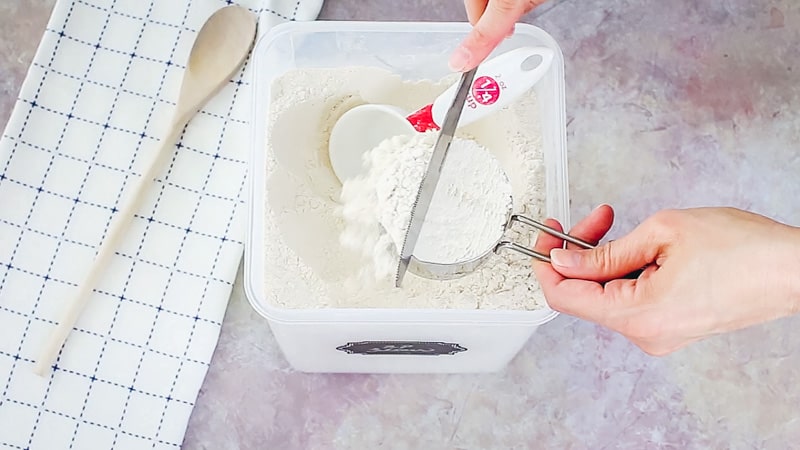 Now, there are some cookie recipes and I'm sure other types of recipes that call for the flour to be 'packed', but that's not the norm, so unless it's stated, do not pack down your flour by scooping it out with your measuring cup.
For measuring sugar, it really doesn't matter. I tend to use a scoop to scoop it out of the container and then into the measuring cup, but you can just scoop it out of the bag or pour it out of the bag into a measuring cup and it'll be okay.
If you're measuring brown sugar, the recipe will most likely ask you to pack it down. In that case, you can just add your measuring cup to the bag and pack it as you measure it out.
For measuring baking powder and soda, you can just add your measuring spoon to the container and level it off using the container, but make sure you do level off the spoon…you don't want a heaping spoonful unless the directions call for a heaping teaspoon.
I also spoon in cocoa powder because you don't want to pack that down either.
Ok, now if you just use a volume measuring cup to measure flour, sugar etc., then you may have some slight variations in measuring and that's simply because you can't really get the top level. It's not the end of the world, but just know the measurements might vary a bit.
I tend to do this more than I should because #sometimeslazy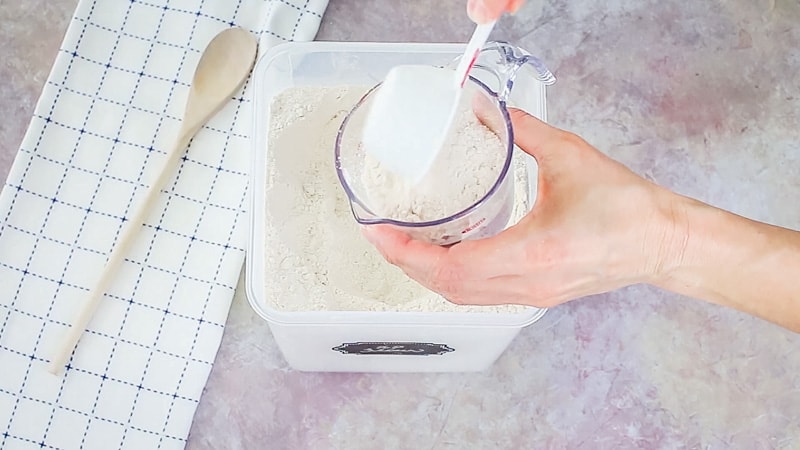 Ok, I hope this helped in explaining the different measuring techniques and at least gave you permission not to be hard on yourself if you're not into that whole weighing out ingredients thing.
The measuring police will not come beating down your door about weighing ingredients and you can still make great cakes….just don't pack down that flour!
VIDEO FOR MEASURING INGREDIENTS FOR BAKING CAKES:
OTHER POSTS YOU MIGHT LIKE:
Don't forget to pin it for later!