These Mother's Day cupcakes are so cute and so easy to make. You don't need to spend hours in the kitchen making these and Mom will love them.
These cupcakes are sweet and simple. The piping on them is a really easy rosette and I'll show you how to do the two-tone technique with the icing as well.
These cute cupcake toppers are really the star here though and I've included three different designs.
All three designs come on one sheet with a total of 12 cupcake toppers on each sheet, so you can mix and match them and print out as many sheets as you want. Remember they're free!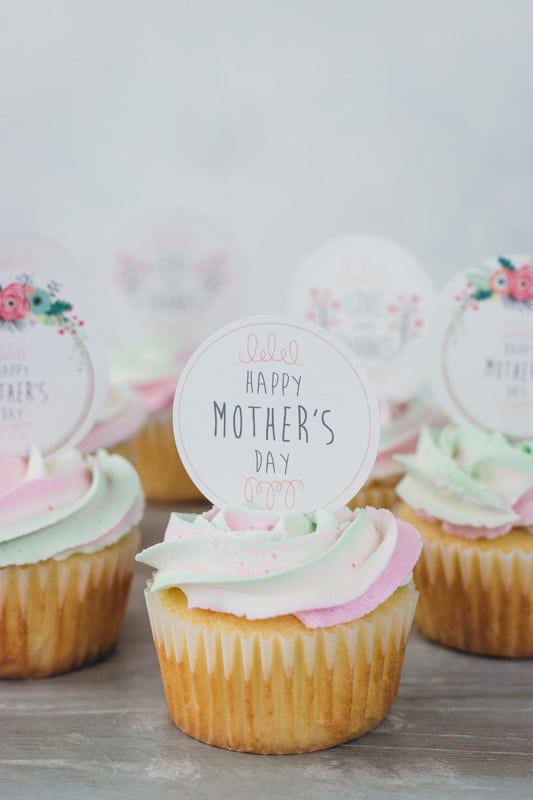 Ok, let's get to the tutorial. (Don't forget to check out the video close to the end of this post to see how everything is done as well.)
SUPPLIES NEEDED FOR THE MOTHER'S DAY CUPCAKES:
Scissors
2″ Circle Punch (This is optional, but it makes life so much easier.)
Toothpicks
Tape
Baked Cupcakes (Get my favorite vanilla recipe here.)
Pink, White & Green Buttercream (Find my favorite recipe here.)
STEPS FOR MAKING THE MOTHER'S DAY CUPCAKES:
Ok let's get to the details on how to make these cute Mother's Day cupcakes.
PREPARING THE TOPPERS:
The first thing you want to do is print off the free cupcake topper printable. You can click on the graphic or button below that to download them.
You'll want to print these out on cardstock paper. It's thicker than regular paper and holds up better.
Go ahead and cut out your toppers. You can do this by just using scissors, or do it the easy way…with a 2″ hole punch. If you use the hole punch, just cut the toppers into strips like below and trim off a bit at the end.
Turn your hole punch upside down so you can see where you'll be punching. If you need to trim off a bit more from the end of the strip, you can do that.
Now just press down and punch out the topper.
Grab a toothpick and just tape it onto the back of the cupcake topper.
Now just do this for the rest of the toppers and then set them aside to work on your cupcakes.
PREPARING THE CUPCAKES:
Now just bake your cupcakes and let them cool completely.
For these cupcakes, I wanted to get a two-toned look for the rosettes. I used pale green and pale pink, because it matches the toppers, but you can do whatever colors you like.
You'll want to fit a piping bag with a 1M or 2D piping tip to get the rosette look. Now just set that aside for a second.
Now fill three icing bags with white, pink and green (or use the colors you've picked). You'll also want to snip off the ends, but you don't need piping tips for these.
Now you'll just pipe those three colors into your main piping bag. There's really no rhyme or reason to it, just pipe stripes of buttercream in your bag.
Twist your pastry bag and then go ahead and pipe your buttercream rosettes. Remember when piping the rosettes that actually look like roses, you'll want to start in the middle (inside) and pipe moving outward. (The video will show this better.)
If you need extra help learning how to pipe rosettes, I've got an entire post about that here. It'll go through my method of piping rosettes, so they don't look so flat.
FINISHING OFF THE CUPCAKES:
Ok, now all you've got to do is insert the cupcake toppers a little bit before serving and that's it! Yay!
So easy to do, yet so pretty for a Mom.
VIDEO FOR THE MOTHER'S DAY CUPCAKES:
OTHER TUTORIALS YOU MIGHT LIKE:
Don't Forget to Pin it for Later!