A fun take on pull apart monkey bread, this s'mores monkey bread is a fun summer treat. It's got yummy graham cracker crumbs, marshmallows and gooey milk chocolate and it's so easy to make.
I LOVE monkey bread. It's really easy and people really love it. The trick is to serve it warm, but not too hot.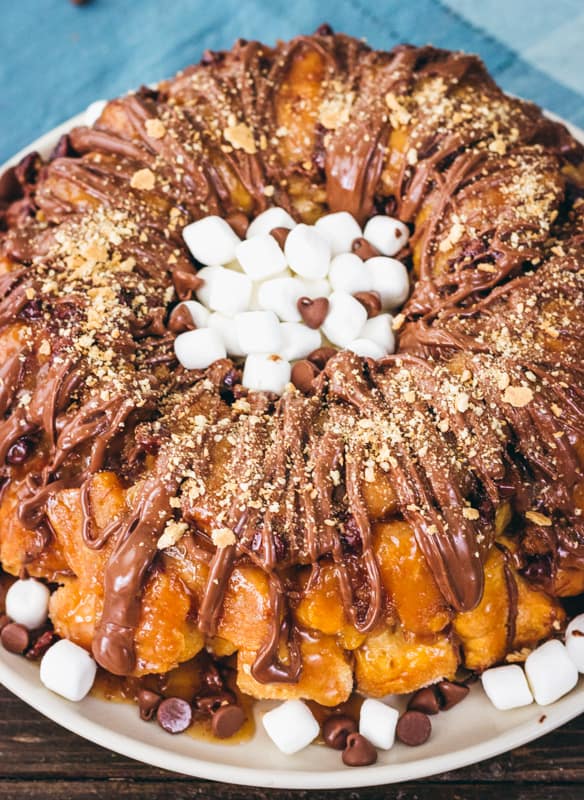 It's really hard to resist though and I couldn't make myself wait long enough and almost burned my fingers trying to pull off a chunk to eat it. 🙄 So don't do what I did. 😉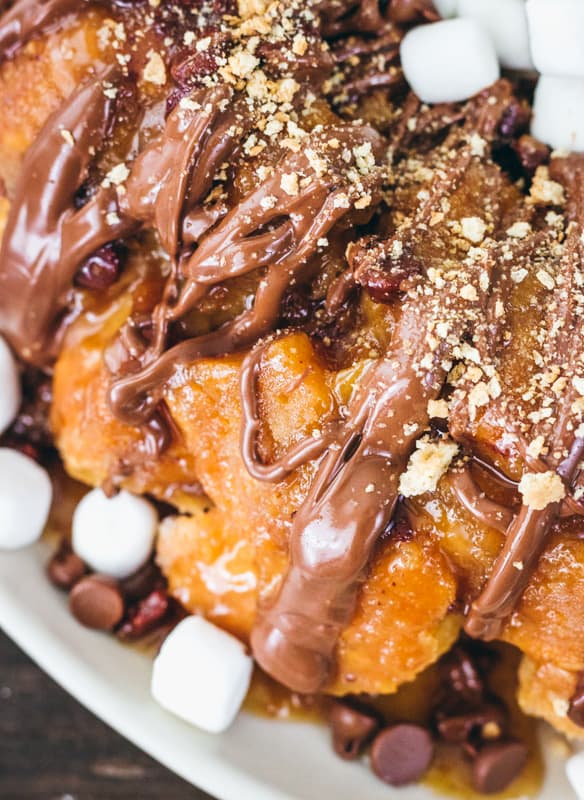 This post contains affiliate links, which means I will receive a referral commission, at no additional cost to you, if you make a purchase using these links. As an Amazon Associate, I earn from qualifying purchases.
These links also use cookies, which tracks and allows me to get credit for the referral. You can see my policies linked in the website footer.
LET'S TALK ABOUT SOME OF THE INGREDIENTS IN THIS CAKE:
Sugar: You're going to use a ton of sugar…brown and white, so just be aware of that. This cake is super sweet.
Refrigerated Biscuits: I used 2 (16 oz.) cans of large (Grands) refrigerated buttermilk biscuits. You could also use the Grands homestyle biscuits. Those are the really large biscuits, but if you don't have access to that type, you could use about 4 (8 oz. cans) buttermilk biscuits (the smaller biscuits).
All the good s'mores stuff: You'll also add in all the ingredients used in s'mores which are graham crackers, marshmallows and milk chocolate chips.
TIPS & FAQs FOR THE S'MORES MONKEY BREAD:
Use a bundt pan for this, but make sure to grease it with shortening or spray it with Pam really, really well. If you don't, it will stick.
Whatever size refrigerated biscuits you use, make sure to cut them into bite sized pieces. It doesn't really matter that they're a specific size, you essentially just want them bite sized.
Make sure those biscuit pieces are fully coated with the white sugar.
The marshmallows you add to the monkey bread will essentially melt when you bake it. The more marshmallows you add, the sweeter it will be. My suggestion is to go easy on them. You can always add more to the middle of your monkey bread once it's done baking and turned out onto a cake plate.
You can save some of the milk chocolate chips to use as a drizzle and then sprinkle with left over graham cracker crumbs.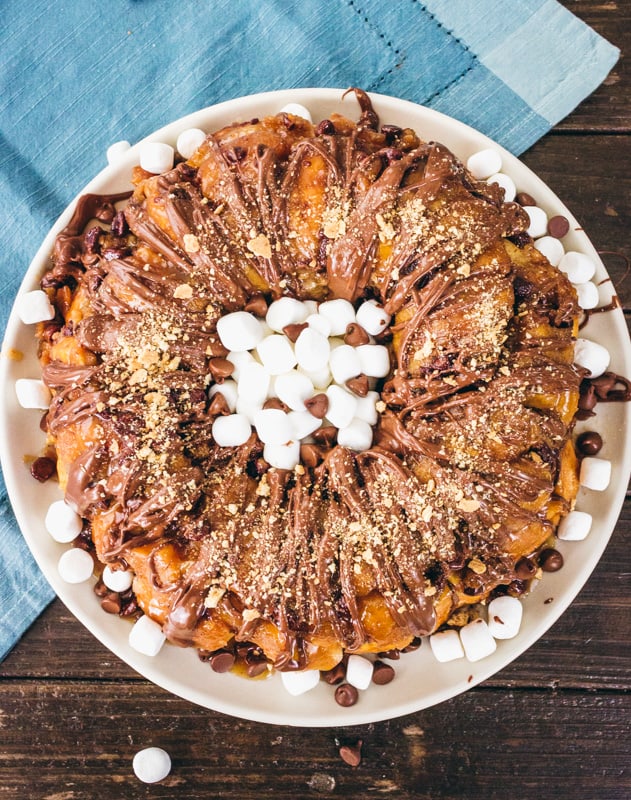 SUPPLIES I USED TO MAKE THIS MONKEY BREAD: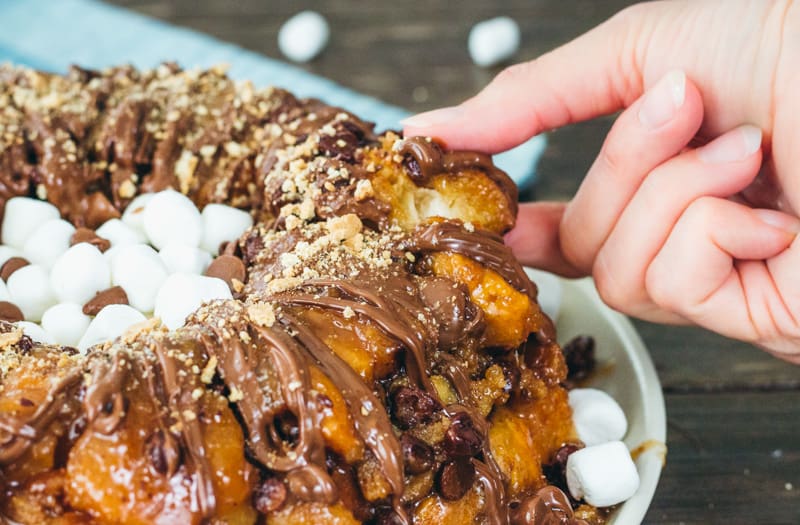 Ok let's get to the recipe!
S'mores Monkey Bread
A fun take on monkey bread, this s'mores monkey bread is a fun summer treat. With yummy graham cracker crumbs, marshmallows and gooey milk chocolate, it's super easy to make.
Ingredients
2

16 oz. cans

Grands refrigerated buttermilk or homestyle biscuits

(or use 4 (8 oz.) cans buttermilk biscuits)

1

cup

granulated sugar

1 1/2

cups

mini marshmallows

1 1/2

cups

graham crackers, crumbled

1

11 oz. bag

milk chocolate chips

3/4

cup

butter

(1 1/2 sticks)

1

cup

brown sugar, packed
Instructions
Preheat the oven to 325 degrees.

Grease a bundt pan very well with vegetable shortening or spray very well with Pam.

Cut each individual biscuit into about six pieces. (If you're using the regular sized biscuits instead of the Grands, cut each biscuit into three pieces.)

Add the granulated sugar to a large ziplock bag or add to a large bowl. Add in the biscuit pieces and shake the bag, or roll them around in the bowl to coat each biscuit piece.

Add 1/3 of the biscuit pieces to the prepared bundt pan, then sprinkle 1/2 of the crumbled graham crackers, 1/2 of the marshmallows and a 1/4 of the milk chocolate chips.

Add the next 1/3 of the biscuit pieces and then add the last 1/2 of the crumbled graham crackers, marshmallows and another 1/4 of the chocolate chips. (You'll use the last half of the chocolate chips for the glaze.)

Now add the last 1/3 of the biscuit pieces to the pan. Set the pan aside.

In a saucepan, add the brown sugar and butter. Bring it to a boil, and let it simmer for about a minute and a half, then remove it from the heat. Stir it well with a whisk then slowly drizzle the mixture over the biscuit pieces that you added to the bundt pan.

Bake in a preheated oven at 325 degrees for approximately 50 minutes. It's helpful to lay some foil underneath it to catch and drips. When it's done baking, the top should start getting golden brown and crispy.

Remove the pan from the oven and place onto a rack to cool in the pan for about 10-15 minutes.

While you're waiting for it to cool, microwave the last of the chocolate chips with about a teaspoon or two of vegetable oil or shortening until it's a drizzling consistency.

After 10 minutes, put a large plate over the bundt pan, then using oven mitts, flip the pan over, so that the monkey bread is now on the plate.

Drizzle with the melted chocolate. You can then sprinkle on some crushed graham crackers and add mini marshmallows to the middle.

Serve this warm. You'll eat it by pulling off the desired amount with your fingers. It'll be ooey and gooey and wonderful.
Video
Notes
This is best served soon after baking it, so that it remains gooey.
Nutritional values are an estimate.
Make sure to check out the TIPS & FAQs for this recipe in the blog post.
Nutrition
Calories:
244
kcal
|
Carbohydrates:
39
g
|
Protein:
1
g
|
Fat:
10
g
|
Saturated Fat:
6
g
|
Cholesterol:
24
mg
|
Sodium:
150
mg
|
Potassium:
38
mg
|
Fiber:
1
g
|
Sugar:
33
g
|
Vitamin A:
284
IU
|
Calcium:
22
mg
|
Iron:
1
mg
OTHER RECIPES YOU MIGHT LIKE:
Don't Forget to Pin it for Later!