This is the best one bowl vanilla cake ever. Well, in my opinion it is. This easy vanilla cake recipe is so quick to mix together, because you'll just use one bowl! AND it's a scratch cake that actually comes out moist, delicious and full of vanilla flavor.
Hey there! Before you scroll, there's lot's of important stuff in the post!…including the FAQ section, which may answer any questions you might have about this recipe. Enjoy!
A scratch cake that's moist, delicious AND is made in one bowl…you just can't beat that.
This recipe is very similar to my 'favorite vanilla bean cake' recipe, but there are a couple variations in the ingredients and it's got a totally different mixing method (which we'll talk about in a bit).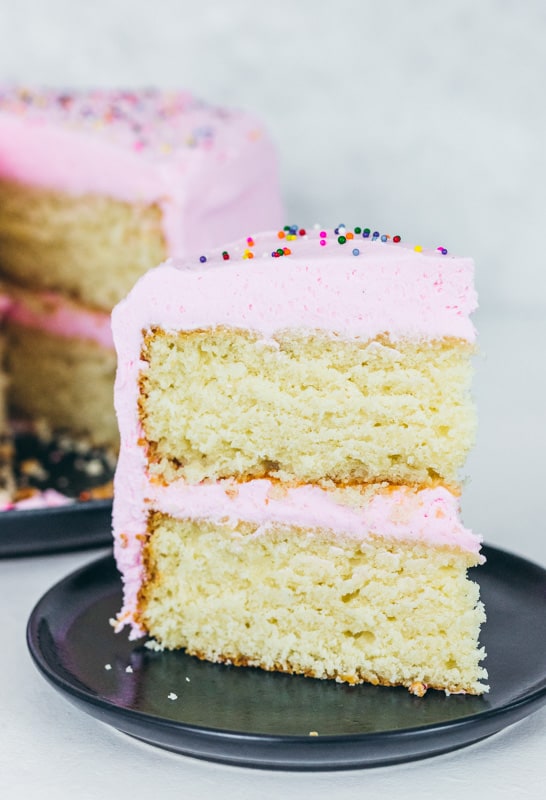 This cake has a bit of a different texture than the the other vanilla cake as well, because we're mixing it in one bowl, but I think you'll really love the taste and how easy it is to make.
SOME OF THE INGREDIENTS FOR THE ONE BOWL VANILLA CAKE:
All purpose flour – We'll be using all purpose flour for this cake instead of cake flour. I figure most people have all purpose flour on hand and if you're wanting to mix up a cake in one bowl quickly, then you may not have any other flour on hand than all purpose…so all purpose it is.
Sour cream – We'll be using my favorite cake ingredient…sour cream. I'm just addicted to using it in cake recipes. (You can always just use yogurt instead, but make sure to read the FAQ section of this post for other substitutions.)
Vanilla extract – I love using vanilla bean paste, so if you can get it, use that in the same amount the recipe calls for, but vanilla extract works as well and that is all I had on hand when I made this cake.
Almond emulsion – I feel like almond emulsion is a sort of secret ingredient that I like to add to cakes. I usually add in only about a ¼ teaspoon…not much. It just gives it a hint, but really makes a difference. Almond emulsion DOES NOT taste the same as cheap almond extract at the store. (At least it doesn't to me.) So as my Mom always said, "Don't knock it 'til you try it."
MIXING METHOD FOR THE ONE BOWL VANILLA CAKE:
As the title says, we're mixing this one up in only one bowl. I don't know about you, but that's exciting to me. It takes less time than adding certain ingredients to certain bowls, then mixing them alternatively etc. So, if you're in a hurry, this just saves a lot of trouble.
You'll be mixing this up using an adjusted reverse creaming method. Now, don't panic…it's really simple. I find the reverse creaming method, much easier than the standard creaming method.
History lesson:
The standard creaming method is when you whip up the butter and sugar together until light and fluffy, then add in the other ingredients alternately.
The reverse creaming method is when you add in all the dry ingredients first, then coat them by mixing in the butter, then add in the wet ingredients.
The advantage to the reverse creaming method is that the cake can withstand more sugar and liquid, plus since the butter and oil coat the flour, it keeps the batter from being over-mixed so easily like the standard creaming method.
If you're interested in learning more about types of flour for baking cakes and mixing methods, you'll want to check out my post on that here: Types of Flour for Baking Cakes Plus Mixing Methods
Basically, what I'm saying is that this is gonna be easy. (I'll explain everything in the recipe card below.)
By the way, you'll want to cover this cake with a really delicious vanilla buttercream and I've got ya covered on that front. Grab that recipe here: Vanilla Bean Buttercream
This post contains affiliate links. As an Amazon Associate, I earn from qualifying purchases.
TIPS & FAQs FOR MAKING THE ONE BOWL VANILLA CAKE:
Make sure when measuring out your flour that you do NOT pack it down in the measuring cup. You want to scoop flour out of the bag or canister, then add it to your measuring cup. Don't scoop with your measuring cup, or you'll end up packing the flour into the cup and using too much.
Make sure your oven is preheated to 325 F. It's very important to preheat your oven.
Make sure to grease and flour your cake pans (or use parchment circles), or your cake will stick to the pan.
Baking powder and baking soda are not interchangeable, so you don't want to substitute anything here.
Make sure to use unsalted real butter, not salted butter and not margarine.
Vanilla bean paste or emulsion is really great, but if you don't have it, just use regular vanilla extract.
What if I don't have access to sour cream?

I get asked this question a lot and there are a couple options: First you can use yogurt instead. If you don't have yogurt, you can use this sub: For every cup of sour cream called for, replace with ¾ cup sour milk or buttermilk mixed with ⅓ cup melted butter. (To make sour milk, or buttermilk, measure one cup of milk and take out a tablespoon of it. Add in a tablespoon of lemon juice or vinegar.)
Do I have to add the almond emulsion?

No you don't, but I feel like it's my secret ingredient though. Using ¼ of a teaspoon is not enough to give a lot of almond flavoring and most people won't even know what that hint of flavor is. They'll just know they can't stop eating the cake! By the way, the emulsion is much better than the almond extract that they have at general grocery stores. If you can make yourself do it, just try it out. If you absolutely hate the idea, then you can omit it…I'll work on forgiving you. 😉
This post contains affiliate links. As an Amazon Associate, I earn from qualifying purchases.
SUPPLIES & TOOLS USED FOR THE ONE BOWL VANILLA CAKE:
Video:
Ok, let's get to the recipe!
***I write recipes using volume (cups) measurements because here in the U.S., this is what people are used to seeing and using. For weight in metric measurements, click the 'metric' button under the ingredients in the recipe card. The weights are converted by a program, not me, and it's a best guess. Please note that because I develop recipes using 'cups' I can't guarantee that weighing the ingredients will produce the exact same results.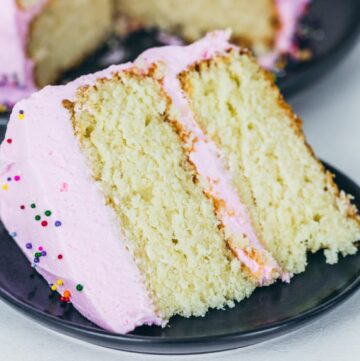 The Best One Bowl Vanilla Cake
This easy one bowl vanilla cake recipe is super quick to mix together because you'll just use one bowl and it comes out moist and delicious.
Print
Pin
Save
Saved!
Rate
Ingredients
2 ⅔

cups

all purpose flour

2

cups

granulated sugar

2 ½

teaspoon

baking powder

½

teaspoon

salt

1

cup

unsalted butter

(room temp) (2 sticks)

2

tablespoon

vegetable oil

(or canola oil)

3

large eggs

1

cup

sour cream

(or plain yogurt)

½

cup

milk

(use whole milk if you can get it)

3

teaspoon

vanilla extract

(or vanilla bean paste if you can get it)

¼

teaspoon

almond emulsion

(optional)
Instructions
Preheat the oven to 325 degrees.

Grease and flour two, 8 inch round cake pans and set aside.

Set the butter out and allow it to come to room temperature. It must fully come to room temperature. Don't melt it though. (You can cut it into chunks on a plate and it will come to room temp quicker.)

In a large mixing bowl, add the flour, sugar, baking powder and salt and whisk together.

Add the chunks of butter to the dry mixture and mix with an electric mixer on medium speed until you get a course, sand-like texture.

Add the oil and eggs and mix at medium only until just incorporated. It'll be thick at this point and you don't have to keep mixing until it's smooth right now.

Add the sour cream (or yogurt), milk and extracts and mix at medium speed only until incorporated.

Scrape down the sides of the bowl and then mix again just until it's all incorporated.

Do not over-mix. (Mixing for several minutes is too long.) Just mix until all the ingredients are well incorporated. Batter will be on the thick side.

Pour into prepared pans and smooth level. Bake at 325 degrees for approximately 45 – 50 min.

Cool on a wired rack, in the pans, for about 10-15 minutes, then turn the cakes out onto the racks and allow them to cool completely before covering with buttercream or freezing the layers.

The tops of these cake layers will flatten out as they cool.
Notes
This cake does not need to be kept in the refrigerator, unless you've added perishable filling or frosting. This cake can be frozen for up to a month if wrapped well in plastic wrap and foil.The vanilla bean buttercream recipe is delicious on this cake.
Nutritional values are an estimate and are for the cake only and does not include the icing or filling.
Make sure to check out the TIPS & FAQs for this recipe in the blog post.
*This recipe card may contain affiliate links. As an Amazon Associate, I earn from qualifying purchases.
Nutrition
Calories:
448
kcal
|
Carbohydrates:
56
g
|
Protein:
5
g
|
Fat:
23
g
|
Saturated Fat:
14
g
|
Cholesterol:
92
mg
|
Sodium:
136
mg
|
Potassium:
195
mg
|
Sugar:
34
g
|
Vitamin A:
670
IU
|
Vitamin C:
0.2
mg
|
Calcium:
93
mg
|
Iron:
1.6
mg
Baking at higher elevation?
Adjustments will need to be made for that. This website does not specialize in higher elevation baking. Please take time to do your research on what adjustments should be made.
Want to support this blog?
Feel free to leave a tip here: Tip Jar!
Disclaimers
To see food safety, allergy & nutrition disclaimers, go here: Disclaimers
How to Share
I'd love for you to share this recipe link or tag it, but please do not share screenshots or copy/paste the recipe to social media as the content and photographs are copyright protected and we (bloggers) work really hard on our content. Sharing the link, tagging us on socials and pinning it is super appreciated though!
OTHER RECIPES YOU MIGHT LIKE: