Today I'm sharing my tips on crumb coating cakes and whether you really have to crumb coat a cake. I'll share why it's used, when to use one and when you don't have to.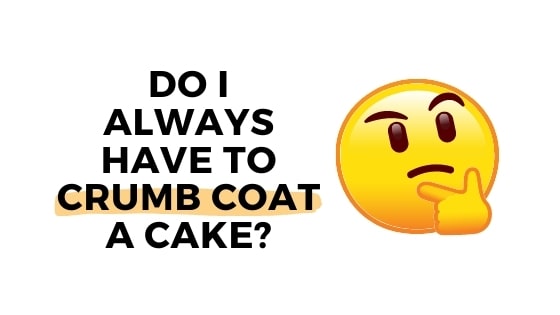 I feel like this is a question a lot of us ask. Is it really necessary? Sometimes we just don't have a lot of time to make a cake and if you're like me, you don't want to do anything extra that you don't have to do.
There are some cake decorators that say you need to crumb coat, in order to get the perfect cake, however that's just not necessary. There are times when you should use one, but you don't have to use one for every single cake.
I do have a few tricks on how you can get by without using one and some advice on how to know when it's best to do it.
First, this is only my opinion based on my experience and I'm just going to talk about what I do that works for me in the hopes that it works for you as well.
I am in no way saying that my method is better, or that another method is wrong. I always say, do what works for you, but if what you're doing isn't working, then it's okay to change it up.
There are no cake police.
As an Amazon Associate, I earn from qualifying purchases.
Jump to:
What is a crumb coat?
A crumb coat is a thin layer of buttercream icing applied to a cake.
What is the purpose of using one?
The purpose is to seal in the crumbs before adding the final coat of buttercream to the cake.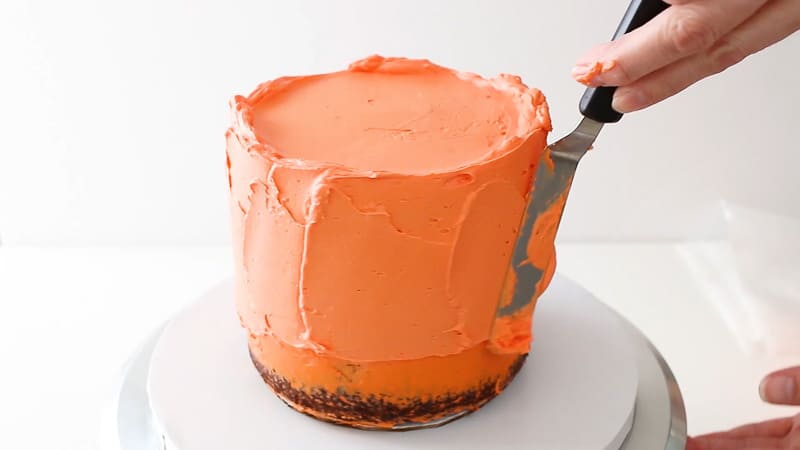 When you don't have to use one:
If it's not for an important event:
You don't have to use one if it's not an important event, or if it's just for the family. If the cake doesn't have to look perfect (and you're okay with it not looking perfect), then just don't worry about it.
If the cake just isn't crumbly:
I know that sounds like a given, but sometimes we just do things because we think we're supposed to. A lot of times, vanilla cakes just aren't that crumbly, so if your cake isn't a super soft and delicate cake, then you just might not need to crumb coat it at all.
If it's not necessary, don't spend time doing it.
A quick tip when not using one:
When you go to add the buttercream to the outside of the cake, use a lot of it. If you try to go with thin coating or sometimes even a medium thick coating, then that can sometimes cause crumbs.
Just commit to it and add a bunch of buttercream and keep your icing spatula moving back and forth without pulling it up and off the cake.
Once you get a bunch added all over the cake, then you can take a bit off with your icing smoother or icing spatula.
If, when you start, you see that there are a ton of crumbs, then you can just stop and do a crumb coat instead.
But I've found that if I know the cake I'm working on isn't prone to crumbs, then I slather on a bunch of buttercream, then smooth it out after it's all added and that helps.
When it's best to use one:
When you're covering a chocolate cake:
Oh man, chocolate cakes crumble like crazy. Ok, maybe they crumble the same as other cakes, but you can just see the crumbs better. I find that I almost always need to do a crumb coat on chocolate cakes.
When you're icing a carved cake:
If you've got a cake that's been cut into a shape or you've had to trim around it a bit, then you'll probably need to crumb coat it.
If it's a really important event:
If this is for a wedding cake or a party and you just want everything to be perfect, go ahead and put in the effort.
If the cake is very delicate (and if it's a box cake):
I've found that the more delicate a cake is, the more crumbs can pop up when icing it. I've also noticed that box cake mix cakes are similar because they're so soft.
Tips for crumb coating:
Sometimes it helps to chill the cake a bit before adding a crumb coat, especially if it's a carved cake, or you've had to trim the cake a bit.
Now, I normally don't chill my cakes before icing them, but I will for about 20 minutes or so if it's crumbly and I need to add a thin crumb coat.
After that, I don't chill it before adding the other coats of buttercream. (You can find out more on my method in this post: Should I Refrigerate My Cakes Before Decorating Them?)
Another tip is to thin the icing that you'll use for the crumb coat…not all of your icing…just the amount you'll use a the crumb coat.
If you use a thinner consistency buttercream, then it will go on much easier. At that point, you can let it set up a bit and then apply your final coat of buttercream.
Basically, there isn't a set in stone rule that you have to crumb coat your cakes, so don't feel bad if you think you aren't following the rules and should be doing it every time.
Trust yourself and use your judgement. You've got this!