If you're just starting out decorating cakes, here is a handy list of common cake decorating terms and what they mean. It's like a vocabulary list for cake decorating! So handy to have all these cake decorating techniques and tool terms in one place.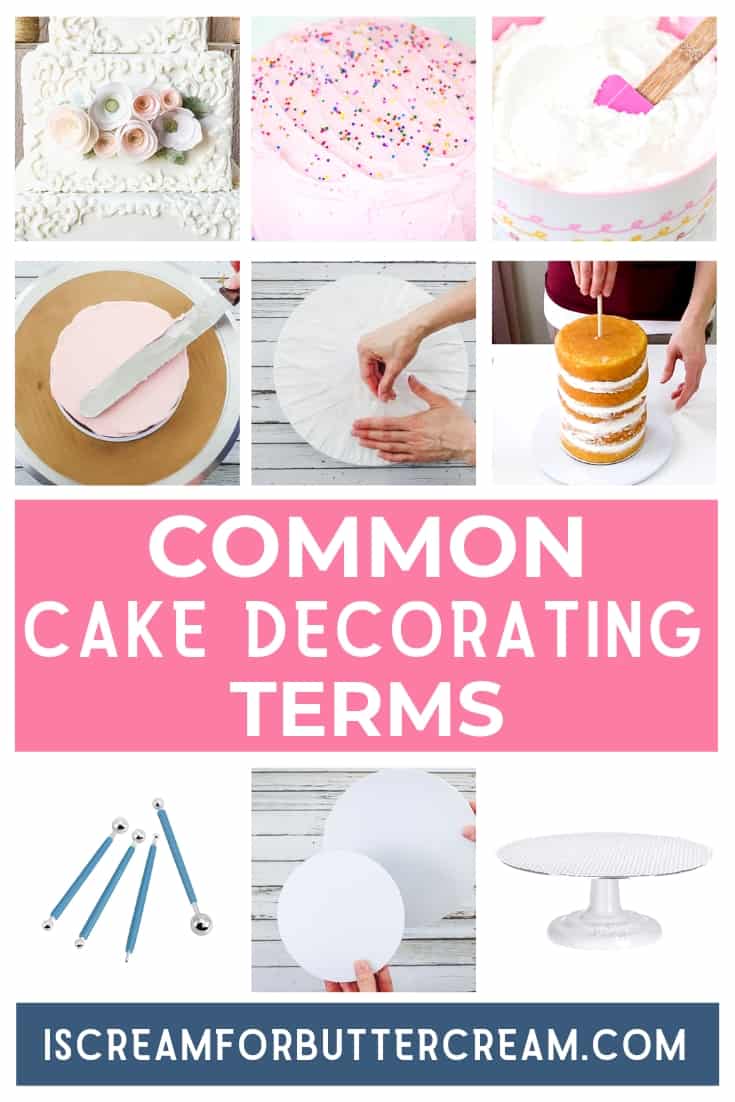 So this is a long post, but I wanted to put together a handy list of all the common cake decorating terms that a beginner will hear and may not necessarily know what they all mean.
These are in alphabetical order…not order of importance and hopefully they'll help clear up any confusion you might have.
(I'm sure I've probably forgotten some, but I will be back to update this post periodically.)
Ok, let's get started.
As an Amazon Associate, I earn from qualifying purchases.
COMMON CAKE DECORATING TERMS:
AMERICAN BUTTERCREAM:
American buttercream is essentially buttercream that's made with butter and powdered sugar. There are other ingredients in it, but it's essentially a fat (butter or sometimes vegetable shortening), powdered sugar and a bit of liquid and flavoring.
This buttercream is very sweet and it helps to add a pinch of salt to it, or use half unsalted and half salted butter when making it.
Technically, when you use vegetable shortening instead of the butter, it's not 'buttercream', but people still call it that and generally any grocery store cake essentially uses a shortening based icing. It does have it's uses though as it doesn't melt quite as fast as an all butter buttercream and it makes piping a lot easier.
You can check out my recipe for (all butter) American buttercream here .
BALL TOOLS:
Ball tools are fun because you can use them for all kinds of things. You can use them to make fondant figurines, to give movement to your fondant ruffles and to thin and ruffle gumpaste flower petals.
There is a trick to using them to thin and ruffle petals though. Make sure the ball is halfway on the gumpaste petal and halfway off the petal. You'll also need to use a firm shaping foam pad under it, but we'll get to that later in the post.
CAKE BASE:
A cake base is different than a cake board, although a cake base can be made out of a cake board. Ok, if that didn't just confuse you even more, I'll try again.
Basically a cake base is the bottom base that the entire cake will sit on. It's sometimes decorated with some simple white fanci foil, or it could even be covered with fondant. It's essentially the 'presentation' board the entire cake will sit on.
Now, the cake base should not be confused with a cake board, which we'll get to next.
If you'd like tips and ideas on covering cake boards, you can check out that post here .
CAKE BOARDS (OR CAKE CIRCLES):
Cake boards are the actually cake circles (or squares if it's a square cake) that go under each tier. They are the same size as the cake tier. You need a cake board under each and every cake tier, especially if you'll be stacking cakes.
Cake boards can be just cardboard cake rounds, or they can be made out of foamcore board. I like to use foamcore board for the heavier fondant covered cakes.
CAKE BORDER:
A cake border is just what it sounds like…a border that goes around the cake either on the top of the cake or the bottom. It can be piped with icing, or can be made from fondant.
To get some ideas on how to pipe borders, you'll want to see this post.
CAKE LAYERS:
Cake layers are the individual baked cakes. When you fill a cake pan, that's one layer. (Cake tiers are different and we'll get to that next.)
When putting a cake together, generally you'll have two-three layers of cake with filling in between them.
CAKE TIERS:
Cake tiers are made up of cake layers. I normally use about three cake layers to make a tier. Wedding cakes are usually tiered cakes. You can see more about tiered cakes in my posts about stacking cakes and the anatomy of a decorated cake.
CAKE TURN TABLE:
The cake turn table has to be one of the most needed tools in all of cake decorating. This thing can save you so many headaches.
You'll use this to get a smooth buttercream finish on your cake. Without it, it's much harder to decorate cakes. You can get an inexpensive Wilton turn table, or you can get a more expensive metal one. If you want to see how to use it to get a smooth finish on your cake, you'll want to check out this post.
CASCADE:
A cascade is a type of flower arrangement on your cake. The flowers literally just cascade down the cake from the top to the bottom. You can use real flowers, silk flowers or gumpaste flowers.
To learn how to properly attach and insert gumpaste flowers on cakes, you'll want to see this post.
CENTER DOWEL:
A center dowel is just a long wooden dowel that's sharpened on one end and then pushed (or hammered) through the entire cake and through the bottom cake base.
It gives the cake more stability and it's especially used on tall cakes. Some people use cake structures with pipes coming up from the bottom cake base and then slide the cake down it, but if you don't have that kind of set up, then a center dowel can help.
To see more on how and why to use a center dowel, see this post about making tall cakes.
CRUMB COAT:
A crumb coat is just a super thin layer of buttercream on your cake, once it's filled, to seal in the crumbs. You'll do a crumb coat first, let it settle a bit, then add the final coat of buttercream.
You don't always have to do a crumb coat. I find that chocolate cakes seem to be more crumbly, so adding a crumb coat to those is helpful.
I normally do a super thin crumb coat layer on a cake and then let it settle before adding the second, thicker and final coat of buttercream. If you want to see more about my 'settling' process and why I do that, you'll want to check out my post about why I don't chill my cakes before decorating them.
CRUSTING BUTTERCREAM:
Crusting buttercream is generally American buttercream, but made with shortening.
When a cake is covered with crusting buttercream and exposed to air, the buttercream will form a very thin shell over it. This is useful for piping buttercream flowers and for using the paper towel smoothing method to get smooth buttercream.
You can find my recipe for a heat stable, crusting buttercream here.
DOUBLE BARREL CAKE:
A double barrel cake is essentially a two-tiered cake, but both tiers are the same size. This is just a way of making a really tall cake.
The cake will be split into two tiers (at least two cake layers each tier) with a cake board between them, but the entire cake is iced as one. You can see how to do this process in my how to make a tall cake post.
DOWELS:
Dowels are used for stacked cakes and they give the cake stability. Dowels can be wooden, plastic, columns, bubble tea straws etc. You just want them to be sturdy.
I go into a lot of detail about dowels and how to use them in my stacking cakes post.
ELEPHANT SKIN:
Elephant skin is this super weird wrinkly texture that fondant makes when it gets stretched too thin, or it just gets dried out. You'll definitely know it when you see it. It just won't get smooth.
I've found that when I use a certain type of fondant, it happens more. I really like Liz Marek's fondant recipe.
When I use that recipe in combination with an acetate smoother, my fondant gets super smooth. You can see how to make your own cheap acetate fondant smoother and how to cover a cake in fondant here.
FILLING A CAKE:
Filling a cake is just what it sounds like. You're just adding filling between the cake layers.
You'll add one cake layer to your cake base and spread on filling, then add on another cake layer and repeat. You can use a ton of different things to fill your cakes with like buttercream, pastry cream, fruit filling, ganache etc.
FIRM SHAPING FOAM:
Firm shaping foam is used when working with gumpaste or fondant. It's generally used when you need to thin the edges of gumpaste petals or leaves or to make ruffles.
FLOWER NAIL:
A flower nail is used to make buttercream flowers. It's handy because as you pipe on the petals, you can twist the flower nail in your hand.
FONDANT:
Fondant is a sweet and stretchy cake covering. It's kneaded and rolled out thin, then applied over a cake.
The cake is usually covered first with ganache, or a thin layer of buttercream to allow the fondant something to attach to. Using fondant on a cake allows you to get a really smooth finish on your cake and you have more options in decorating it.
You can see more about the process of covering a cake with fondant here.
FONDANT ROLLERS:
Fondant rollers are what you'll use to roll out your fondant or gumpaste. There are small and large rollers and it's good to have both.
The small fondant roller is good to roll out fondant decorations or gumpaste flower petals etc. The large fondant roller is for rolling out large pieces of fondant that you'll use to cover a cake.
GANACHE:
Ganache is made up of chocolate and cream. It's super easy to make plus there are variations like pouring (or drippy) ganache, whipped ganache and firm ganache (which is great under fondant).
You can learn how to make ganache here.
GLAZE:
A glaze can be any flavor, really. It's just a thinner consistency than buttercream and is usually just drizzled or poured over a cake.
GUMPASTE:
Gumpaste is a sugar paste like fondant, but it's more elastic. It will also dry harder than fondant. It's used to make sugar flowers and any sort of decoration you want to get super hard when dry.
There are many different brands like Wilton, Satin Ice and Fat Daddio's, plus you can even make your own.
GUMPASTE FLOWERS (SUGAR FLOWERS):
Gumpaste flowers are made out of…you guessed it…gumpaste. Gumpaste works much better than fondant for making sugar flowers because it's more elastic and dries harder.
You can see my post on how to make a gumpaste rose here.
HEAT STABLE BUTTERCREAM:
Heat stable buttercream is generally American buttercream made with vegetable shortening instead of butter. Shortening is used because it stands up better to heat, than butter.
Of course, no buttercream can withstand sitting out in the glaring sun for long, but a shortening based one can last a bit longer. You can get my recipe here.
ICING A CAKE:
This one I'm sure you know, but icing a cake is just covering it with some type of icing like buttercream or a glaze.
ICING COUPLER:
The icing coupler is a nifty little thing. These are great and every cake decorator needs a collection of these. You add these to your piping bags and it allows you to switch out your piping tips!
I LOVE these and they save you so much time and mess.
ICING DAM:
An icing dam is a line of icing that is piped just around the inside of each cake layer, then either buttercream, fruit filling, or another type of filling is added inside that dam. The dam is piped so that the filling between the layers, doesn't squish out and form ridges around your cake.
I generally do not use a dam unless I'm using a filling that's not buttercream. I find that they really don't work that well when you're using the same buttercream to fill the cake.
Letting the cake settle works better for me. For more information about that process, you can check out this post.
ICING SPATULAS:
Icing spatulas are just long smooth spatulas used to add icing onto a cake. You can use the offset spatulas (angled spatulas), or you can use the flat spatulas. Lately, I've really been liking the flat ones though.
KNEADING FONDANT:
Kneading fondant is kind of like kneading bread. You'll just knead fondant a bit more though to get it stretchy and to mix in any coloring. Even if you're not adding in food coloring, you'll still want to knead your fondant before you use it.
LEVELING A CAKE:
In order to get your cake not to lean on you and for it to not have gaps and cause all kinds of trouble while you're decorating it, you need to have level cake layers.
Sometimes they bake up with a dome on top and you'll want to cut those off with a cake leveler. You need your layers to have flat tops, or you'll have lot's of trouble when you go to decorate your cake.
You'll want to check out this post on baking and getting even cake layers.
MARSHMALLOW FONDANT:
There are lots of different types of fondant, but I think marshmallow fondant is the tastiest. There are many recipes on the internet for it as well. This fondant seems to be softer than some of the other fondant brands, but I find the taste to be much better.
Personally, I use a recipe from Liz Marek that is part marshmallow fondant, part pre-made fondant and it is amazing and has worked very well for me. You can find that recipe here.
MERINGUE POWDER:
Meringue powder is essentially an egg white substitute. It can be used to make royal icing, or it can be added to buttercream to make it more stable.
MODELING CHOCOLATE:
Modeling chocolate is a moldable chocolate. It can be formed and molded into designs and even rolled out to wrap around cakes a bit like fondant, but not quite as stretchy.
NAKED OR SEMI-NAKED CAKE:
These are cakes that are not completely covered in buttercream. A naked cake is one that just has filling between the layers and a semi-naked cake has a thin layer of buttercream on the outside of the cake, but sections are scraped away.
PIPING:
Piping is just squeezing icing out of a piping bag generally onto a cake, or a flower nail. You can pipe words, flowers and other designs.
Be sure to check out my post on easy buttercream borders here.
PIPING BAG:
A piping bag is what icing (buttercream) is added to along with a piping tip in order to pipe onto cakes (or other things).
PIPING GEL:
Piping gel is like an edible goo (for lack of a better term). You can use it in various ways. You can get a water look from it, you can mix it with edible colored dust and use it for stenciling, you can use it to attach fondant decor to your cakes, you can use it to attach sprinkles to fondant etc.
PIPING/ICING TIPS:
Piping tips come in a variety of shapes and sizes and are used to pipe various patterns and shapes of icing. You can see my favorite piping tips and how to use them here.
ROYAL ICING:
Royal icing is normally made from egg whites or meringue powder and it dries very hard. It's used mostly to decorate cookies, but can also be used to pipe onto cakes, fondant or to attach fondant or gumpaste decor to cakes.
SETTLING:
Settling is when you fill your cake layers, cover them with plastic wrap and let them sit for at least several hours.
This 'settling' allows the cake layers and filling to do any shifting that they're going to do before you add the outside coating of buttercream. Settling helps keep your cake from getting icing ridges around it and buttercream blowouts.
SOFT SHAPING FOAM:
Soft shaping foam is used generally when you're making gumpaste flowers. You'll usually use your ball tools to add some curve to your petals or other gumpaste or fondant decorations.
SPRINKLES AND DRAGEES:
I'm sure you know about sprinkles…the tiny colorful edible decor you can sprinkle onto cakes and cupcakes. Dragees are usually harder and some are even metallic in color.
STACKING A CAKE:
Stacking a cake is essentially just setting one tier of cake onto another tier of cake. You'll definitely have to use a support system like dowels and cake boards as well to give it support. You'll want to see the post on stacking cakes here.
SWISS MERINGUE BUTTERCREAM:
Swiss meringue buttercream is a lighter, less sweet version of buttercream. It's made mostly from egg whites and butter and is whipped to a light airy consistency.
TORTING:
Torting is when you slice each cake layer in half (or if it's thicker layers you can slice them into more than just two cake layers.)
It essentially makes thinner cake layers and then filling is added between the layers.
TYLOSE POWDER:
Tylose powder can be added to fondant to harden it up more. If you're make fondant decor that needs to get really hard and you don't have or want to use gumpaste, you can knead a bit of tylose into your fondant and that will firm it up.
WAFER PAPER:
Wafer paper is an edible paper. It's usually made from either rice or potato flour and can be used to make flowers, bows and other designs to be added to a cake. I made the flowers above out of wafer paper and used petal dust to color them.
Ok my friend, that's the list for now! I'll be sure and come back to update this list from time to time.
And if you notice something missing, just let me know in the comments and I'll be sure to add it!
Related Cake Decorating Posts You Might Like:
Don't Forget to Pin it for Later!