Buttercream naturally has a yellow tint to it, but there are several, easy ways to get white buttercream and not all require food coloring.
With the right tips and tricks, you can easily create a beautiful, white buttercream that will be the perfect finishing touch to your cakes.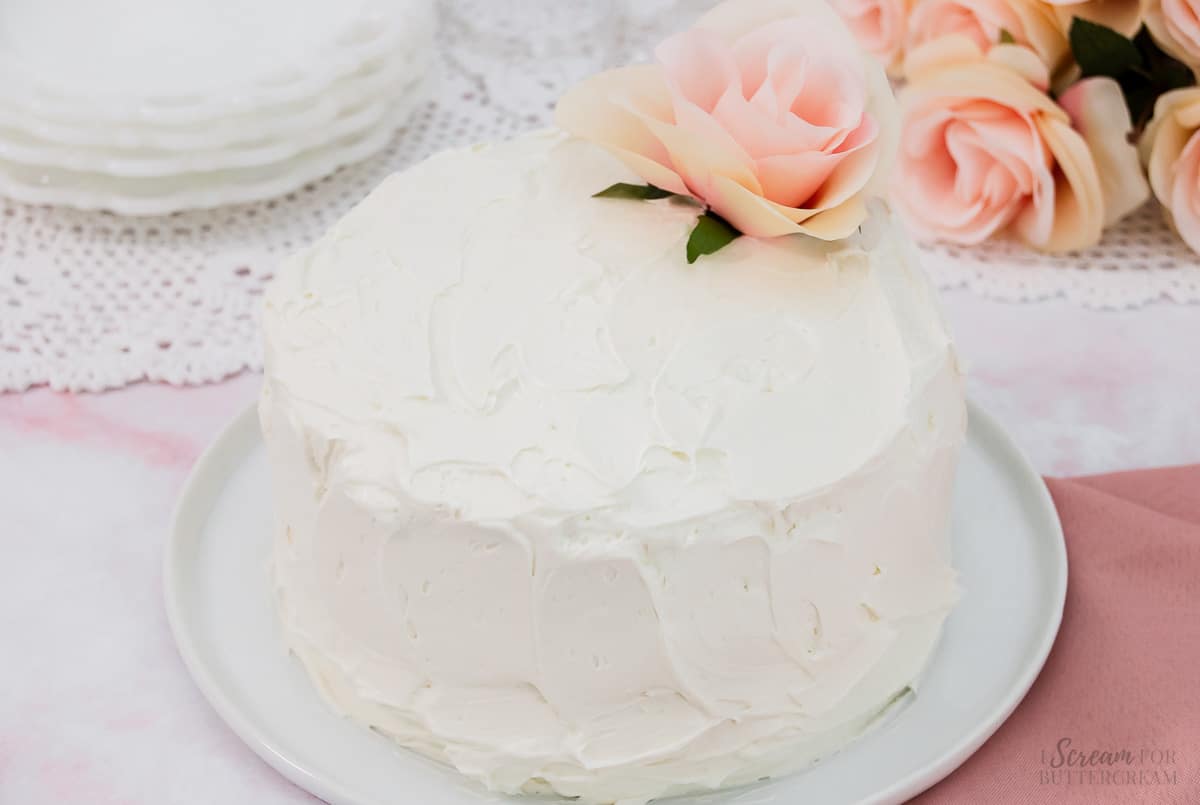 Chances are, you've wanted to make a white buttercream to go with a pure white cake, maybe for a wedding or a birthday and just couldn't get it white enough or get rid of that yellow tint to it.
I've included ways to make yellow buttercream white and a way to get white frosting by just making a change to one ingredient.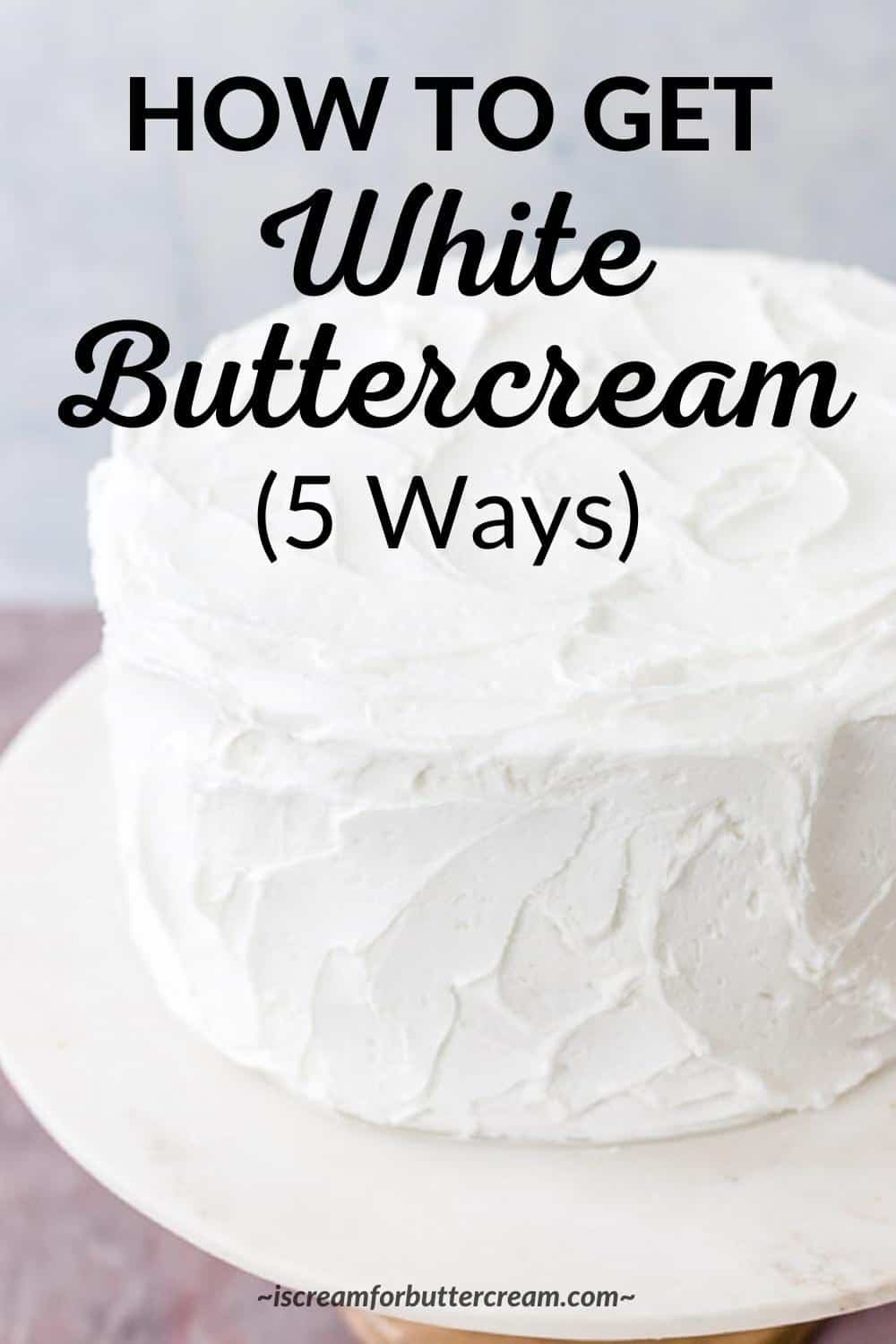 Jump to:
I normally work with American buttercream, so that is the type of buttercream that I will be referring to in this post.
Some of these tips will also work with Swiss Meringue Buttercream, but that type of frosting is different than American Buttercream and therefore would require a little more experimentation.
American buttercream is made with butter and therefore it'll have a slight yellow tint to it depending on what brand of butter you use. I've found it has a yellow tinge to it whether I use salted butter or unsalted butter.
This post will go into how to fix that and/or how to prevent it.
By the way, you can get my buttercream recipe here: Vanilla Bean Buttercream
Whip the buttercream:
This is the easiest method out of all the options here and it doesn't take any additional ingredients or supplies.
Once all the ingredients of the buttercream are well mixed, turn the mixer on medium-high to high and whip for around five minutes.
You'll notice after a couple of minutes, that the frosting lightens in color. It may still have a slight yellow tint, but it won't be as noticeable.
I generally do this every time I make buttercream frosting. It also makes the buttercream nice and fluffy.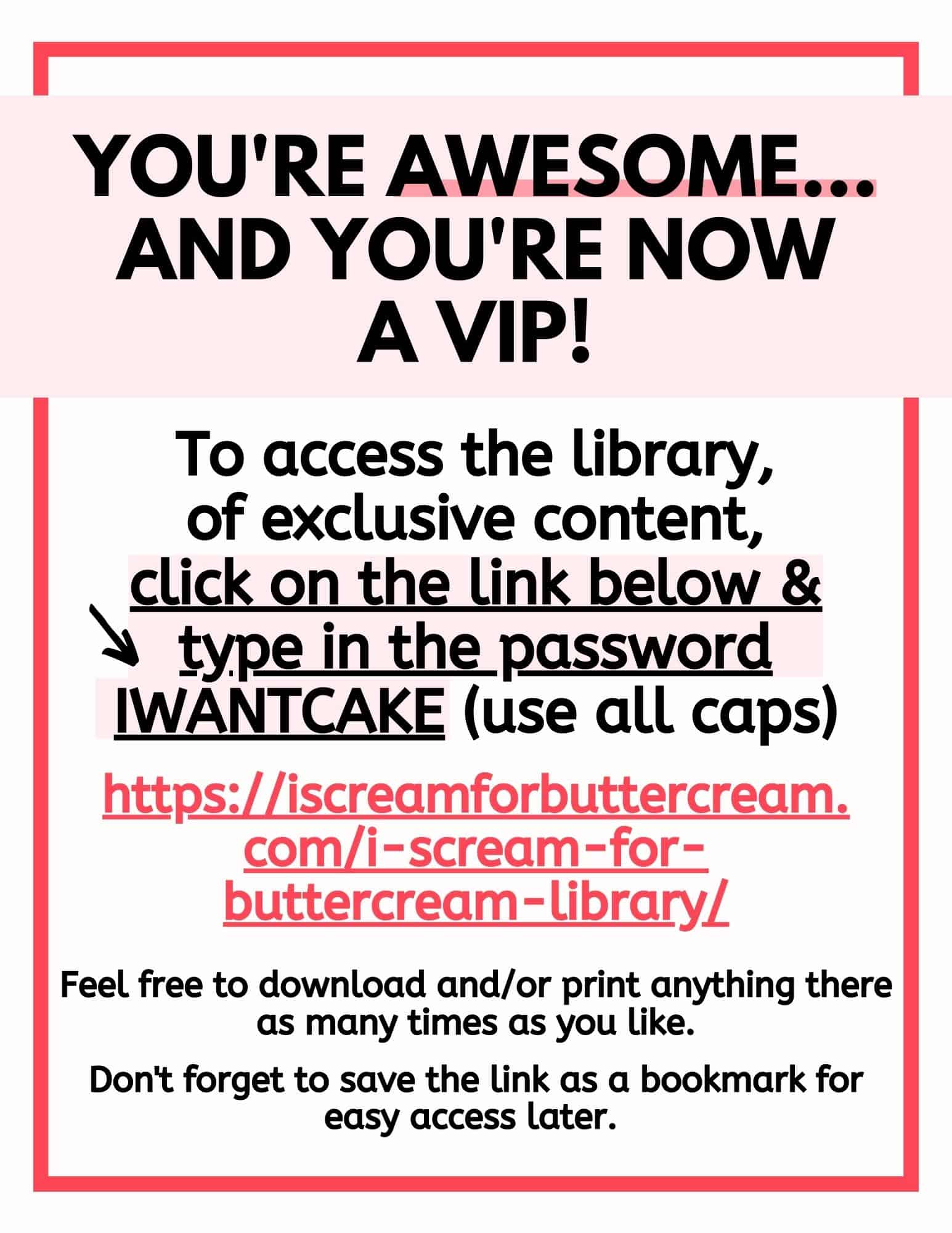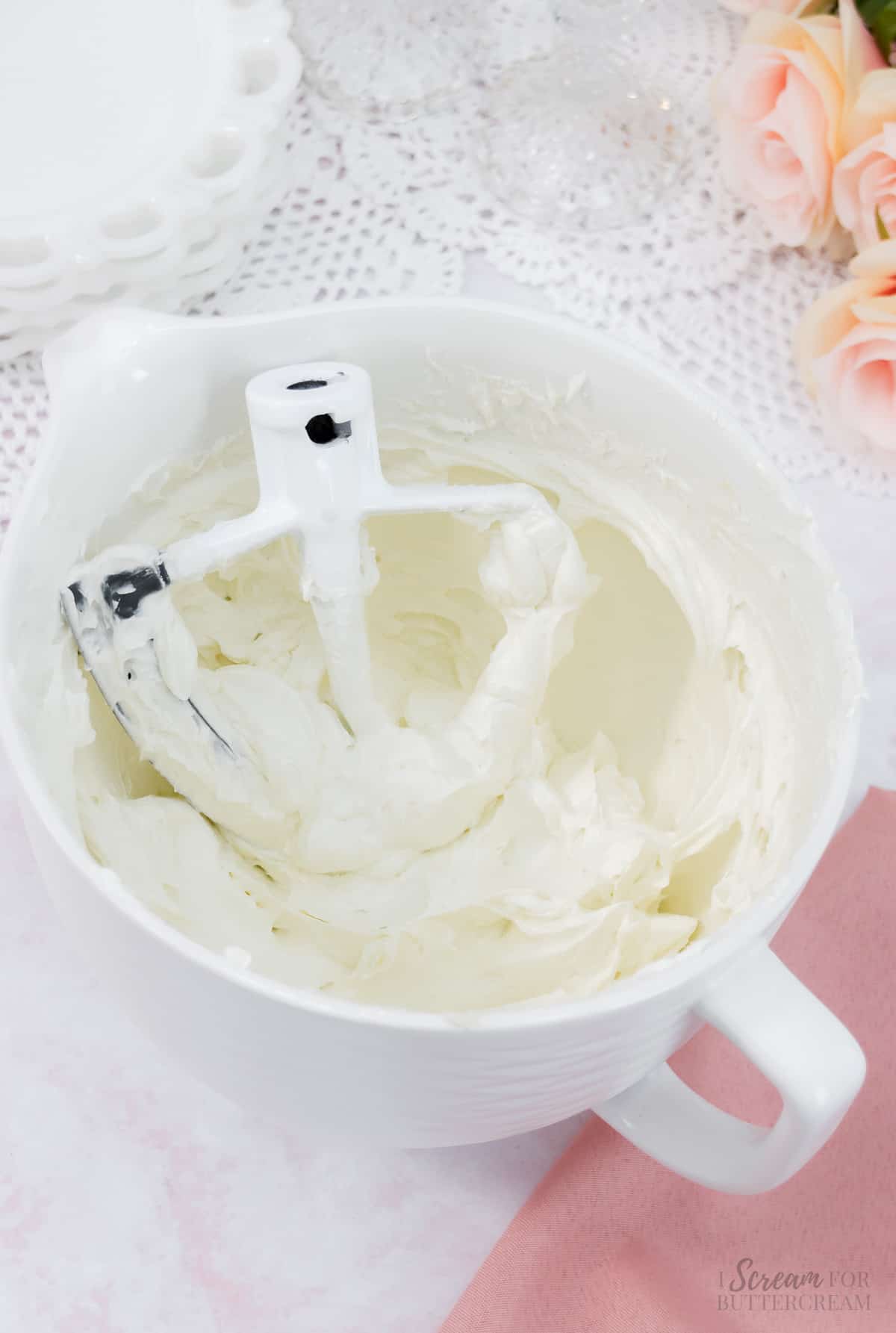 Use white gel food coloring:
Yes, there really is such a thing as white food coloring, but you really need to get the concentrated gel food coloring for it to make any difference.
Here are a couple of options:
There's no set amount of white food coloring you'll need, you'll just squirt in a good amount once all the ingredients are well mixed.
Add some of the food coloring, mix, then reassess. It does seem to take quite a bit, so it's good to whip the buttercream first to see if you can lighten it a bit upfront, then add in some gel food coloring.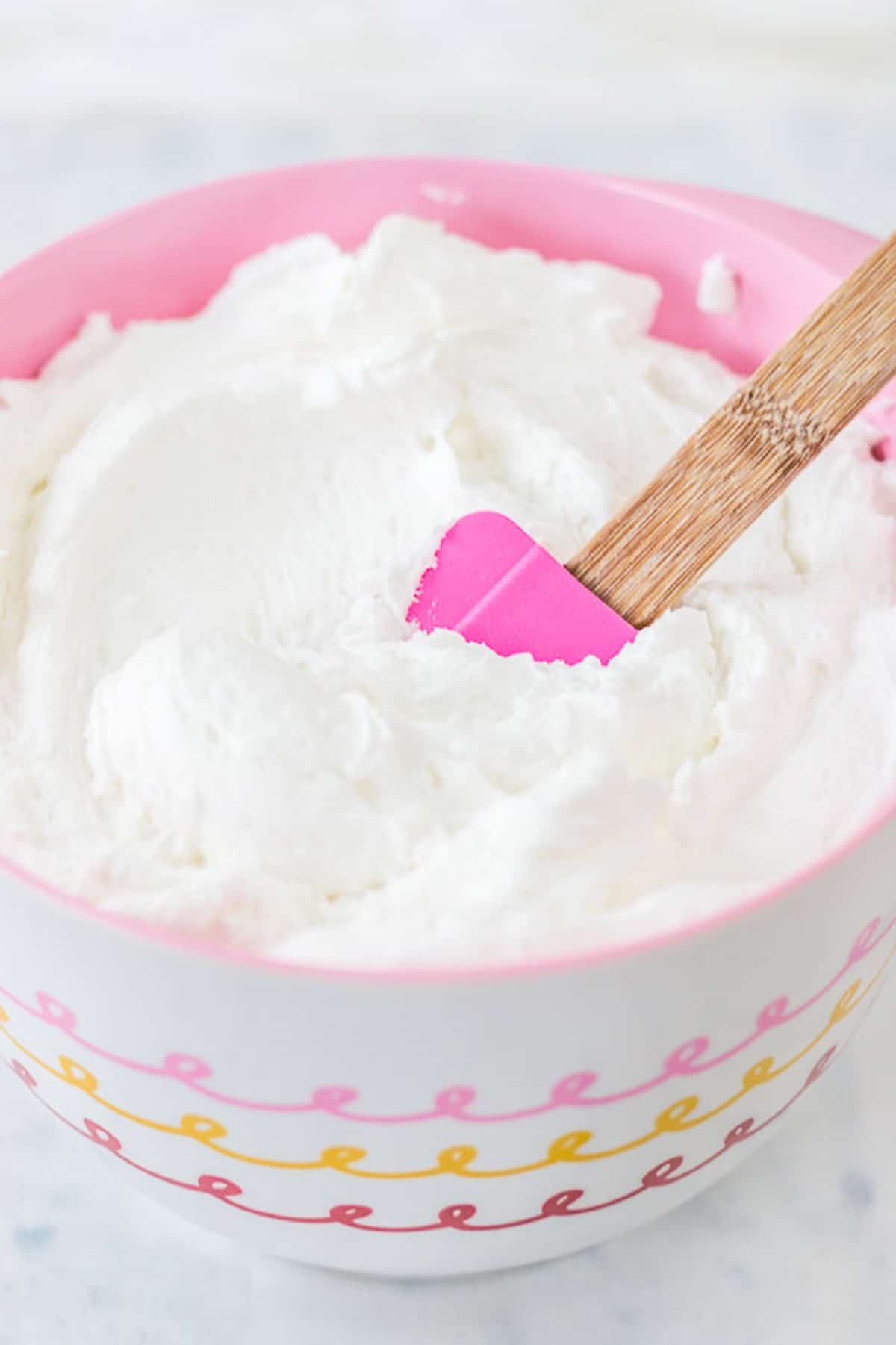 Add a speck of violet or purple gel food coloring:
This seems weird, but violet or purple is on the opposite side of the color wheel as yellow and it helps to cancel out that yellow tinge.
Here's the deal though, you have to use only a tiny amount at a time and it needs to be the gel food coloring and not the liquid kind you can find at general grocery stores.
Now, by a 'tiny amount' I mean just put a drop on a paper towel and then use a toothpick to pick a small amount of it up and then add it to the buttercream. Mix it well and see what you've got.
If it's still too yellow, add a tiny bit more of the gel coloring and mix again. Be very careful only to use a small amount at a time as using too much can tend to give it a green tint.
Use clear vanilla extract:
Using vanilla bean paste, a dark vanilla extract, or even regular vanilla extract can darken the buttercream depending on how much you use.
There is such a thing as clear vanilla extract and that can be added instead of regular vanilla extract just to make sure that you're not adding any additional coloring to the buttercream.
This one change won't be enough to make the buttercream bright white, but in combination with whipping the buttercream, it will definitely help.
One thing to note though is that clear vanilla extract does not taste exactly the same as regular vanilla. To me, it has a little sweeter more candy-like flavor than a richer vanilla extract, but I still like it and think it tastes good.
Use vegetable shortening to replace all or just half of the butter:
If you want to prevent the buttercream from becoming yellow in the first place, then you can use vegetable shortening in place of either all of the butter or half of the butter that the recipe calls for.
Yes, if you replace all the butter with vegetable shortening, then it's technically not buttercream (since there'll be no butter in it), but you'll get a bright white buttercream.
All shortening frosting does seem to taste sweeter, I think in part because the shortening coats your mouth. If you don't like the idea of going all in with the shortening, you can use half shortening and half butter.
One thing to note though: Vegetable shortening is NOT lard. It is a solid vegetable fat and NOT animal fat like lard. It's also generally the base of all grocery store cake icings, so if you've ever had a grocery store cake (and many bakery cakes), then you've already had this type of frosting.
If you want more information on how to make this type of frosting (it's also more heat stable), you'll want to check out this post and recipe here: Bright White Heat Stable Buttercream
Another option that's similar to this is to use cream cheese in place of half the butter, although this would make a much softer buttercream and not suitable for lots of piping or warm weather and would need to remain refrigerated)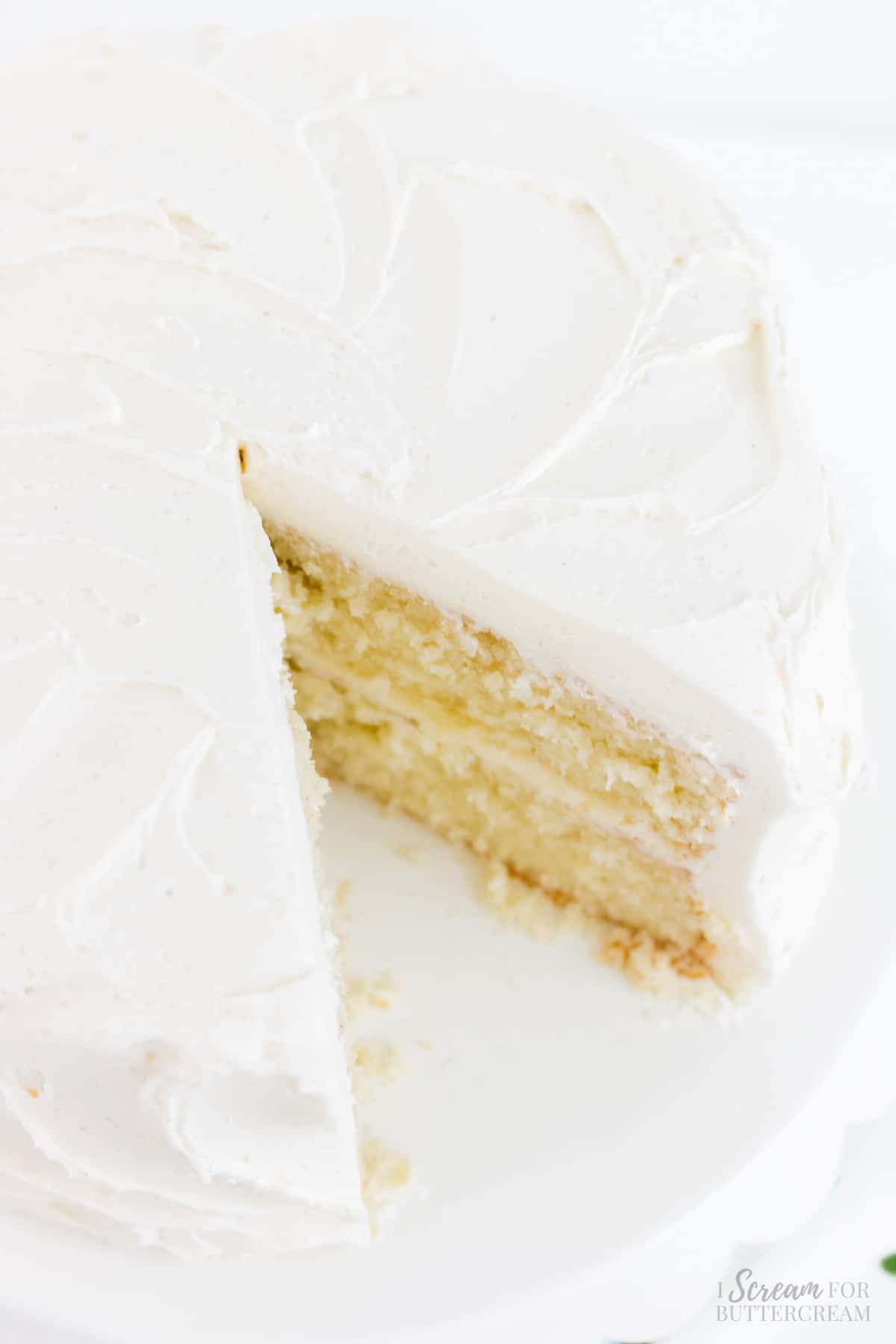 Bonus option, use a combination of all of these options:
Using a combination of several of these options works best. This is what I do.
I almost always whip the buttercream for several minutes to lighten the color, then I'll add in a few specks of violet or purple gel food coloring and mix until the yellow tinge has gone.
If I need a heat-stable buttercream, I'll replace half the butter with shortening, use clear vanilla extract and whip it for several minutes. If it's still a little yellow, I can add in a little violet or purple and that usually makes it bright white.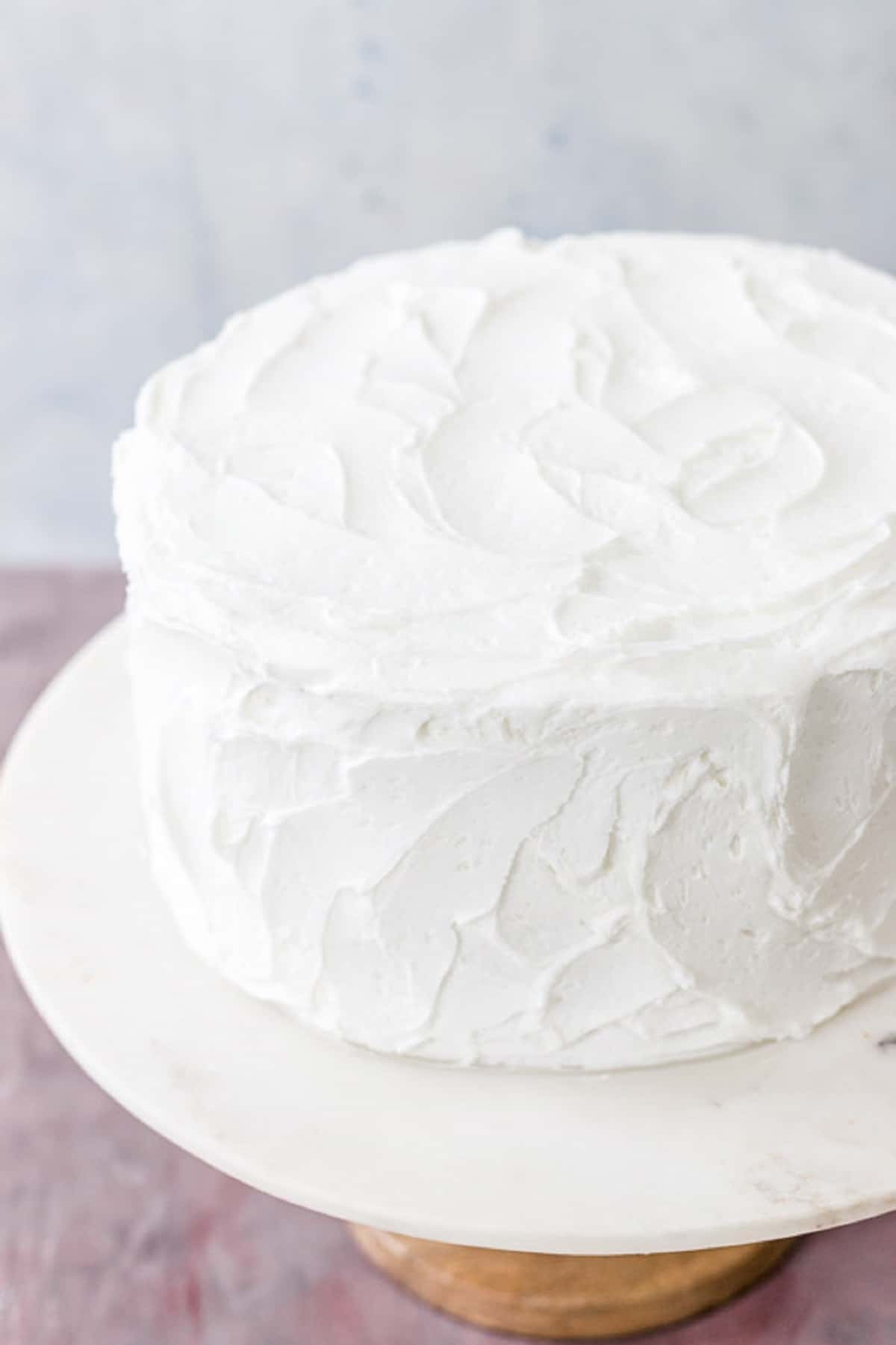 Recipes to try:
Here are a couple of recipes to try out and adjust to your liking.
Tips & FAQs:
Why is my buttercream yellow?
Buttercream has a yellow tint to it because it's made with butter, which is yellow in color. Buttercream can have a slight yellow tint or a stronger yellow tint depending on how yellow the butter is.
How can I get my yellow buttercream, white?
There are many things you can try, such as whipping the buttercream, using white or violet gel food coloring, using clear vanilla extract, or replacing some or all of the butter with vegetable shortening.
Make sure to read the full post to get all the details on how to make these tips work.