This is an all buttercream fall Thanksgiving cupcake cake and it's so perfect for a Thanksgiving dessert and centerpiece. It's a pull-apart cake, so it's easy to serve and it's not complicated to do.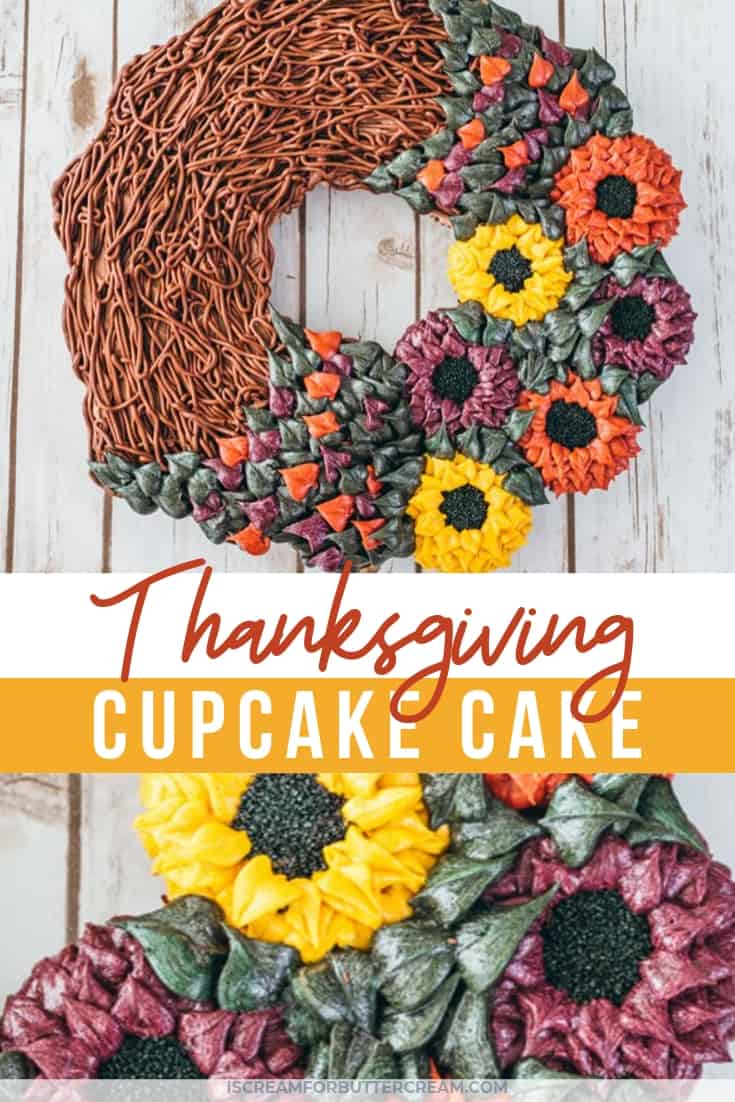 I've got lots of step-by-step instructions and there's even a video close to the end of this post that will show all the steps as well.
This was one of those projects that start off as one thing, but end up a totally different thing. I usually plan things out pretty well and once I started on my original plan for this cupcake cake, things started to go sideways.
My idea just wasn't working out. So, I decided to stop fighting it and sat down to think. I literally stared into space for about 20 minutes and then came up with an idea.
I didn't know if it would work out either, but I definitely wanted to try and I'm so glad I did. I just love how this one turned out.
This pull-apart cake isn't just for Thanksgiving. It's just an all around beautiful fall dessert, but I must say that this would look great as a centerpiece on a Thanksgiving table though.
Ok, let's get to the tutorial. (And don't forget to check out the video close to the end of this post. It'll help explain a lot of things.)
SUPPLIES NEEDED FOR THE THANKSGIVING CUPCAKE CAKE:
Baked cupcakes (You'll need anywhere from 22-24 cupcakes, so one recipe or cake mix should be fine.)
A covered foamboard or cardboard as the 'cake base'
Buttercream (You can see my chocolate buttercream recipe here and my vanilla buttercream here.) (You'll also want to color some dark brown, for the grapevine wreath part, yellow, deep purple or burgundy and orange for the flowers and dark green for the leaves.)
#5 piping tip (for the grapevine wreath)
Small leaf tip #352 (for the flowers)
STEPS TO MAKE THE THANKSGIVING CUPCAKE CAKE:
First things first is you want to bake your cupcakes and prepare your buttercream.
You'll also want to prepare your cake base. I just took some foam board and covered it with some wood-look paper and then covered that with clear contact paper. Here are all my tips on covering cake boards.
Now take your cupcakes and form them into the shape of a wreath.
Now spread on some chocolate buttercream onto about ⅔ of the wreath.
Now take your #5 piping tip and and use that to pipe on a bunch of dark brown squiggly lines all over the buttercream you just added. You're going for a grapevine wreath look, so don't be exact here…just cover the light brown.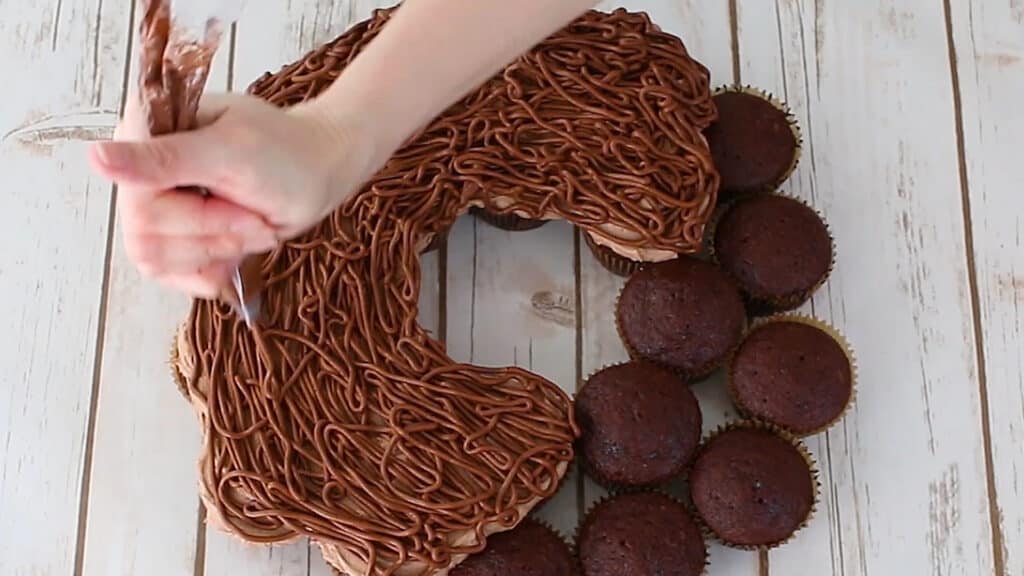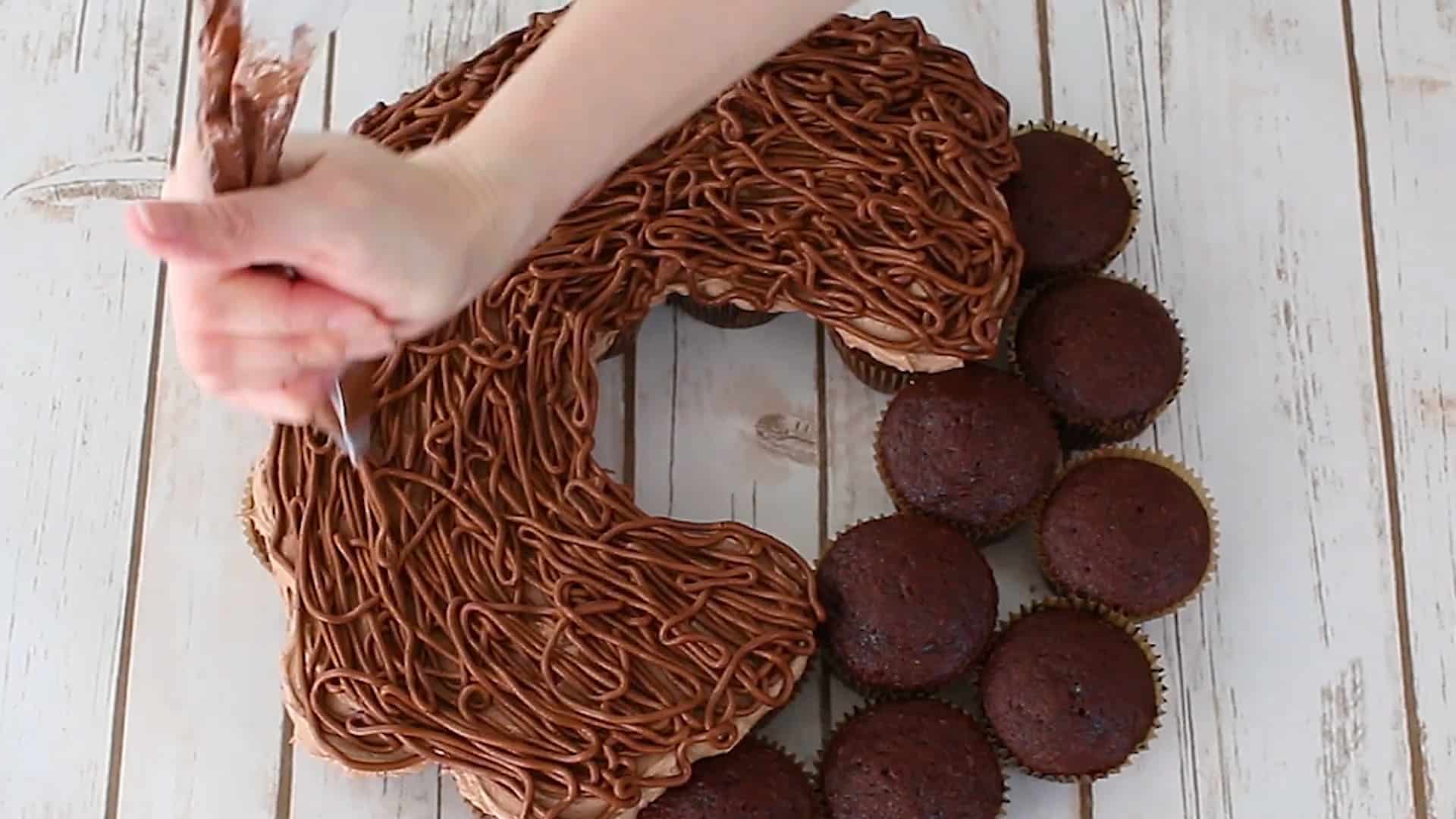 Next you can pipe in some green leaves using the large leaf tip. You'll just be piping these at the edge of the 'grapevine' part for now.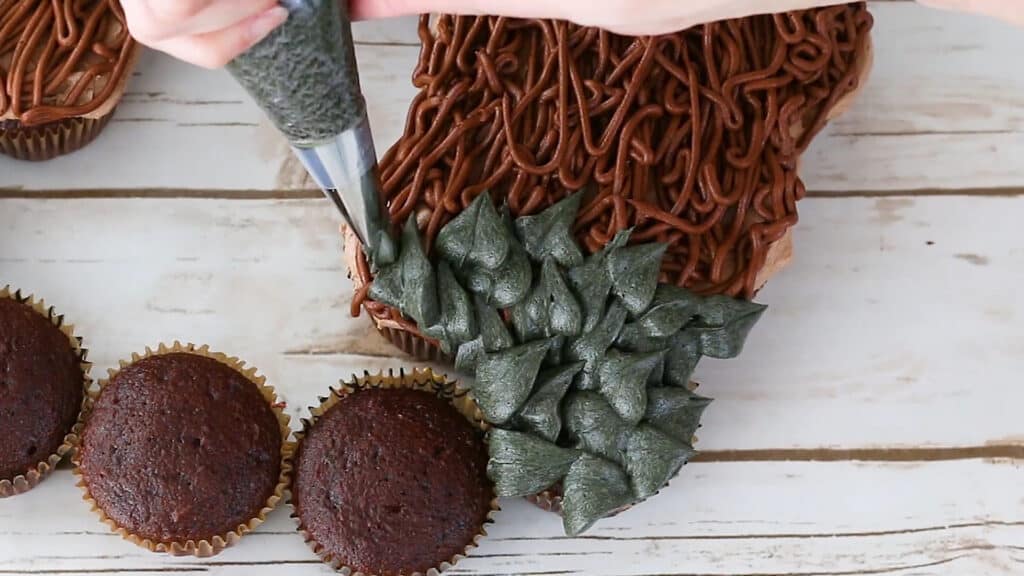 Now do the same on the other side.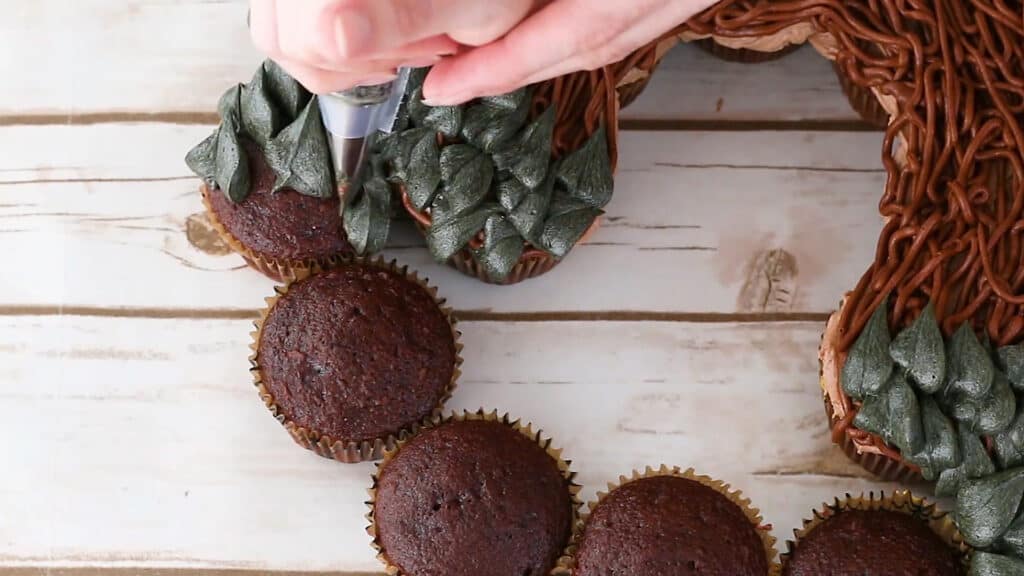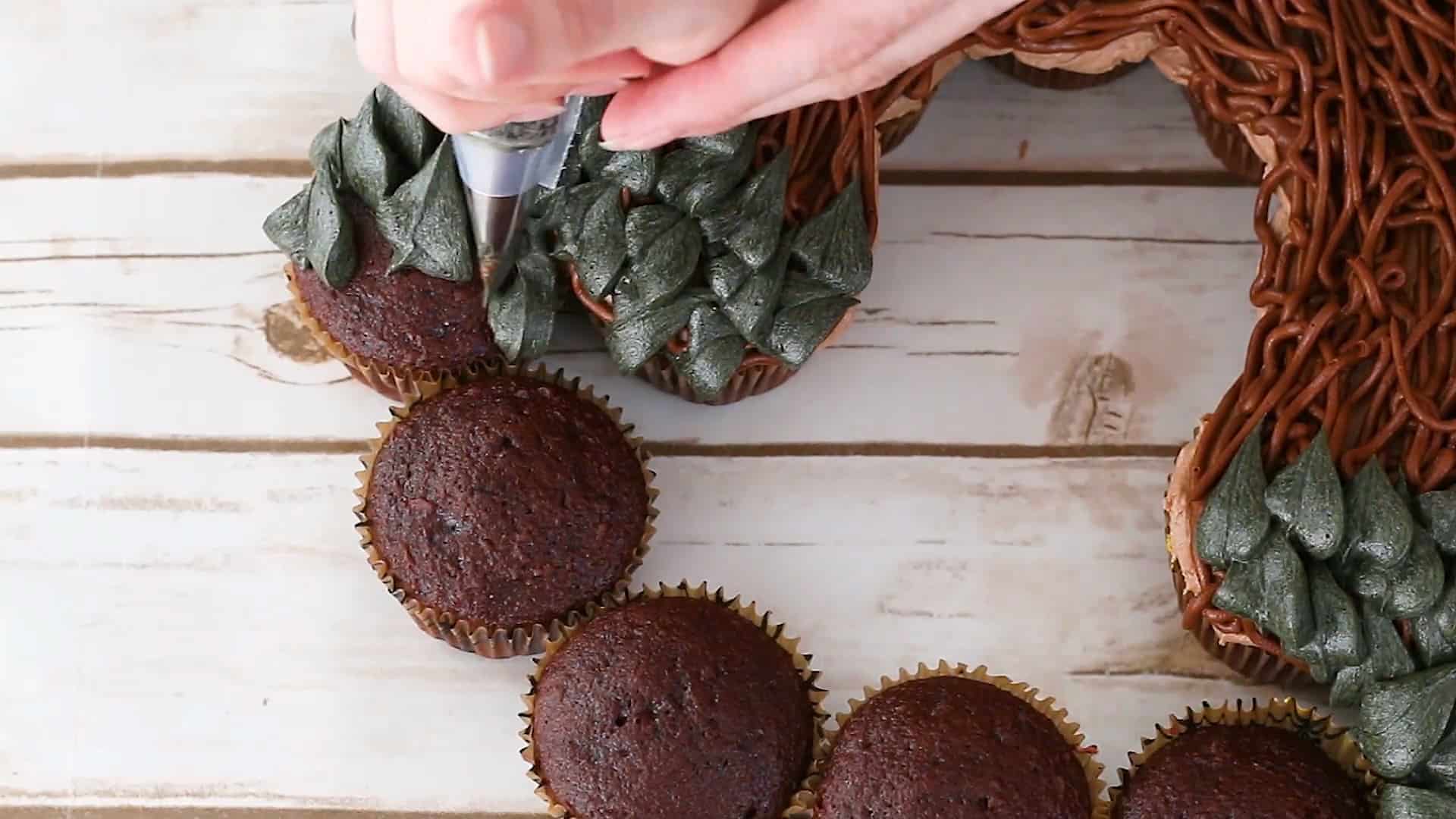 Take the other cupcakes and pipe flower leaves onto them.
You'll just use your small leaf tip to pipe on each row of petals.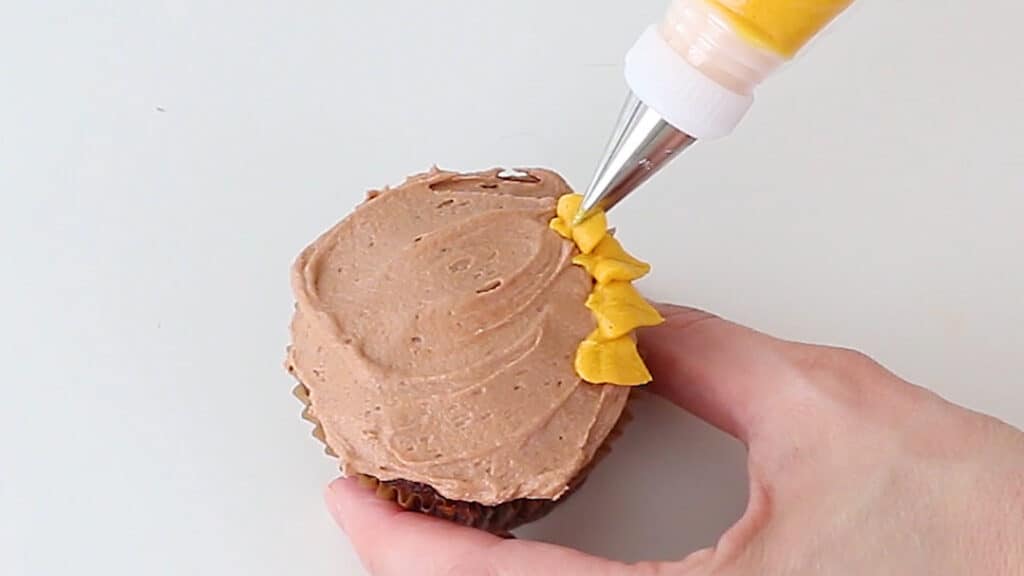 Keep piping until you have just a small empty circle in the middle. Next add in your black sprinkles into the middle of the cupcake. You can pipe on more petals if you make a mess with the sprinkles like I did.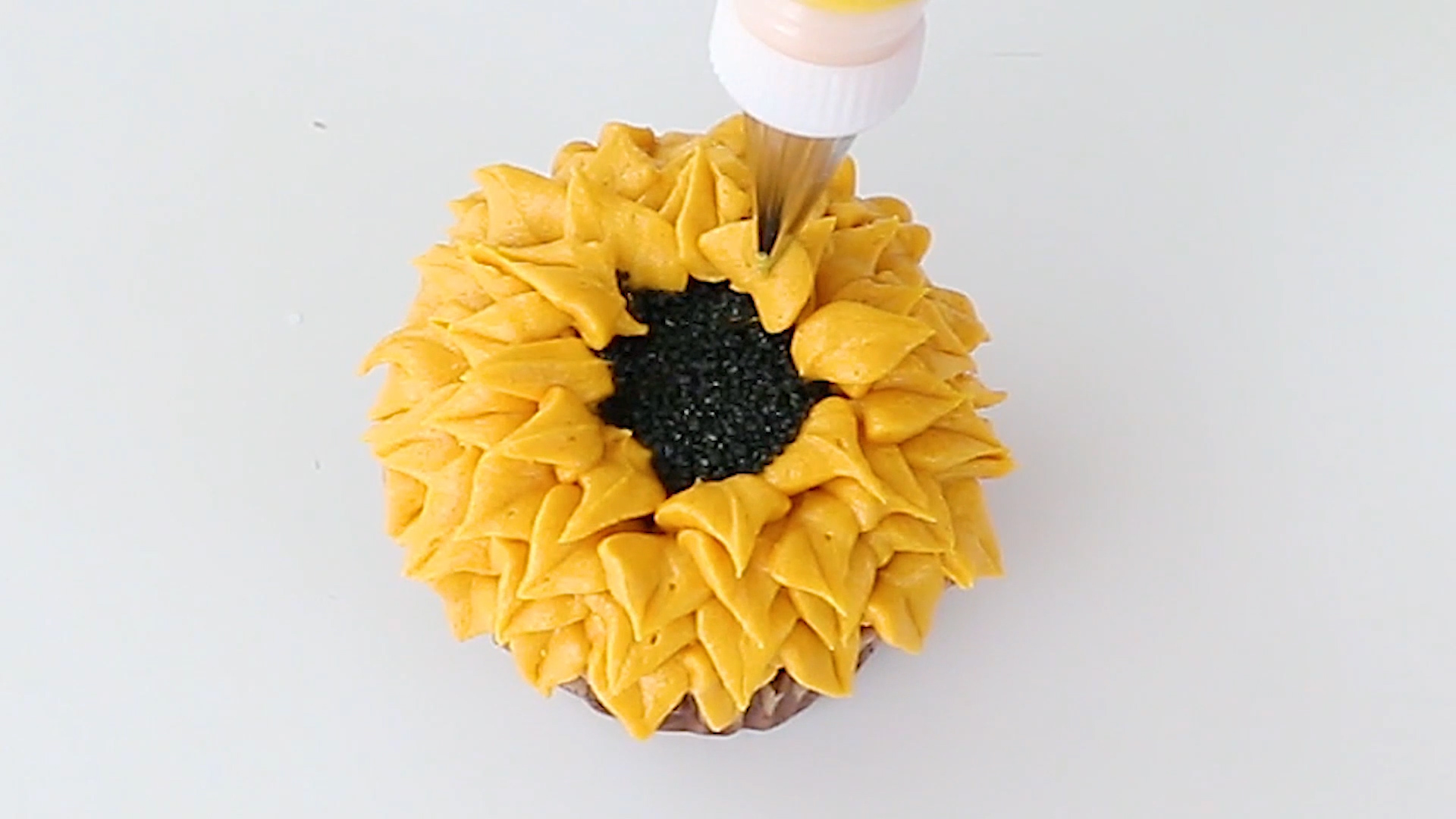 Make the rest of your un-iced cupcakes into flowers the same way you did the yellow one.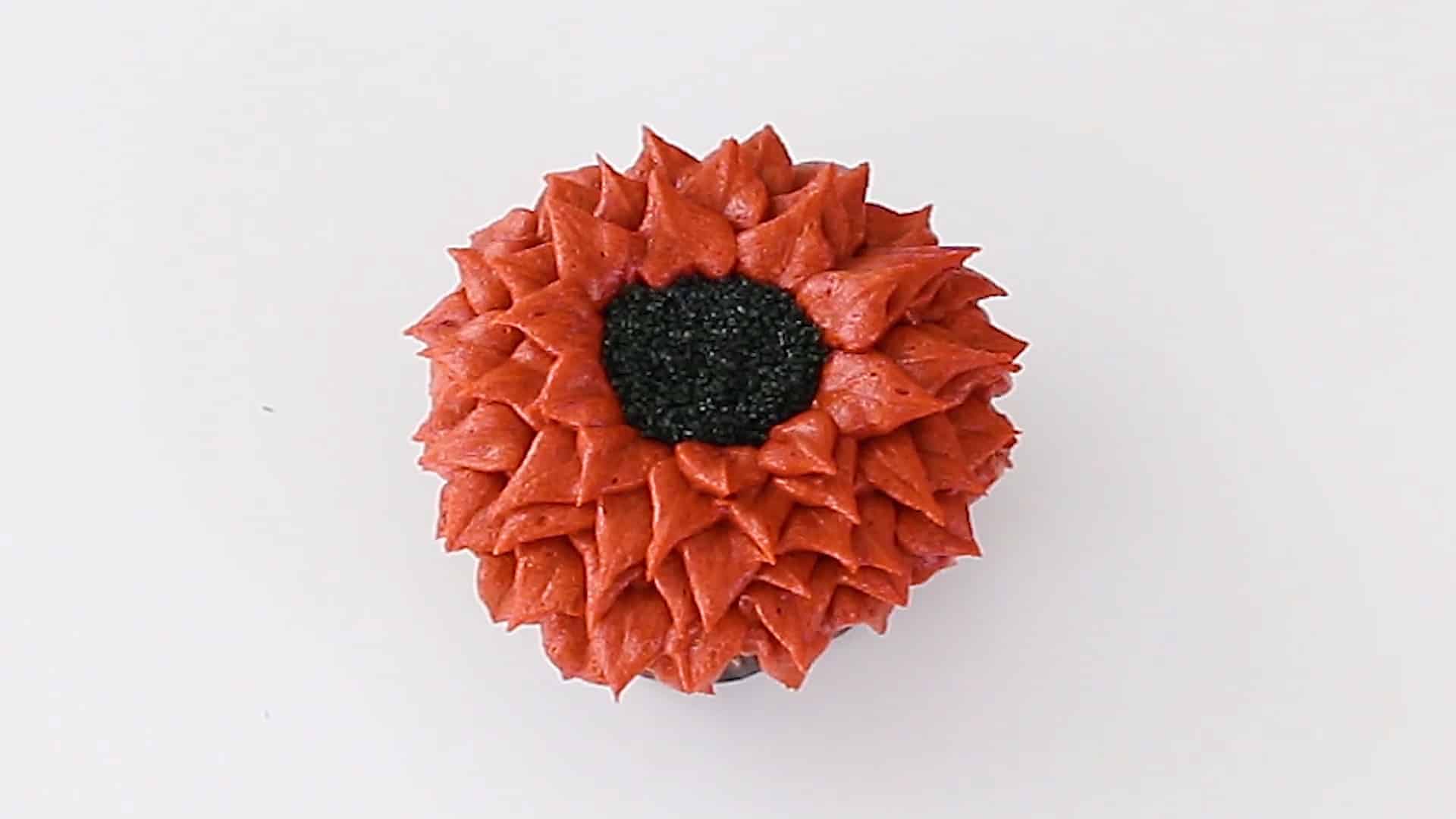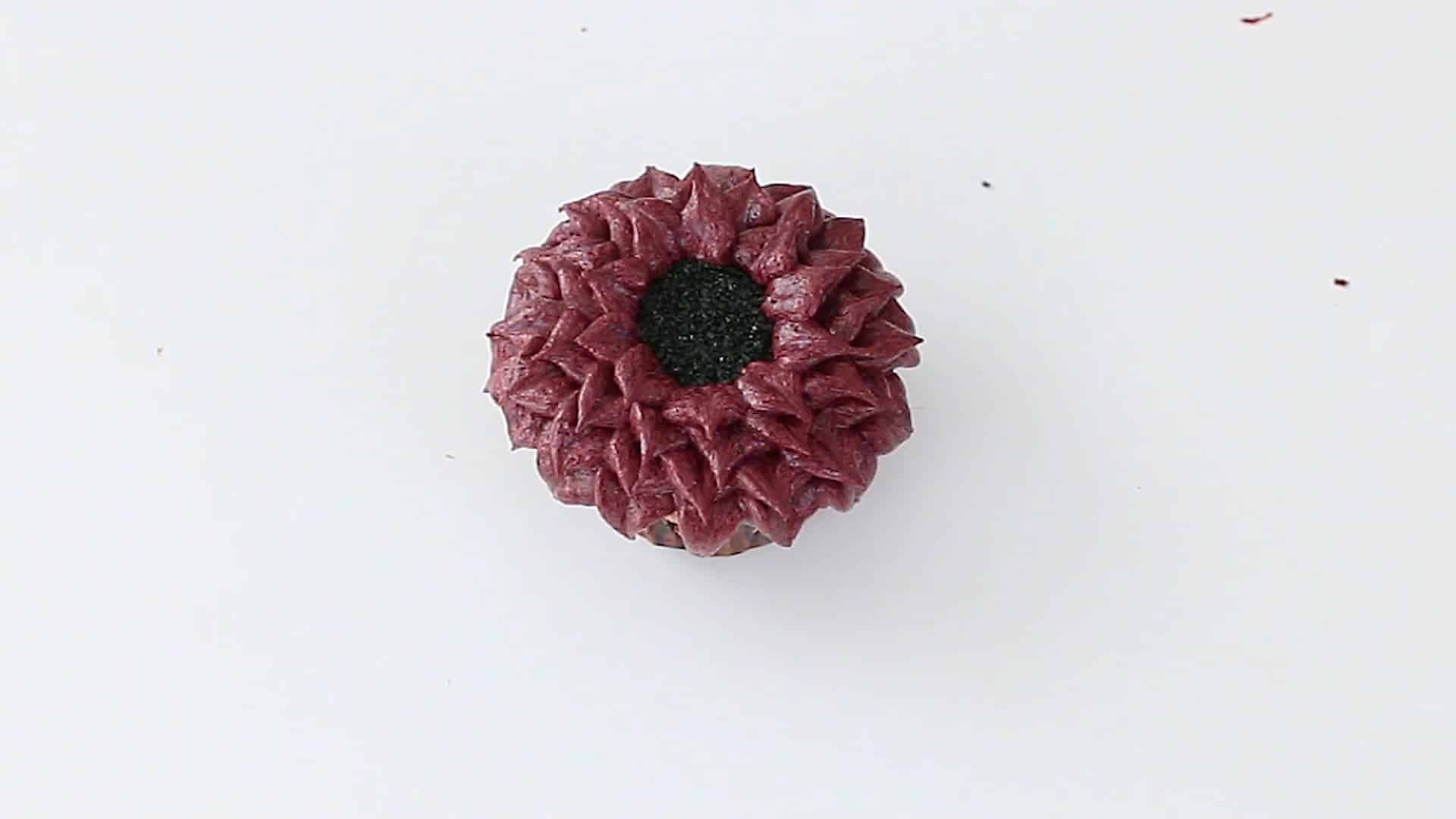 Once all your cupcakes are piped, push two of the cupcakes back into place.
Now you can add in some leaves from the other colors you made. Do this to both sides.
Now just push in the rest of the flower cupcakes you made.
Pipe in some green leaves into all the gaps. And that's it!
VIDEO FOR THE THANKSGIVING CUPCAKE CAKE:
Well I hope you have fun making this and I hope it makes your Thanksgiving special!
Don't Forget to Pin it for Later!