Many times, you can keep a cake fresher for longer if it's stored in the refrigerator, but different cakes can be kept for different amounts of time.
How long a cake will last in the fridge really depends on what type of cake it is, what type of filling and frosting is on it and whether it's covered or not.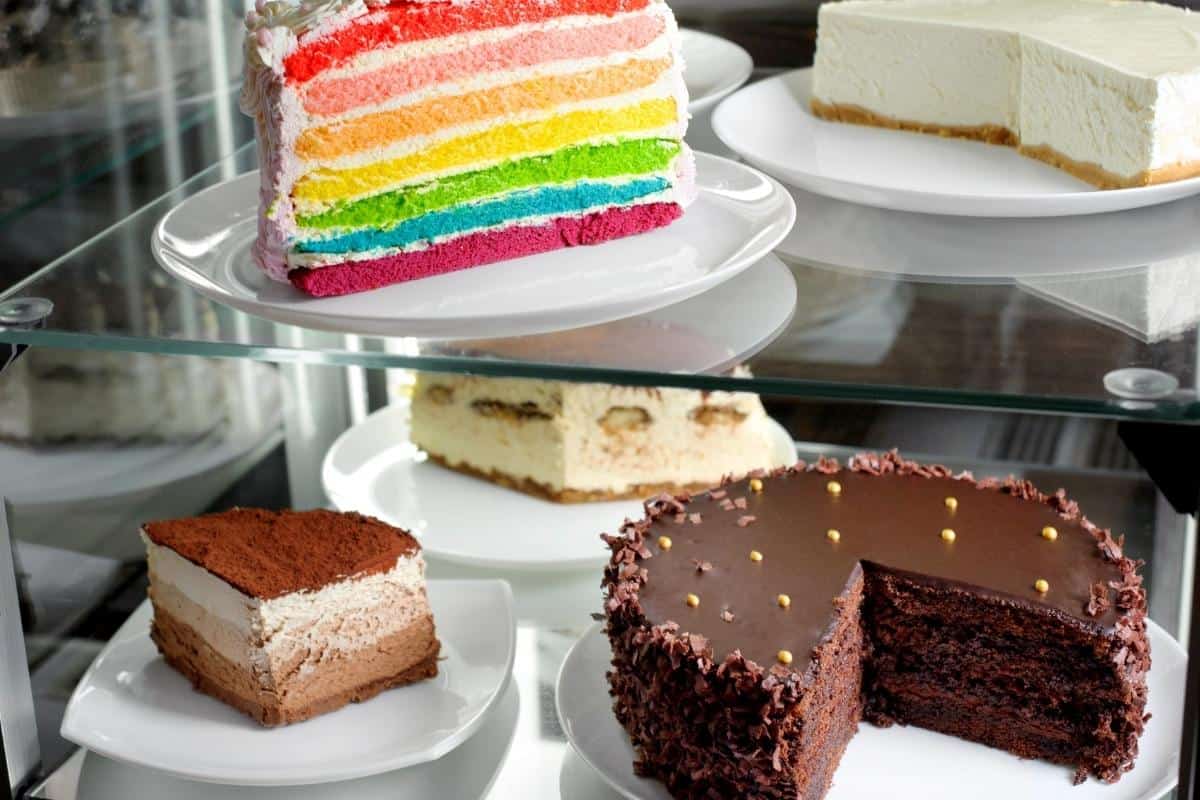 In general, a cake will last anywhere from 2-7 days in the refrigerator, if kept well covered, depending on the type of frosting and filling.
Now let's get into types of cakes with different icing and topping variations.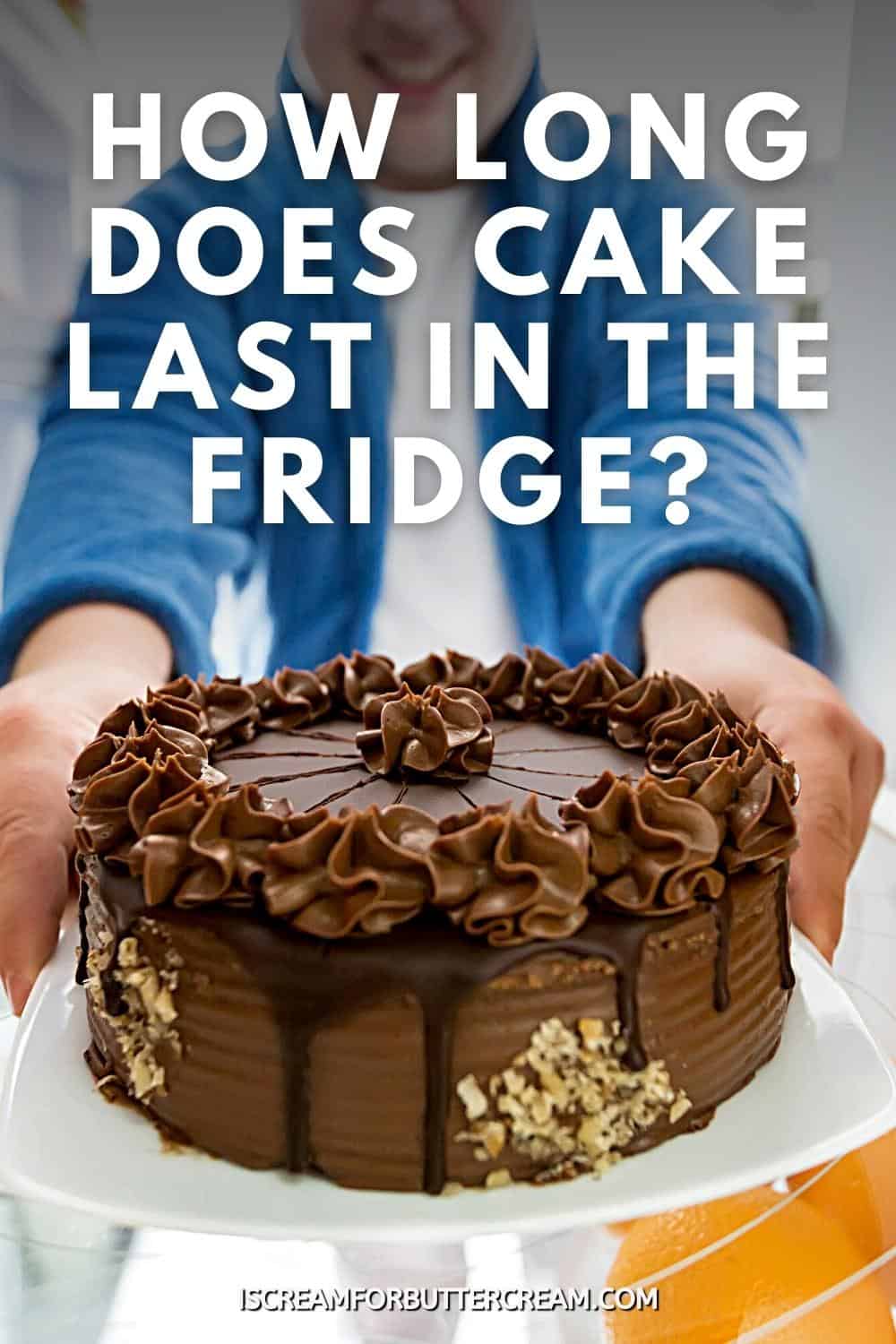 Jump to:
As an Amazon Associate, I earn from qualifying purchases.
Different types of cakes and toppings call for different methods to keep them fresh. There are so many combinations that it would be hard to get to all of them, but I want to go through some of the more common ones.
Feel free to comment with any questions and I'll be happy to help.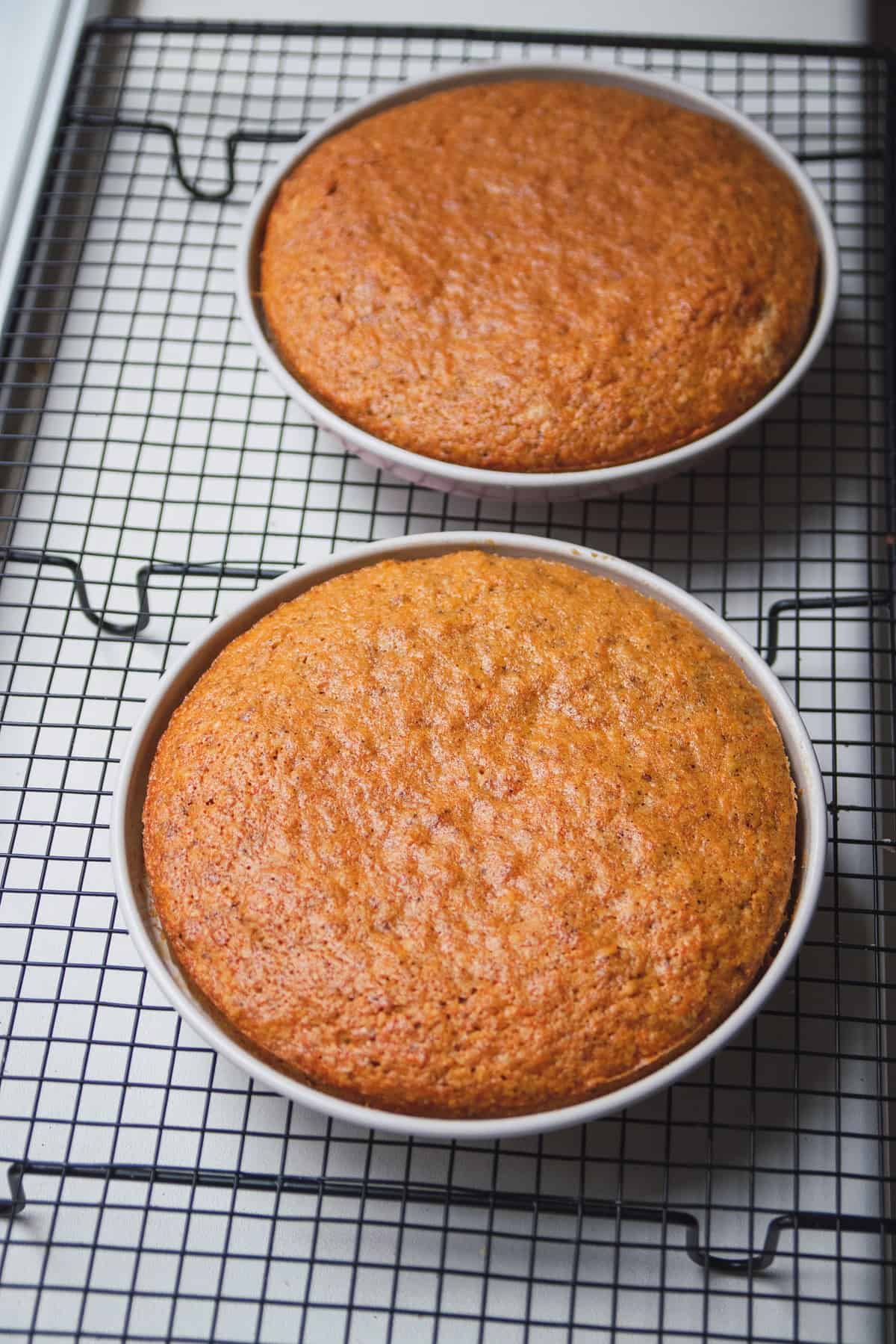 Plain Unfrosted cake:
If the cake is plain with no fruit filling or frosting or anything else perishable on it, a lot of times, it's not necessary to even refrigerate it. It will usually last for several days, covered well, at room temperature.
If you really want to prolong the freshness, then cake with no filling or frosting (plain cake layers or a bundt cake) will last about 7 days, covered well, in the refrigerator.
You definitely want to make sure if they're just plain cake layers, that they're wrapped in plastic wrap or in some type of air-tight container. Unfrosted cake that isn't sealed with frosting will dry out quicker.
If you need a baked cake to last longer, you can freeze the cake layers. It's easy to do by just wrapping them in plastic wrap, then in foil and freezing them for up to two months. (For maximum freshness, try to use within a month, but they will last in the freezer for a couple of months.)
I have an entire post that goes over how to freeze cake and cupcakes you'll want to check out here: How to Freeze Cake & Cupcakes
Cake with buttercream frosting:
Cake that is covered and filled with buttercream frosting will last about 5-7 days, covered well, in the refrigerator. Now, some cakes that are covered in buttercream don't actually need to be refrigerated.
In fact, if it's covered in American buttercream, and there's nothing else perishable on or in the cake (like fruit filling, whipped cream or fruit on top), then those cakes can be left at room temperature, covered, for about 3 days.
At that point, it's always a good idea to cover them and pop them in the fridge, which will prolong the freshness for several more days. Personally, most of the cakes I make are this type and I usually leave them at room temperature for a couple of days, then cover and store in the fridge so it will stay fresher longer.
My first choice is to not chill cakes if I don't have to as most layer cakes are meant to be eaten at room temperature and frankly taste better and fresher that way.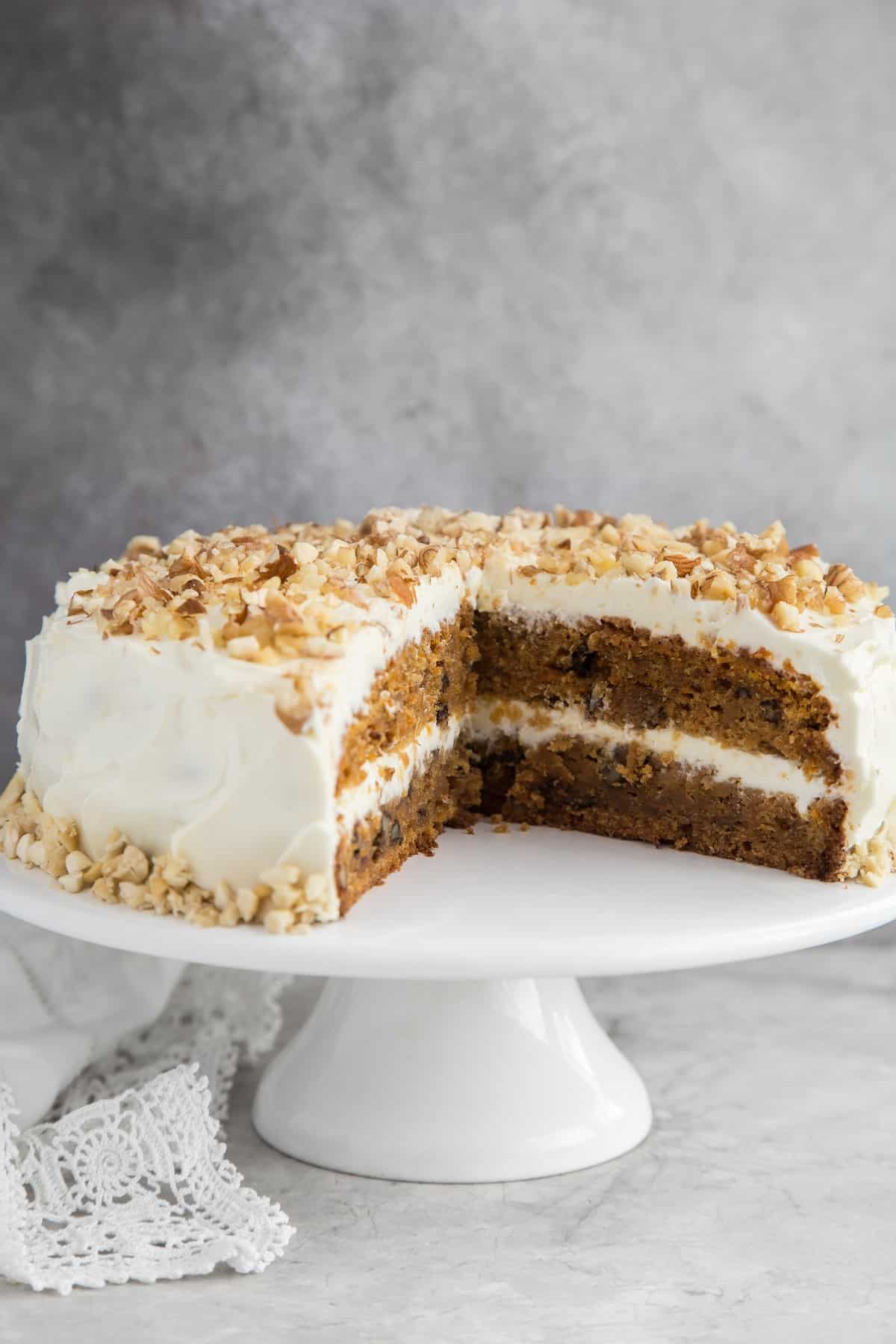 Cake with cream cheese frosting or filling:
If the cake has cream cheese in the frosting or the filling, then it needs to be refrigerated and will usually last about 5-6 days.
Cream cheese is perishable and therefore needs to be kept at a safe temperature.
Cake with fruit filling or topping:
If the cake has any type of fruit filling or topping or any type of whipped cream on it, then it must be refrigerated and will usually last up to about 4 days.
You may be able to get another day out of it, but I personally don't like to take chances.
By the way, if you want more cake filling ideas, you can find at ton at this post: Cake Filling Ideas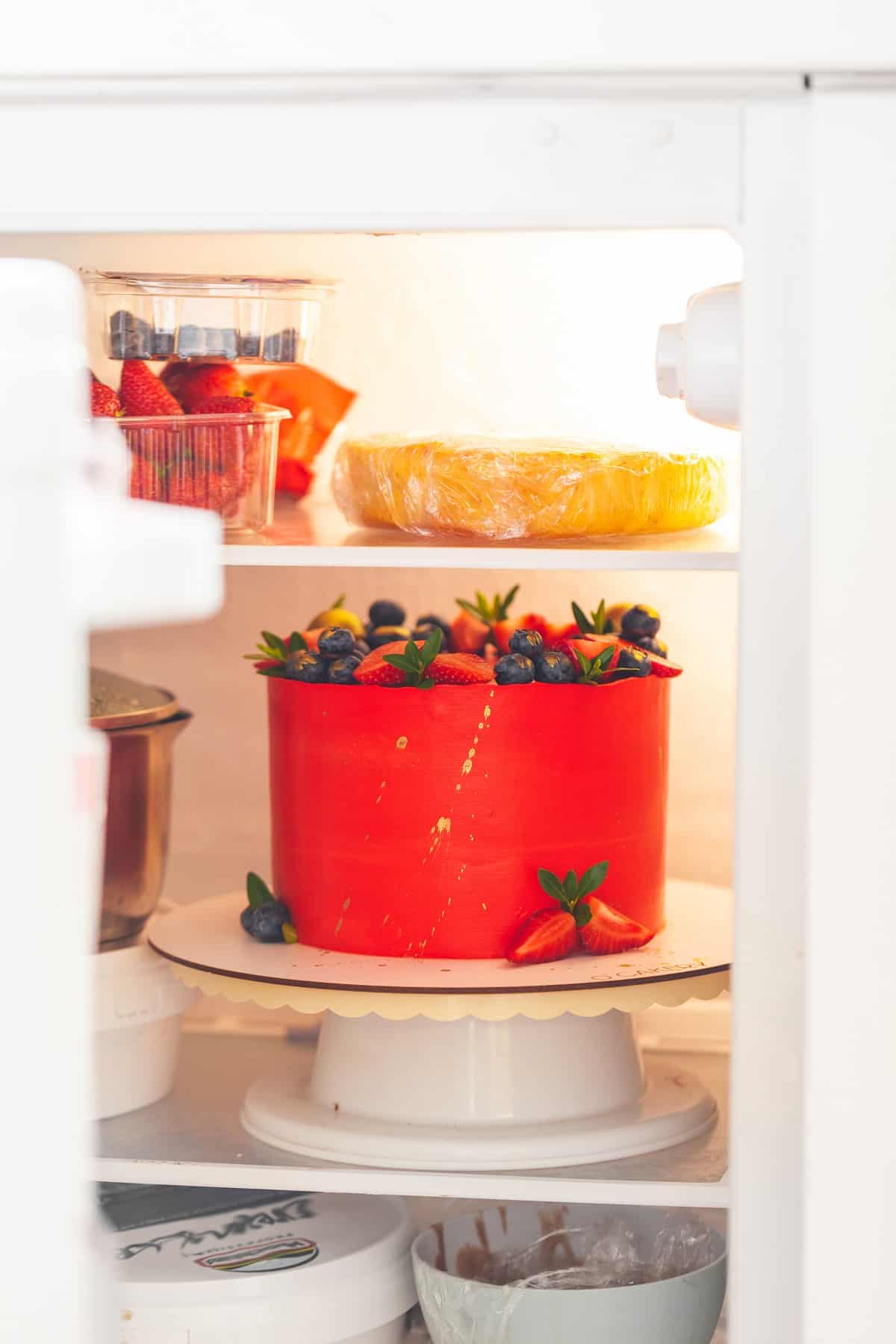 How to store a cake in the refrigerator:
Make sure the cake is well covered. Cakes will lose their moisture over time, especially when stored in the refrigerator. It helps to slow down that process if you keep the cake well covered.
You can use plastic wrap to do this or a cake carrier with a lid that snaps down like the one below: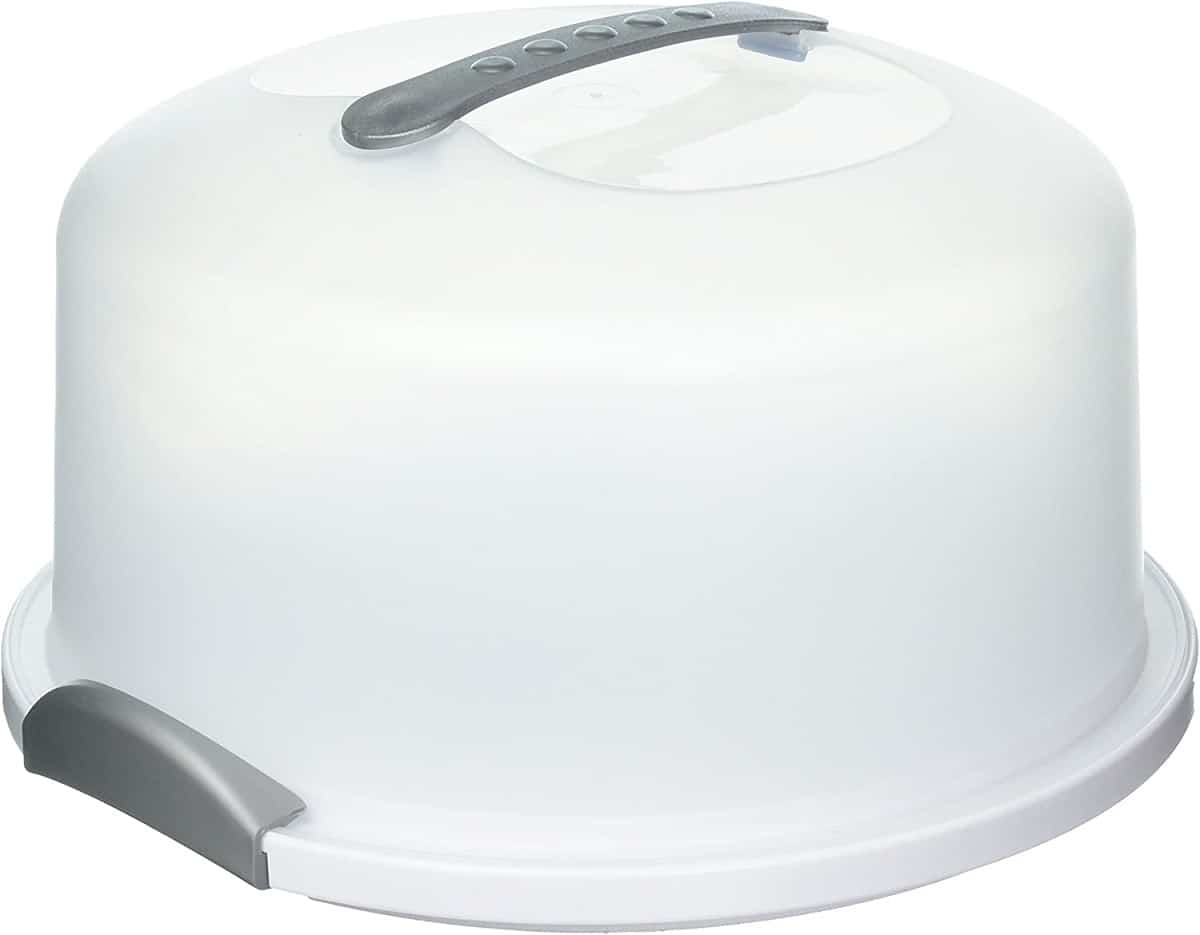 How to tell if a cake has gone bad or is stale:
First, you probably don't want to eat a cake that's over a week old, especially if it hasn't been stored in the fridge. If it's been stored in the fridge, then it still could have gone bad, especially if it has perishable ingredients on it like fruit, custard, curd etc.
The best thing you can do is use your senses. Does it smell off? Do you know exactly how long it's been in the fridge? Do you have a bad feeling about it? Trust those senses.
Also, look to see if you can see any mold. If you can, don't eat it. Don't just scrape away the moldy parts and eat the rest. According to the USDA, mold isn't just the part you see. It has roots that go into other parts of the food that you can't see, but it's affected as well. (Here's a link to that mold article: Mold and Food Safety)
Another good thing to do is to gently push away some of the frosting and check for mold. I have seen cakes grow mold between the frosting and the actual cake.
When you look at the cake, it looks just fine, but underneath the icing, could be mold. If you are unsure, the safest thing is to throw it out. Food poisoning is a horrible experience and just not worth it. Go and make yourself another cake.
What about refrigerating cakes prior to decorating them?
I have an entire post about this very subject. I personally do not chill cakes before decorating them unless there are perishable ingredients in the filling or frosting.
The reason behind this is that chilling them can cause condensation to form and then when buttercream is placed onto the cake, it can form large air pockets which cause icing blowouts.
Also, when cakes aren't allowed to settle at room temperature, that's what later causes the icing ridges around cakes when the cake comes to room temperature.
Every cake decorator has their own favorite method for adding buttercream to cakes and getting it smooth and this is just mine that has worked out for me the best. There are more details to it and I really go into it and talk about my method in this post here: Should I Chill My Cake Before Decorating It?
And if you want a little extra hand-holding, I'm happy to provide that as I have a handy pdf with a video called The Cake Blueprint that goes into all the details of the method I use to get smooth buttercream with no ridges or buttercream blow out bubbles. You can find that here: The Cake Blueprint
Other posts you might like: