What's just as important as the cake? The filling! You can have so much fun using different cake fillings ideas. They can really change up the theme of the cake and even bring a bland cake to life.
In this post, I've put together some fun, creative and tasty cake filling ideas you and your family will love.
You can use these ideas and recipe options to top or fill cakes, or as a fruit or dessert dip…or just eat straight out of the bowl!
Using different types of fillings is fun as well. You can go with whipped, mousse, buttercream, ganache and many more options. The combinations are just endless.
Alright, let's get to the ideas here. These are in no particular order, just go through and see what catches your eye and looks good to try!
Jump to:
Buttercream Fillings:
Buttercream is probably the easiest filling to use. It's probably what you're already covering the cake in, so it just makes sense to use it as the filling.
There are several buttercream types, but the most popular types are generally American buttercream and Swiss Meringue buttercream. You can use either as a cake filling.
While most people in my local area prefer the sweeter American buttercream, I know that Swiss Meringue buttercream is very popular in other areas.
For a good swiss meringue recipe and tutorial, you can go here.
If you want American buttercream recipes, I've got ya covered here.
And just remember, you don't have to use the same buttercream on the outside of the cake as you use for the filling…feel free to change it up!
Here are a few combination ideas for cake, fillings and the outer buttercream:
Cake and Filling Combination Ideas Table
| Cake Flavor | Buttercream Filling Flavor | Outer Buttercream Flavor |
| --- | --- | --- |
| vanilla cake | vanilla, almond, vanilla with fruit added, cookies & cream, caramel-flavored, cinnamon | vanilla, almond, cinnamon |
| chocolate cake | chocolate, cookies & cream, caramel-flavored, mocha, coffee, vanilla with strawberries or raspberries | chocolate, cookies & cream, mocha, coffee |
| red velvet cake | cream cheese, chocolate, vanilla, cookies & cream | cream cheese, chocolate, vanilla, cookies & cream |
| banana cake | banana, cream cheese, toffee, caramel, cinnamon | banana, cream cheese, toffee, caramel, cinnamon |
| strawberry cake | cream cheese, strawberry, vanilla | cream cheese, strawberry, vanilla |
| lemon cake | lemon, vanilla | lemon, vanilla |
Whipped Fillings:
Whipped fillings are always a favorite, especially during the summer months when you want your cakes to be a little lighter.
There are a few ways to go about making whipped fillings. You can go with the traditional whipped cream where you'll whip up cream and sugar until stiff peaks form.
But if you need a whipped filling that is a little more stable and can hold up a little more, then you might want to try a whipped buttercream, which is a little sweeter than whipped cream, but I feel like it's the best of both worlds.
Here are some recipes options for whipped buttercream:
Puddings, Pastry Cream & Custard Fillings:
Sometimes you want to go with something lighter, but don't want a whipped cream filling, so a pudding, pastry cream or custard filling will fit the bill.
You can even change things up and go with different flavors, so you could go with a vanilla pudding filling paired with a chocolate cake.
Here are some recipe options for you:
Ganache Fillings:
Ganache is basically just a mixture of chocolate and cream and it's super versatile. You can go for a firmer filling if you need the stability (it's especially great for fondant cakes), or you can whip it for a more 'fluffy' ganache.
You can also adjust the amount of cream you use when you make it so you'll end up with different firmness levels.
And another great thing about it is that you can go with different types of chocolate like dark chocolate, semi-sweet chocolate, milk chocolate or even white chocolate.
I've got an entire post that goes into how to make ganache with some variations. You can check it out here.
Fruit Fillings:
Fruit Fillings are a great way to add extra flavor to cakes.
They can be cooked down and made into a type of jam or jelly, pureed and added to buttercream, or just cut up and mixed with whipped cream.
A popular filling for wedding cakes in the past has been a cooked pineapple filling or a raspberry filling. These fillings are so yummy with white cake.
And here's a tip to keep the filling from completely just soaking into the cake layer under it: Spread a thin layer of either whipped cream or buttercream onto the cake layer, add an icing dam, then add the fruit filling inside the icing dam.
Here are some cooked fruit fillings you can try:
Curd Fillings:
You can use curd all by itself for a filling, or you can add it to buttercream to give it a specific flavor.
Another good idea is to spread a thin layer of either whipped cream or buttercream onto the cake layer, add an icing dam just inside the perimeter of the cake layer and then add the curd inside the icing dam.
That will help keep the curd from squishing out between the layers.
Here are a couple of options for curd fillings:
Mousse Fillings:
I have to say that I am obsessed with chocolate mousse. I could eat literally bowls and bowls of it. That stuff is amazing and it's amazing as a cake filling too.
The main thing to note about using it as a cake filling though is that you want to make sure the cake you're using isn't super heavy.
Mousse is light and fluffy and you don't want anything weighing too heavily on it and squishing it out the sides of the cake.
Here are some options for mousse cake filling:
Nut fillings:
If you're a fan of nuts, then a delicious nut cake filling would be a good bet. They're particularly good in chocolate and banana cakes.
You're probably familiar with the pecan filling for German Chocolate Cake, but there are other options as well.
Just be cognizant of whether the filling is on the dryer side and if it is, go ahead and add a layer of buttercream or whipped cream to the layer first and then add the nut filling.
Here are some nut filling ideas:
Cream Cheese Type Filling: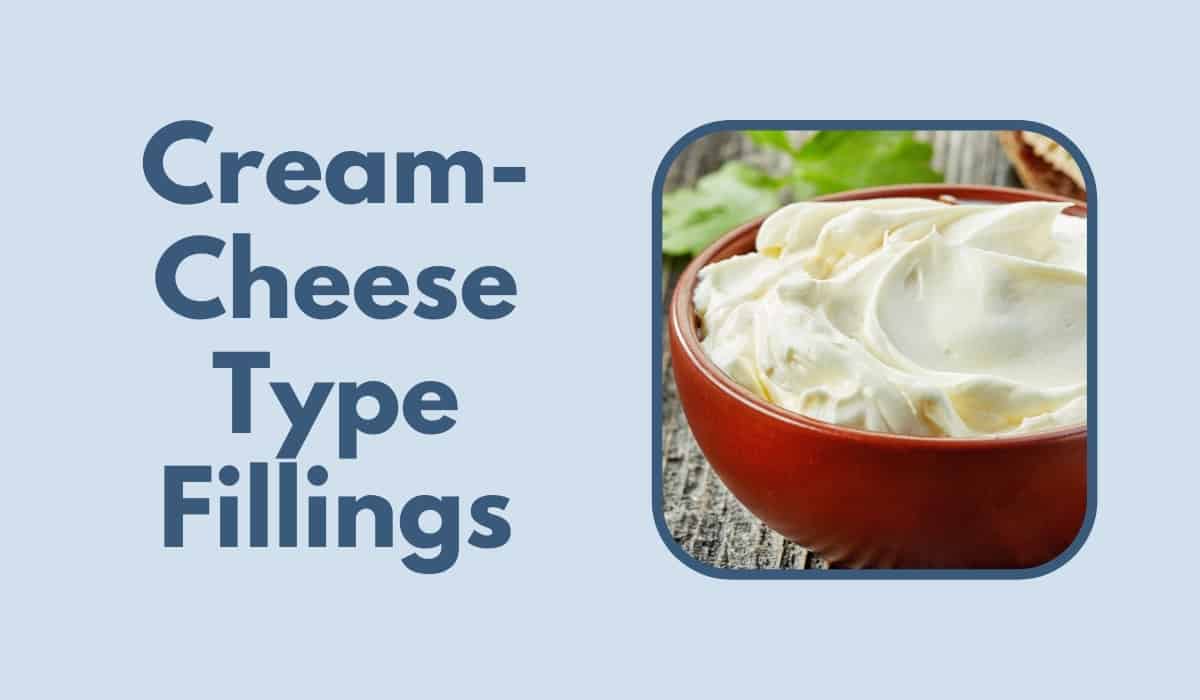 Cream cheese is one of my favorite things to eat…it's just so good! You can use it as a filling in a cake as a buttercream or a sort of mousse-type cheesecake filling.
You can even go with cream cheese alternatives like mascarpone cheese.
Other Filling Ideas:
There are other types of fillings that don't really go into any category like caramel filling or marshmallow cream.
You can just add straight caramel or straight marshmallow cream, or you could add those into buttercream to flavor it and then use that as the filling.
Turtle, which is basically chocolate, caramel and nuts, would be an amazing filling for a chocolate cake.
Here are a couple of recipes that feature other filling ideas:
Additions to Fillings:
Adding things to buttercream is one of the easiest ways to spice up your cake fillings.
You can add things like:
Crushed or crumbled cookies
Candies like M&Ms, Butterfingers, toffee bits etc.
Nuts
Flavor syrups & extracts
Pudding and jello mixes
Flavored coffee creamers
Nut butters
Nutella
Sprinkles
Bits of cookie dough (make sure it doesn't contain raw eggs…look for edible cookie dough recipes)
Combined Fillings:
Don't forget, you can always combine different fillings like adding fruit and buttercream, fruit and whipped cream, nut filling with caramel etc.
Really the possibilities are endless, so have fun trying out new flavor combinations!
Other Posts You Might Like: