How much cake batter do I need to make this cake? I get this question a lot and I thought it would be helpful if I wrote a post that included how I like to estimate the amount of cake batter I'll need for a certain cake, plus some other ways that you could estimate the amount needed.
I get asked many times about how much cake batter someone will need for either a specific sized cake pan, a novelty cake pan, a tiered cake and more. In this post I want to go through the different ways you can estimate the amount of cake batter you'll need for the specific cake you're making.
Now, first I want to get something out in the open. I do not do things like most people do. I really never have. Call me weird if you want (I won't be offended), but I do things that work for me.
In this post, I'm not going to give you one sure-fire way to estimate the amount of cake batter you'll need for every cake, but what I will do is tell you how I estimate, give you some examples and I'm also going to direct you to a handy chart if you'd like to estimate it a different way.
Alright let's get to the different ways you can do it.
This post contains affiliate links. As an Amazon Associate, I earn from qualifying purchases. You can see links to my website policies in the footer.
Different Ways to Estimate the Amount of Cake Batter You'll Need:
There are a few ways to estimate the amount of cake batter you'll need:
Estimating by cups (which is essentially using a chart that will tell you how many cups of batter you'll need for each pan.
Experience and just winging it (learning by experience and essentially using your best guess of how much batter you'll need).
My method (which is kind of a combination, of guesstimating how much batter based on how many cake recipe batches will fill the pans.)
Let's go into detail for each one now:
Estimating by Cups:
This is the way I think most people probably go by and this is what most people ask me for. Essentially you have to figure out how many cups your cake recipe makes. Then you go to a chart for the pans you'll be baking in and figure out how many cups of batter you'll need for those sized pans.
Then you'll figure out how many cake recipes you'll have to make based on the number of cups those particular pans require.
Here is a link for the chart Wilton has for this: Wilton's Cake Batter Chart
(Don't forget to keep scrolling to see my issue with the cups method.)
Experience and Winging It:
Another way of estimating is basically something you'll get to after you've done it awhile. You just figure out how much to make and how full you should fill your pans etc.
It's not going to help you much right now if you're just starting out, but I did want to throw this one in here, so you know if you're just starting out, that it does get easier to estimate.
The Method That Works For Me:
First I'd like to say that my way isn't exact. You're essentially guesstimating.
If you want closer to exact, then you might use the 'estimating by cups' method in an earlier section of this post or do a google search for equations on how to figure out the volume of each pan. There are spreadsheets online that will do that for you. That's not my way though.
Here's my issue with the 'cups' method:
The issue I have with the cups way of estimating is first, you may not always know how many cups of batter your recipe makes. Essentially you'll have to make a recipe first and measure out the amount of cups. That may not be any big deal, but who really thinks to do that? I don't…and every time I do, it's too late…I've already added it to the pans.
Another question to ask is, what recipe are those charts based off of? Some cake batter recipes are thinner and some are really thick. Some cake recipes make more batter and some make less. My recipes seem to be thicker and make a bit more batter than usual, so that they'll rise up level to the top.
Some recipes bake up higher and some you have to fill your pan a little more. Some people use cake mixes and some people use scratch cake recipes. My point is that even though the cups method seems exact….I really don't know how it could be that exact.
I've always just had more luck doing it my own way, which I'm about to share with you. It's not rocket science really, but it was just born out of a need to figure out an easier way to estimate the amount needed rather than counting cups. I just didn't want to count cups and deal with fancy equations.
I mean call me lazy, but that just wasn't important enough for me…I don't care about getting the exact volume. I just want to get as close an estimate that I can in the least amount of time possible.
Plus I figured even if I made a recipe, figured out how many cups of cake batter the recipe contained, then I'd still have to figure out how many recipe batches to make based on how many cups a particular cake pan required. It's like it's just adding an additional step when you have to count the cups.
Maybe it would make more sense for multiple cake pans, but my brain just doesn't work that way.
So here's what I do:
I essentially just go by recipe batches. What's that mean? Well one recipe is one batch. Generally one cake recipe will make two, 8″ round cake layers, or a 13×9 inch cake layer. Sometimes it can make three, 6″ round cake layers, although those layers might be a little thinner.
Most cake recipes make that amount, but you'll want to adjust if your recipe makes three, 8″ round cake layers or some other variation. Just know what you're starting off with. For me, I've found that knowing the base of how much mine makes as far as what pans it will fill (not cups), really helps me guesstimate how much batter I'll need.
I also think it's important to know your recipes. My cake recipes tend to make a bit more batter. Some of my cakes use the reverse creaming method (you can find our more about that here), and with that method, the cakes seem to be a bit flatter on top and I like to have more batter in each pan to get a higher cake.
So it's important to know how your cake recipe works best. Know about how high your particular recipe rises, so you'll know how high to fill your pans.
Examples:
So let's try some examples here to see how I would estimate the amount of cake batter.
Example 1: Half Sheet Cake:
A quarter sheet cake is a 13×9 inch cake, so if we're making a half sheet cake, then we'll essentially need double the amount of batter.
One cake recipe batch (most of my cake recipes) makes enough for one 13×9 inch pan, so you'll need two recipe batches to equal a half sheet cake, therefor you'll just double the cake recipe to get the proper amount for a half sheet cake. See what I did there?
Example 2: Three layers of 8″ round cake:
If I'm making a cake for my family, then I'll just make it two layers, but if I'm making a custom decorated cake or I want it to look fancier, then I'll make three cake layers. It just looks taller and more elegant.
So what do I do when I want three layers instead of just two? Well most of my recipes (and general cake recipes) make enough cake batter to fill two, 8″ round cake pans. Essentially you'll just need another half batch of cake batter for that, so you'll just mix up a recipe batch and a half.
You don't need to mix up the batches separately. Just take your recipe and add another half to it. Here's what that'll look like below: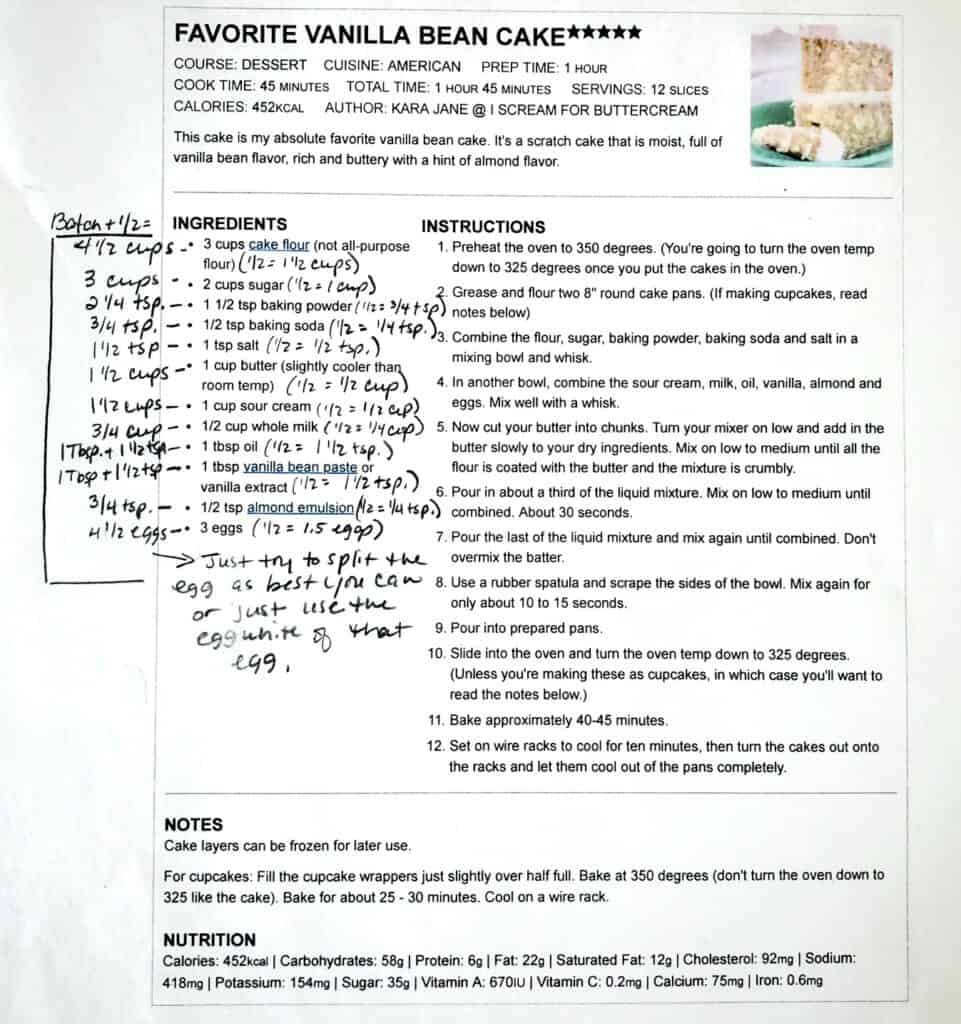 Example 3: Two, 10″ round cake layers: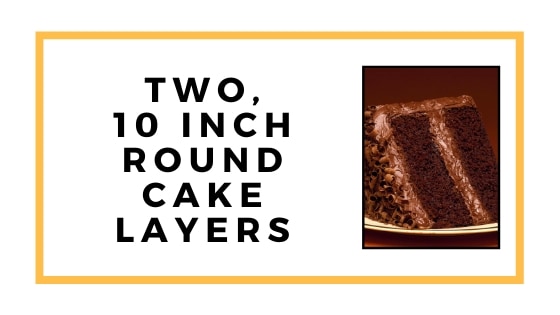 Since an average cake recipe (or at least those on my site and many others) makes enough batter for two, 8″ round cake layers, then when you need to make two, 10″ cake layers, you'll be short about 4 inches worth of cake batter.
So essentially you can just make an extra half batch. Now, just like I mentioned above, you won't mix up a full batch and then a half batch separately, you'll just adjust your ingredients to make a batch and a half. (See the screenshot of how I did that in example 2.)
Example 4: Two tiered cake – Bottom tier is three, 10″ round cake layers; Top tier is three, 8″ round cake layers:
Ok, it gets a little more confusing if you're making multiple cakes and it will depend on whether you want to mix up all the batter at once, or just do one tier at a time. I tend to sort of mix things up a bit and I'll tell you what I mean.
So as we talked about in example 3, you'll need a recipe and a half for two, 10″ round cakes. If you just doubled a recipe, then you could get three, 10″ cakes. (One recipe = enough batter for 16 inches of cake pans (two, 8″ pans), so a double batch would = enough for 32 inches of cake pan, which would be enough for three, 10″ pans.)
Now, if you don't have three, 10″ pans, or your oven isn't large enough to hold three, 10″ cake pans, then you can still mix up two batches of batter and just fill up two, 10″ round cake pans plus an 8 inch round cake pan.
At that point you'll still need to make one more 10″ cake layer plus two more 8″ layers. That means you can make another double batch of cake batter (which equals 32 inches of cake pan space) and that would give you plenty for those three pans (plus maybe a bit for a few extra cupcakes.)
Essentially you need to look at how many pans you have and how much oven space you have first because you could mix up a ton of cake batter, but then how will you fit it in your oven, or what if you run out of pans?
It's really best to bake the batter right after it's mixed or your cake may not rise as well, so just plan it out first and figure out what layers you'll bake at each step in the process.
Example 5: Two tiered cake – Bottom tier is three, 8″ round cake layers; Top tier is three, 6″ round cake layers:
Ok, this one is similar to the example above. (Go and read that for more details and how I came up with these numbers and what you need to plan for before mixing up the batter.)
So for the three layers of 8″ round cakes, you'll want to mix up a batch and a half of cake batter. (Make sure to go up to example 2 to see how that's done.)
For the three, 6″ cake layers, you can do a couple things. You can mix just one batch of cake batter and use that, but your cake layers will be a little thinner, which is fine if you're okay with that.
If you want thicker layers, then you can just use a batch and a half like you did with the three, 8″ cake pans, but you'll have a bit of cake batter left over for some cupcakes.
A different way to do this…and this works especially if you only have two pans of each size, is to just mix up one batch of cake batter and bake two layers of the 8″ round cakes first.
Then mix up another batch and do the last 8″ cake pan and a 6″ cake pan. Lastly, mix up one more batch and bake the last two 6″ pans. You'll have a bit more batter leftover using this method, but sometimes you have to do things differently if you only have two pans for each size.
Now these are just a few examples and if you're making a larger tiered cake then you'll just need to adjust as necessary.
For square pans and other odd sizes:
When you're estimating the amount of batter you'll need for square pans, it's going to be different. I tend to add an extra half batch to be on the safe side because you'll need more batter for those. (For example, an 8″ square pan is going to need a bit more batter than an 8″ round pan.)
If you have a novelty pan (like a football pan or ball pan), it will usually tell you how much batter you'll need for it with the instructions.
Now, this method of mine is not exact, but all I'm saying is that nothing is going to be exact. I always err on the side of make a bit too much though because I feel like that's the safest way to go.
Final Thoughts:
I hope this was helpful and I'm willing to help troubleshoot any cake batter estimates you have questions about, but just know that we are all just making our best educated guesses and the more you do it, the better you'll get at estimating how much batter you'll need.
Other posts you might like:
Don't Forget to Pin it Below!