I LOVE a nice tall cake. It just looks elegant and stately. Can a cake look stately? Anyway, I'm a big fan of the tall cake, but there are a few tricks and tips to know about before you make one. You could have a disaster on your hands if not done correctly, so I thought I'd put together my tips and tricks on how to make a tall cake (or as some call it, a double barrel cake).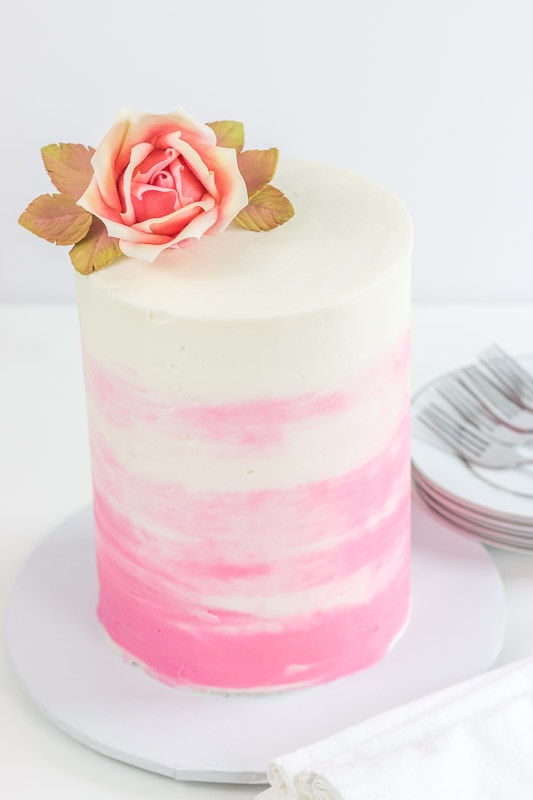 There are a multitude of ways to make a tall cake, but the number one thing to remember is that you need to have a support system in place.
In this post, I wanted to give you plenty of details. I've got some screenshots of how I put this cake together, but you can also watch the video toward the end of this post to see it actually being made.
Oh and if you want to get ALL my tips on how to stack tiered cake (with different sized tiers), then you'll want to see this post here.
Supplies Needed to Make a Tall Cake:
Cake Layers (Anywhere from 4 to 6 layers – we'll talk about this in a bit.) I used 6″ round cake layers – Here's my favorite cake recipe: Favorite Vanilla Bean Cake Recipe
Cake Base (A few inches larger than your cake layers – I like foam boards)
Cake Rounds (The same size as your cake layers)
White candy melts (For attaching the cake boards)
Buttercream (You can grab my buttercream recipe here: Vanilla Bean Buttercream Recipe)
Icing Smoother (You'll need a tall one) Here are a few options: Tall Plastic Icing Smoother, Tall Metal Icing Smoother
Dowels for stacking the cake layers. I love using Poly Dowels. For the link to the official poly dowels, click here: Poly-Dowels Here are some other options for plastic 'cuttable' dowels.
Center wooden dowel (The dowel that goes all the way through the cake and into the cake base. This is really just a tall wooden dowel that you can probably get at any craft store.)
Pencil sharpener (for sharpening the center dowel)
Edible marker (for marking the dowels) The Americolor brand seems to last a long time for me.
Knife (for trimming the cake)
Hot water (for smoothing the buttercream if you use the metal smoother)
Optional: Gumpaste Rose – Here is my tutorial on that: How to Make a Large Gumpaste Rose
Options for Making a Tall Cake:
Ok, the most important thing about making a tall cake is that you MUST have support in your cake. By 'support', I mean doweling inside.
Any cake that will be taller than three layers, needs to have support if you'll be adding more cake layers on top. Sometimes you can get away with four layers, but honestly, I don't test it.
The reason is that the cake gets too heavy. It could just collapse on itself, the weight of the cake could cause buttercream ridges, or you could have cake layers that slide on you.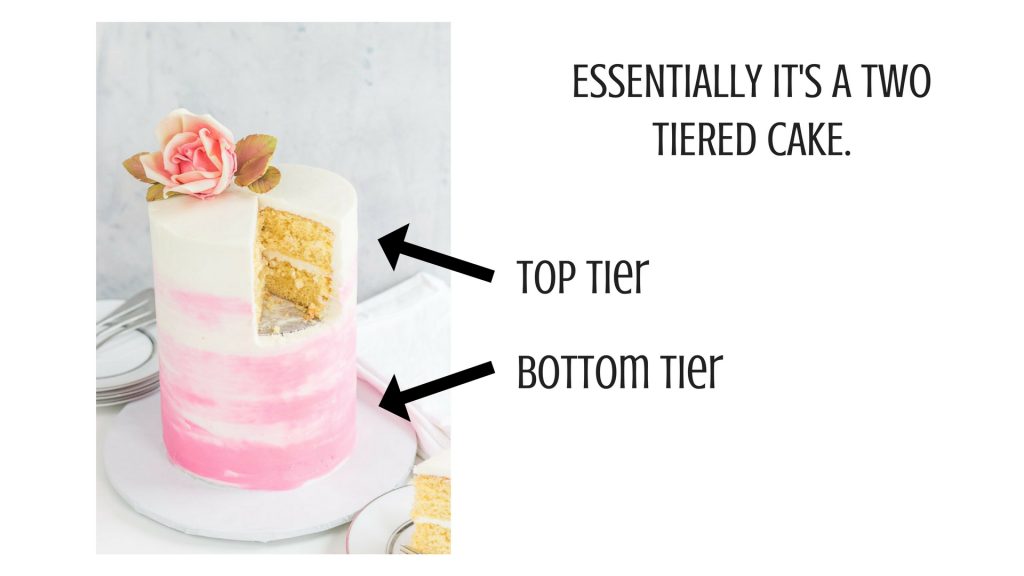 A tall cake is really just a two tiered cake. The top and bottom tiers just happen to be the same size. So if someone is paying you to make a tall cake, make sure to charge accordingly. It's not really 'one' cake, it's basically two in one.
Ok, let's talk about options for making tall cakes:
First Option for Making a Tall Cake: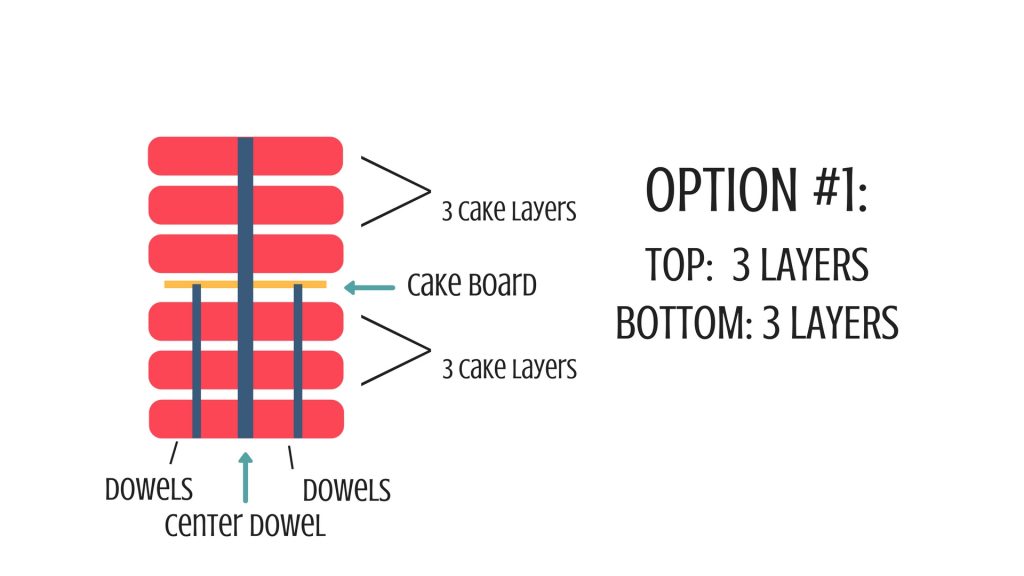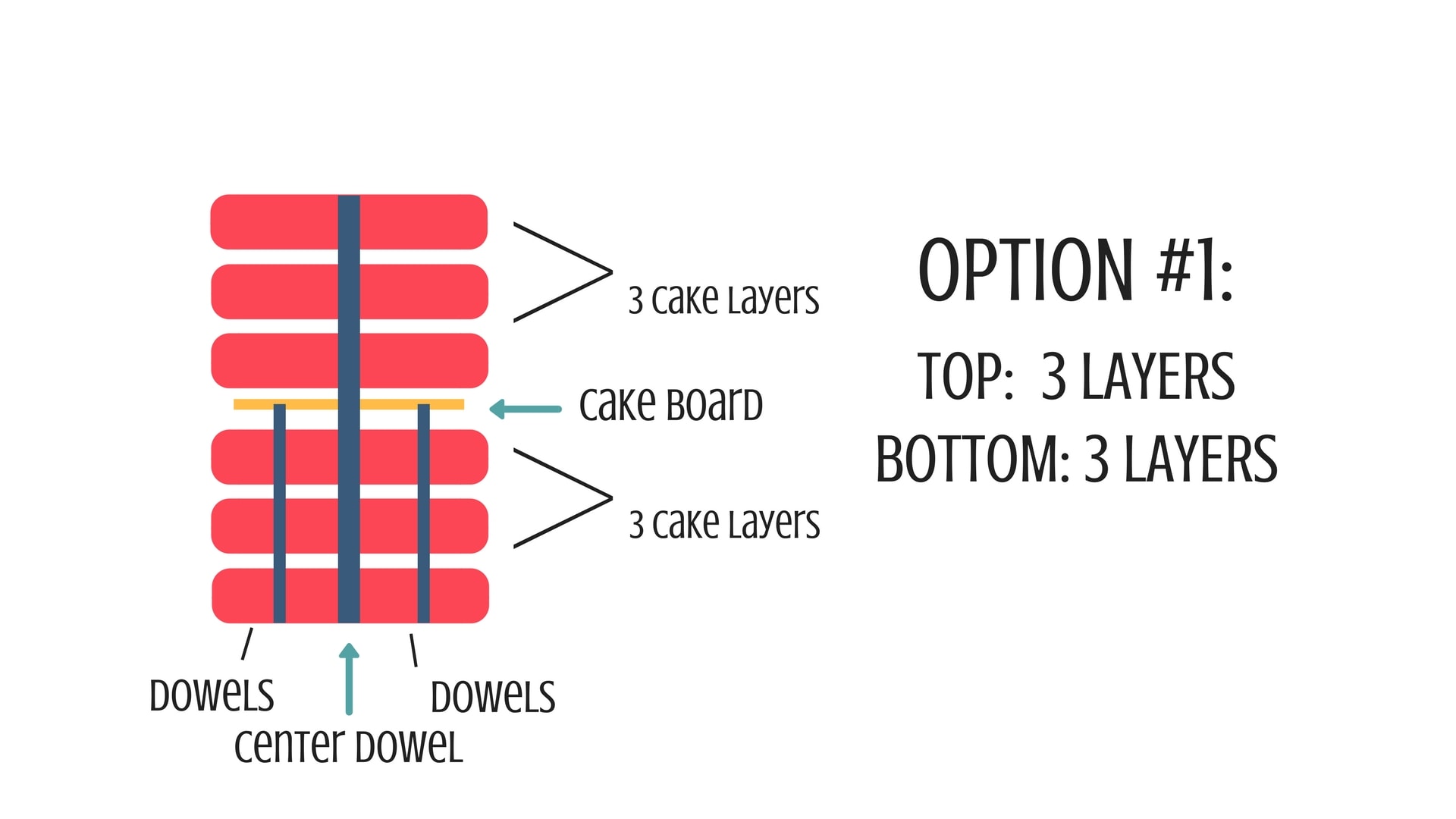 The first option is to use three layers of cake for the bottom tier and three layers for the top tier. Between the tiers, you'll need a slightly smaller cake board and dowels for support in the bottom tier.
Second Option for Making a Tall Cake: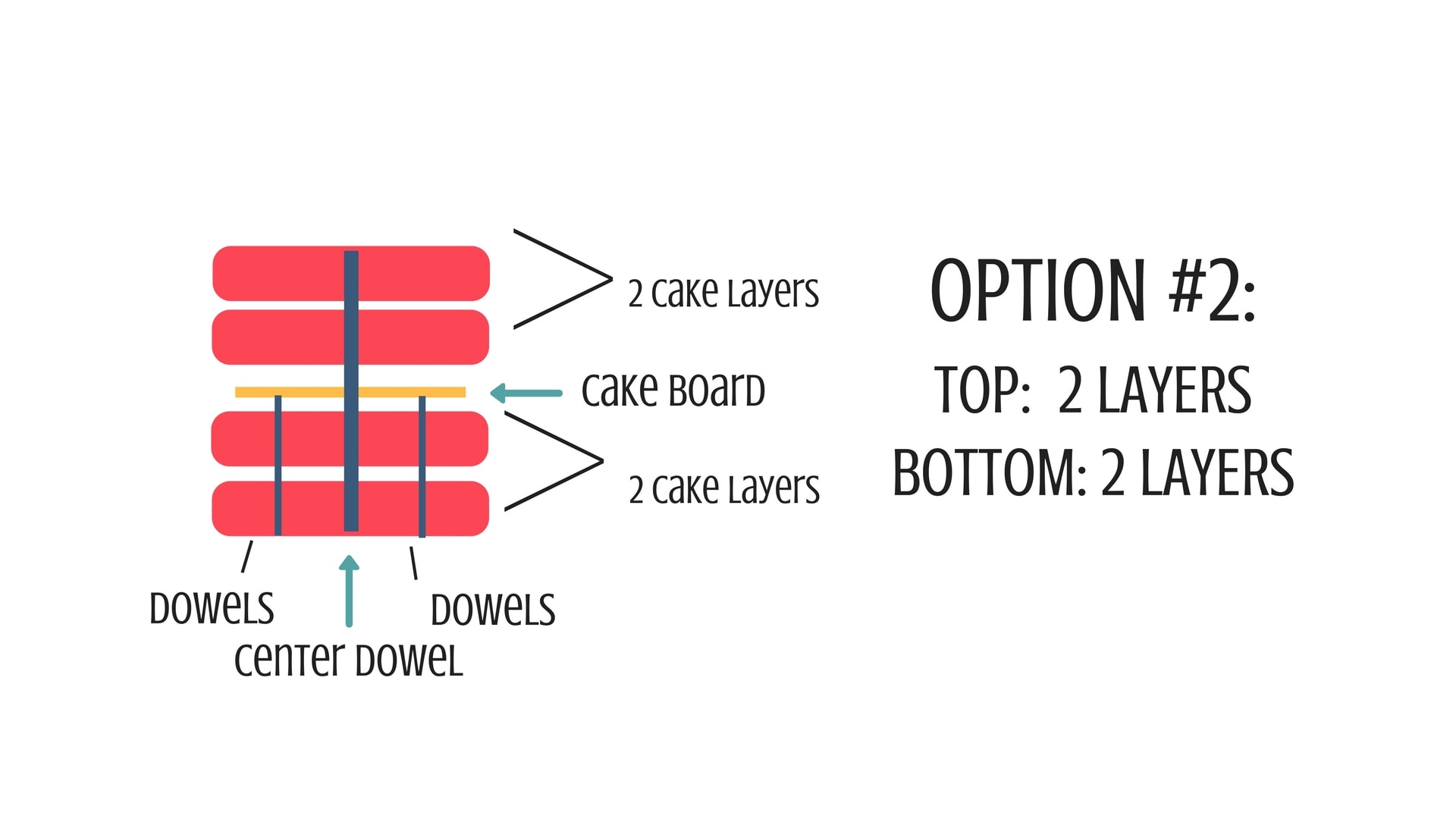 The second option is to use two layers of cake for the bottom tier and two layers for the top tier. You'll add the slightly smaller cake board in between the cake tiers and the dowels in the bottom tier. This option will give you a shorter cake than the first option.
Third Option for Making a Tall Cake: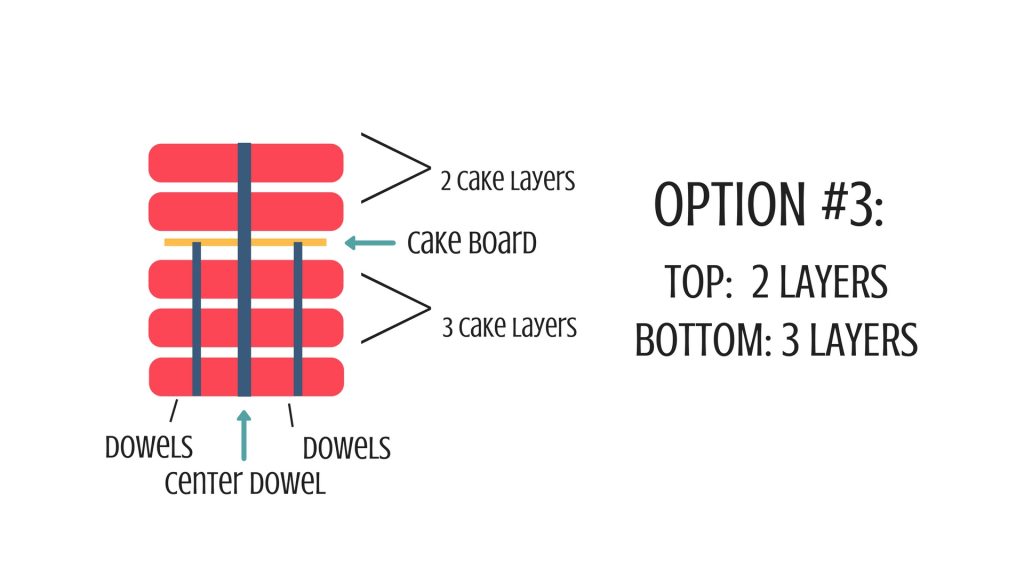 This is the option that I chose. I used three cake layers on the bottom tier and two on the top tier with a cake board in the center and dowels in the bottom tier. I went with this option because four layers of cake didn't seem tall enough for me, but six layers of cake was looking way too tall for a 6″ round cake.
Ok, so now you've got some options to think about. Let's get to actually building the cake.
Making the Tall Cake:
Don't forget, if you'd rather watch the video rather than read all the steps, just scroll on down close to the bottom of the post to catch the video.
First you want to make sure you've leveled your cake layers. You definitely want them to be as level as possible, to prevent any accidents or them moving around on you later.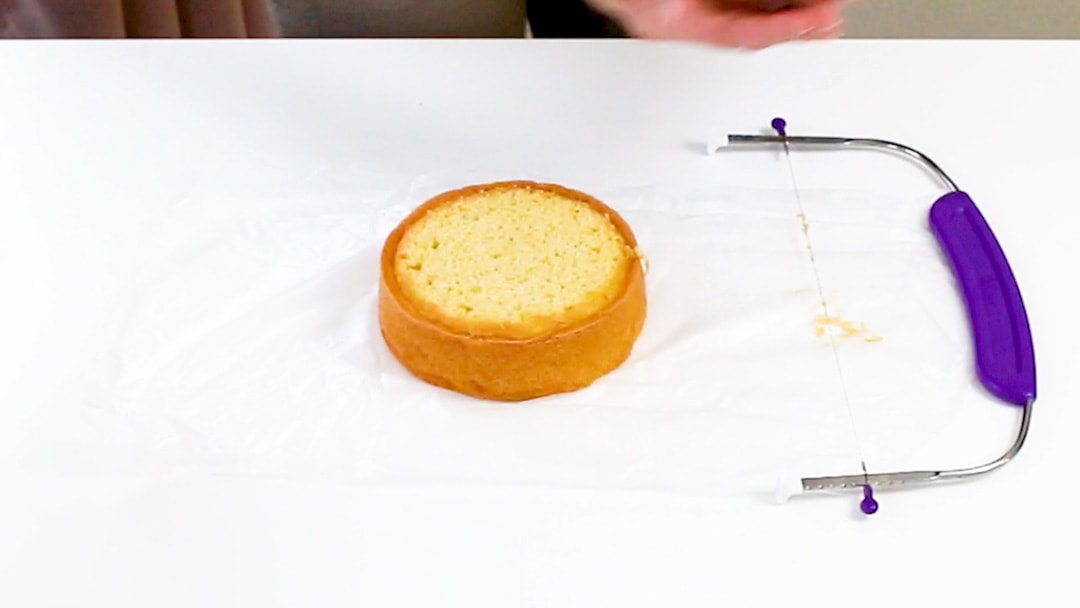 Take your large foam core cake base and cover it with fanci foil, or whatever your favorite method of covering a cake board is. If you want to see more options and all my cake board tips, you can see those here: Tips for Cake Boards
Now, set your cake base on your turn table and add some melted white candy melts to the middle. This will help you attach the bottom cake board, so it doesn't move around.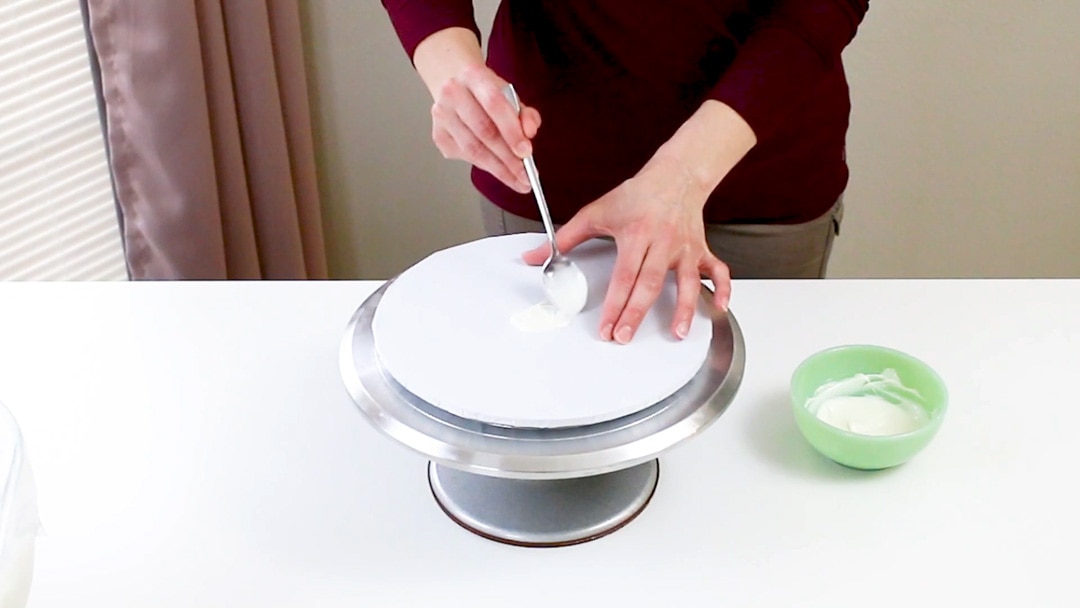 Now you want to add a cake board to the cake base. You need to make sure the cake board is the same size as your cake layers. I used 6 inch cake layers and a 6 inch cake board here. Make sure to let it set up a bit, so it's good and sturdy. You can even pop it in the fridge for a few minutes if you want.
I like to go ahead and add just a bit of the melted candy melts to that board so the bottom layer of cake is stuck well onto the board. Some people like to use buttercream for this, but that just hasn't worked well for me.
Then go ahead and add the first cake layer.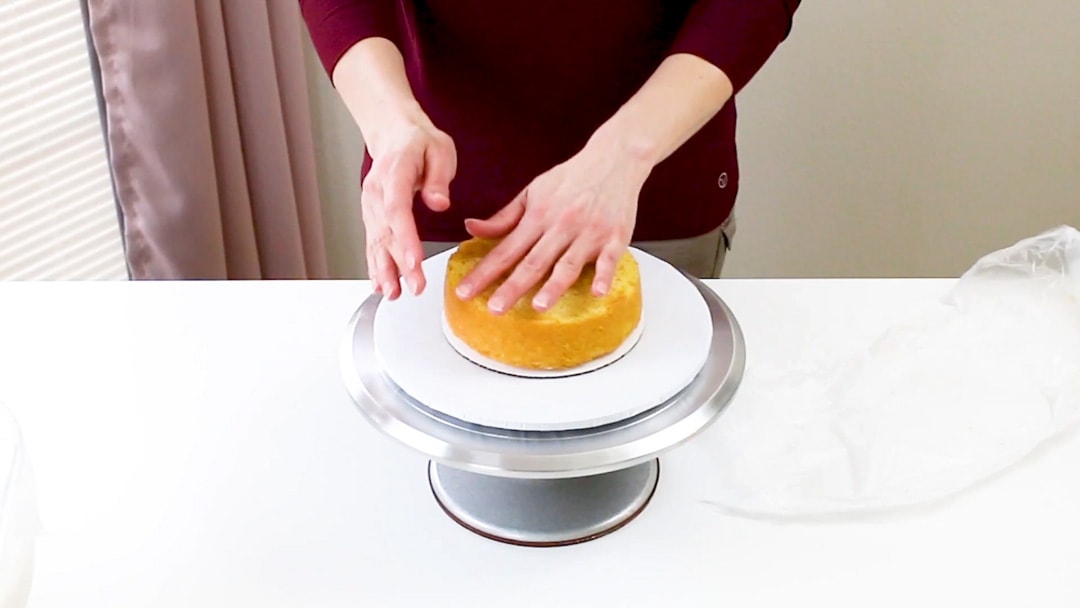 Add buttercream and your other cake layers until you get the bottom tier as tall as you need it. (Remember, don't go higher than three tiers.)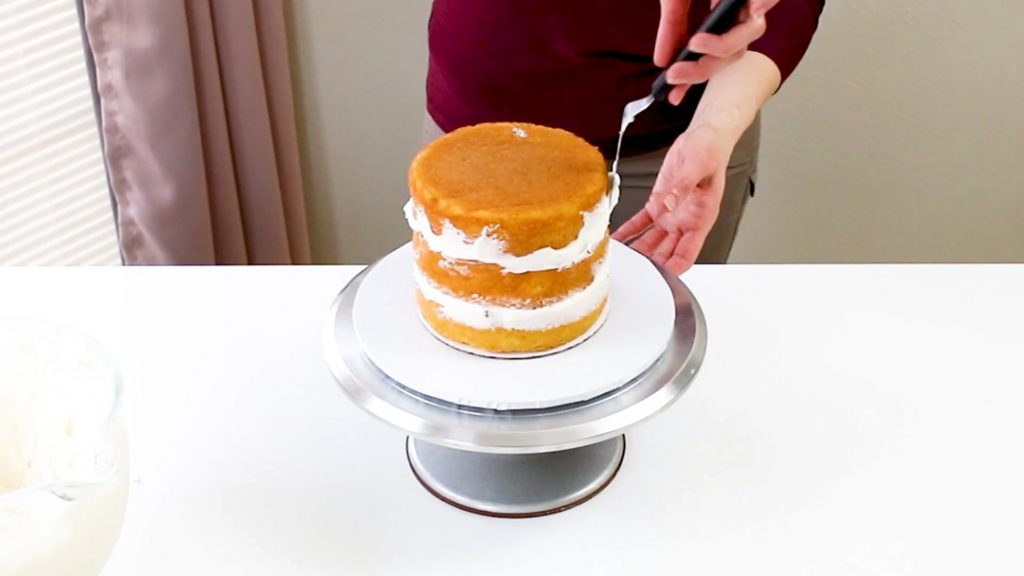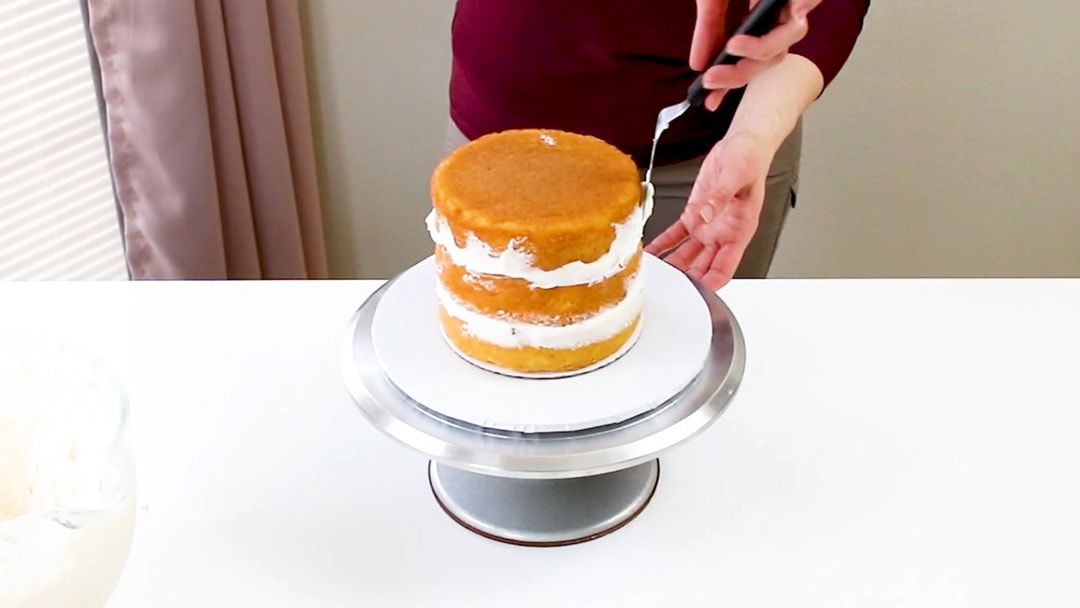 Pop another cake board on top and use your level to make sure the bottom tier is mostly level. If it's not, just push down on the board a bit to level it out.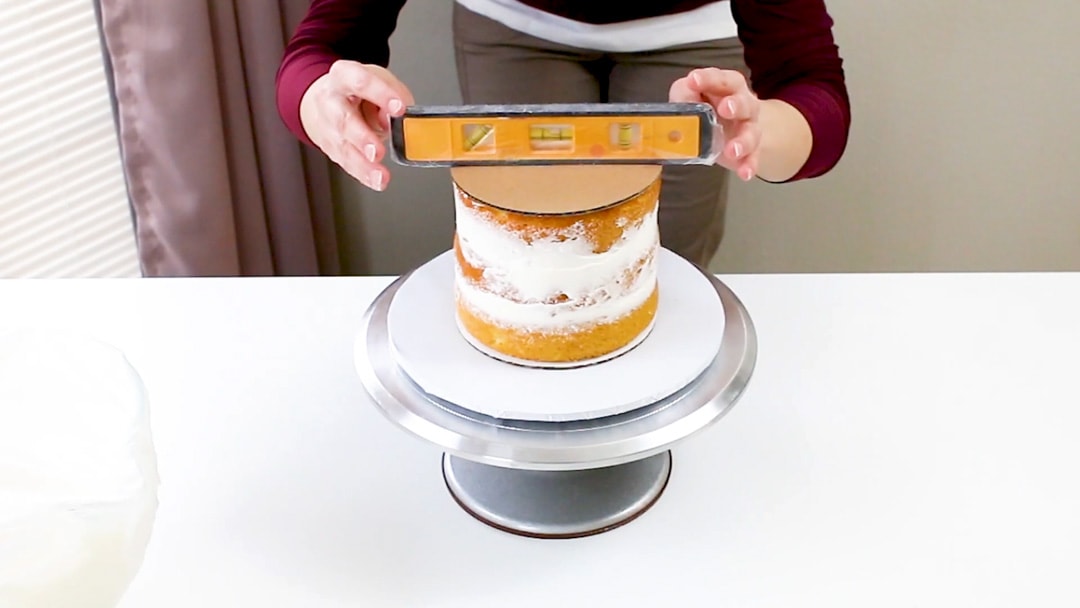 Once it's mostly level, take that cake board off the top and add some buttercream.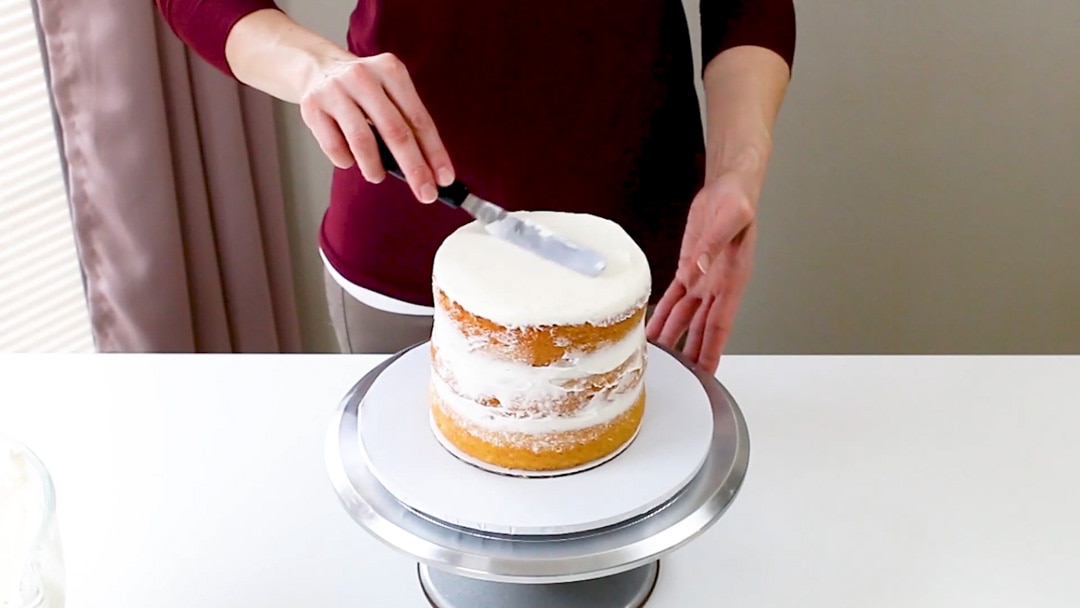 Now take one of the plastic dowels, insert it into the cake tier and then mark the top with an edible marker. If you'd like to use wooden dowels, feel free to do that. You could also use bubble tea straws as well. Just make sure they are heavy plastic and not the flimsy straws. Regular straws will not do the trick.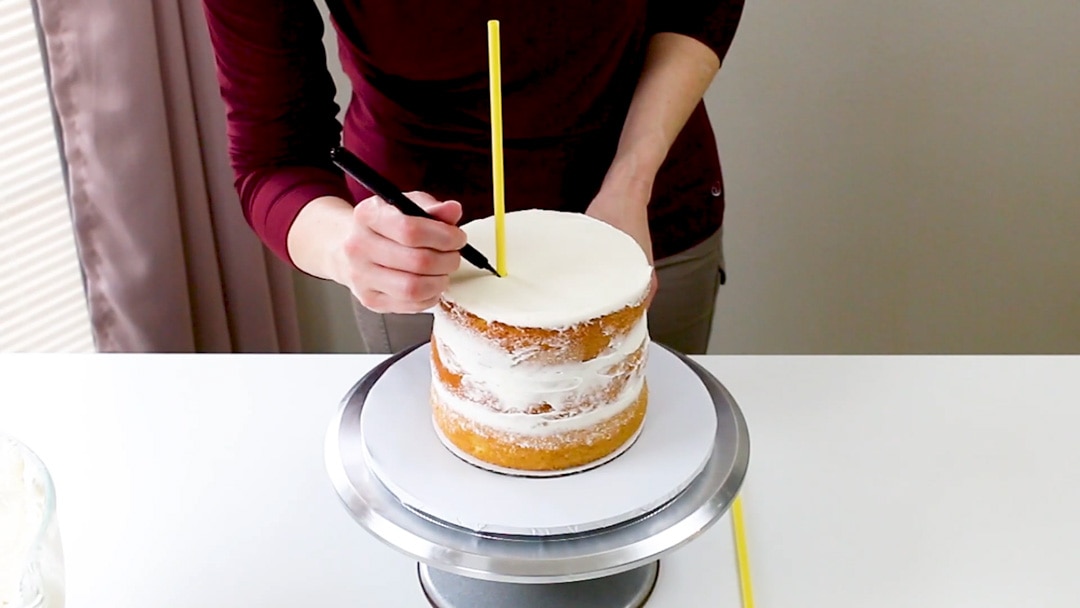 Once you've marked the dowel, twist it while pulling it out of the cake. You'll need to cut your other dowels the same height. I cut all my dowels the same height and then insert them because I find this gives me a more level cake, rather than just cutting the dowels while they're inside the bottom cake tier.
I used 4 dowels for the 6 inch round cake.
Now insert the dowels into the bottom tier. Leave the very middle space empty though because you'll need to add in a center dowel later.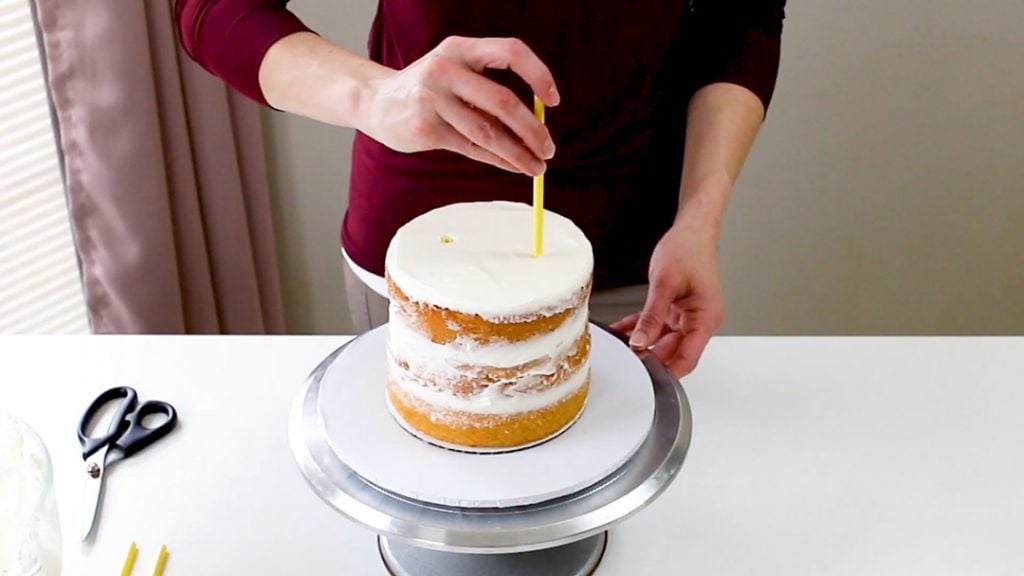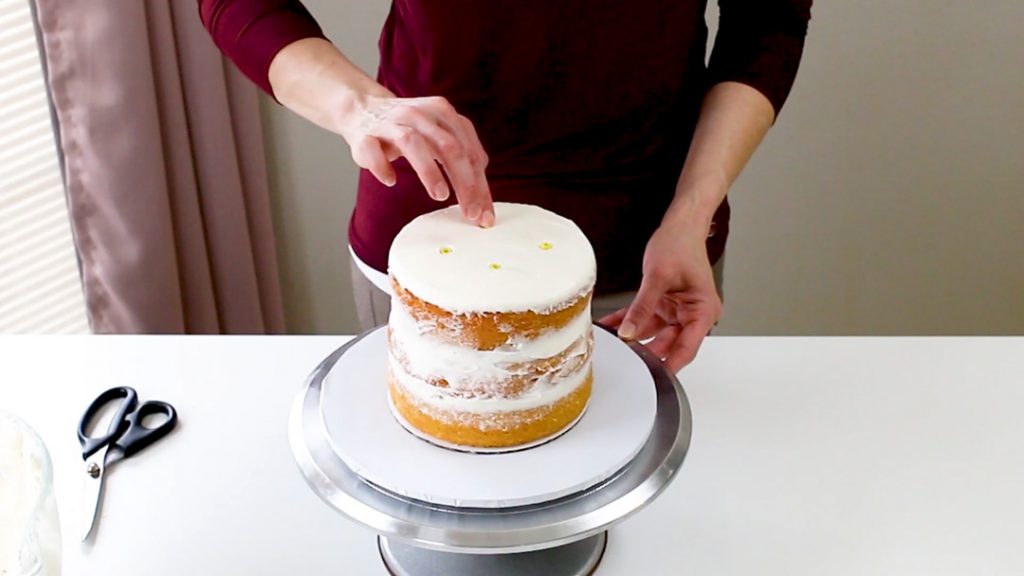 Now you'll need to grab a cake board the same size as your cake layers, however you'll need to trim it down a bit…maybe about a half inch trimmed off around it.
You need this board to be a bit smaller, so it doesn't stick out when you ice the entire thing.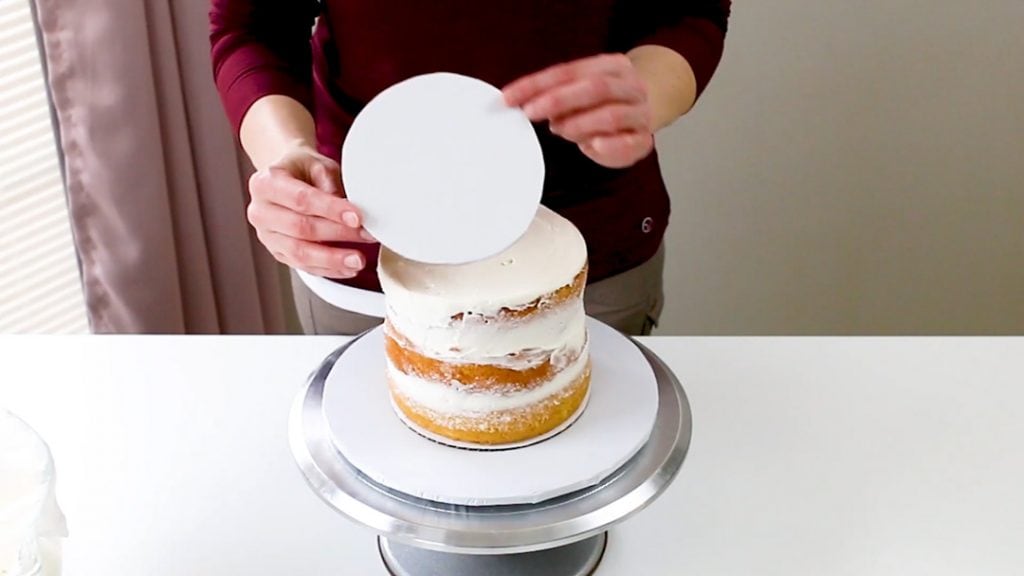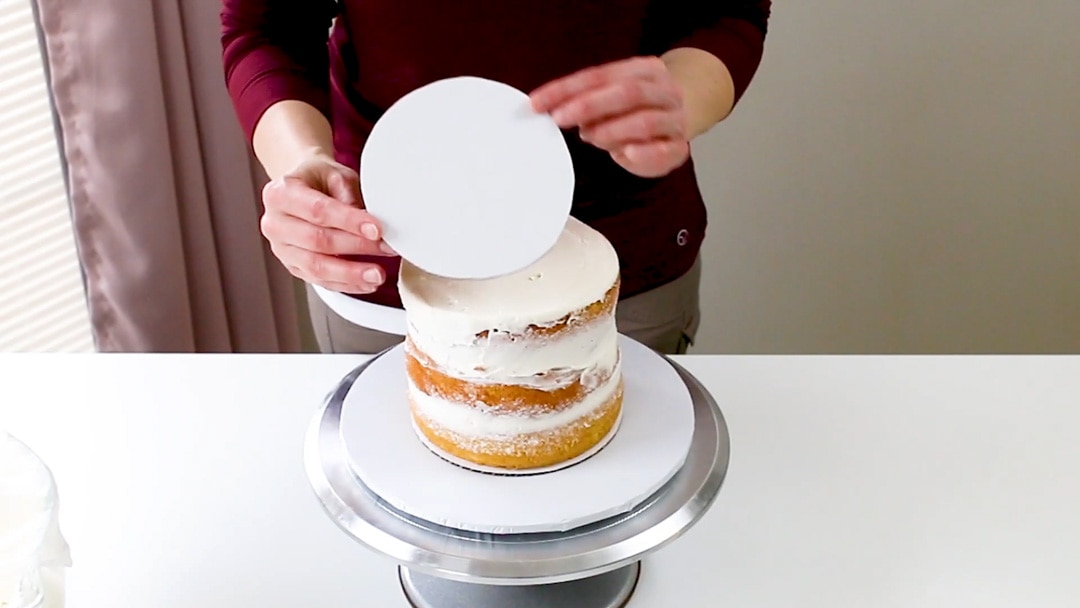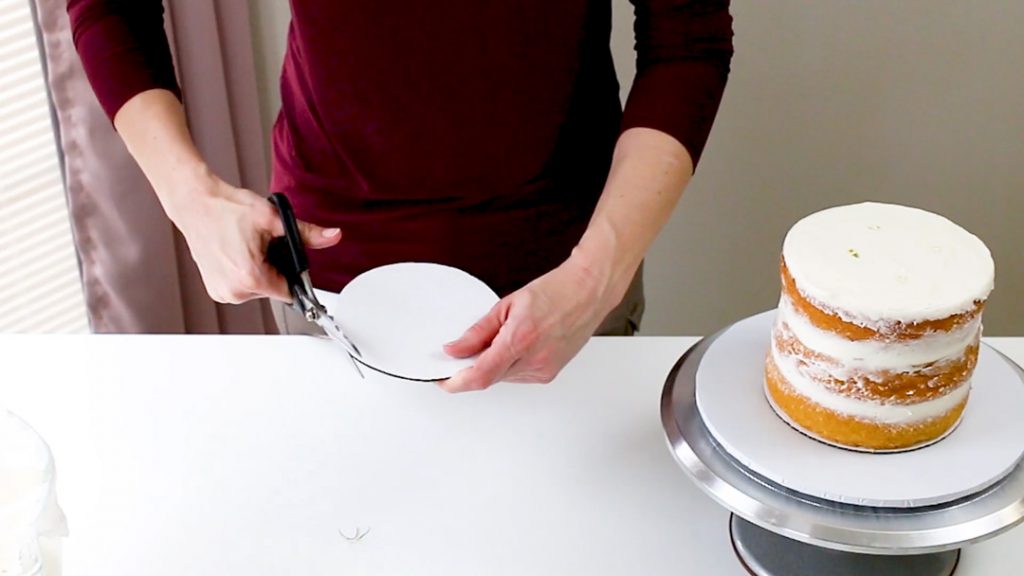 Now just pop your trimmed cake board on top of your bottom tier.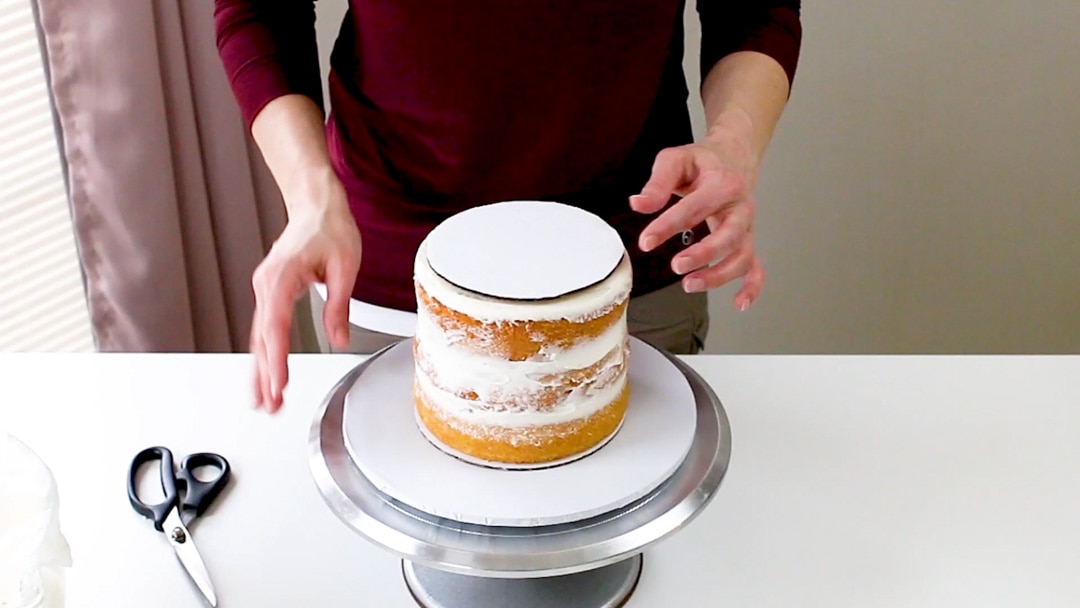 Now use your mini level to check it. Make adjustments if it's off.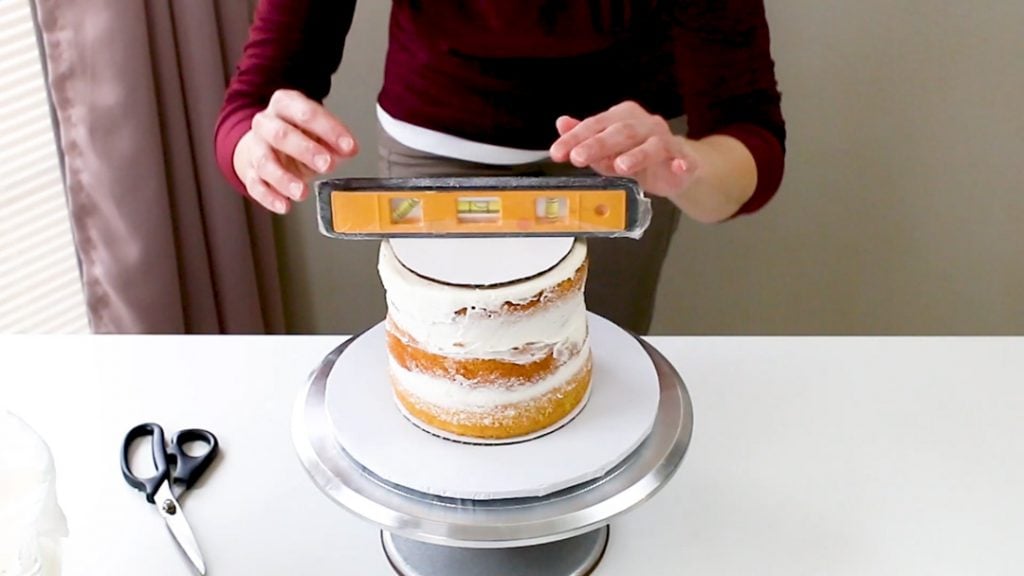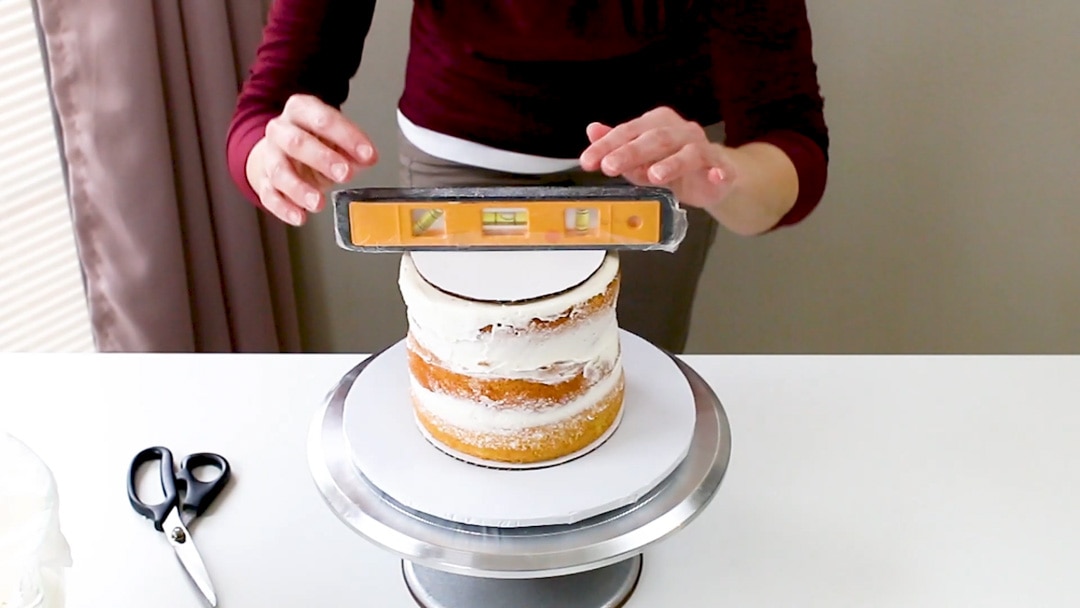 Add a bit of melted white candy melts so the next layer of cake sticks to the board. Some people like to use buttercream for this, but I like using the candy melts because it seems sturdier.
Now just add on your cake layers to the height you want. (Remember, don't go over three.) I added only two layers for this top tier, since the cake was getting super tall.
Now, make sure the cake is level and adjust if necessary.
Now you need to measure the height of your cake so you can cut your center dowel. You want to include the height of your foam core cake base because the dowel needs to go all the way through that as well (not just through the cake).
Yes, I know I'm very scientific using my hand to measure. 😉
It's also okay if the center dowel is slightly shorter…you just don't want it taller than the cake.
Now cut your dowel and then sharpen one end of it. Then just wash it off.
Now just push it (or hammer it) through the whole cake (even the board in the middle) and down into the cake base. Go all the way down into the bottom of the cake base.
Use the cut off dowel piece to help hammer it all the way through.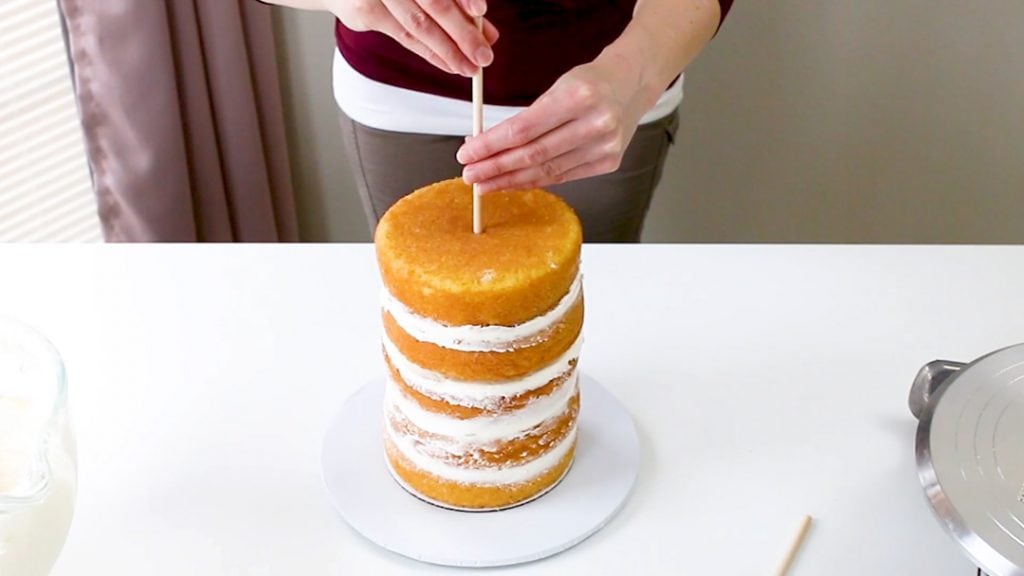 Yes I'm using a meat mallet…I couldn't find my hammer. Hey, it works, right?
Alright, now I like to chill the cake, just for a bit, so it'll be sturdy when I trim it. So, just pop the cake in the fridge for maybe 15 – 20 minutes or so.
After it's chilled a bit, you'll want to add a cake board to the top of your cake, just to check and see how much you'll need to trim. You don't want any cake peaking out when you go to smooth the buttercream later.
Just use the bottom and top of the cake board plus your buttercream smoother to check which parts of the cake will need to be trimmed. This may make more sense when you get to the video.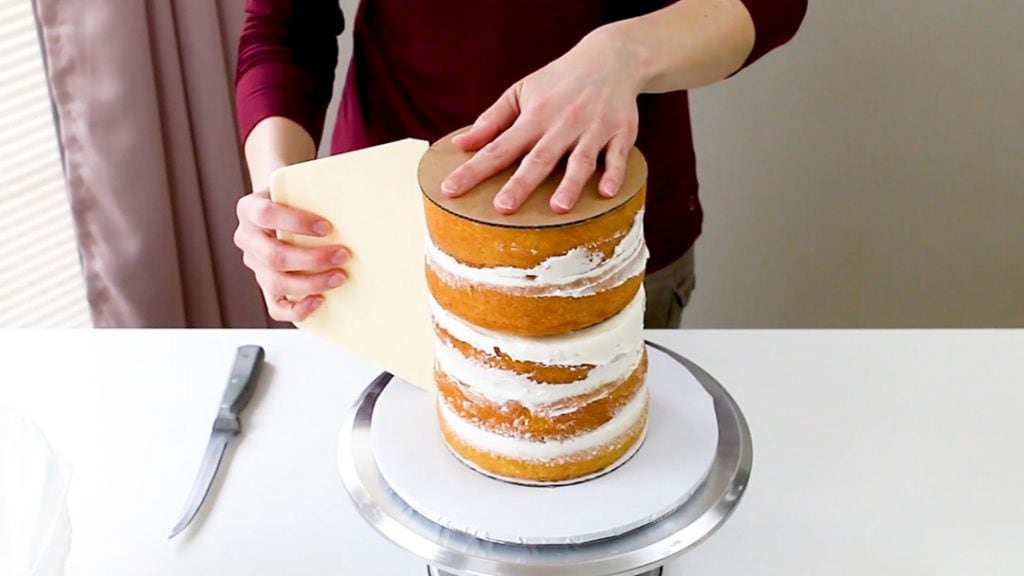 Now just trim around the cake. You'll be using the top and bottom cake board as a guide when smoothing your buttercream, so any cake that is sticking out past those or any where near there, will need to be trimmed off.
You may not have to trim as much as I did…I tend to trim a lot off because I like a lot of buttercream and I just don't want to take any chances that any of the cake will show through. Technically, you could probably use a larger cake board, but since I was making 6″ round cakes, 7″ cake boards are hard to find in my area. But trimming works too.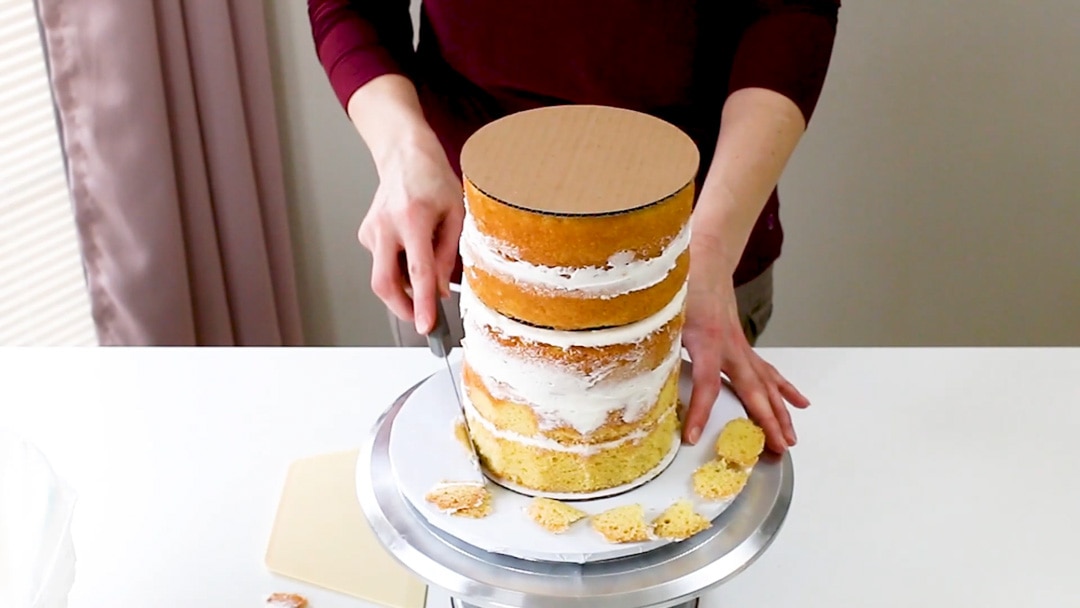 Once it's trimmed up, add buttercream to the top and level it out.
Now you'll want to take another cake board (the same size of the cake layers you baked and the same size as your bottom cake board) and add some wax paper to it.
I just trace around the cake board onto the wax paper and cut out the circle. Stick the circle of wax paper onto the cake board with a bit of buttercream. (This top piece is going to be your icing guide.) This will make it easy to get a sharp icing edge.
Pop it onto the top of the cake.
Use your mini level to level the top and you'll also want the make sure the sides are level as well.
At this point, you can re-chill your cake for another 10-15 minutes or so to firm it up. (Don't leave it in the fridge too terribly long because it'll dry it out.)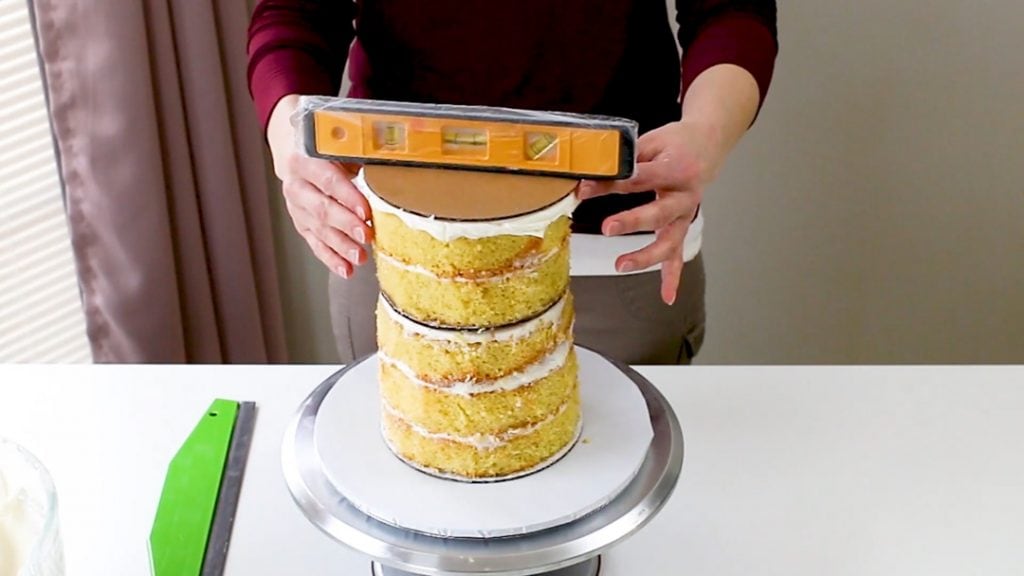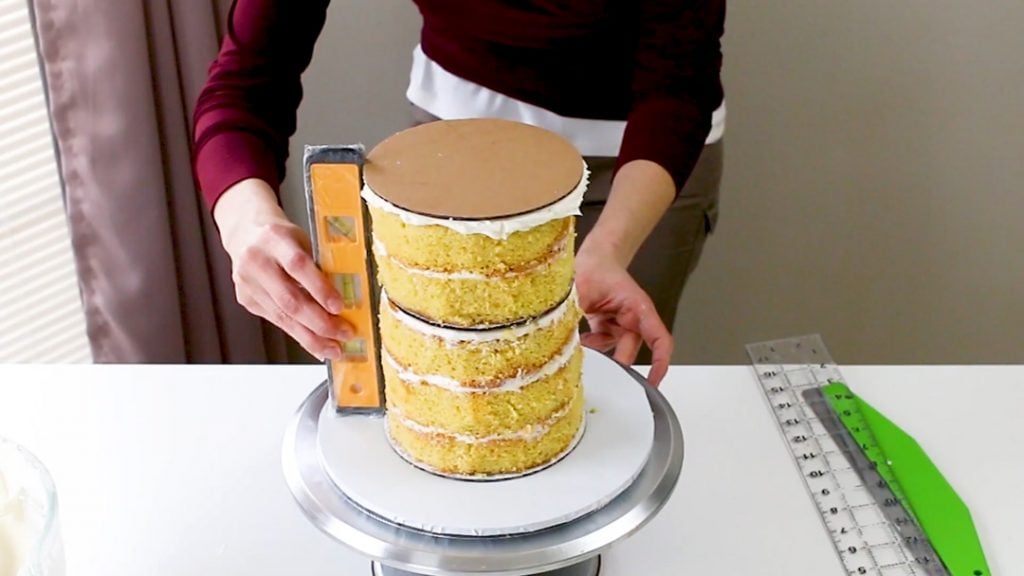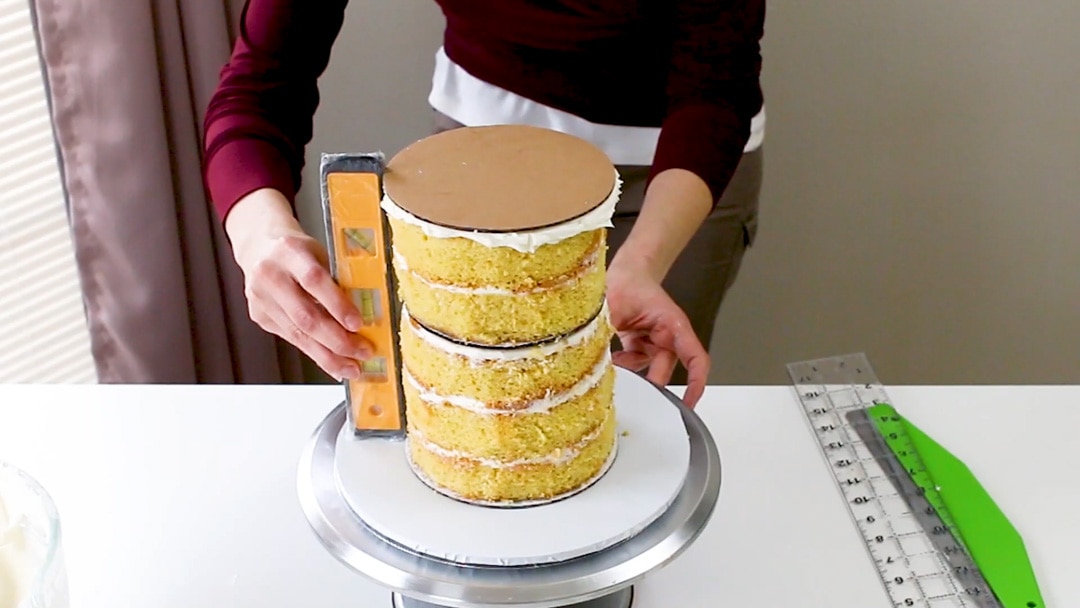 Alright, once it's chilled just a bit, it's time to add your buttercream. Just start by adding it all with a large icing spatula.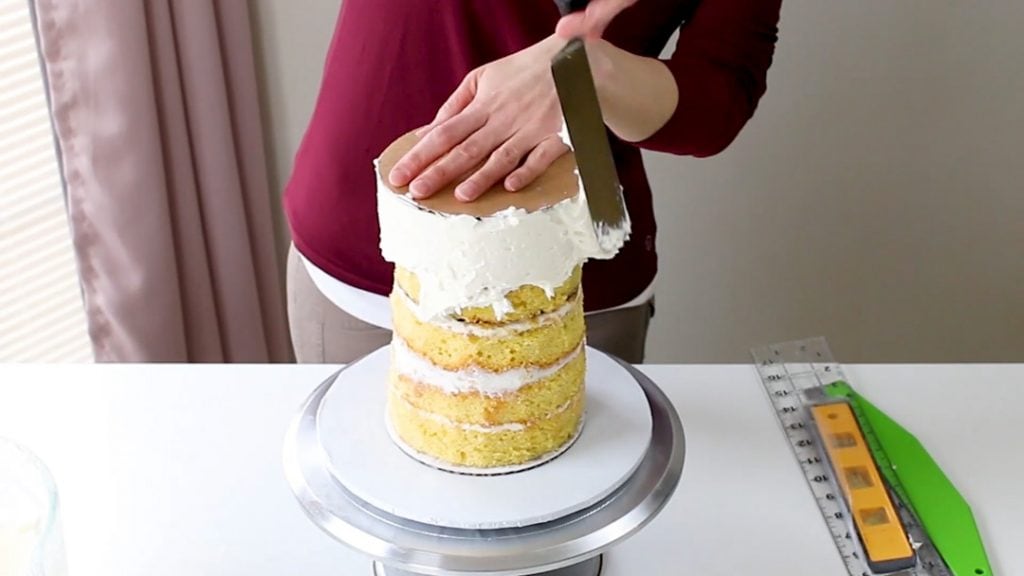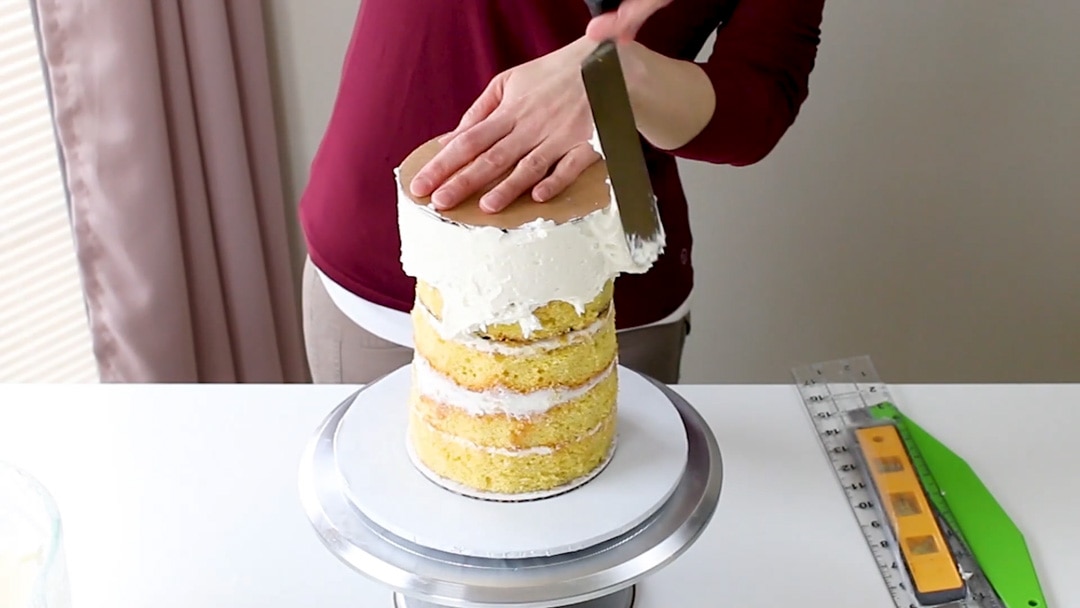 One it's all added, start smoothing it with your buttercream smoother.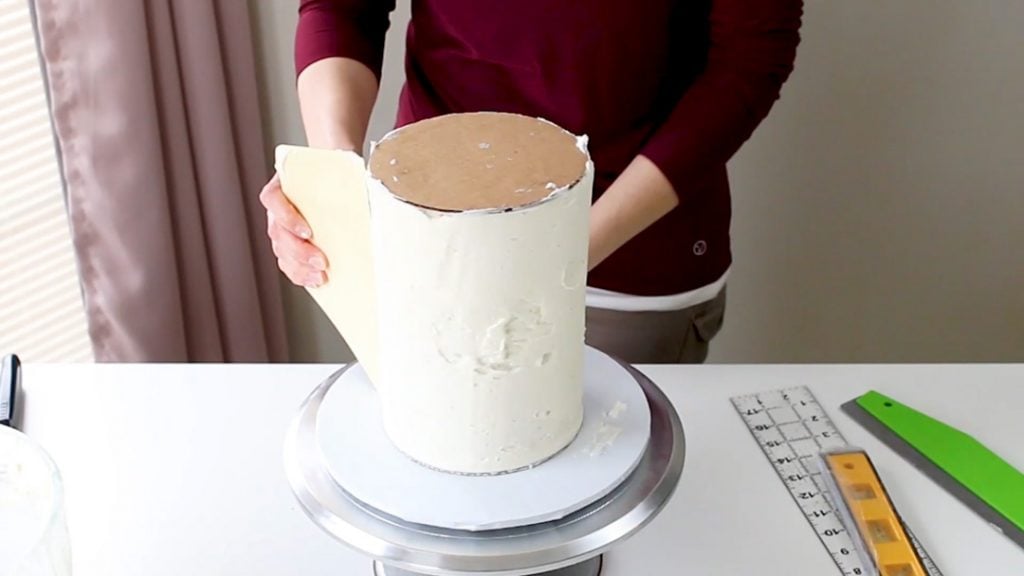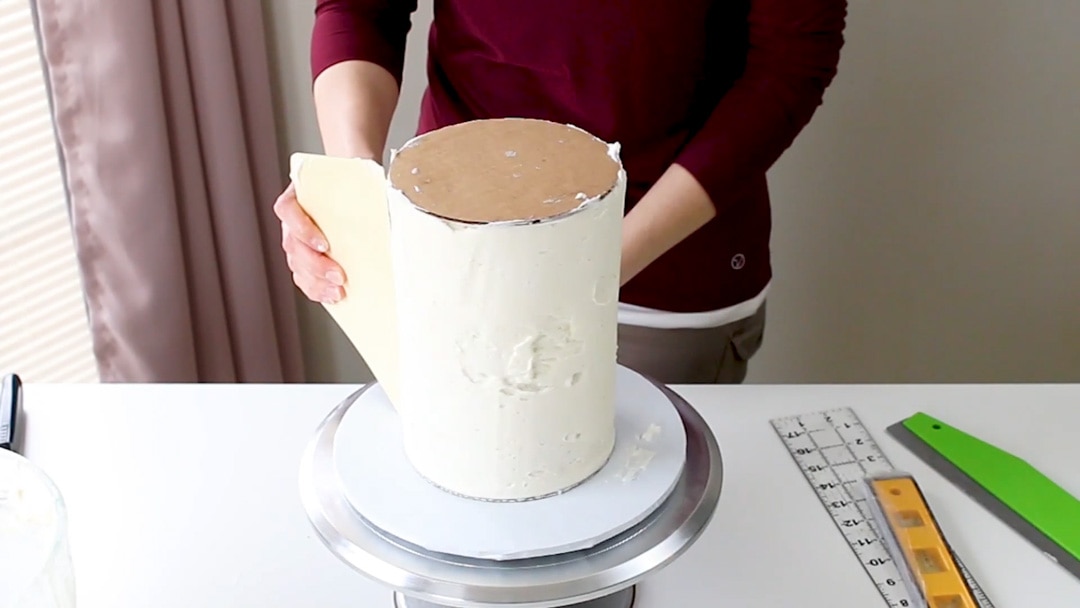 Add more buttercream to any holes you see and then smooth again. You may need to do this process a couple times.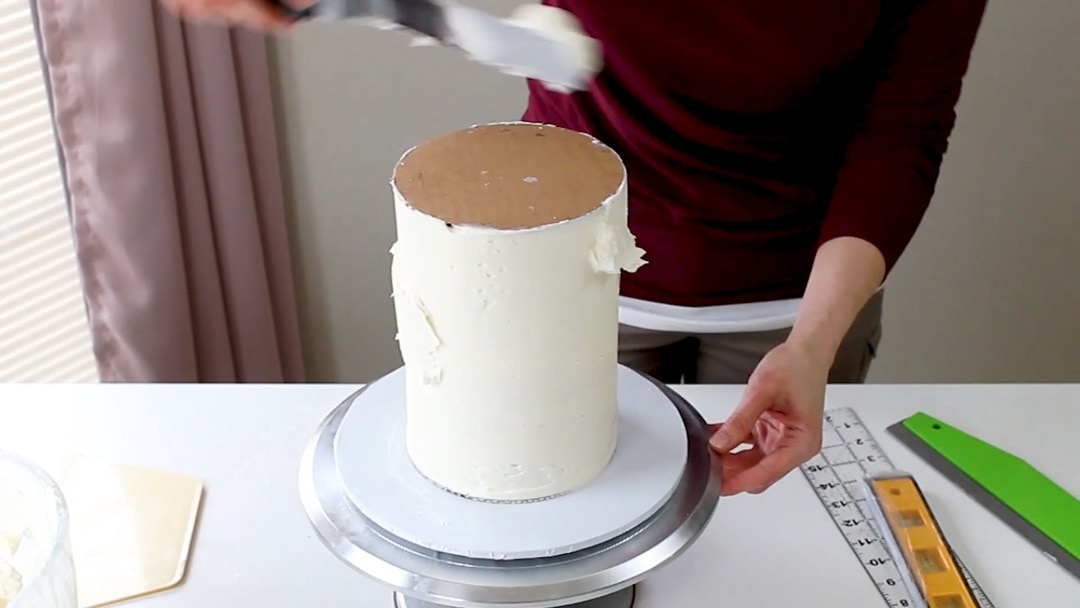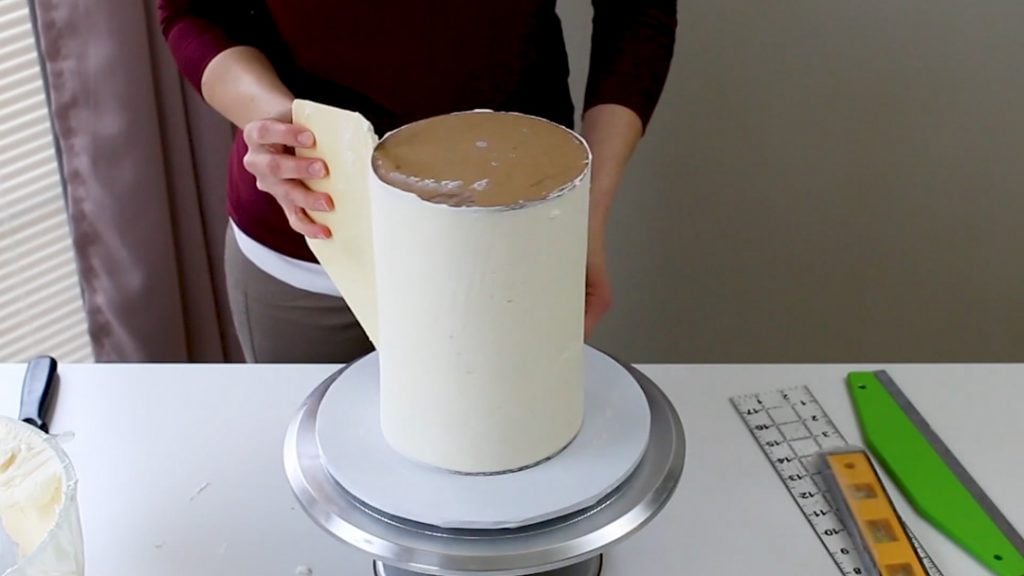 To get the watercolor look, add more white buttercream on the top and pink on the bottom.
Now use your buttercream smoother to smooth around it.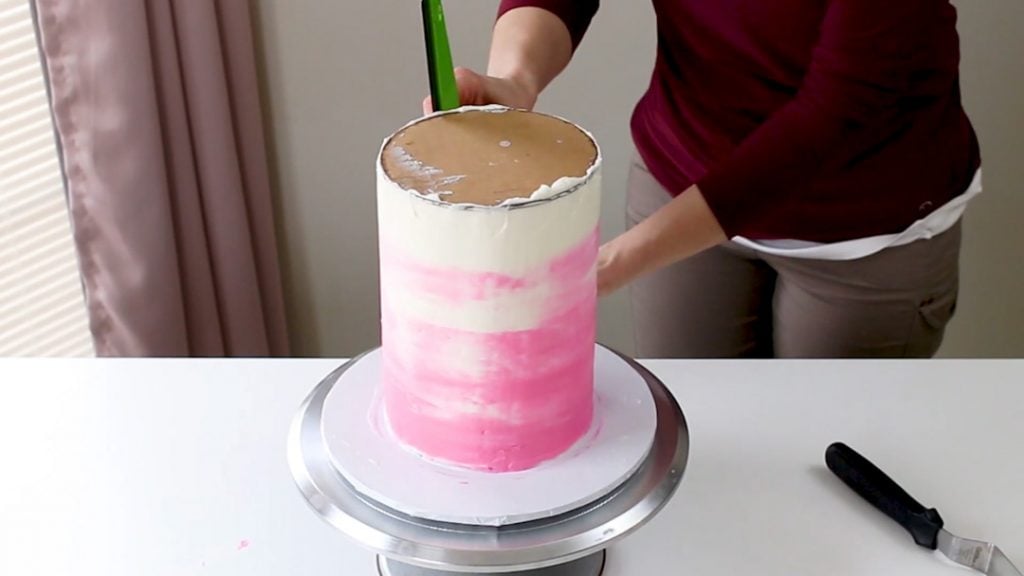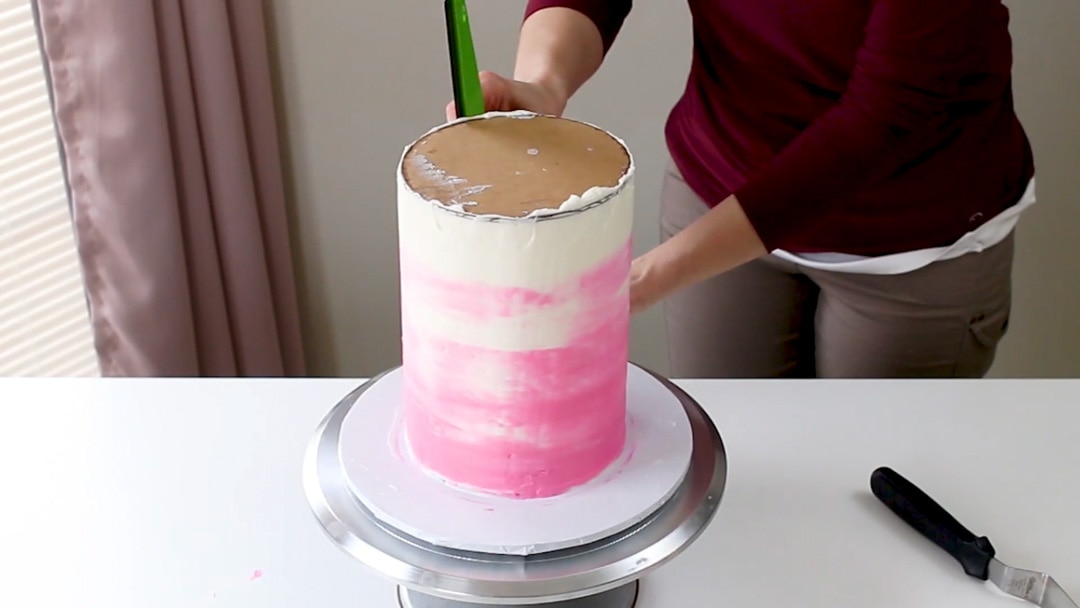 Once you get it as smooth as you'd like. Pop it in the fridge for about 10 -15 minutes so the buttercream firms up a bit.
Now take your smaller icing spatula, dunk it in very hot water, dry it off and insert it around the bottom of the cardboard round on top of the cake. You'll need to do this a little at a time, heating your spatula with the water and drying it off. You want to slowly loosen that top cake board.
Once it's loose enough, just pop it off and make sure you get the wax paper off as well.
Now you'll need to smooth the top. You can do this one of two ways. If you've used a buttercream that has shortening in it (a crusting buttercream) you can use the Viva paper towel method. Just set the paper towel down over the top and just smooth the top out with your hand very lightly.
If your buttercream is made from butter, you can use the hot spatula method. Just dip your icing spatula in really hot water, dry it off and then use it to smooth over the top of your cake.
With either method, just make sure not to go out to the edge of the cake, or this could mess up your sharp edge.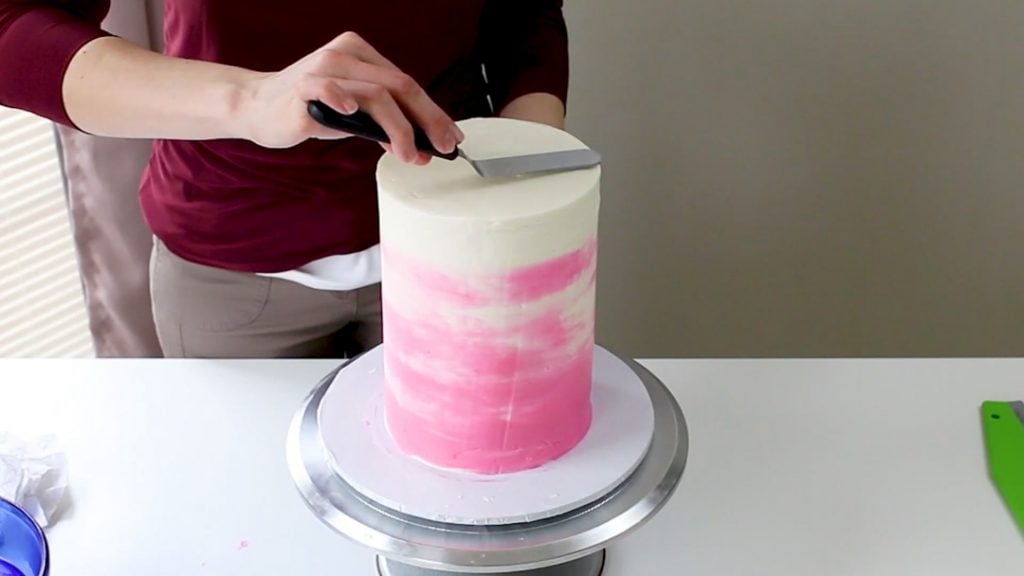 Now just make sure to clean off your cake base.
Now you can add the cake topper of your choice, or you can even add some pretty gumpaste flowers. I decided just to add one of my large gumpaste roses. You can catch that tutorial here: How to Make a Large Gumpaste Rose
To cut this cake, you'll cut it like it's two tiers. Just dig into the top tier first, then take the cake board off and cut and serve the bottom tier.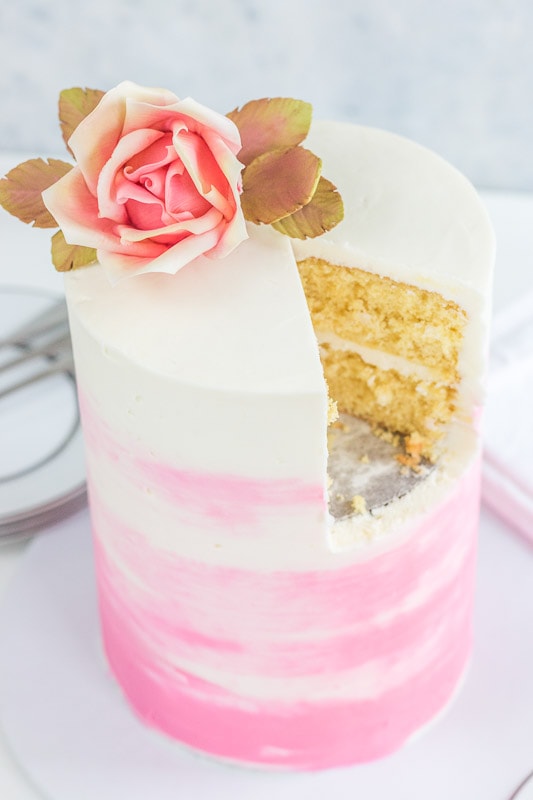 Alright…there you have it! Now you've made a impressive tall cake!
Video for Making a Tall Cake:
Ok, just let me know if you've got any questions. You can always leave me a comment below.
Don't forget to pin it below!