Yes you really can freeze buttercream. You can either freeze your leftovers, or just make your buttercream ahead of time and freeze it, that way when you're ready to use it, you can just thaw it on the counter and it's ready. Here are my tips for freezing buttercream plus what to do with leftover icing.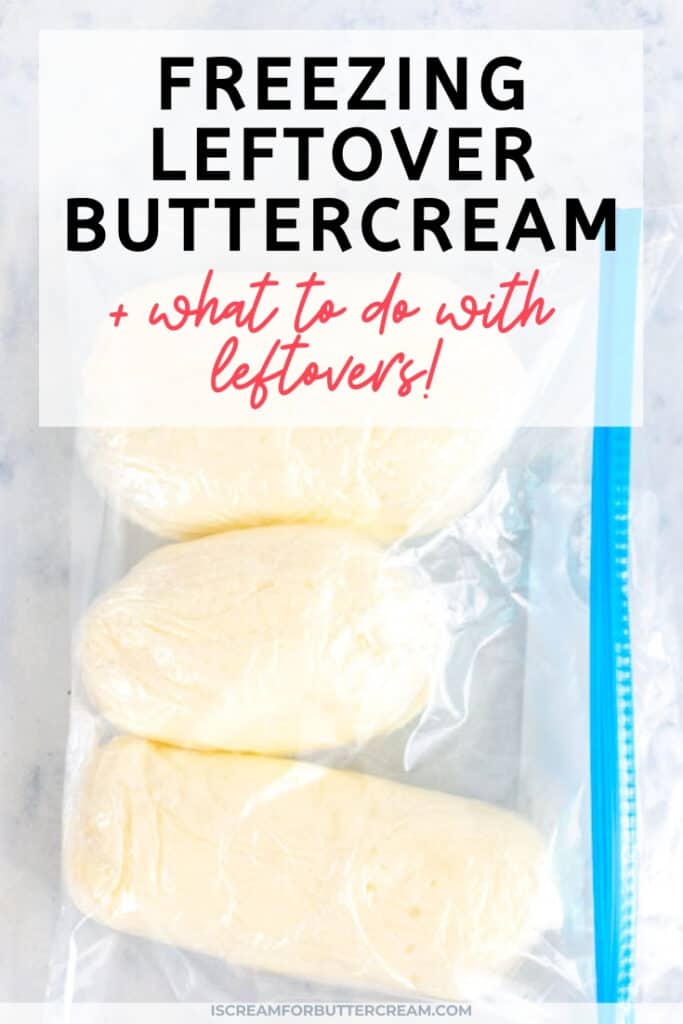 What happens when you make too much buttercream? Well, if you're me, then you just eat the rest. Ok, that's really not a good idea, but I'm just being honest. 😉
Well, it really is possible to freeze leftover buttercream. There are also a ton of options for using leftover icing as well.
First let's go over freezing buttercream.
Now, I'm referring to freezing American Buttercream, which is the buttercream made with either butter or shortening and confectioners sugar.
It may be possible to freeze leftover Swiss Meringue frosting this way, but it may change the texture, since that type of buttercream is actually made with egg whites. You may not like the results you get with freezing that type…I'm not an expert in Swiss Meringue, since I mostly stick with American Buttercream.
And if you'd like to get my 'all butter' buttercream recipe, you can find it here: Favorite Vanilla Buttercream Recipe
If you're looking for a truly white, heat stable buttercream, shortening based frosting, you'll want to check out that recipe here: Bright White Heat Stable Buttercream
Ok, onto freezing buttercream.
This post contains affiliate links. As an Amazon Associate, I earn from qualifying purchases. 
Freezing Buttercream:
First you just want to lay down a piece of plastic wrap. Now if you've read some of my other posts, you probably know that I have an obsession with Glad Press-n-Seal (just check out my post on freezing cakes), but for this tutorial, it works better with regular plastic wrap.
Once you lay down a square of it, just drop a couple blobs of buttercream on top. Yeah I know the word 'blob' isn't really a measurement. You don't need to measure here. Just plop down about a cup or cup and a half. You're going to freeze small amounts at a time…it's easier that way and you can just pull out what you need.
Now you want to fold your plastic wrap over the buttercream.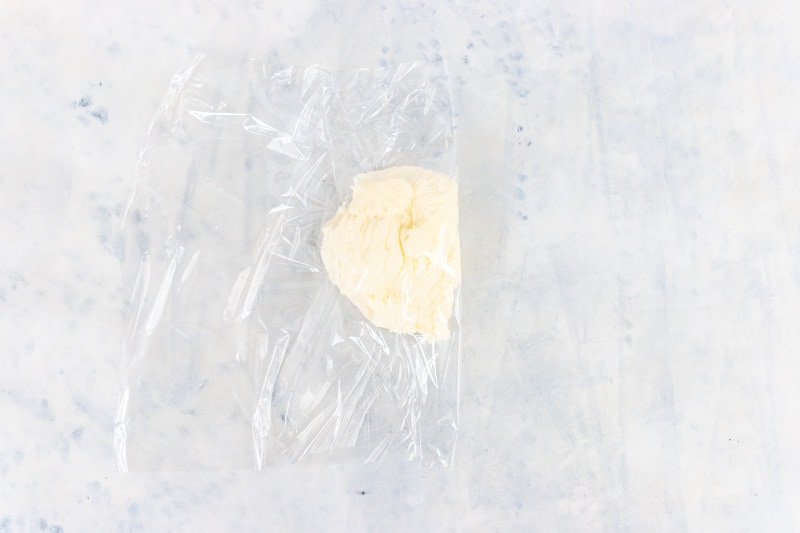 Now just roll it up in the plastic wrap.
Keep rolling until it's all rolled up and then pinch the ends of the plastic wrap.
It's helpful to even twist the ends of the plastic wrap to give it a good seal.
Then I like to tuck the ends under the buttercream.
Now just do this until you've wrapped all your leftover buttercream. You can then just pop them into a freezer ziplock bag, squeeze as much air out as you can, label the bag and then pop them in the freezer.
I especially love freezing small amounts of colored buttercream…that way, when I just need a small amount of that color for perhaps some flowers, I don't have to make it.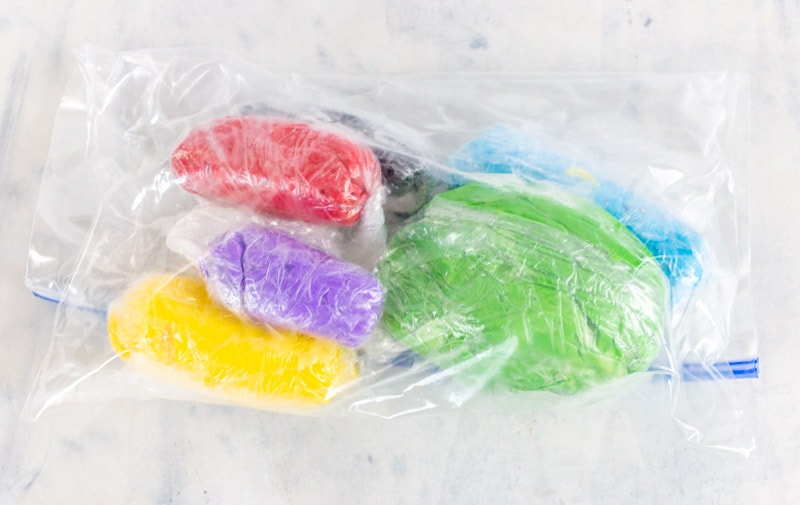 The buttercream should be fine frozen for two to three months.
When you get ready to use it, just pull it out of the freezer, unwrap it and pop it in a bowl. Cover bowl with plastic wrap, or my favorite press-n-seal wrap, and then just let it defrost on the counter. Stir it or re-whip it and you're good to go!
Ok, now let's talk about ways to use leftover icing.
What to do with Leftover Icing:
Make Cookie Sandwiches:
Make homemade cookies or grab yourself some premade cookie dough like I did, bake, add buttercream and another cookie. So good!
Use as a Cookie Glaze:
You can add a bit more milk or cream to your buttercream icing and thin it down just a little, or just heat your buttercream up a bit in the microwave. You can either spread it on sugar cookies, or just dunk the top of the cookies into the icing glaze.
Make Cake Pops: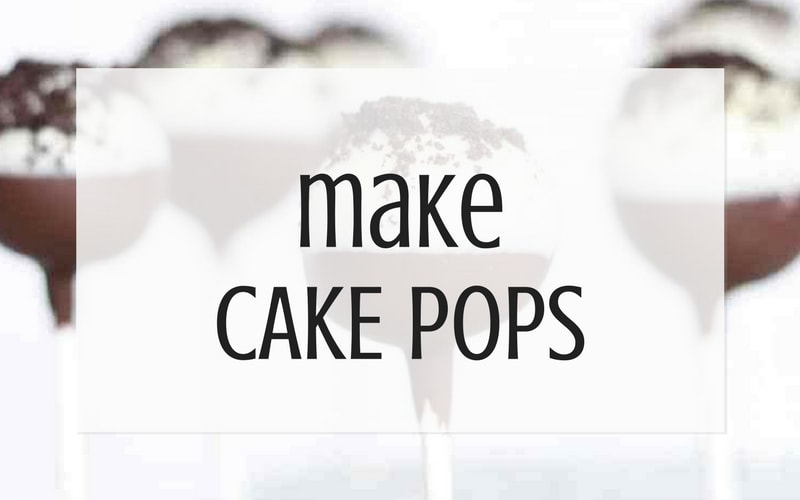 A list of using leftover buttercream, wouldn't be complete without the suggestion of making cake pops. Here's my recipe for cookies & cream cake pops…cuz everything's better with Oreos, right?
Cookies & Cream Cake Pop Recipe
As a cinnamon roll glaze:
Yes, I know that cinnamon rolls usually come with that little container of icing, but seriously…is that ever enough? Well, it's not for me and I always want more. So, here's your chance to really spice up those cinnamon rolls. Grab your leftover buttercream, add a touch of cinnamon to it, heat it up, just slightly, and drizzle it over your cinnamon rolls. Yum! Yum!
Make Peanut Butter Truffles:
You can't go wrong with peanut butter truffles. I found this recipe for peanut butter truffles at Marsha's Baking Addiction that I'm anxious to try. Essentially, you've already put together several of the ingredients, since you've already got the buttercream prepared. Go and check out the recipe here: Peanut Butter Truffles
Make Buttercream Mints:
Another idea is to make buttercream mints. Trust me, if you like mint, you'll love these. My mom used to make these when I was a kid and I LOVED them. This recipe from Barefeet in the Kitchen gives you two types you can make…vanilla & chocolate. Check it out here: Homemade Butter Mints
Use as a brownie glaze: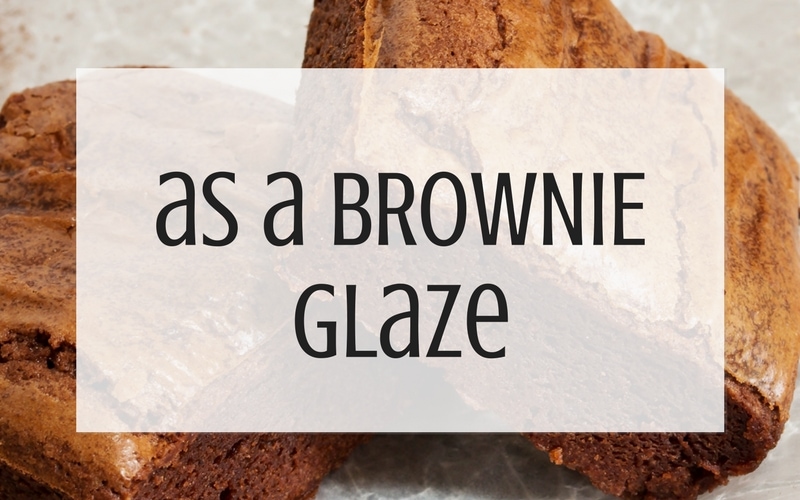 I think this works better when you've got leftover chocolate buttercream, but if you've onto got vanilla, just add in some cocoa powder or some melted chocolate chips. You can either spread it onto the top of your brownies as it is, or heat it up a bit and then just drizzle your brownies.
Drizzle on Ice Cream:
Grab your leftover chocolate buttercream, heat it up slightly, then drizzle over vanilla, chocolate, or just about any kind of ice cream you want. What's also good is to add a small amount of cinnamon to leftover vanilla buttercream, heat it just a bit and then drizzle over vanilla ice cream.
Drizzle on Quick Breads, Muffins or Bundt Cakes: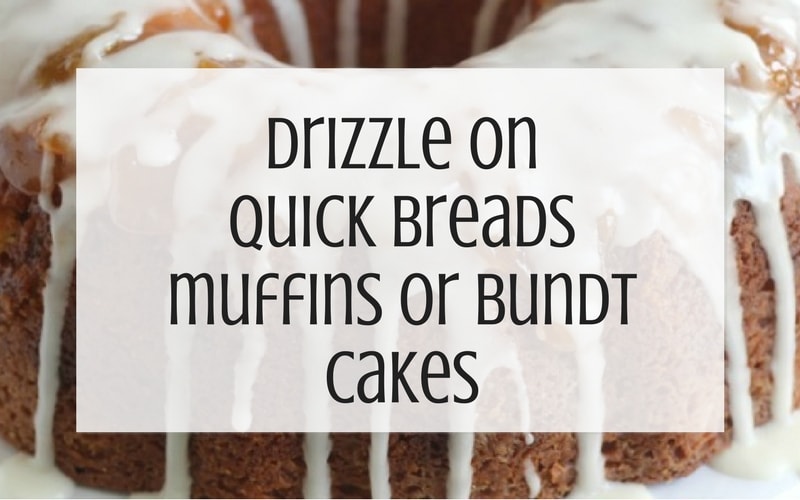 On those cakes that don't need a huge amount of frosting, like quick breads, muffins, or bundt cakes, drizzling them with leftover buttercream is the perfect solution. Either heat up the buttercream a bit, or just thin it with a small amount of milk or cream and then drizzle to your heart's content. You can also add a teaspoon or two of corn syrup so it'll give it a really nice shine and it'll help it firm up a bit.
Spread onto graham crackers:
I LOVE doing this. Grab your leftover chocolate buttercream and slather it onto some graham crackers and you're good to go. If you want to go ALL out, you can add peanut butter on your graham cracker and then drizzle on heated up chocolate buttercream…oh my goodness it's so good.
Use as a fruit dip: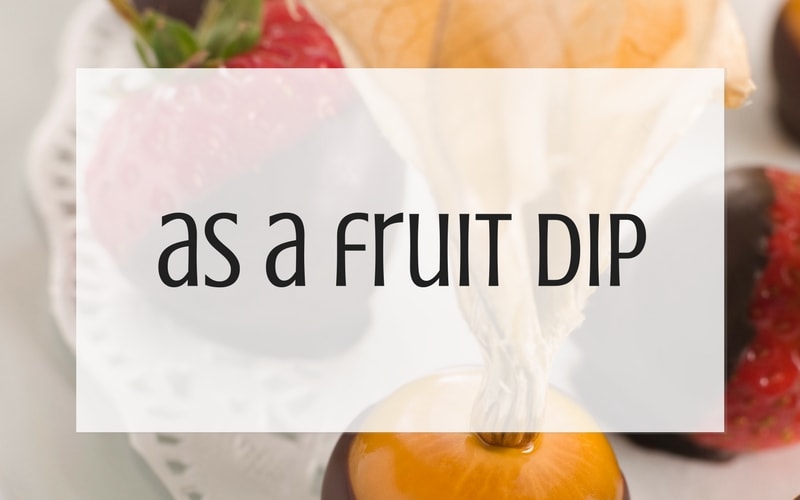 Yeah I know it would be healthier to just eat fruit by itself and yes it's still good that way, but sometimes you need a little somethin' extra. So, use that leftover buttercream as a fruit dip. You could even mix it with some marshmallow fluff and dip away. It's really yummy…just get ready for the sugar rush.
Ok, so what do you think? Don't go throwing away that extra buttercream…now you know how to freeze it and you've got some ideas on how to use the leftovers.
Or you can always just do what I end up doing half the time and just breaking out a spoon and eating the leftovers straight out of the bowl. OMG…not good.
Let me know if you've got any more ideas on how to use leftover buttercream. I'd love to hear them!
Don't Forget to Pin it for Later!