This from scratch chocolate butter cake is super moist and easy to make. Because it's actually a chocolate cake with butter recipe, the cake has a really rich flavor to it that's perfect for birthdays, or any time you feel like a homemade chocolate cake.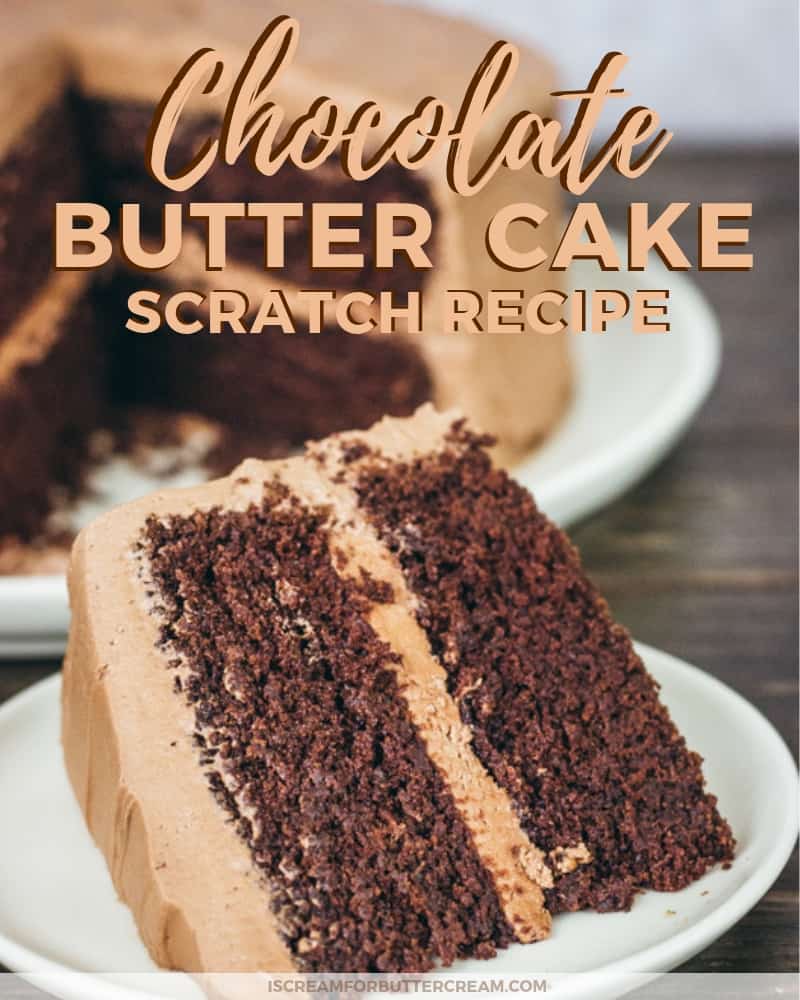 Ok, you might know that vanilla cake is my favorite, especially this one. I feel like most people, except for me, pick chocolate cake as THEIR favorite, so I wanted to give myself a challenge.
The challenge was to create a chocolate cake that I felt was as tasty as my favorite vanilla one. Now, that's a challenge coming from this vanilla cake enthusiast, but I think I have done it.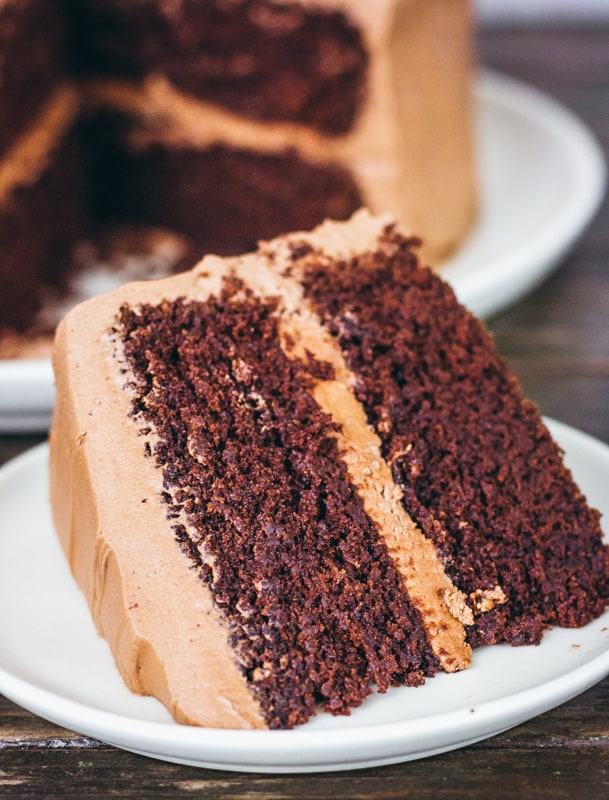 This Chocolate Butter Cake is super moist, but it's not a complete chocolate overload.
I LOVE this chocolate cake. Yep, you heard me right. I actually said I love a chocolate cake. Mark that one down on your calendar.
This cake has a dense crumb, but still light (does that even make sense?). It's made with real butter with just a bit of oil. I love it because it's not so overloaded with a super chocolaty flavor and I can still taste the butter flavor coming through. It also doesn't feel as spongy as some of the oil chocolate cakes do.
LET'S TALK ABOUT SOME OF THE INGREDIENTS IN THE CHOCOLATE BUTTER CAKE:
Butter: Most recipes for chocolate cake that I've made, call for all oil and no butter. The oil really makes the cake moist, but I just prefer the denseness and the taste of a butter cake. So, I went about creating a chocolate butter cake that would actually stay moist.
You will be using a bit of oil in this cake to add a bit more moistness to it, but the butter is the shining star.
Brown Sugar: This isn't normally in a chocolate cake, but I find that brown sugar really gives this cake a deeper flavor and provides extra moisture.
Coffee: For the liquid, I went with coffee. As my mom would always say, "Don't knock it 'til you try it." I promise you this cake won't taste like coffee. In fact, you won't even taste the coffee at all. It just helps to bring out the other flavors.
Cocoa powder: You'll want to use unsweetened cocoa powder NOT dutch processed. Why? Because dutch processed cocoa isn't acidic like regular unsweetened natural cocoa powder is and since you'll be adding in baking soda, if you use dutch processed, that could mess up the rise and texture of the cake.
MIXING METHOD FOR THE CHOCOLATE BUTTER CAKE:
The mixing method for this cake is just the classic creaming method, but with a few variations.
With the creaming method, you basically whip up the butter and sugar until fluffy, then you alternately add in your dry and liquid ingredients.
The difference with this cake is that you'll add in the hot coffee (or hot water) at the end.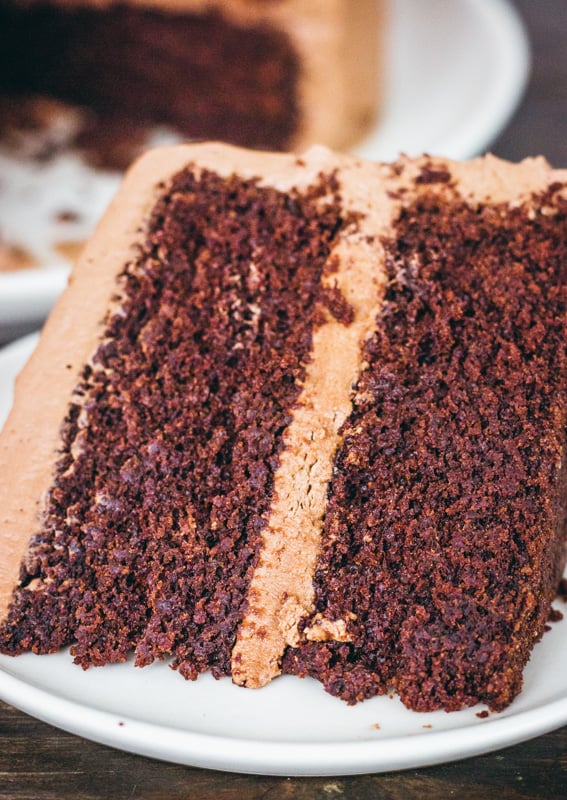 Tips & FAQs for Making the Chocolate Butter Cake:
Do I have to use coffee in this chocolate cake recipe?

If you really can't stand the idea of adding in coffee (remember, it won't taste like coffee, it just enhances the flavor of the chocolate), you can actually just use really hot water instead. The cake will still taste great.

Should I use dutch cocoa or regular cocoa powder?

Use regular unsweetened natural cocoa powder. Dutch cocoa powder is made differently and you would need to make adjustments to the baking soda and baking powder if you use dutch processed.

When you say brown sugar, does it matter if it's dark or light brown sugar?

It doesn't really matter. Just use what you have. I used light brown, but dark brown is fine too. Also make sure you pack the brown sugar into your measuring cup.
Well this recipe is now my best 'go to' chocolate cake. It's simple to make (no complicated steps) and it's great for birthdays, or practically any other time you feel like chocolate cake.
I filled and frosted this cake with my double chocolate buttercream.
Now onto the cake recipe!
Chocolate Butter Cake
This chocolate butter cake has a wonderfully rich buttery chocolate flavor. It has a tighter crumb, but remains moist. Pair it with chocolate buttercream or ganache for a super chocolaty treat everyone will love.
Total Time
1
hour
19
minutes
Ingredients
2

cups

all purpose flour

3/4

cup

cocoa

(I used Hershey's cocoa – not dutch processed)

1

tsp

baking powder

1

tsp

baking soda

1

tsp

salt

1

cup

brown sugar

(packed)

1

cup

granulated sugar

1/2

cup

butter

(1 stick)

1/4

cup

oil

2

tsp

vanilla bean paste

(or vanilla extract)

1

cup

whole milk

3

large

eggs

1

cup

hot coffee
Instructions
Preheat oven to 350 degrees. Grease and flour two 8 inch round pans.

In a mixing bowl, add the room temp butter and the brown and granulated sugar. Beat on medium for about two minutes.

In another bowl, mix together the flour, cocoa, baking powder, baking soda and salt. Set aside.

In a separate bowl, mix together the oil, vanilla, milk and eggs. (You'll add the coffee later.) Set aside.

Now you'll add in your dry and liquid ingredients alternately. Take a third of the flour mixture and add into the butter and sugar mixture. Beat on low/medium just until combined.

Add in half the liquid ingredients (not the coffee yet) and beat on medium just until combined.

Add in the next third of the flour mixture, mix, then the second half of the liquid mixture and mix just until combined. Now add in the last third of the flour mixture and beat just until combined.

Add in the hot coffee and mix until well combined. Don't over mix. Once it's combined, stop mixing. You don't want to mix for several minutes, that's too long.

Pour into prepared pans and bake at 350 degrees for approximately 35 to 40 minutes.

Set on wire racks to cool for about ten minutes, then turn out the cake layers onto the racks and remove the pans to cool completely.
Video
Notes
This cake does not need to be kept in the refrigerator, unless you've added perishable filling or frosting. This cake can be frozen for up to a month if wrapped well in plastic wrap and foil.
My double chocolate buttercream recipe is delicious on this cake.
Nutritional information is for the cake only and does not include icing or filling. Nutritional values are an estimate.
Make sure to check out the TIPS & FAQs for this recipe in the blog post.
This recipe was developed and tested using volume measurements (cups etc.). That's because this is how most people are used to measuring and many find it easier than weighing out ingredients.
You are welcome to use the metric converter button to see the weight (gram) measurements, however please note that those are my best estimates on weight as this recipe was tested and developed based on volume and your results may vary a bit from the original recipe by using the weight measurements.
Nutrition
Calories:
365
kcal
|
Carbohydrates:
55
g
|
Protein:
5
g
|
Fat:
15
g
|
Saturated Fat:
6
g
|
Cholesterol:
68
mg
|
Sodium:
400
mg
|
Potassium:
224
mg
|
Fiber:
2
g
|
Sugar:
36
g
|
Vitamin A:
335
IU
|
Calcium:
76
mg
|
Iron:
2.1
mg
Tools Used to Make This Recipe:
The supply list below contains affiliate links, which means I will receive a referral commission, at no additional cost to you, if you make a purchase using these links. As an Amazon Associate, I earn from qualifying purchases.
These links also use cookies, which tracks and allows me to get credit for the referral. You can see my policies linked in the website footer.
GET THE FREE DESIGNED PRINTABLE RECIPE CARD FOR THE CHOCOLATE BUTTER CAKE PLUS THE PASSWORD TO THE RESOURCE LIBRARY. Just fill out the form below!
I hope you enjoy this cake as much as I do!
Don't Forget to Pin it for Later!