You read every word of the recipe and follow it exactly. You hear the timer go off and go to open the oven door and BAM…you ask, "What happened to my cake?"
If cake baking problems and fails are constantly getting you down, well this post is all about common cake baking problems and why they happen. You'll get some helpful cake troubleshooting tips and easy ways to keep those cake baking fails from happening in the first place.
Here's the thing, really any cake baking problem could have a multitude of reasons for why it's happened. For simplicity's sake, I'm going to just talk about common problems.
It would be easy if I could just say, oh your cake is dry and the problem is XYZ, but in the cake baking world it just isn't like that. There's really no black and white…it's all gray, so there can be several different reasons.
There is much more I could say about measuring, weighing ingredients and other issues that could affect cakes like temperature of ingredients etc, but I'm trying get to the basics here.
As always, if I've missed something (which is quite possible), just shoot me a comment below, so we can all see the tip!
I'm going to list the common cake problem and then give some ideas of what could have happened. Remember…some of the reasons could be the same for multiple problems.  Ok, here we go:
Common Cake Baking Problems and Why They Happen:
(These are in no particular order.)
Cake Baking Problem #1: The Cake is Too Dry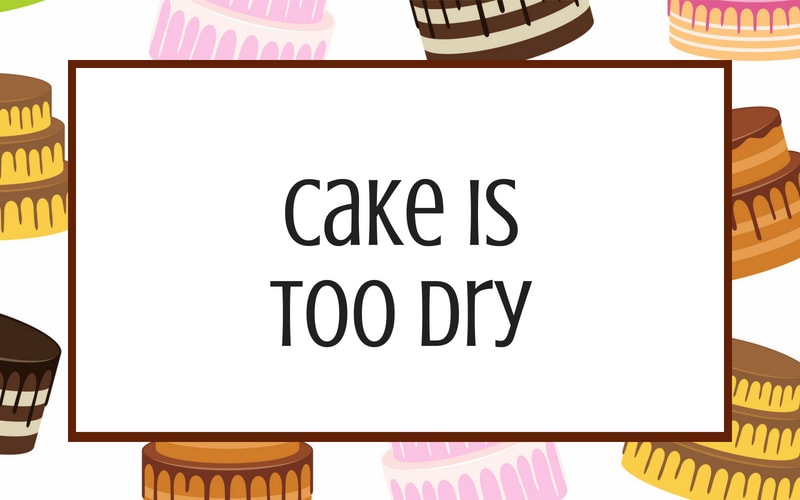 Reasons Why:
Baked too long.
Too much flour or not enough moisture in the recipe.
Baked at a lower temp for too long.
It could just be the recipe.
Cake Baking Problem #2: The Cake is Wet on the Bottom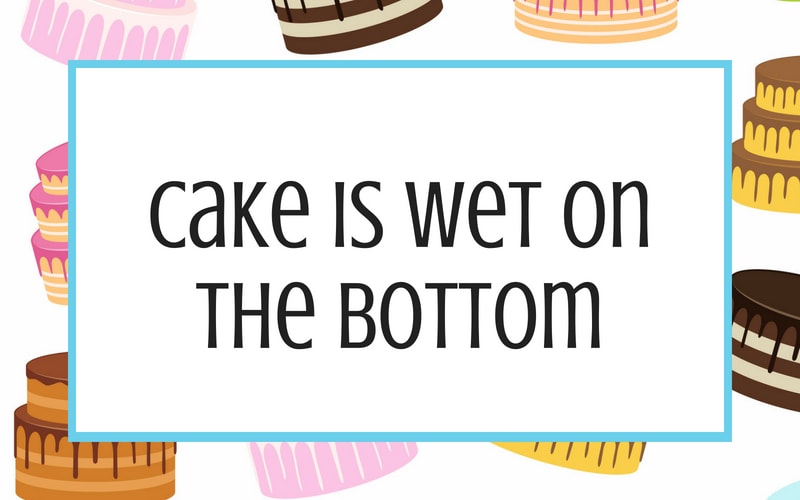 Reasons Why:
Too much liquid in the recipe
Cake Baking Problem #3: The Cake Sunk in the Middle
Reasons Why:
Opened the oven door too much, or slammed it shut.
Too much leavener, so the cake rose up too quickly, then fell.
Oven temp could be too high or low…either one.
It was underbaked…pulled out of the oven too soon when the middle wasn't baked yet.
Cake Baking Problem #4: The Cake is Done or Over-baked on the Outside, but Not Done in the Middle
Reasons Why:
Oven temp is too high, so the outside baked before the middle had a chance to.
Cake Baking Problem #5: The Cake Stuck to the Pan
Reasons Why:
Cake Baking Problem #6: The Cake Has Gluey Like Streaks in it
Reasons Why:
Creaming the sugar and butter at high speed or just over mixing the batter.
Cake Baking Problem #7: There are Holes in the Cake
Reasons Why:
Over mixing the batter.
Mixing at too high a speed.
Cake Baking Problem #8: The Cake is too Dense
Reasons Why:
Over-mixed the batter.
Make sure to measure the flour correctly-don't pack it down when measuring.
Oven was too cool.
Cake Baking Problem #9: The Cake Didn't Rise
Reasons Why:
Insufficient leavener, or forgot to add it in.
Cake Baking Problem #10: The Cake is Tough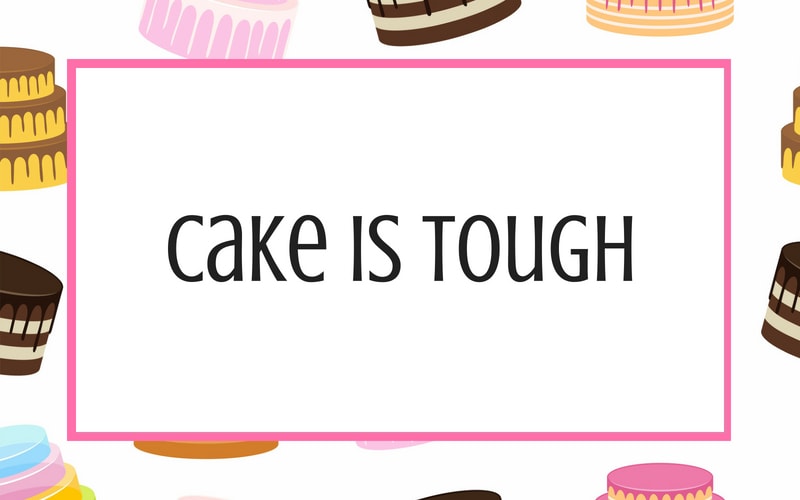 Reasons Why:
Over mixing the batter.
Too much flour.
Cake Baking Problem #11: The Cake is Cracked on the Top
Reasons Why:
Too much leavener.
Heat is too high.
A lot of times, these cakes are fine to eat, you'll just want to trim the dome off the top, if there's one.
Cake Baking Problem #12: The Cake is Missing (Okay…I just had to do it.)
Reasons Why: 
Check the husband, wife, kids…but it's probably too late. Never admit it, if it was you though.
Main Cake Baking Tips to Remember:
Check the oven temperature and make sure to preheat the oven.
Don't open and close the oven door constantly.
Try to get ingredients as close to the same temperature.
Measure properly (ie. don't pack down your flour when measuring…you can even weigh ingredients if you want to get technical about it.)
Follow the recipe exactly without trying substitutions right off the bat.
Be careful not to over-mix.
Sometimes it's just the recipe. If you've tried a recipe a couple times already and it keeps coming out all wrong, you may need to look for another recipe.
If you want even more cake baking tips, you'll want to check out these posts:
If you want some really delicious cake recipes, here are a few of my favorites from the blog: