I'm sharing my best tips for how to get moist cakes. It's a question I get asked often. How do I make cakes moist. Well, it really is possible to make scratch cakes that actually come out moist.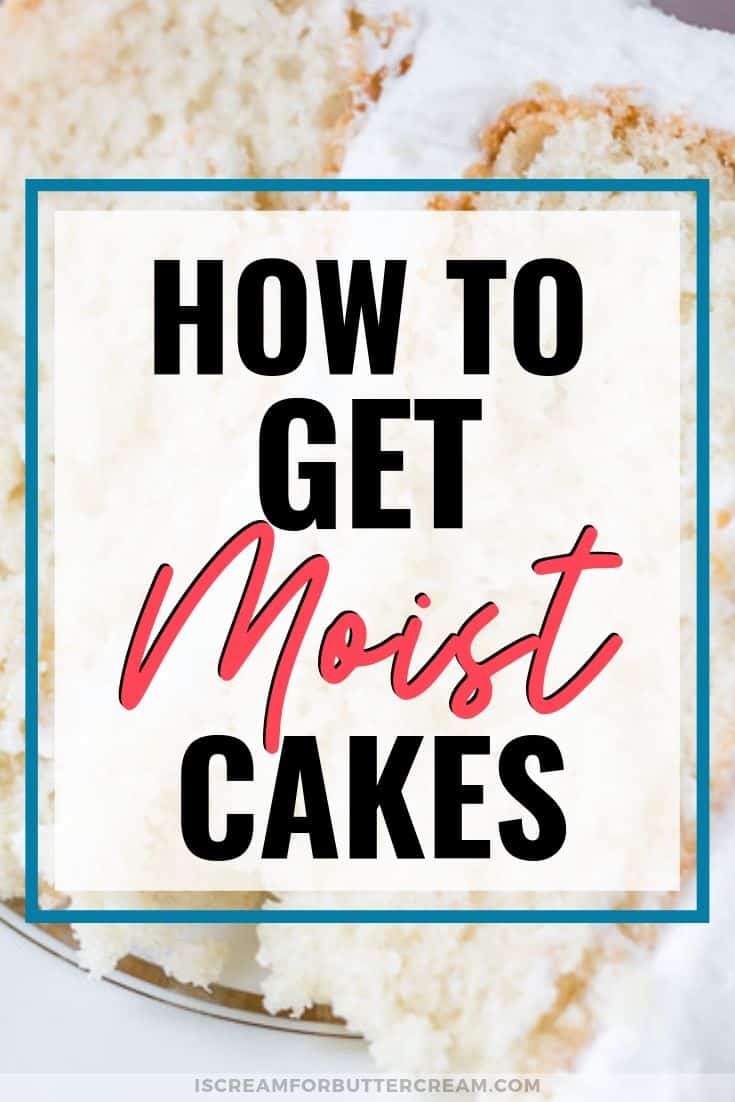 This question seems to come up quite often. It's an ongoing battle to get your cakes to come out moist and actually stay that way.
There are a multitude of ways you can make sure you've got a moist cake and a lot of ways to ensure you'll end up with a dry one. Let's get to the tips on how to get moist cakes.
First I'll acknowledge the elephant in the room: I know there are people out there who hate the word 'moist'. Seriously, they hate it and the word grosses them out. I don't really hate it, but it's not my favorite word. I get it though. I have other words that I can't stand.
Really I don't have a single word I hate, but it's more like I just hate cliches in general. I say I hate cliches, but I still somehow end up saying them and then I hate myself for it 😉 Anyway, I think we're all kind of weird in our own way.
My point is I'm sorry, but I'm going to say the word 'moist' in the this blog post a whole bunch. I'm just preparing you. I'm using it because that is the word most people use when they ask this question and frankly I'm not sure of an alternate word I could use. If you think of one, I'm all ears 😉
Also…there's a video toward the bottom of this post if you're more of a video learner.
Mix vs. Scratch Cakes:
If you've been in the caking world longer than five minutes, you know the battle of mix cakes vs scratch cakes is a contentious topic. I'm not going to delve too deeply into it.
I think we are all grown-ups and can decide for ourselves what we are comfortable using and what our family, friends or customers enjoy. I say to each their own…live and let live (and all that jazz).
The reason I bring it up though is because frankly it's more difficult to get a moist scratch cake than a moist cake mix cake. Obviously that's because there's stuff added to the box cake mix to help achieve that. I don't think many people have a problem with cake mix cakes coming out dry.
If you do, more than likely, you're just over-baking it, or maybe it's just a bad brand. The whole purpose of the box mix is to get a consistent end product that's moist and fluffy.
I'm thinking that the problem rears its ugly head when people start making scratch cakes. I'm just gonna say right now that I LOVE scratch cakes. If you've read my About Page, you know my Mom and her business partner catered weddings when I was growing up.
I have eaten so much scratch cake, it's insane. I can tell the difference between a scratch cake and a mix cake, no matter what you do to that box mix.
Now, I know most people can't tell and haven't been exposed to scratch cake very much and that is totally fine and there's no judgement here. I'm also not a snob about it and I DO use box mixes on occasion…my preference is just for a scratch cake.
My point is that it IS possible to get a moist scratch cake. Will it taste like a box mix cake? No. Do you want it to? No. If your family or customers like mixes and they are working for you, use them! Stop worrying about it.
If you really want to learn to bake cakes from scratch and are just frustrated with what you've tried so far, I hear you. There are a lot of scratch cake recipes that come out dry and there are even more times when we ourselves are actually the culprit.
Okay, now we'll get real about it. These tips can go for either a box mix or a scratch cake, but honestly, I'm talking more about the scratch cakes because that's where people seem to be having the most issues. By the way, these are really in no particular order as they're all really important.
Tip #1:
Check your butter…is it actually real butter?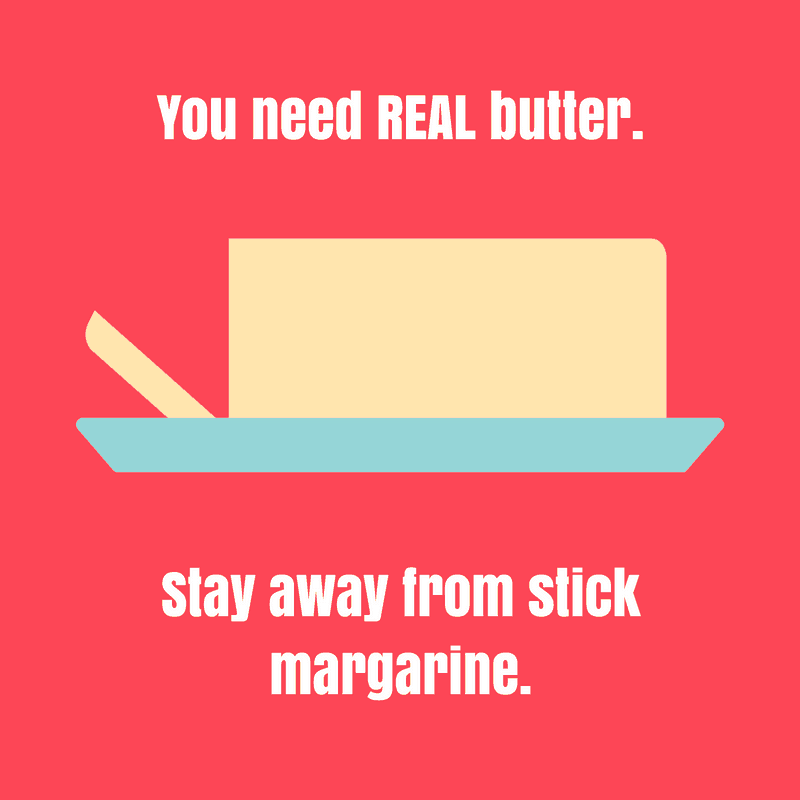 If your recipe calls for butter, make sure it's room temperature and not too warm. Also, I ask the question 'is it real butter' because a lot of people buy the margarine sticks thinking its butter because it says 'great for baking' on the box. No, no, no…just pay a few extra dollars and get real butter.
Margarine has too much water content in it and it's just going to throw off the texture of your cake. Use real butter, I promise it's worth it.
Tip #2:
Are you using too much flour? How are you measuring your flour?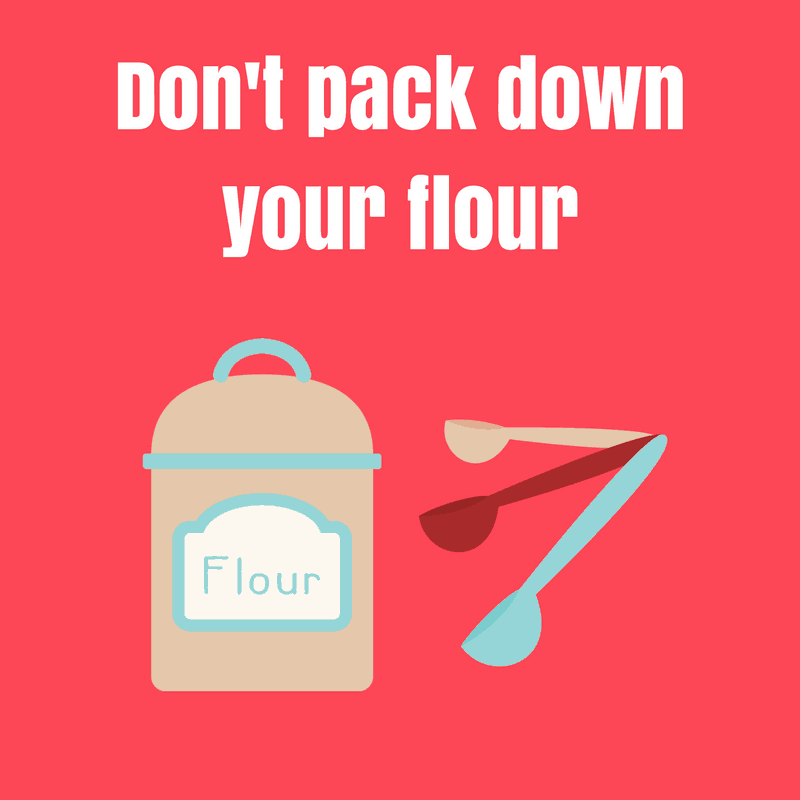 Don't take your measuring cup, dunk it into your flour bag and measure it that way. You're essentially packing down the flour and that's going to make your measuring off.
Take one smaller measuring cup, and use that as a scoop, then transfer to the larger measuring cup by spooning it in. Or just use a large tablespoon and spoon out the flour into the measuring cup. Then level off the top if you need to. Doing it this way assures that you won't be adding unnecessary flour to your cake batter.
If you want more tips on how to measure cake ingredients properly, see my post on that here.
Tip #3:
Sometimes a recipe using only egg whites may be dryer. Ok, don't yell at me…I didn't say ALL of them, but egg whites are drying and so some recipes using only egg whites might not be as moist as those incorporating egg yolks.
Now, using the egg yolks will keep the cake from being a completely white cake, so you just kind of have to weigh your pros and cons there. If you've got a recipe that calls for egg whites only, you can halve the amount and use whole eggs. Basically if it calls for six egg whites, use three whole eggs and vice versa.
Now, that won't work in all cake recipes. For example a recipe that calls for you to whip the egg whites until stiff and then fold them into the batter…well, it's not going to work to use the whole eggs instead. Use your best judgement on this.
Tip #4:
Are you over-baking it? Vanilla cakes seem the hardest to keep moist and you've got to really watch the baking time on those. I tend to pull them out of the oven, a couple minutes before I think will be just right.
I've got an entire post that goes into all the different ways to tell if your cake is done. You can find that here.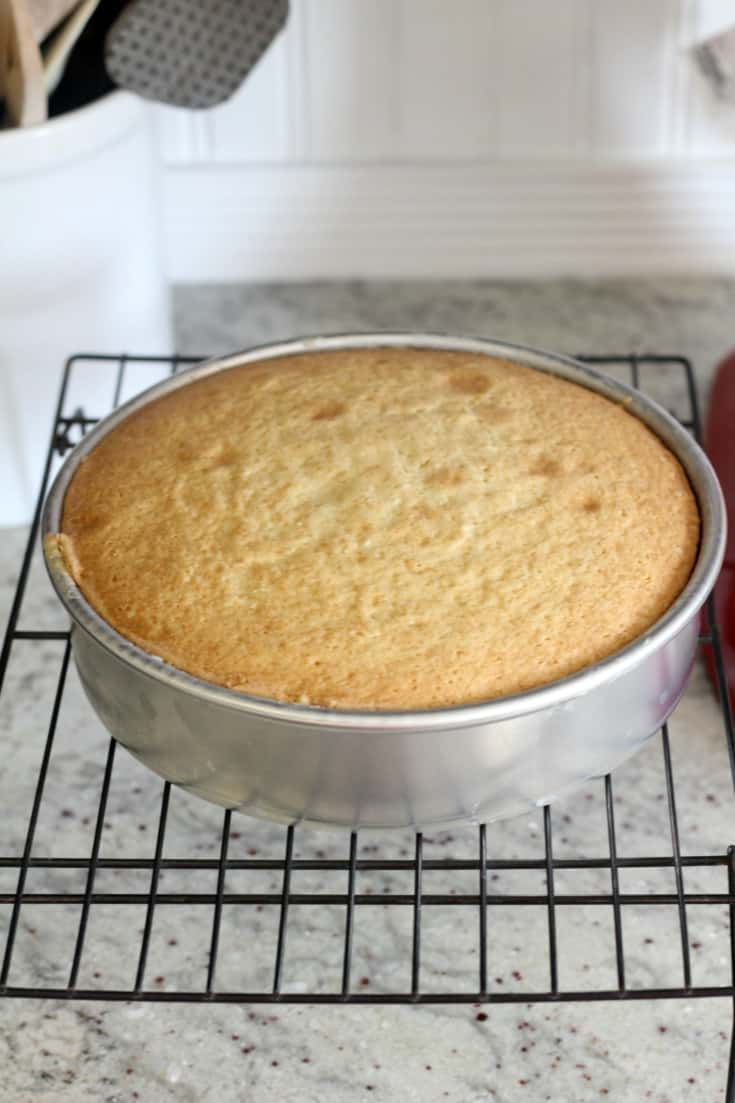 Tip #5:
Did you over-mix the batter, or did you mix it a different way than the instructions called for?
Scratch cakes aren't like cake mix cakes. You can't dump it all in a bowl and it come out fine. It won't work that way.
Cake recipes have different mixing methods for a reason. There's actually some science behind it and you get different results with different ingredients that you mix up in different ways. (Okay, maybe that sounded a bit confusing.)
The next thing is that you don't want to mix scratch cake batter until it's completely smooth. If you over-mix the batter, it will change the consistency. You could get a flat cake, a gummy cake, a cake that's got glue-like streaks in it or a cake that's compact and too dense.
All of those things will mess with the moisture and texture of the cake. Do you want to see how long to actually mix cake batter in real time? I've got an post about that with a 'real time' video on how to mix cake batter, which you can find here.
Tip #6:
It's not always something you've done. It could actually be the recipe. I caution you not to blame it on the recipe straight off though. Scratch cakes can be finicky, so really look into how you measured, if you forgot any ingredients, do you think you might have over-mixed it, or mixed it differently than the recipe called for?
Don't just automatically assume it's the recipe right off the bat. If you think back and you know you were extra careful to follow the instructions to a 't' and you didn't substitute anything, then you might have a recipe that just doesn't work for you.
Tip #7:
Say yes to sour cream. If you've seen any of my recipes, you know I love some sour cream. It just does something amazing to the cake texture. I think it makes a world of difference and really helps with the moistness of a cake.
Now don't just go adding in some sour cream to a cake recipe. That could go wrong because you could throw off the ingredients. You'll want to either find recipes that call for sour cream, or perhaps substitute sour cream for part of the liquid called for in the recipe. This is tricky to do because ratios in cake recipes are very particular, so just know that going in.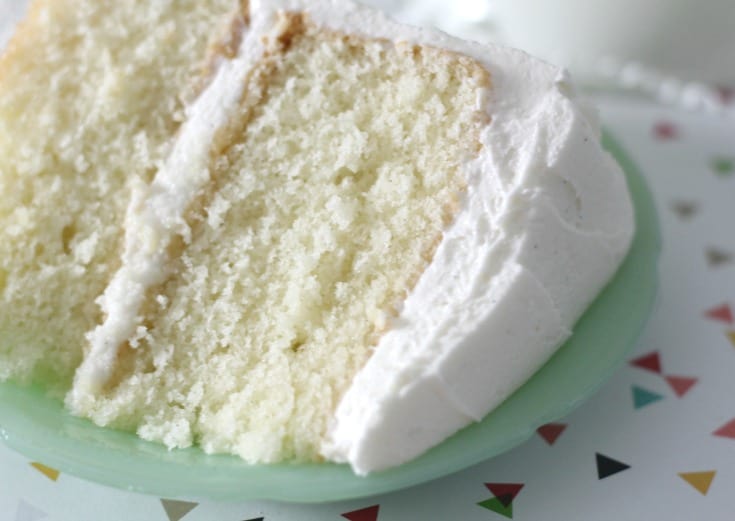 Here is my favorite scratch cake recipe using sour cream: Favorite Vanilla Bean Cake
Tip #8:
Oil cakes seem to be more moist. The Hershey's Cocoa cake is an example. It's made with oil and it is VERY moist.
A lot of the cakes made with fruit like banana cake, apple cake and even zucchini and carrot cakes are usually made with oil and are very moist. But…(you knew there'd be a but didn't you?) those cakes that use a lot of oil like that have either strong flavors like chocolate, or fruit in them like apple, zucchini and carrot. Using all oil instead of butter in a vanilla cake, just doesn't work as well in my opinion.
My point is while oil cakes are very moist, just be careful about subbing out ingredients. Oil can't be subbed equally with butter and vice versa. If you've tried the recipe a couple of times and it keeps turning out bad, maybe that's just not the recipe for you.
Try another one, but you can go down a black hole of subbing out ingredients until you drive yourself crazy. Also, for the love of Betsy, don't sub in oil for butter in a vanilla cake.
Maybe you already have a wonderful vanilla cake recipe that calls for oil, but I personally have never tasted an all oil vanilla cake that could beat a butter vanilla one. That's just my two cents.
Tip #9:
Some people use simple syrup on their cake layers. I don't. Not because I'm against it, I just haven't found a need for it. Some swear by it though. I think the queen of simple syrup would be Yolanda with How to Cake It. You can go here to see her recipe for it and how to use it. Simple Syrup by Yolanda Gampp
Tip #10:
Is your cake really dry, or is it just cold? I know…I'm not really trying to be a smart-@$$, but I have actually heard of this happening. I read cake forums at times and clients really do take the cake right out of the fridge and go at it. They think the cake is dry, but in reality, it just needs to come closer to room temperature.
Cakes made with butter are notorious for hardening up a bit in the fridge. Most of them, when they come back to room temperature, are just as moist as when they were baked. (Obviously you want to cover your cake in the fridge though.)
Personally, I don't refrigerate my cakes. Now, if your cake has perishable frosting or filling, you'll have to refrigerate it, but just using regular American buttercream does not require refrigeration. You can read more about why I 'usually' don't chill my cakes here.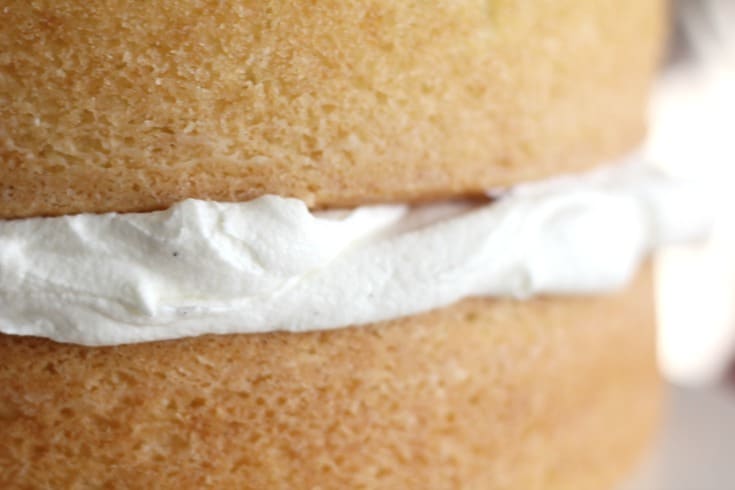 A Quick Note about Dry Cupcakes:
A lot of the same principals we talked about above, apply to cupcakes as well. Being so small though, cupcakes tend to dry out so much quicker than cake. If you're having trouble with cupcakes drying out on you, check out this blog post where I give you my tips: Keep Cupcakes from Drying Out
Final thoughts:
Alright, you've made it through all of my suggestions (plus a little ranting here and there), so now I'm going to throw you a challenge. If you're new to scratch cakes, your challenge is to try one.
I always tell people that it's really not much different…you're still just following directions.
I challenge you to follow the directions without subbing anything or changing the mixing method. If the recipe says to have all the ingredients at room temp, do it. Don't throw them in the microwave and melt them all down either. (Sorry, I just had to say that.)
Here are three recipes to try (I mentioned them earlier, but they're worth mentioning again.): Favorite Vanilla Bean Cake, Moist White Cake & Chocolate Butter Cake
These are scratch cakes. Now, the vanilla cake has a sort of unconventional mixing method, but don't let that throw you. Just straight up follow the directions and don't over-beat your batter. That recipe is tried and true, so if it's not turning out for you, something is wrong. If that happens, I want you to email me and we're gonna brainstorm on what isn't going right. You got this!
Once you've got the cake part down, next is the buttercream. Maybe you've mastered the cake already, but buttercream is giving you trouble. I've got an entire post dedicated to getting smooth buttercream. You can find it here: How to Get Smooth Buttercream
You can also find my recipe for vanilla buttercream here: Vanilla Bean Buttercream
Want to see my tips in video format? Here ya go: