Learn how to frost a bundt cake with lots of easy options and tips from using a glaze, drizzle, chocolate, buttercream and more to get perfect bundt cakes.
The great thing about bundt cakes is that they're so versatile. You can choose to decorate them, not decorate them, cover them in icing, or not and they'll almost always look great regardless.
Jump to:

They're also super easy to transport, especially if you have a cake carrier (or another airtight container) and they're so easy to make because you just have one large pan to worry about.
In this post, I've put together tons of ideas for adding frosting to bundt cakes. Most of these are super easy to do and you can always go back in with some fancy piping if you wanted to.
These tips are not in order of importance, so just pick what jumps out at you. (I've also included a chart of cake flavor and icing flavor combination ideas below.)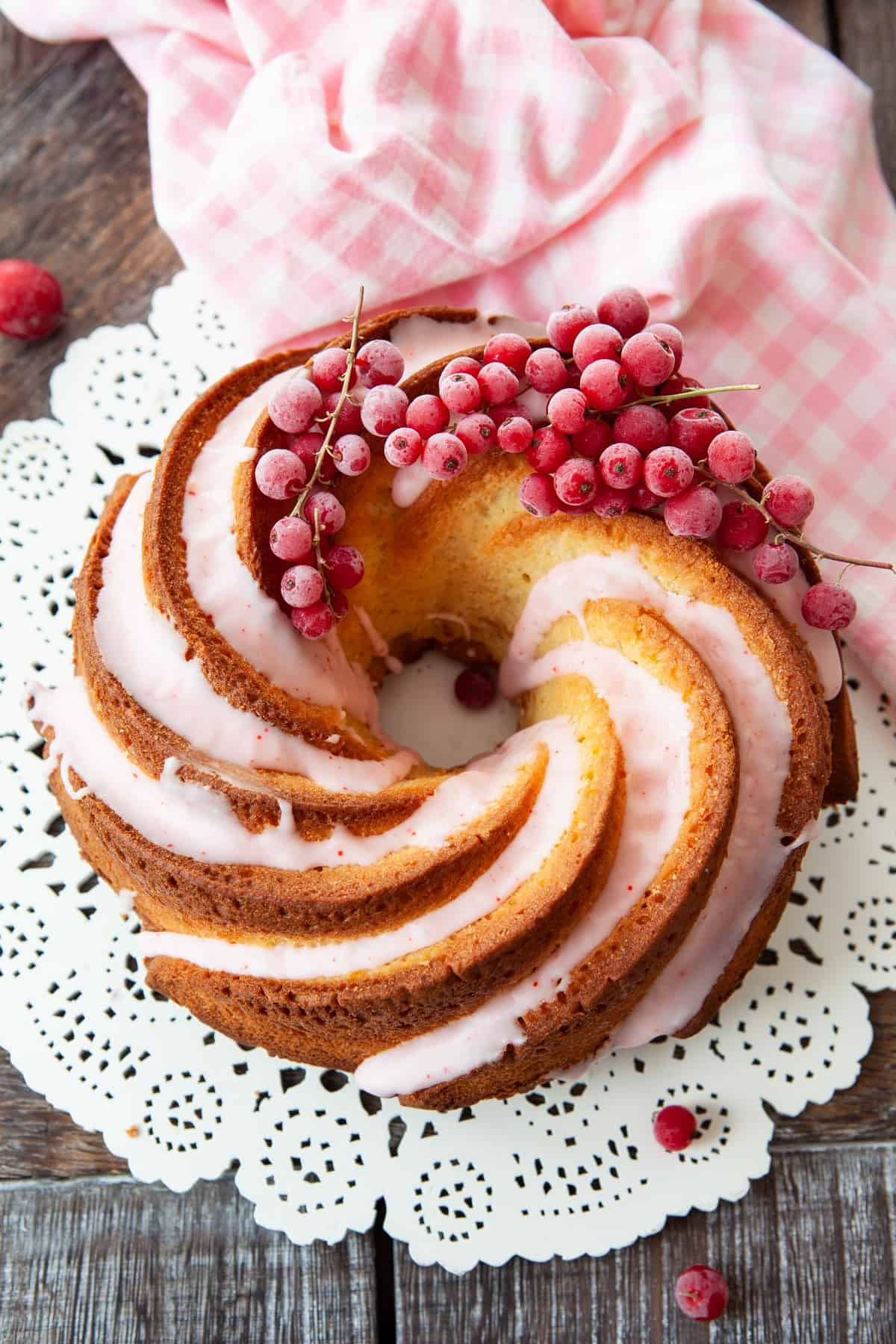 This post contains affiliate links. As an Amazon Associate, I earn from qualifying purchases.
Tips for frosting a bundt cake:
First, let's talk about a couple of tips before you actually ice your cake.
Tip #1:
Make sure the bundt cake is at least room temperature before adding any topping or frosting to it.
My favorite way to cool a bundt cake is to set it on a cooling rack for about 20 minutes, then turn it out of the pan and let it cool completely on the rack, right side up. Letting the cake sit in the pan for about 20 minutes before trying to take it out will help keep it from sticking to the pan.
If you have trouble getting the cake out, see this post on how to prevent that from ever happening again: How to Get Cakes Out of Pans
Tip #2:
Get a cake carrier so that you can keep the cake in an air-tight container and don't have to cover a cake in plastic wrap, which will usually end up messing up the frosting.
Tip #3:
If you're not sure whether the consistency of the frosting is correct, you can test it out on the back of a bowl or the back of a bundt pan. Just turn the bowl or pan upside down and add a bit of glaze to it to see if it drips properly.
Tip #4:
Once frosting or glaze is added to the cake, you can pop it in the fridge to help it firm up a little.
How to add frosting to a bundt cake:
There are multiple ways you can add frosting to a bundt cake and I'll go into detail with each idea below, but for now, here are some easy ways to get icing onto a bundt cake.
Spoon it onto the cake.
Brush it on if it's a very thin glaze.
Use a squeeze bottle.
Pour over the cake.
Use a piping bag.
Use a buttercream spatula or a knife to spread it over the cake.
Now let's talk about different types of frostings for bundt cakes.
Frosting with buttercream:
You can do this in a couple of different ways. You can make up a batch of your favorite buttercream and then just use an icing spatula or a knife to spread it all over the bundt cake, or you could prepare a half batch of buttercream and add extra milk to thin it a bit to either a drip, drizzle or pouring consistency.
Another option is to make a small batch, or a half batch, of buttercream and then just warm it up until it becomes drip consistency, then pour or spoon it over the cake.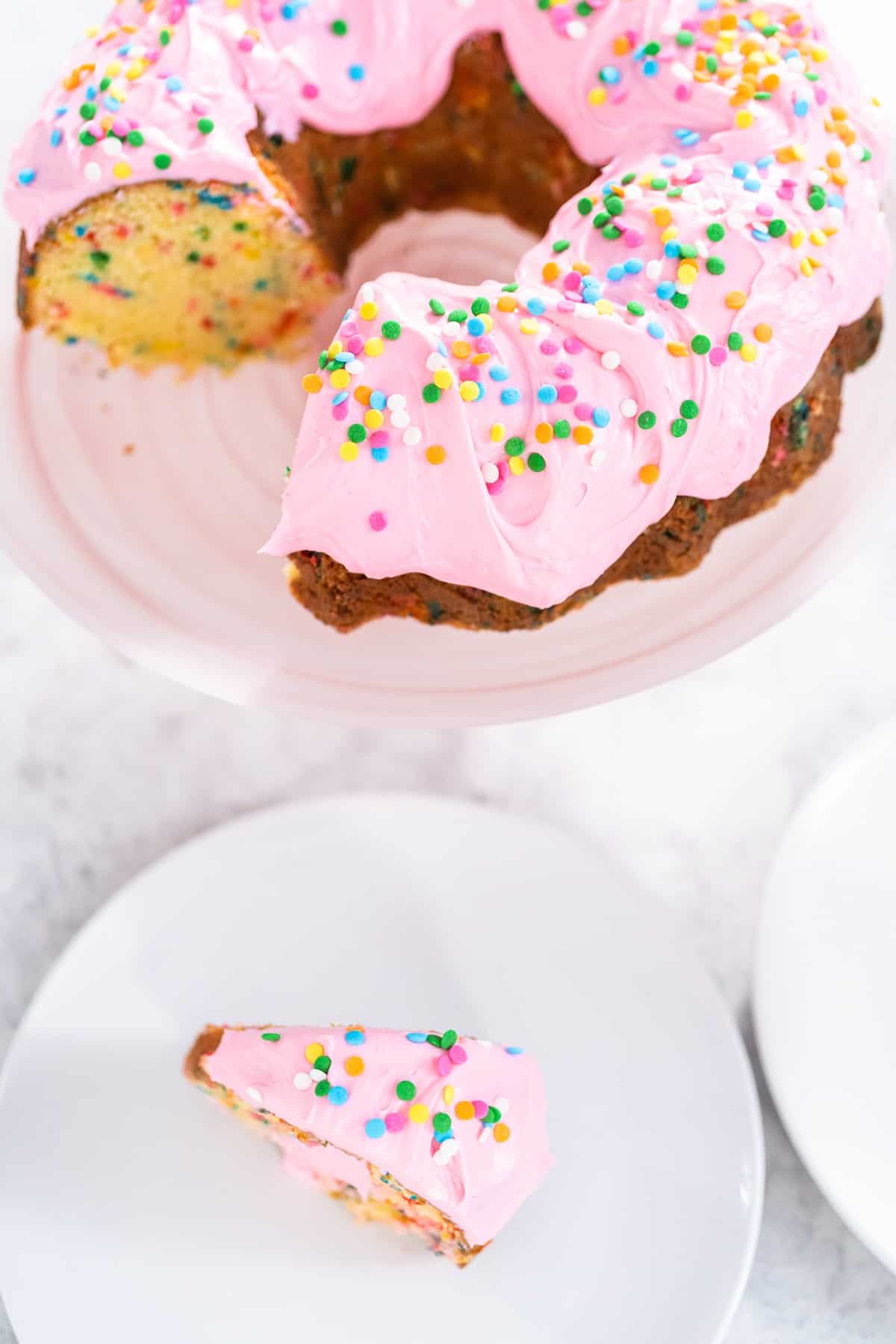 Here are a few of my favorite buttercream recipes on the site: (Remember to make only about half the recipe and add a bit more milk if you're going for a drip consistency.)
Frost with cream cheese buttercream:
This is the same process as above, but you'll use cream cheese based buttercream to do it. You could either cover the entire bundt cake in it or just make half a batch and warm it up, or add extra milk to thin out the consistency.
Cream cheese buttercream is great on cakes with fruit in them like banana cake, carrot cake, apple cake, etc. It's also amazing on red velvet cake.
Here's my recipe: Cream Cheese Buttercream
You don't have to use the glaze or drizzle recipe that accompanies a cake recipe. It's okay to mix and match.
Use a glaze or drizzle recipe specific for bundt cakes:
Glaze and drizzles are essentially just thinned down frosting or icing and then spooned on or piped onto the top of the bundt cake. The great thing is that you can find tons of ready-made recipes for glazes and drizzles, so you don't have to experiment on your own if you don't want to.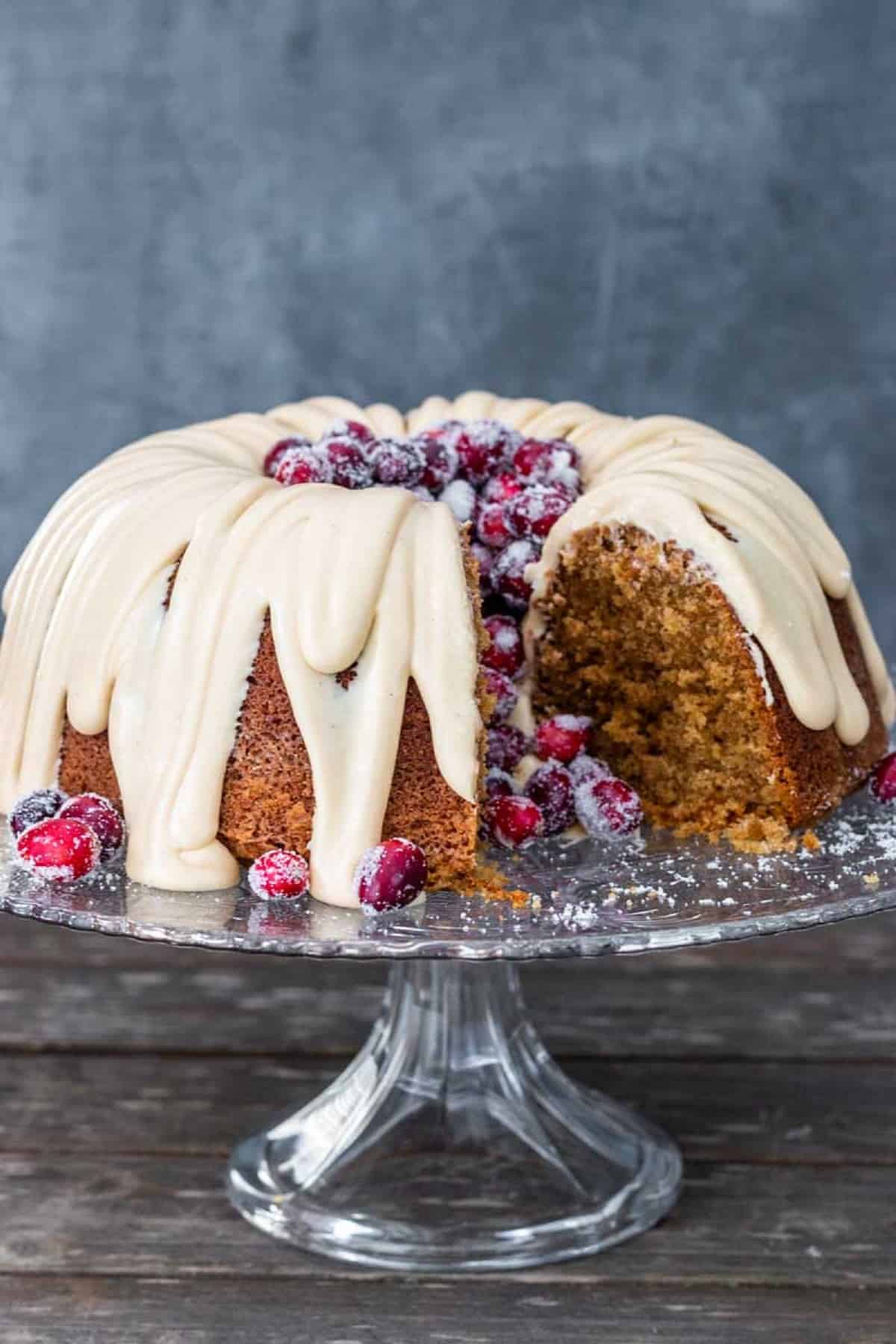 I have tons on the website, which you can find by clicking the search bar and typing in the word 'glaze'.
I'll also add some of my favorite glazes below. (Once you click the link, just click on 'jump to recipe' and then scroll down to the glaze section of the recipe card.)
Make a simple and easy confectioner's sugar glaze:
If all you have is a confectioner's sugar, but you don't want to just sprinkle it on top of the cake, then you can make an easy confectioner's sugar glaze.
Here's how to make a simple glaze:
Just add about two cups of confectioner's sugar to a bowl and then add in a couple of tablespoons of liquid like milk, water, lemon juice etc. Mix well and add more liquid until you get to a drizzle consistency. At that point, you can just spoon it onto the cake.
Now, if you want a chocolate glaze, just add in a few tablespoons of cocoa powder when you mix the glaze.
Here are a few recipes for simple confectioner's sugar glaze: (Just click on the 'jump to recipe' and then scroll down to the glaze section of the recipe card.)
Frost with jam:
Using jam is a super simple and easy way to add a glaze to a bundt cake. The best way to do this is to place the jam into a bowl and microwave it until it's warm, then stir and spoon or pour over the top of the bundt cake. You can also add in a little bit of butter to it as well.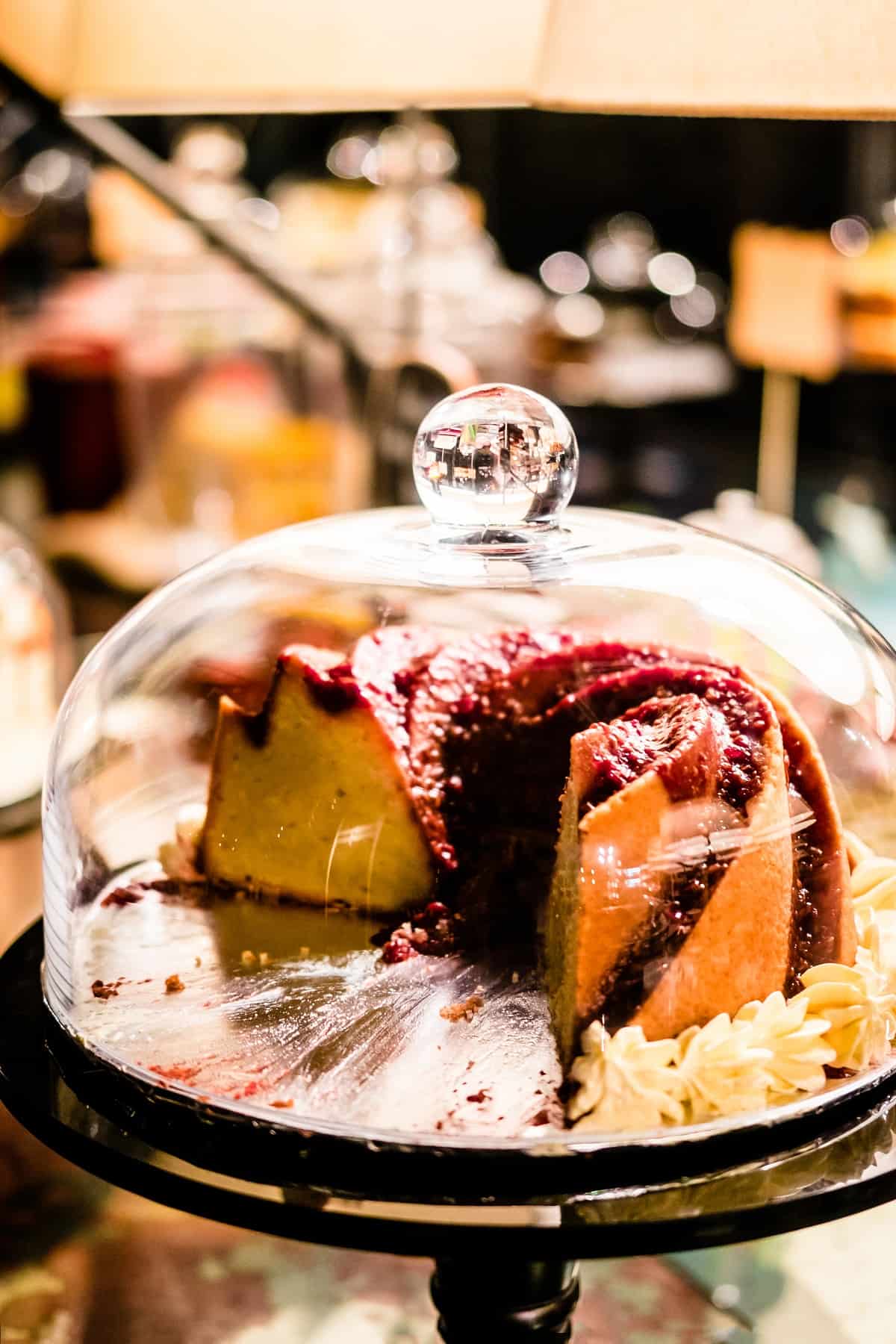 You can do this for a vanilla cake by adding any flavor jam you like or if you're a fan of chocolate and raspberry, you could even make a chocolate bundt cake and add a raspberry jam glaze.
Here's an example and recipe of jam as a glaze: Apricot White Chocolate Bundt Cake
Sprinkle with powdered sugar:
Sometimes you really don't need much but want to add a little something to the presentation. If the cake really doesn't need a glaze or frosting, sprinkling it with powdered sugar is a nice way to give it a finished look.
It's easiest to use a sifter for that as it will sprinkle it evenly onto the cake without leaving large clumps.
You can see an example in this post: Easy Cream Cheese Bundt Cake
Frost with whipped cream with fruit:
A unique way to frost a bundt cake is by adding whipped cream and fruit to the top of it.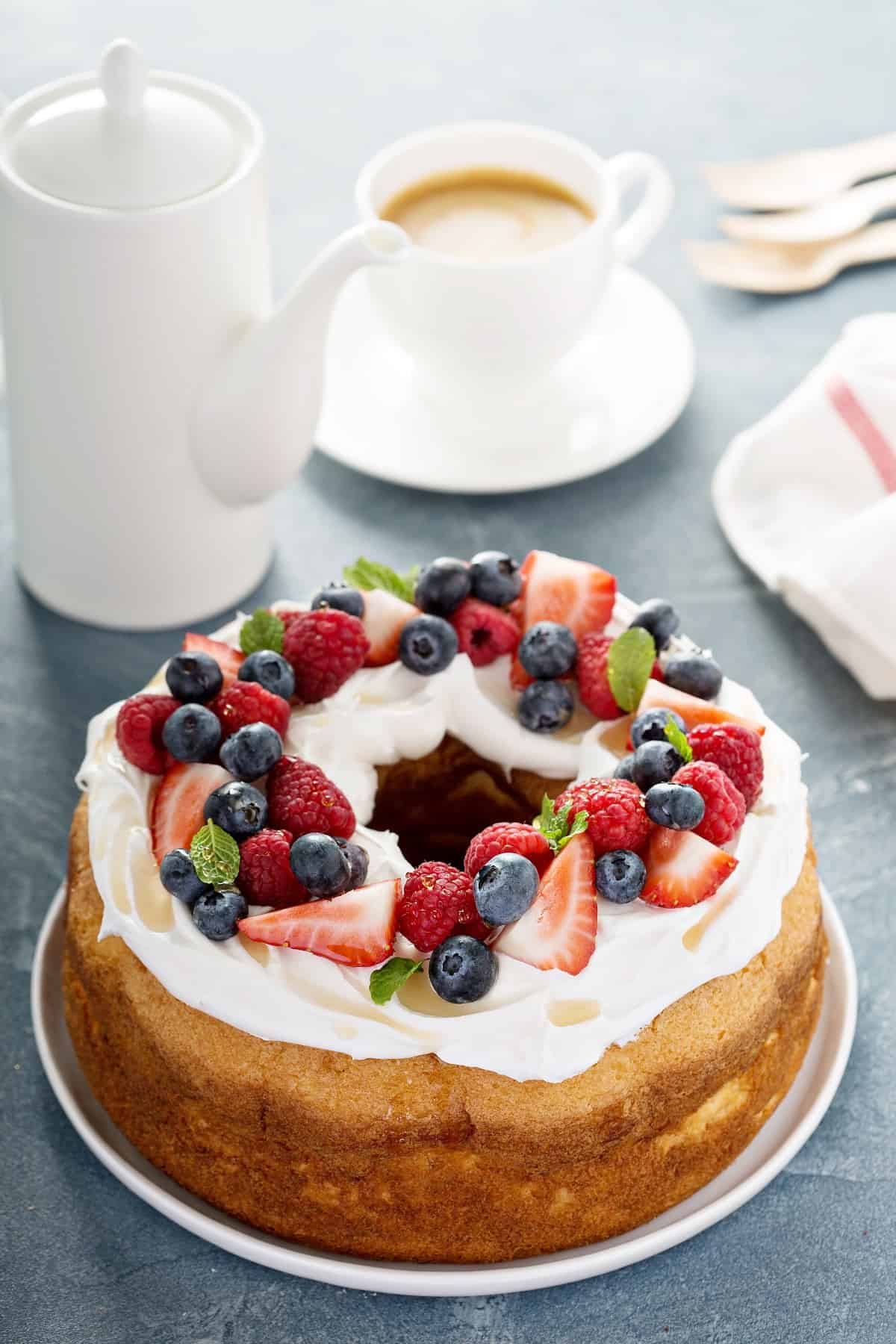 Strawberries and whipped cream would be perfect for a vanilla bundt cake. Whipped cream and chocolate syrup and/or raspberries would work well on a chocolate bundt cake.
Frost with ganache or melted chocolate:
A quick tasty drizzle can be made from just melting a bit of chocolate. You can add a tablespoon or two of cream to it and just warm it in the microwave for about 20 seconds at a time and mix until smooth, then spoon onto the top of the cake.
Here are some recipe ideas for chocolate glazes:
Ganache is another option. For a drip consistency, you can warm up equal amounts of chocolate and cream (1 cup chocolate and 1 cup cream) and mix until smooth then spoon over the cake. This chocolate will firm up only slightly and remain creamy as opposed to just using straight melted chocolate.
To see how to make other types of ganache and how to cover a layer cake in ganache, see these posts:
Frost with canned store bought frosting:
This trick is so easy and you just have so many options available that it's really a win-win.
You can basically take any canned frosting, add it to a bowl and warm it up a bit in the microwave. Only warm it for about 20 seconds at a time, because it will warm up very fast. Then take it and either drizzle it or spoon it over the cake, or just pour it over.
Drizzle with sauces, syrups, fruit puree or fruit curd:
Sauces and syrups are a quick win if you have them available. Chocolate syrup or caramel sauce would make a great drizzle on chocolate cakes.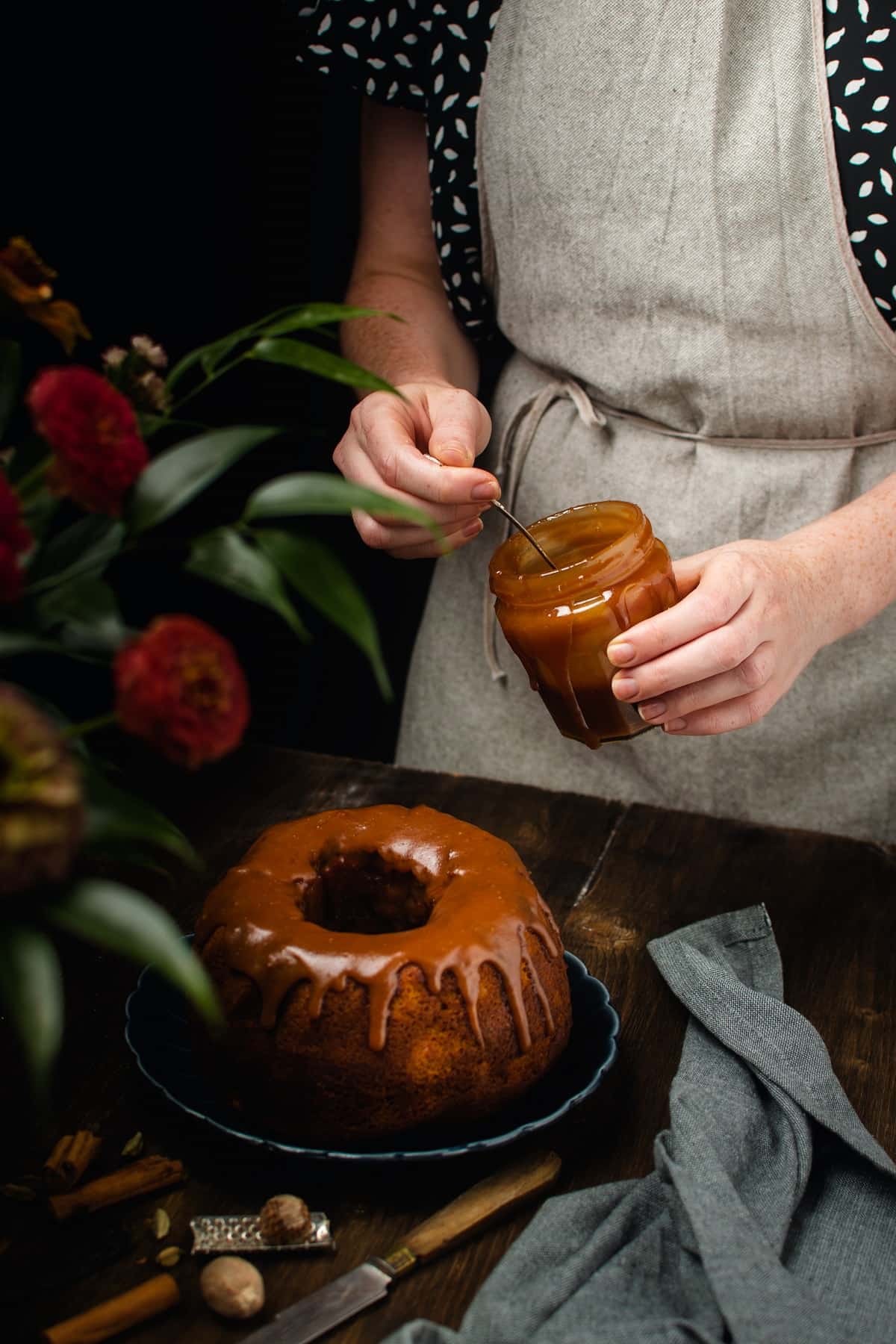 If you have a lemon cake or a white cake, you can even add lemon curd to the top.
Add toppings:
If you've added a glaze, buttercream or anything else, feel free to sprinkle on some toppings like:
crushed cookies
nuts
chocolate chips
white chocolate chips
sprinkles
fruit (dried or fresh)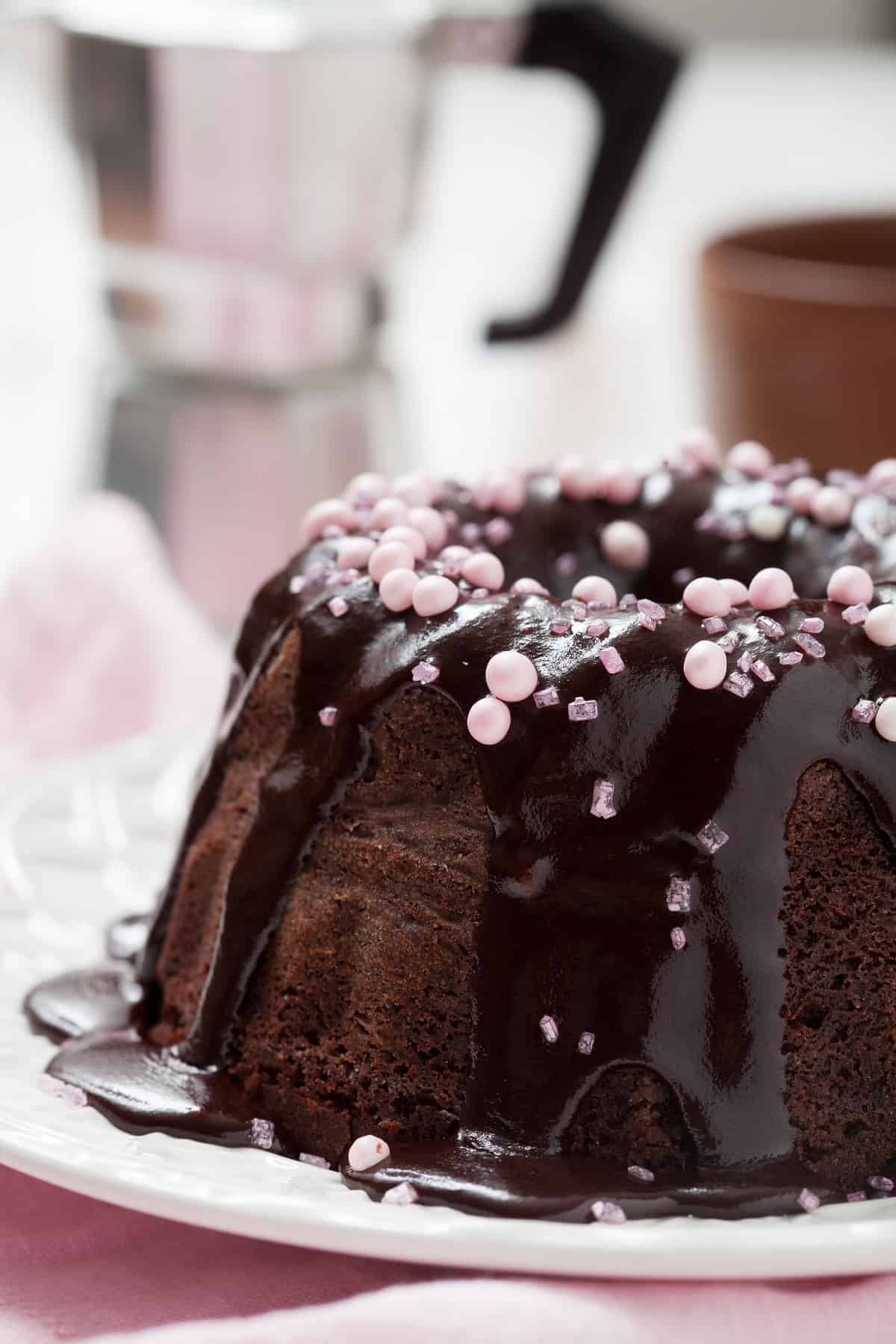 Leave it plain:
Plain doesn't always mean boring and sometimes it's just not necessary to add any glaze at all and that's okay. Don't feel like you have to add something to it.
If the cake is moist and pretty to look at as it is, then it's perfectly okay to leave it bare.
Decorating the top of a bundt cake:
If you're really feeling adventurous, you can go the extra mile with the decorations by adding some piped flowers, edible flowers, or faux flowers.
An easy way to pipe flowers is to use the Russian piping tips that are available. The flowers look impressive, but they're really easy to accomplish.
Here's a link to check them out: Russian Piping Tips
If you want to try your hand at piping flowers, I have a whole post with video tutorial to help with that. You can see that here: Favorite Piping Tips & How to Use Them
How to frost a bundt cake like Nothing Bundt Cakes:
To get this look, you'll want to make buttercream first. You can make plain vanilla buttercream, chocolate, cream cheese or whatever flavor you want but you'll need to add just a little bit more cream or milk than the recipe calls for because you don't want it super thick.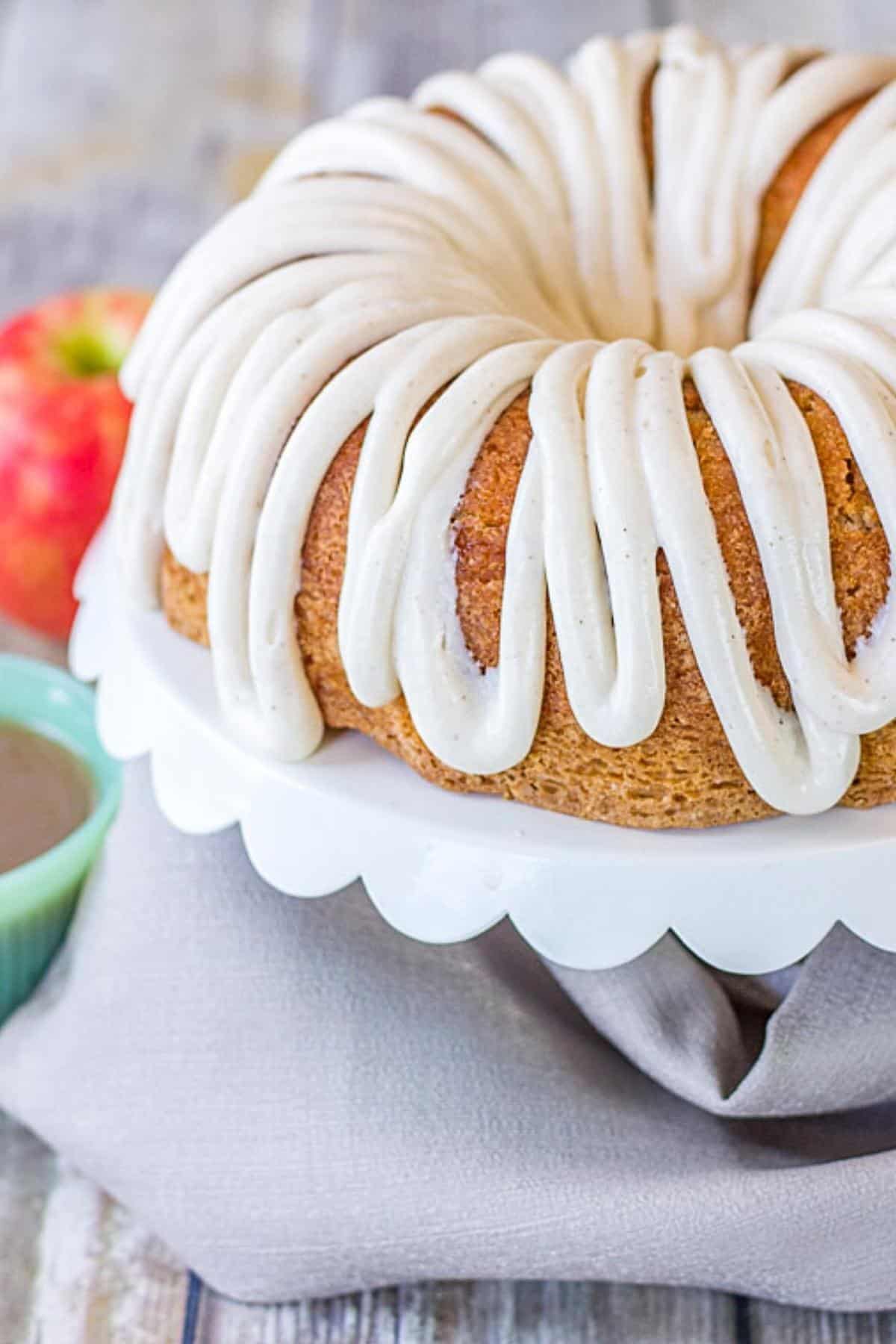 The frosting will need to be thicker than a drizzle or glaze consistency, but a little bit thinner than what you'd use to ice a layer cake.
You'll then need to add it to a piping bag and snip off the end, then pipe it onto the top of the bundt cake. Remember as with the glaze or drizzle, you can do a bit of practice piping on the back of a bowl or even on the back of the bundt cake pan to get a feel for it.
Once it's piped, you can pipe the remaining buttercream into the center of the cake. Set the cake in the refrigerator for the frosting to chill and firm up a bit and then feel free to add edible flowers or faux flowers to the top of the cake to decorate it.

Bundt cake and frosting flavor combination ideas:
I thought it would be fun to list out some flavor combinations to get you started. There are many other options, but hopefully, this will give you some inspiration.
Cake Flavor
Frosting Flavors
Chocolate Bundt Cake
German chocolate canned frosting warmed up, Chocolate canned frosting warmed up, Chocolate syrup, Chocolate confectioner's sugar glaze, Chocolate buttercream, Chocolate glaze, Chocolate ganache, Caramel sauce, Whipped cream with chocolate syrup and raspberries, Whipped cream with caramel sauce, Chocolate sauce with caramel sauce
Toppings: nuts, chocolate chips, sprinkles, crushed cookies
Vanilla Bundt Cake
Vanilla buttercream, Almond flavored buttercream, Cinnamon buttercream, Canned vanilla buttercream, Chocolate buttercream, Vanilla canned frosting, Vanilla confectioner's sugar glaze, Apricot jam, Strawberry jam, Raspberry jam, Whipped cream with fruit, Caramel sauce, White chocolate ganache, Semi-sweet chocolate ganache, Sprinkle with confectioner's sugar and add fruit, lemon curd
Toppings: nuts, white chocolate chips, crushed Oreos, sprinkles, fresh fruit
Lemon Bundt Cake
Lemon buttercream, Canned lemon frosting, Strawberry canned frosting, Cream cheese buttercream, Canned cream cheese frosting, Lemon curd, Raspberry jam, Strawberry jam, Whipped cream and strawberries, Vanilla confectioner's sugar glaze, White chocolate ganache
Strawberry Bundt Cake
Strawberry buttercream, Canned strawberry frosting, Cream cheese buttercream, Canned cream cheese frosting, Strawberry jam, vanilla confectioner's sugar glaze, White chocolate ganache, Whipped cream and strawberries, Vanilla confectioner's sugar glaze, White chocolate ganache
Banana Bundt Cake
Vanilla buttercream, Canned vanilla frosting, Cream cheese buttercream, Canned cream cheese frosting, Caramel sauce, Chocolate ganache
Toppings: nuts, crushed toffee, chocolate chips
Red Velvet Bundt Cake
Cream cheese buttercream, Canned vanilla or cream cheese frosting, Chocolate buttercream, Chocolate canned frosting
Toppings: crushed Oreos, chocolate chips, white chocolate chips
Other posts you might like: