I am a vanilla cake kind of girl all the way. Vanilla cake is my first choice and this recipe is my absolute favorite vanilla bean cake.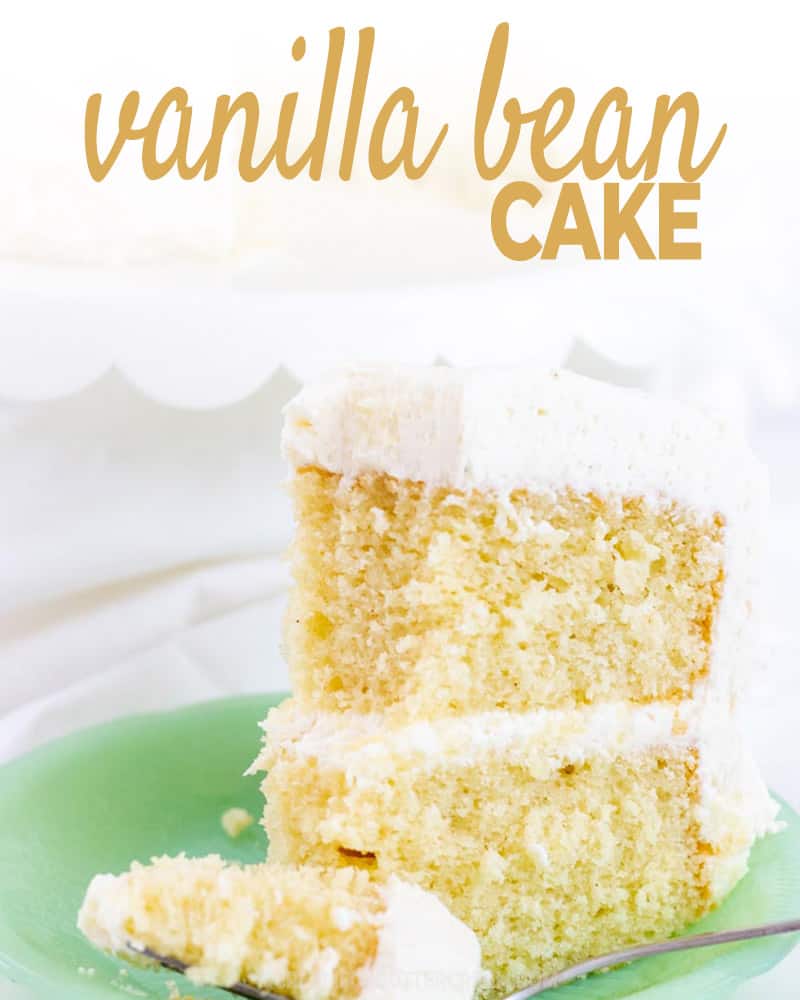 Hey there! Before you scroll, there's lot's of important stuff in the post!…including the FAQ section, which may answer any questions you might have about this recipe. Enjoy!
It's a scratch cake and I'm sure you know how hard it is to find a flavorful and moist scratch vanilla cake, but I promise, this is it.
This post contains affiliate links. As an Amazon Associate, I earn from qualifying purchases.
INGREDIENTS FOR THE VANILLA BEAN CAKE:
I've worked and tested out recipes for so long and this baby is no ordinary bland vanilla cake. It's got a full vanilla bean flavor, it's rich and buttery and just a hint of almond flavor.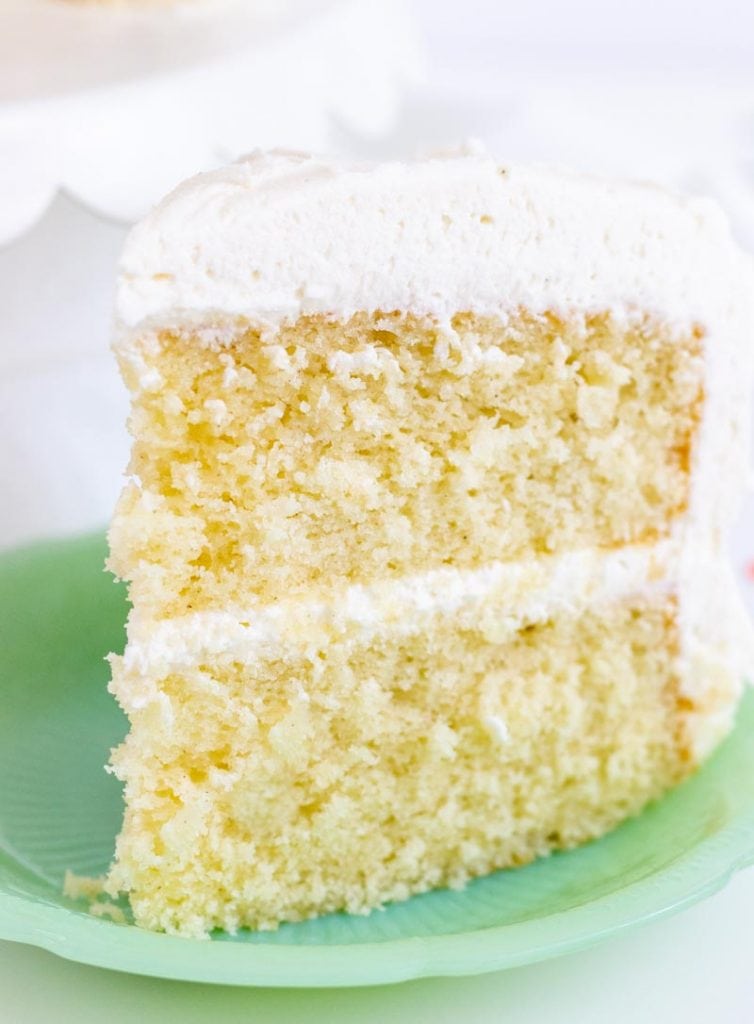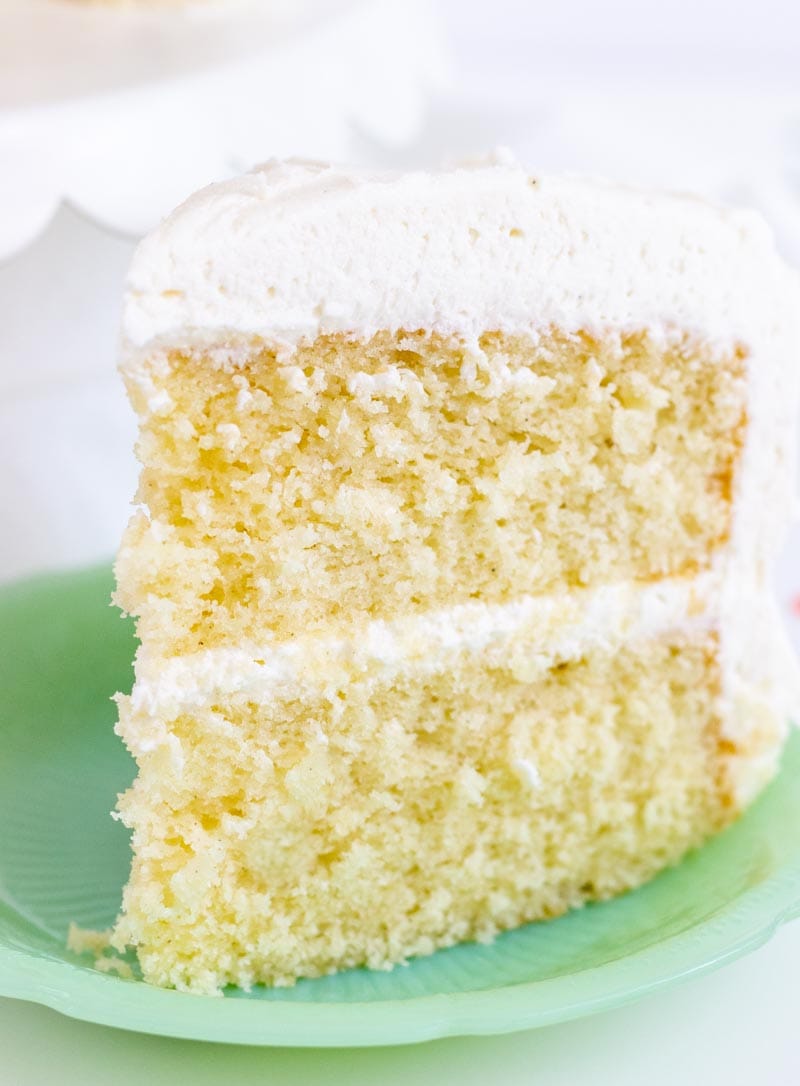 Now, just hear me out on the almond flavor. I use almond emulsion and it does NOT taste like ordinary almond extract.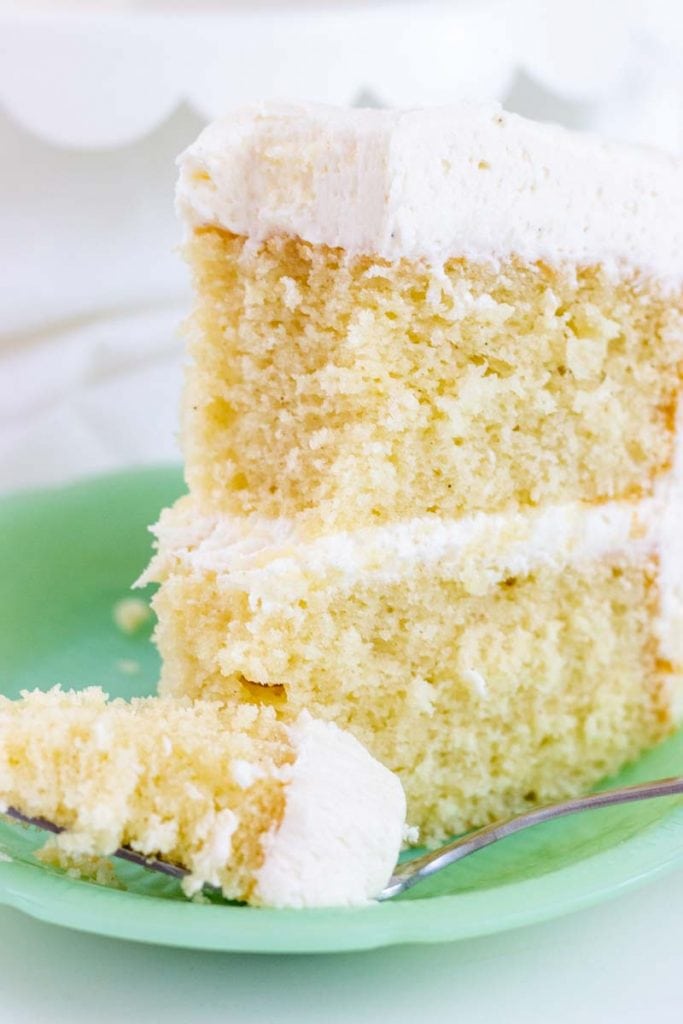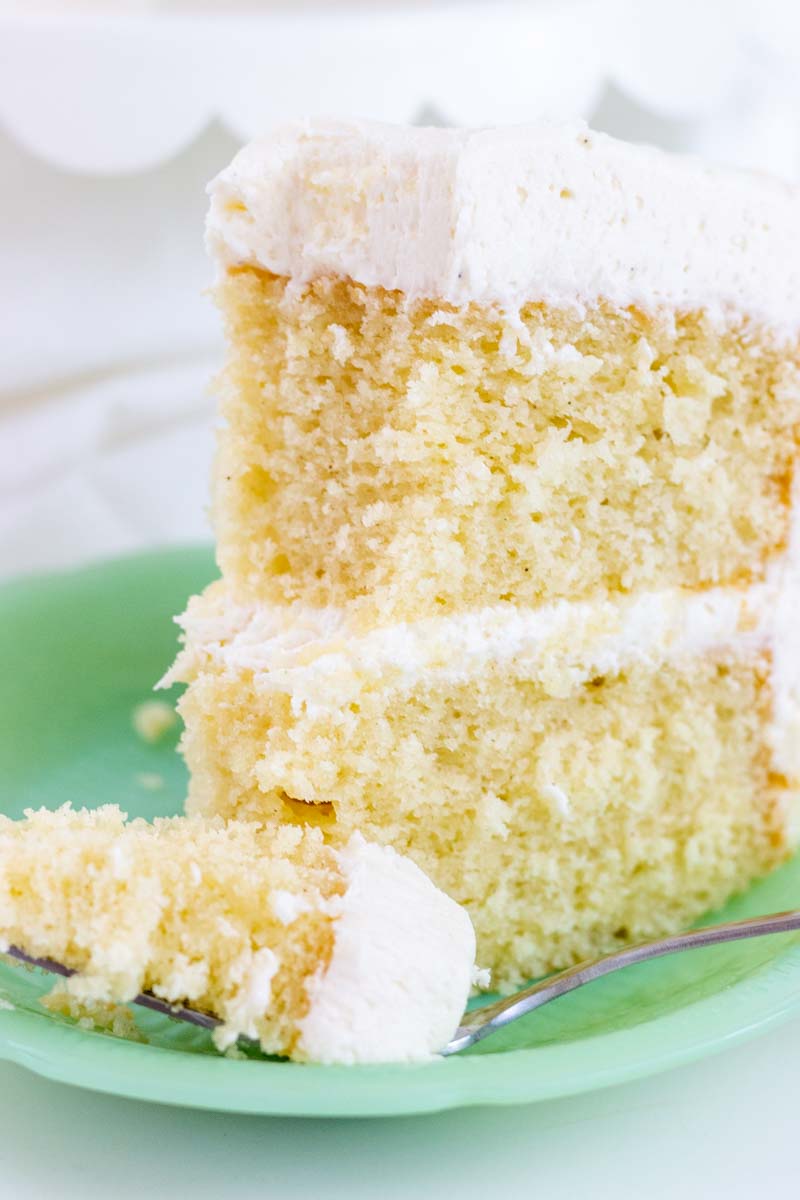 Even if you think you won't like anything with almond extract in it…I have one question for you. Have you tried it? It's the same lecture I give my step-kids. Don't say you don't like it if you haven't tried it yet. Sometimes things taste totally different than you expect.
Here's my point on the almond extract: The recipe only calls for a half a teaspoon. That isn't much and it's not strong or overpowering at all. All it does is to help bring out the flavor of the vanilla bean.
When you taste this cake, you don't taste almond. You just know it's got this full vanilla bean flavor and something a little special that makes you never want to stop eating it.
Ok, I'm done with the lecture. If you've tried almond extract and you just can't stand the thought of it, I promise I won't be mad at you and you can still make this cake with just vanilla bean paste or extract and it will STILL be awesome.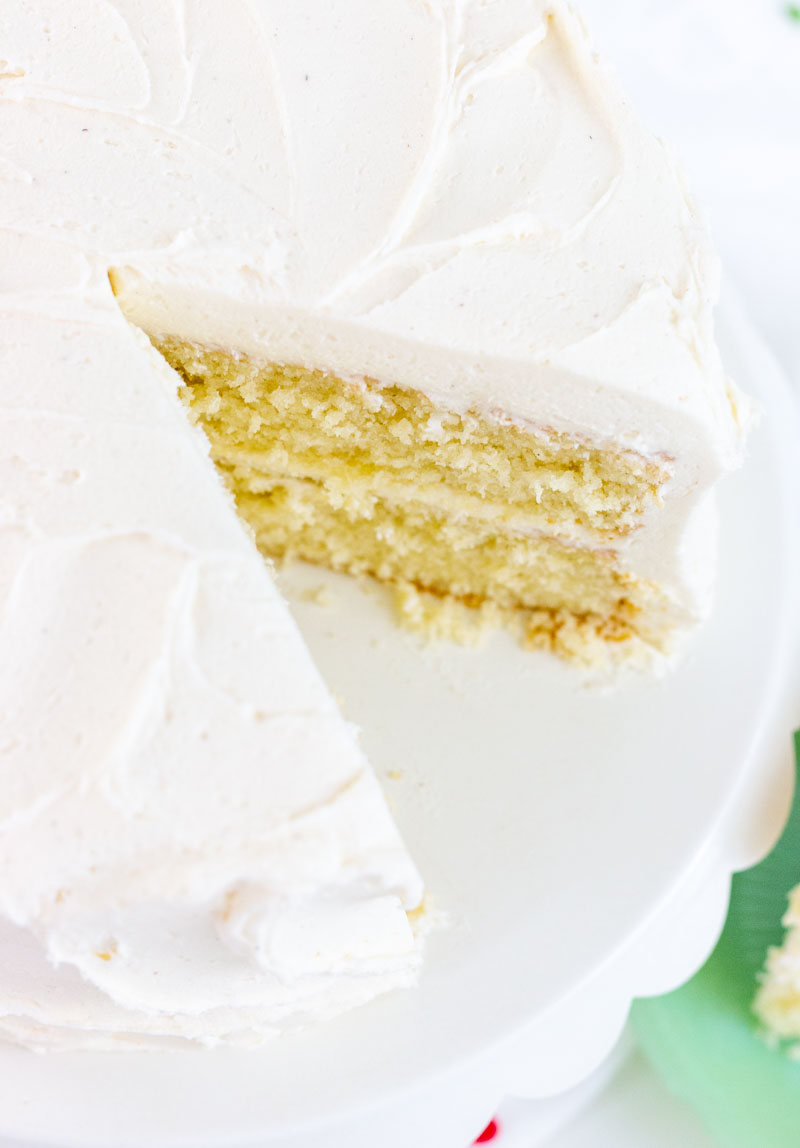 So, onto the vanilla part of this cake. I use this vanilla bean paste: Vanilla Bean Paste. It really gives the cake a much better flavor than plain vanilla extract. Trust me, you've gotta try it.
MIXING METHOD FOR THE VANILLA BEAN CAKE:
The mixing method for this cake is a little different than the norm. It's called the reverse creaming method. Instead of creaming the butter and sugar together first, you'll be mixing the dry ingredients with the butter.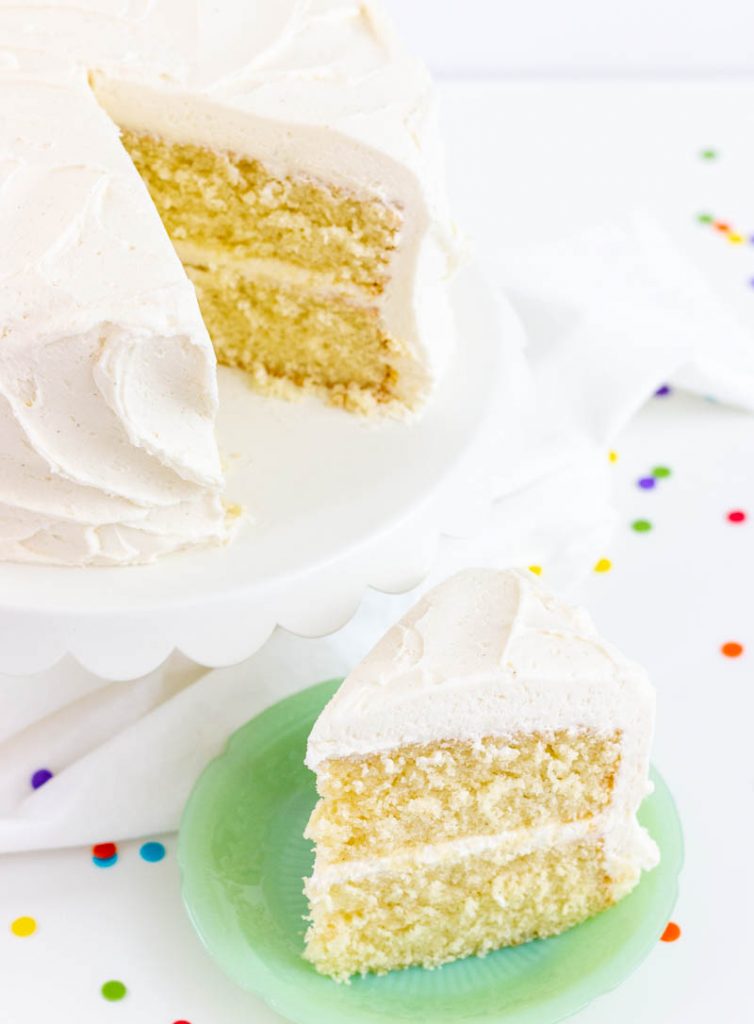 Without getting too technical on you, the butter coats the flour and minimizes gluten development, which in turn, creates a very fine crumb and an oh so tender cake.
Oh and by the way, if you want to watch a 'real time' video on how to properly mix a scratch cake, you can do that here: How to Mix Cake Batter
Here's how it works: Take your dry ingredients and mix them in a mixing bowl. Add slightly cooler than room temperature butter in chunks to your dry mixture as your mixer is running on low. Mix until all the flour is coated and it looks crumbly.
Next you'll pour in about a third of your liquid ingredients and mix until well combined (about 30 seconds to a minute).
I've recently experimented and learned that you can actually mix at this point for a minute or so to get it fluffier, but I wouldn't go over that amount, or you risk overmixing your batter and it coming out dense.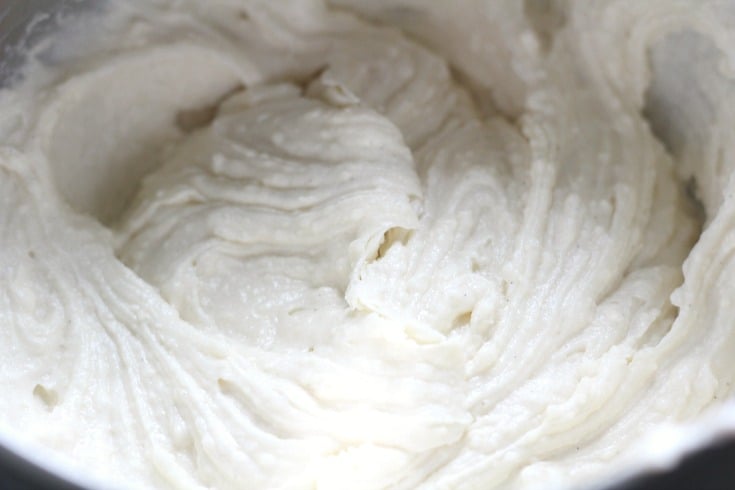 Next you'll add in the remaining liquid ingredients and mix until well combined. Scrape down the sides of the bowl and mix again for about 30 seconds. Don't overmix the batter.
Pour into two 8″ round cake pans (or you can use three 6″ round cake pans). For this cake, I preheated my oven to 350 degrees. But here's the deal, once I put my cakes in the oven, I turned the temp down to 325 degrees. I wanted it a little hotter in the beginning to help with rising, but I didn't want the outside to over brown.
Once it's done baking, you want to set it on a wire rack to cool for only ten minutes.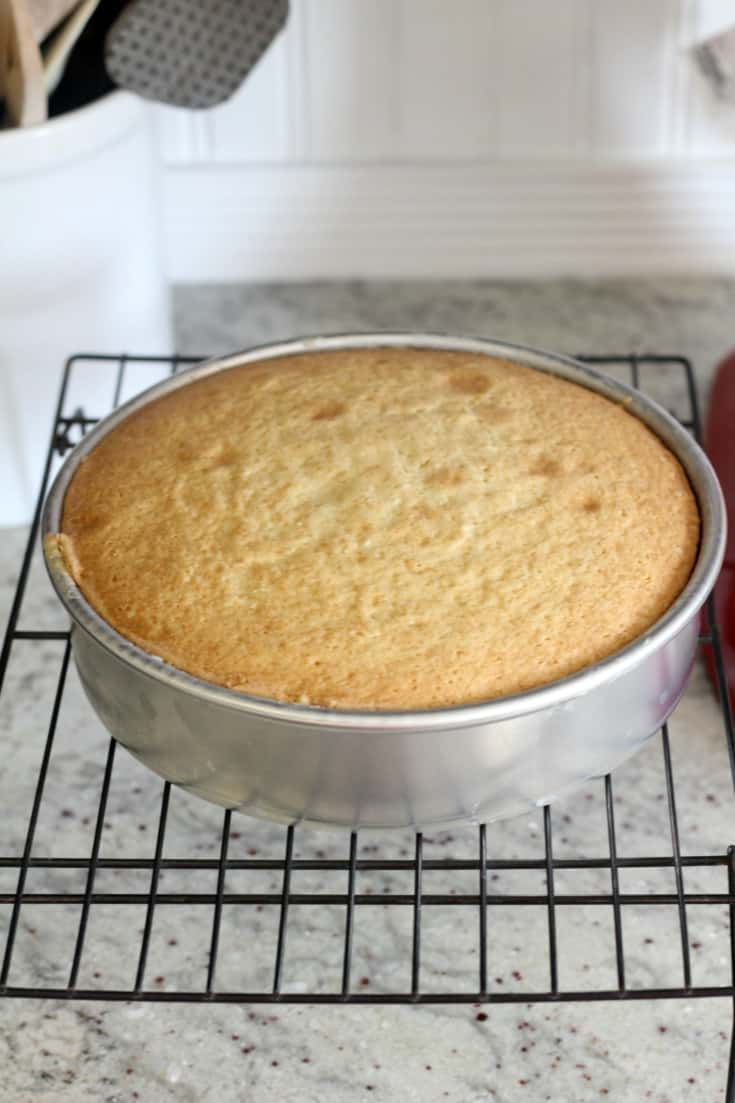 After ten minutes, Set your rack face down on your cake and flip it over. Now your cakes are directly onto your racks. Just lift your pan off the cakes. Let them cool completely like this.
You can ice them once they're cool or you can also freeze them. Check out my post with tips for freezing cakes and cupcakes.
For this cake, I used my Favorite Vanilla Bean Buttercream. It's a match made in vanilla heaven.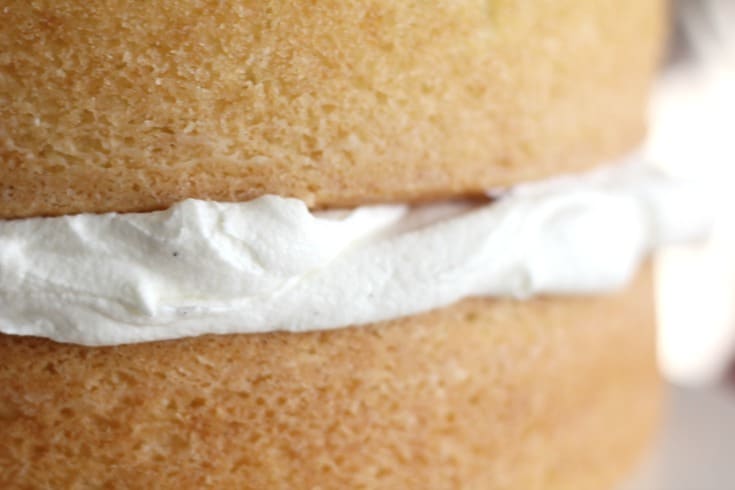 Cut yourself a huge slice. Oh, and maybe if you feel like it, you can share it with your family 😉
This cake is absolutely perfect for a birthday cake AND for a wedding cake. It has a wonderful vanilla, buttery flavor AND it stays moist.
TIPS AND FAQS FOR THE VANILLA BEAN CAKE:
Do I have to use a stand mixer to make this cake?
No you absolutely do not need a stand mixer. It's really convenient, but you can still make a great cake with a hand mixer.
I don't have access to cake flour, can I use all purpose flour instead?
Cake flour is different than all purpose flour and they can't be substituted for each other in equal amounts. Cake flour will give your cake a more tender texture, so it's best to use that in this recipe if you can get it. If not, and you really need to substitute for it, you can make these changes: For every cup of cake flour called for in the recipe, use one cup of all purpose flour instead and remove two tablespoons of it, then replace that with two tablespoons of cornstarch.
Do I have to use almond emulsion?
No you don't have to use it, but it's really a very small amount and just gives a hint of added flavor. Personally I think it add that extra secret ingredient that people just love.
Can I use vanilla extract instead of vanilla bean emulsion or paste?
Yes you sure can. I think using a good vanilla bean emulsion or paste really pumps up the flavor and can set your cake apart from the rest, but a real vanilla extract will work as well.
Can I substitute the sour cream with something else?
If you don't have access to sour cream, you can use yogurt instead. Try to use the full fat version though and not the low fat.
What is whole milk and can I use 2% milk instead?
Whole milk just has more fat in it than 2% milk, so if you have access to it, use it, but if you don't, just use the milk you have available.
Video:
Now, onto the recipe:
Favorite Vanilla Bean Cake
This cake is my absolute favorite vanilla bean cake. It's a scratch cake that is moist, full of vanilla bean flavor, rich and buttery with a hint of almond flavor.
Print
Pin
Save
Saved!
Rate
Ingredients
3

cups

cake flour

(not all-purpose flour)

2

cups

sugar

1 ½

teaspoon

baking powder

½

teaspoon

baking soda

1

teaspoon

salt

1

cup

butter

(slightly cooler than room temp)

1

cup

sour cream

½

cup

whole milk

1

tablespoon

oil

1

tablespoon

vanilla bean paste

or vanilla extract

½

teaspoon

almond emulsion

3

eggs
Instructions
Preheat the oven to 350 degrees. (You're going to turn the oven temp down to 325 degrees once you put the cakes in the oven.)

Grease and flour two 8" round cake pans. (If making cupcakes, read notes below)

Combine the flour, sugar, baking powder, baking soda and salt in a mixing bowl and whisk.

In another bowl, combine the sour cream, milk, oil, vanilla, almond and eggs. Mix well with a whisk.

Now cut your butter into chunks. Turn your mixer on low and add in the butter slowly to your dry ingredients. Mix on low to medium until all the flour is coated with the butter and the mixture is crumbly.

Pour in about a third of the liquid mixture. Mix on low to medium until combined. About 30 seconds to one minute. (Some reverse creaming recipes call for mixing 1-2 minutes at this stage, but be careful about mixing longer than a minute as mixing for too long will cause a dense cake.)

Pour the last of the liquid mixture and mix again until well combined. Don't overmix the batter at this point. Stop mixing once everything is well incorporated.

Use a rubber spatula and scrape the sides of the bowl. Mix again for only about 10 to 15 seconds.

Slide into the oven and turn the oven temp down to 325 degrees. (Unless you're making these as cupcakes, in which case you'll want to read the notes below.)

Bake approximately 40-45 minutes.

Set on wire racks to cool for ten minutes, then turn the cakes out onto the racks and let them cool out of the pans completely.
Notes
Cake layers can be frozen for later use.
For cupcakes: Fill the cupcake wrappers just slightly over half full. Bake at 350 degrees (don't turn the oven down to 325 like the cake). Bake for about 25 – 30 minutes. Cool on a wire rack.
This recipe card may contain affiliate links. As an Amazon Associate, I earn from qualifying purchases.
Nutrition
Calories:
452
kcal
|
Carbohydrates:
58
g
|
Protein:
6
g
|
Fat:
22
g
|
Saturated Fat:
12
g
|
Cholesterol:
92
mg
|
Sodium:
418
mg
|
Potassium:
154
mg
|
Sugar:
35
g
|
Vitamin A:
670
IU
|
Vitamin C:
0.2
mg
|
Calcium:
75
mg
|
Iron:
0.6
mg
Disclaimers
To see food safety, allergy & nutrition disclaimers, go here: Disclaimers
How to Share
I'd love for you to share this recipe link or tag it, but please do not share screenshots or copy/paste the recipe to social media as the content and photographs are copyright protected and we (bloggers) work really hard on our content. Sharing the link, tagging us on socials and pinning it is super appreciated though!
UPDATE!!! I got a very good question in the comments below: Can you use this recipe for cupcakes? I've tried it and YES, they make great cupcakes! Here are my tips though: If you're using this recipe for cupcakes, you'll want to leave the oven temp at 350 degrees. Fill your cupcake wrappers just slightly more than half full. Bake them at 350 degrees for about 25 minutes. Let them cool on a wire rack.
Ok, now I'm off to go and eat a slice…or two…or three.