If you don't have an SUV or a van, don't panic. You can still transport your cakes. In this post, I'm going to give you my do's and don'ts of transporting a cake in a car.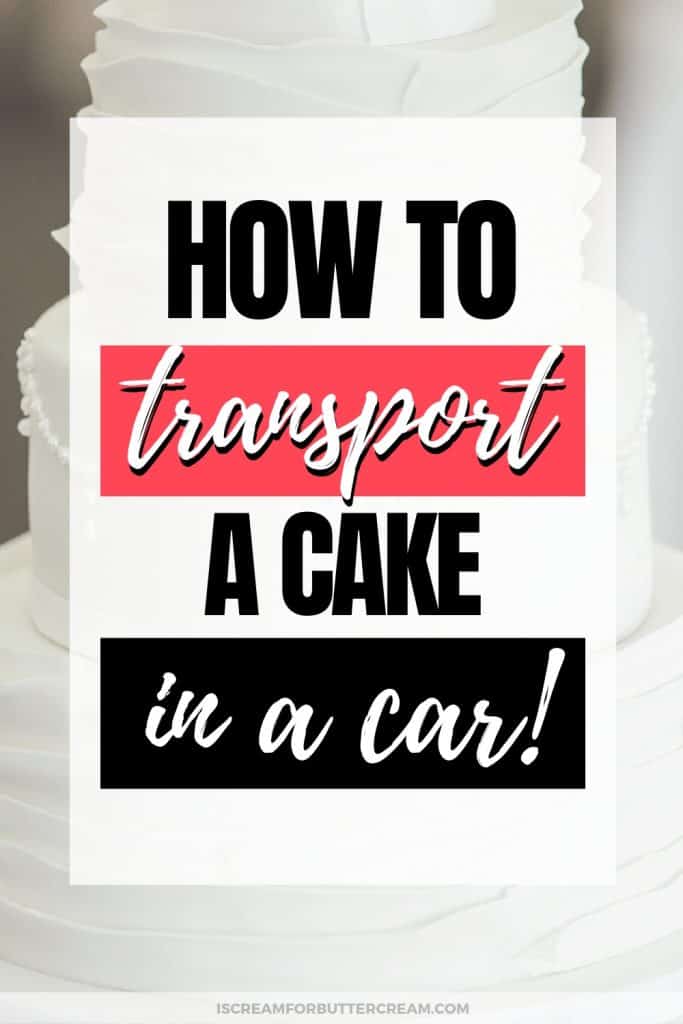 Yep, the title is right. I transport my cakes in a car. I know, I know, everyone tells you not to do that, but sometimes you just make do with what you have. I'm here to tell you that you CAN transport a cake in a car.
Last year, my SUV blew up. Not the entire thing…just the engine. When I say blow up, I mean smoke coming out of the car. Yeah, it was intense. Replacing the engine was even worse. I had to auction off a kid to do it. (Ok, not really. I had to auction off two.)
Earlier that year, I had to replace the air conditioning. In Texas, the temperature can get above 100 degrees outside, so when I would get into my car, I could feel my lips melting off my face.
After dealing with those two issues, the final straw was my driver's side window had stopped rolling up and down. That was it! I was tired of paying a high car payment in addition to expensive repairs and having to buy the expensive premium gas.
I thought about it and decided I really wanted a car again and not an SUV. I had already decided to slow down on cake orders and concentrate on getting my blog up and running. Plus, I'd have a lower payment and get much better gas mileage than the 15 mpg I was getting with my SUV.
I actually measured the trunk of this car before I purchased it to make sure it would be deep enough to put a two tier stacked cake in it. I also made sure I could fold down the entire back row of seats. Since it gets super hot here, I need those seats to fold down to open up the trunk to the rest of the car where the A/C can get to it.
My point is, if you only have a car to transport your cakes, don't automatically think it can't be done. If you're waiting to start taking orders until you get better transportation, don't! Take a look at what you have and see how it can work for you.
This post contains affiliate links. As an Amazon Associate, I earn from qualifying purchases. 
So here are some Do's and Dont's for transporting cakes in a car:
DO'S AND DON'TS OF TRANSPORTING A CAKE IN A CAR:
DONT'S:
Don't set a cake on your seats. Even if your back seats fold down, you might be tempted to set your cakes on them. You don't want to do that. Most likely they don't lay flat. Even if they do, there is probably still a space between the folded down seats and the back of the front seats. There's potential for the cake to slide and tilt. The same applies for the front seat. Seats aren't level and if you have to slam on your breaks, well, then your dashboard is going to be covered in buttercream.
Don't put your cake in the trunk if it's warm outside and your back seats don't fold down to open up that area. I'm sure that's a given, but I've actually had to tell some clients that when they were picking up a cake from me.
DO'S:
You DO have a better chance of having a level surface if you put the cake on the floorboards. Push your front seat all the way back. Add some non slip shelf liner (the rubber stuff that's in a grid pattern) on the floor and set the cake on that. If you feel it'll be too tall, just take the tiers separately and put the cake together at the venue. You can set the other tiers in the back on the floor boards. You just want to make sure your car is very clean and that your cake is in a box. I also add a fluffly towel between the floor and the non-slip liner, then I add the cake on top of that.
If your trunk opens up to the rest of the car, or it's always cold in your environment, you can travel with them in the trunk. I have a few tricks for that below.
DO put your cakes in a box. Since they will be traveling on either your floorboards or your trunk, you want them protected from any dust. For my tiered cakes, I just use a regular moving box that I get from Wal-Mart in the office supply aisle. I just estimate how tall the tier will be and then make sure the box is a bit WIDER than that. Notice that I said WIDER and not taller. I turn my boxes sideways so that the opening is on the side and not the top. Then all you have to do is slide your cake in and tape up the side of the box when you're ready to move it.
TIPS FOR TRANSPORTING YOUR CAKE IN YOUR TRUNK:
First you'll want to make sure your trunk is flat. My trunk has a rubber 'thing' on the bottom of it that has ridges, so I added a non-slip liner, a thin towel and then a flattened cardboard box over that to make it a smooth surface.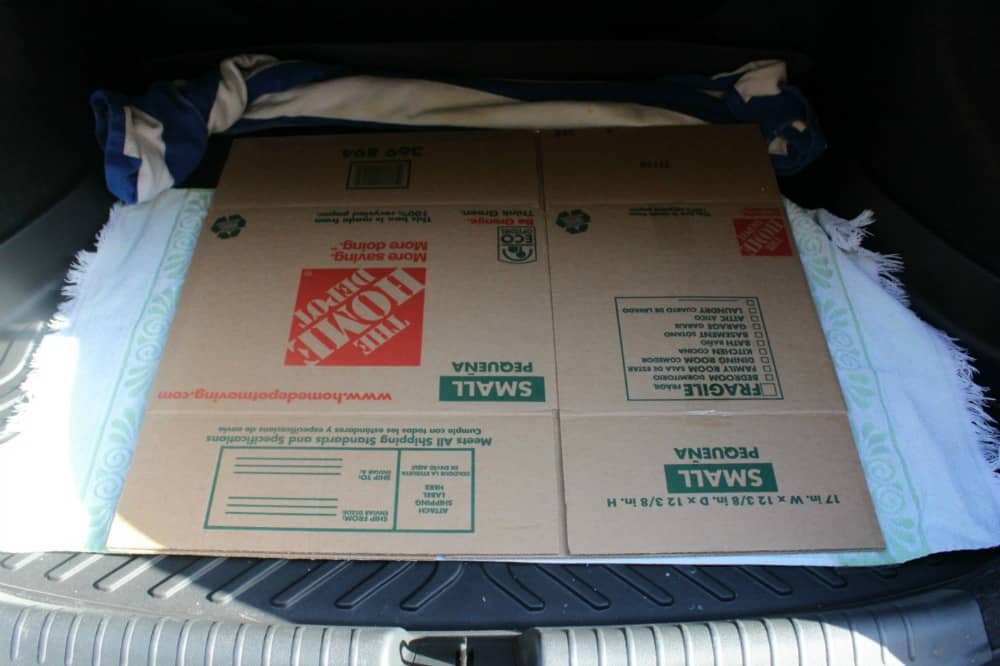 Next I add a non-slip liner across it and then a big fluffy towel.
Now here's my secret weapon: You want to lesson the amount of jolt the cake could receive from riding in the trunk, but you don't want to add any 'bounce' to it. You just want something that will absorb a little of the shock. So…..drumroll……..my secret weapon IS…….. A yoga mat!
Yep, simple, but I think it really makes a difference. It adds just enough cushion, but it doesn't add any 'bounce' like foam might. It also acts as a non-slip surface. PERFECT!
So here's the thing about my trunk…it's a deep trunk, but there's not a very big opening. The box will not go into the trunk without tilting it here and there. Well, that's just not going to work when you've got a cake in the box that shouldn't be tilted around and honestly it's so heavy at that point, I couldn't be moving it around like that anyway.
What works for me is that I place the EMPTY large box in the trunk on top of the fluffy towel and yoga mat. Then I grab the tiered cake and have someone hold the flaps of the box open for me while I set the cake in it. Then I seal up the box with tape.
So here's an anecdote for ya: This past week, I made my step-son's wedding cake. It was 85 degrees outside and partly cloudy, so I was a little lucky with that. I made sure that my back seats were folded down and had turned on the A/C full blast until the car was about as cool as it could get.
I stacked the two bottom tiers, set the empty box in my car on top of my fluffy towel and my yoga mat. I had one of the kids hold the box open for me and I placed the cake inside and taped up the box. I then placed the groom's cake beside that in a box of its own.
I put the top tier in another box and placed that on the floor in front of the passenger seat on a fluffy towel and non-slip mat. I still had room in the back between the seats to put my emergency kit bag. DON'T FORGET THE EMERGENCY KIT!
I then put on a sweater (cuz that car got cold) and headed off to the venue. I had a two hour drive and I am here to tell you that the cake made it! No bulges, no shifting. Now I WILL tell you that I did put a center dowel in the bottom two tiers because I had such a long drive with it, so look at the structure of your cake and determine the best way to make it as sturdy as possible.
Now I can't promise you that this method is perfect for every cake you'll make, or that you'll never have anyone stop short in front of you or that an animal won't run out in front of your car. That kind of thing can happen no matter what kind of vehicle you're transporting your cake in. We all know that transporting a cake when you don't have an SUV or van is not the ideal situation, but with a little ingenuity and motivation, it CAN be done!
As always, if you have any questions, let me know! If you have more suggestions, I'm all ears. I'd love to hear from you!
Don't Forget to Pin it for Later!